German-Born Karl Lagerfeld's 50 Years Designer Tenure at Fendi (2020)
Karl Lagerfeld's six-decade tenure at Fendi is unparalleled by any other designer. Since 1965, the German-born designer has catapulted the Italian brand into a global object of desire. His cutting-edge approach and ever-flowing creative ideas possessed him with the ability to capture the mood of the moment with collections that reflect the tumultuous changes of society.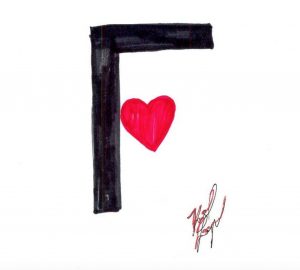 Fendi's story began with Adele and Edward Fendi in 1925. The couple then passed over the reigns to their five daughters: Paola, Anna, Franca, Carla, and Alda. The world-renowned name Fendi is Turkish in origin and means lord. So it was only fitting that Lagerfeld, joined the brand in 1965 on the request of Fendi's PR director of the time, Franco Savorelli di Lauriano. From their very first meeting in Via Borgognona, a former cinema that had been converted into a luxury boutique and fur atelier, it was apparent that Lagerfeld was light years ahead of his time and was exactly what Fendi needed.
One of his first tasks was to design a graphic logo for the lining of the fur garments and the emblematic double F-logo was born. This playful sobriquet, Roman in nature, perfectly encapsulated the name of the house as well as his iconic 'Fun Fur' concept. 
The 1960s witnessed the fashionable elite neglecting formal bourgeois dress codes and instead, embracing new experimentation with Fendi leading the way for change. This revolution began with changing the history of material by delving into a Lagerfeld world ruled by imagination. This diametric change in fashion history saw fur being colored, folded, pleated, and cut. Linings were eliminated, ribbed textures were introduced and dramatically raw-cut hems were utilized. 
This unprecedented reinvention continued to propel Fendi into further success. In 1968, Fendi sealed its international triumph with a leather goods collection, which soon caught the attention of Bloomingdale's who bought the entire line and dedicated to Fendi a full window of its store on Fifth Avenue, New York.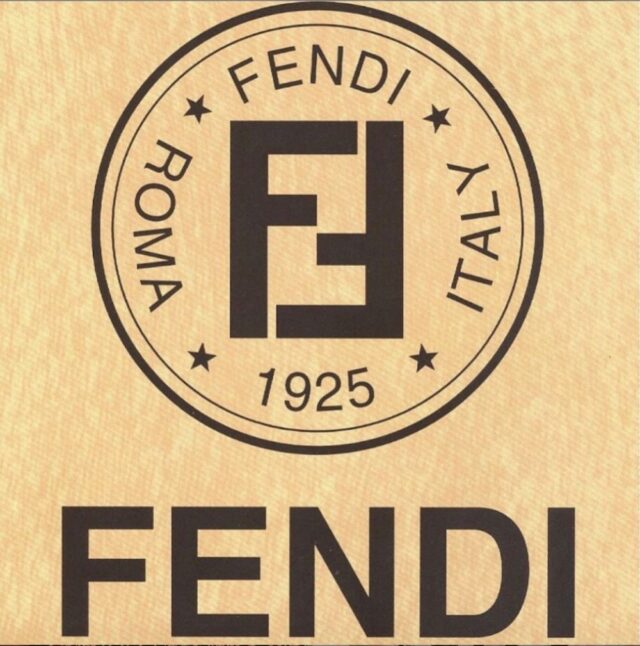 Towards the end of the 1960s, Fendi began its unwavering venture into the world of cinema collaborating with the leading directors of the time: Federico Fellini, Franco Zeffirelli, and Mauro Bolognini. 
Fendi continued to reach new heights when, in 1988, for the first time in Harrods history, all twenty-six windows were dedicated to the brand. And in 2007, the Fendi SS08 collection was shown on the Great Wall of China becoming the first-ever fashion show visible from the moon.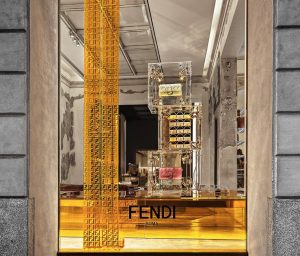 In 1997, Silvia Venturini Fendi had an audacious vision and created the award-winning Baguette bag. Variations later came in the form of the Spy, the Borderline Cloth, and the Love Letter Cloth bag. Later, in 2009, the Peekaboo bag was presented at the SS09 show and instantly became a worldwide hit amongst celebrities.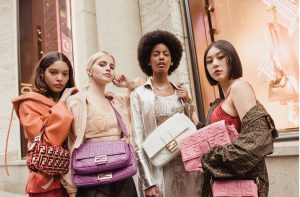 Season after season, Fendi reimagines its iconic motifs with design hallmarks such as the black and brown striped pattern known as the Pequin first introduced in 1983, the parchment-textured color of Pergamena leather, the avant-garde inspired color blocking, and the classic double F-logo.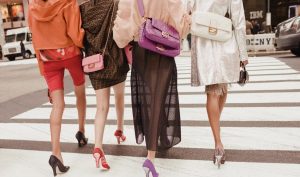 Since then, the brand has gone from strength to strength with total sales figures of $9.62 billion in 2017. Fendi's recent AW19 show was no exception. The show took place in the ancient heart of the capital, which has bared witness to the brand's extraordinary success.
Pietro Beccari, former CEO of Fendi and current CEO of Dior, said in an interview with the Financial Times: "Luxury is all about emotion and quintessentially passion." This was certainly the mood that resonated throughout the AW19 collection showcased last Thursday at MFW. Constantly pushing technical and stylistic boundaries, Fendi always looks to the future whilst honoring the past. Despite Lagerfeld never being a fan of useless nostalgia, the collection was exploratory and multifaceted in the way it connected the past to the present. Lagerfeld's radical forward-thinking attitude and tireless determination to capture the mood of the moment required a lack of sentimentality and detachment from his own work. He was often known for being inspired by muses, however, he himself became the muse of the AW19 show as the whole collection was punctuated with Karl-esque trademarks and form.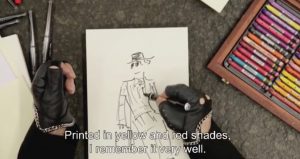 The endlessly quotable Lagerfeld told Vogue Arabia: "I can draw faster than I can talk." This sentiment was shown in a video that opened the show where the designer sketched his first-day ensemble at Fendi, 1965, in a black sharpie. The outfit was compromised of a red and yellow Norfolk jacket, lavallière tie, French-style culottes, boots, and a bag. With "Love Karl" inscribed in Lagerfeld's handwriting above the runway a declaration of love carved into an old oak tree.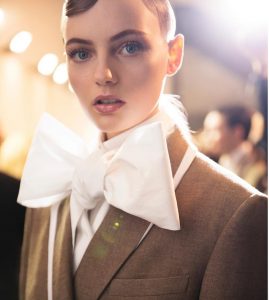 Lagerfeld inspired looks were transcended onto the catwalk. From a massive white bow with hybrid lapels paired with a double-breasted jacket to starch white pointed collars and low ponytails. Silk shirt foulard dresses came in fluid transparencies worn by some of Lagerfeld's favorite models of late: Adut Akech and Bella and Gigi Hadid, evoking Lagerfeld's signature sharp-shouldered, tailored aesthetic. The curling 'Karligraphy' logo was embossed on everything from the cabochon buttons to tights to intarsia fur and was even stitched onto the catwalk. In keeping with the theme, the soundtrack rung true to Lagerfeld as his two favorite songs, Lou Reed's 'Small Town' and David Bowie's 'Heroes', echoed throughout the show.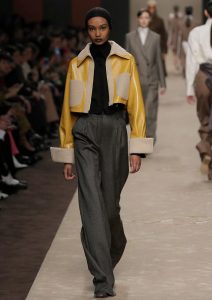 Eni Subair, a digital editorial writer for Topshop says: "This was a posthumous collection from Karl Lagerfeld and so this held a little more scrutiny and gravitas. The collection stayed true to rustic, earthy hues and boxy silhouettes whilst including bold accents and my personal favorite: a cropped vinyl shearling jacket."
Caterina Ospina, freelance stylist and assistant at Vogue says: "There was a lot of sharp tailoring honoring Karl's unique silhouette, which evoked a modern reintegration of the 40s silhouettes."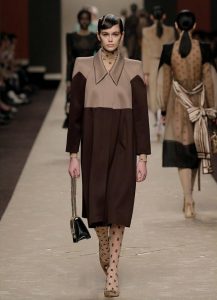 This AW19 show was nothing short of a metamorphic form of creativity that defied definition. Lagerfeld conjured a world of aspirations and allusions, reimagining femininity that is both aristocratic and fierce. 
Federica Barletta, production and creative director of Wonderland magazine say: "This collection was an archetype of feminine elegance designed for a woman that cultivates an air of mystery whilst striding boldly into the future."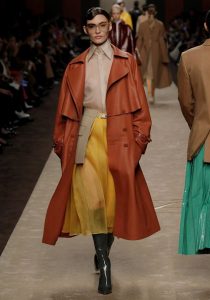 True to Fendi's DNA, the show comprised exclusive cuts, color combinations, and craftsmanship in the form of pagoda shouldered jackets. A shearling puffa bodice melded to a quilted gilet, sporty-chic power suits, knife-pleated skirts, and laser-cut leather lattice jackets were testament to Lagerfeld's artistry.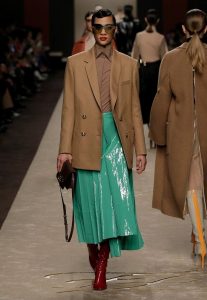 Jessica Skeete-Cross, a stylist at The Evening Standard says: "The color that dominated Milan Fashion Week was brown in every hue and Fendi was no exception. Colors were, however, injected mid-collection in shades of canary yellow, seafoam green, tangerine orange, taffy pink, and currant red. The show screamed feelings of youth and playfulness paradox to the somber expectations."
Alexandra Rogawksi, stylist and buyer at Wolf & Badger says: "The show felt like new romanticism in the form of wide-legged trousers and soft and fluid fur jackets."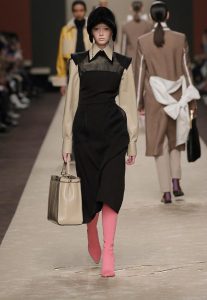 In the recent news that Selfridges is banning the sales of exotic animal skins, Fendi has already stepped in the right direction with the use of perforated leather and vegetal leather for the brand's handbags, which is a huge step for Fendi.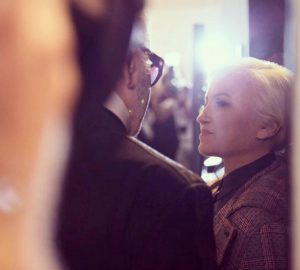 With the fashion house no longer being under the custodial protection of Lagerfeld, rumored to take over the brand is co-creative creative director Venturini Fendi. We look forward to seeing what she and her Fendi artisans continue to produce as the word 'future', much like 'heritage', will surely remain at the heart of Fendi's genetic code.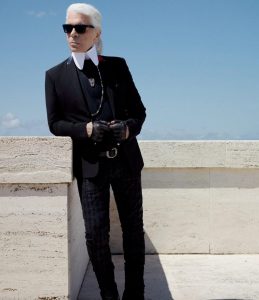 Pietro Beccari, former CEO of Fendi and current CEO of Dior once said: "Luxury has depth and incorporates a multitude of stories that are worth telling." Well, Karl Lagerfeld's story was certainly told and the world will be watching his final swan song at the Chanel show for PFW this upcoming Tuesday.