Download 5+ Pages Tiny Mahogany Red Floral Stick-on Tattoos & DIY them For FREE with 3 Easiest Hacks(Popular on TikTok 2020)
Can you get stick-on realistic-looking fake tattoos for cheap at home? YES, OF COURSE! This can be a simple yet enjoyable mini DIY project for your upcoming Halloween or Valentine's day outfit. Also if you are considering getting a real tattoo but still researching to decide on tattoo location, the size, the color, and the exact design, then why not test a non-permanent fake one first?
In this post, we will teach you how to do homemade DIY stick-on tattoos through 3 main methods(from the easiest to the most sophisticated way). We also included a FREE downloadable gift for you at the end of the post, which is an 8.5×11 inch/A4 file of lovely roses designed for your stick-on tattoo. Ready to get started? Keep scrolling!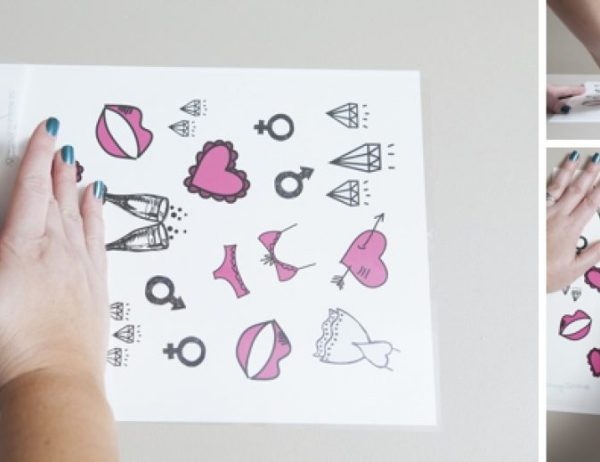 Before we get all excited with the amazing tattoo, let me first remind you to get registered with our current FREE INTERNATIONAL GIVEAWAY! We prepared a whopping 18 mystery boxes to give away. Click this image for details. 👇👇👇
How to make a stick-on tiny floral tattoo on arm with sharpie or eyeliner?
Back to your childhood, do you remember you used to draw on your arms with a pen? Well, this DIY method using sharpie/eyeliner is like the adult version of your middle school body art or tattoo. For those who are confident in their capabilities to draw freehand, this method of DIY fake tattoos should be a piece of cake. This method is the easiest. Your DIY stick-on tattoos can be made without a printer, without tattoo paper, without perfume, without baby powder! So it's perfect for someone who wants a simple tiny fake tiny floral tattoos on arm quickly.
DIY stick-on fake tattoos sharpie
DIY stick-on tattoos with eyeliner and hairspray
Material Needed
Non-toxic Sharpie(any color depends on the design);baby powder(optional);hairspray;
Eyeliner(any color depends on the design) (Avoid liquid eyeliner); hairspray/nail polish/topcoat;
Steps
Have the design ready. Practice beforehand using a pen and paper. Get used to the pressure you need to apply to create smooth strokes.

Clean the area where you plan on placing your tattoo and make sure to dry it thoroughly in advance.

Draw your design directly on your skin with the material you have chosen. Take your time and make sure the design is applied exactly how you want it to look. If you don't like it, you can wash it off and start over.

Use a cotton swab to blend colors and create shading if needed.

SAME
How to make it waterproofing
Splash your design with hairspray/nail polish/topcoat. You don't need to go overboard with the spray; just enough for a light coating should be good. This step seals your tattoo for a couple of hours.
SAME
How long do DIY stick-on tattoos last
About 1 month
Several hours to about a day
DIY stick-on tattoo removal
Wet a cotton ball with rubbing alcohol and go over your handiwork gently. Your DIY tattoo should eventually lift.
To remove a stick-on tattoo made with eyeliner, simply scrub it with soap and warm water. You'll need nail polish remover as well if you used a top coat instead of hairspray. If you're using clear nail polish instead of hairspray, you can peel it off or remove it with nail polish remover.
Remark
Some permanent markers aren't safe to use on skin, so make sure you get non-toxic Sharpies.

Don't use too much hairspray, or your skin will feel extremely dry. If you spray too much by accident, get a cotton swab and dab the area around the tattoo with water.

Rub baby powder on the tattoo before applying hairspray if you want to make the tiny tattoo shiny.

If you will be using an eyeliner pencil, be sure to grab the one you don't use on your face, or buy a new one from the store just for your stick-on tattoos.

If you're wondering how to make stick-on tattoos not shiny, you can replace the hairspray with a matte nail polish top coat. Jet black eyeliner makes for a striking stick-on tattoo, but there's no reason not to choose more than one color. Try emerald, purple, mahogany red, and sapphire to create your design or add a tiny accent. You may want to remove it before going to bed to avoid getting eyeliner on your sheets.

Avoid liquid eyeliner. It's more difficult to keep this type of eyeliner in place on parts of your body other than your eyelids. Your eyeliner tattoo will look best with bold, simple strokes. Finer lines and more complicated designs could be more likely to smudge and become unrecognizable. Stick with clear shapes.

Safety
⭐️⭐️⭐️
⭐️⭐️⭐️⭐️
DIY stick-on tattoos that look real
⭐️⭐️
⭐️⭐️
How Easy is it?
⭐️⭐️⭐️⭐️⭐️
⭐️⭐️⭐️⭐️⭐️
What if you are not very confident in your freehand drawing skills but do not have a printer nor special printable tattoo paper? In that case, using parchment paper or tracing paper to shift a design to your skin before using eyeliner or sharpie will be the most effective way to DIY fake tattoos efficiently.
Trace your desired image on tracing paper with a pencil and cut it out.
Scrub your skin where you wish to apply the image with rubbing alcohol.
Place the drawing pencil side down on your skin and cover it with a wet washcloth.
You'll now have a light outline of the image on your skin. Draw the lines of the tattoo with eyeliner or sharpie.
Other steps and reminders will be the same as mentioned earlier.
Other than sharpie & eyeliner, you may also use marker & henna. You can even mix your own 100% non-toxic dye using the DIY stick-on tattoo ink recipe at the end of this post.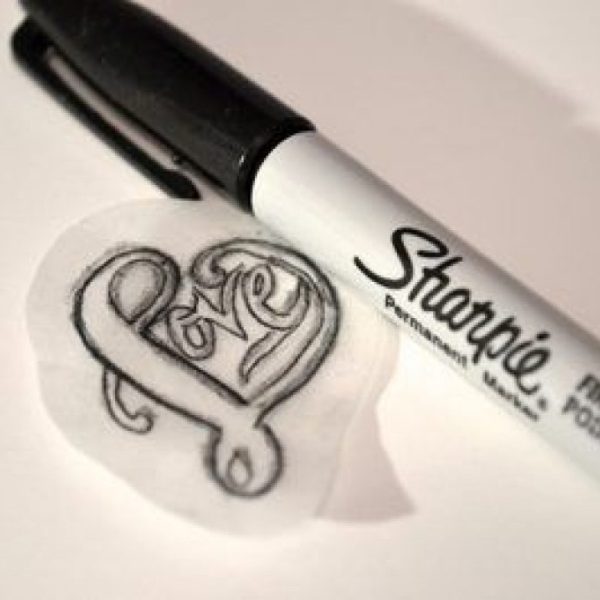 All the images and text of this post are property to our content contributor BurgundyColors Please do not copy as they spent days working on the researches!
Check out YouTube channel for more mahogany red inspired fashion like this. 👇👇👇Remember to subscribe if you like the content!
How to make stick-on tiny rose black and white tattoos with a printer?
If freehand drawing is not something that you master, then you can always print out the design then transfer the pattern to your skin using the methods mentioned below. This method is necessary in preparing a complicated pattern, or if you do not want to mess with perfume and hairspray.
If you want DIY temporary tiny rose black and white tattoos that are as close as possible to the real thing, you'll want to do it with the printer. This would be the best option if you're planning on giving away your tattoos as gifts during the holidays(or maybe even selling at a local market). With just a printer, you can definitely create homemade professional-looking stick-on tattoos with no hairspray, alcohol, sharpie, or eyeliner.
DIY stick-on tattoos with the printer
Material Needed
Water slide paper or printable tattoo paper(This is the best printable stick-on tattoo paper we recommend); Printer; Water; Paper towel or cotton ball.
Steps
Design your own transfer tiny floral tattoo pattern. Create something on Photoshop or scan your design into the computer.

Buy water slide paper. Stick-on tattoo paper is where traditional stick on tattoos come printed on. It is a special transfer paper lined with adhesive on one side. The tiny floral tattoo design is printed with ink on the adhesive side. With inkjet or laser printer, you can print out the stick-on tattoo designs on this special decal paper.

Make sure the paper is placed accurately so that the image will be printed onto the adhesive side, not the matte paper side. Cut out the tattoo. You want to get close to the actual design so as to not waste paper, but don't cut too close or you risk cutting out part of your art.

Time to apply your tattoo. You stick the tiny floral tattoo where you want it. Wet a paper towel or cotton ball and press it on the stick on tattoo until the paper slides off your skin for about 30 seconds.

How to make it waterproofing
The right paper will make it waterproof for a while
How long will it stay
3-4 Days
How to remove it
They are easily removed by baby oil or rubbing alcohol (but not soap and water).
Remark
Just remember that what you see will be mirrored in the tattoo, so if you want to include words, make sure they're reversed in your design.

If you have multiple designs, remember to plan the layout to have an 8.5×11 inch/A4 file (according to the size allowed by your printer) so as not to waste paper. Any shape, color, strokes or pattern will print beautifully onto the paper and show up clearly on your skin.

Be creative! Choose colors that will show up well against your skin. If you like mahogany red colors, check out this post for the best color matches.

Safety
⭐️⭐️⭐️
DIY stick on tattoos that look real
⭐️⭐️⭐️⭐️⭐️
How Easy is it?
⭐️⭐️⭐️⭐️⭐️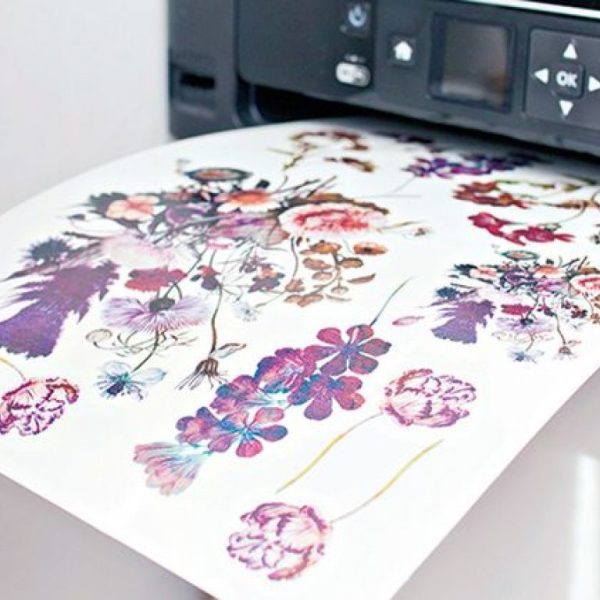 How to DIY a stick-on tiny floral tattoo behind the ear with perfume?
There is a party tonight and you cannot find printable tattoo paper? Every teen on Tiktok is trying this fun fake tattoo hack with perfume. Here is an overview of how to make your own non-permanent tiny floral tattoo behind the ear with perfume.
DIY stick-on tattoo with perfume and water
Material Needed
Normal Paper; Any perfume; Warm water; Paper towel or cotton ball; hairspray/nail polish/topcoat
Steps
Print/Draw out a tiny floral tattoo design of choice onto a plain sheet of paper, coating it in a layer of perfume, body spray, deodorant or hair spray (any product with alcohol and not harmful to skin), then soaking the stencils in warm water for 2-5 minutes.

Once the tattoos finish soaking, then apply another layer of perfume on your skin, press the tattoo firmly, Once ready, remove the stencil to reveal a cool temporary design.

How to make it waterproofing
Splash your design with hairspray/nail polish/topcoat. You don't need to go overboard with the spray; just enough for a light coating should be good. This step will keep your tattoo steady for a couple of hours.
How long do DIY stick-on tattoos last
Together with the pretty design, you will also have the amazing scent from the perfume for several hours.
How to remove it
You can apply a tiny amount of olive oil or rubbing alcohol to the tattoo and then scrub it off with a washcloth. If you don't have olive oil or rubbing alcohol, try using nail polish remover instead. You can also get stick on tattoos off using clear tape.
Remark
Safety
⭐️⭐️⭐️
DIY stick-on tattoos that look real
⭐️⭐️⭐️⭐️⭐️
How Easy is it?
⭐️⭐️⭐️⭐️⭐️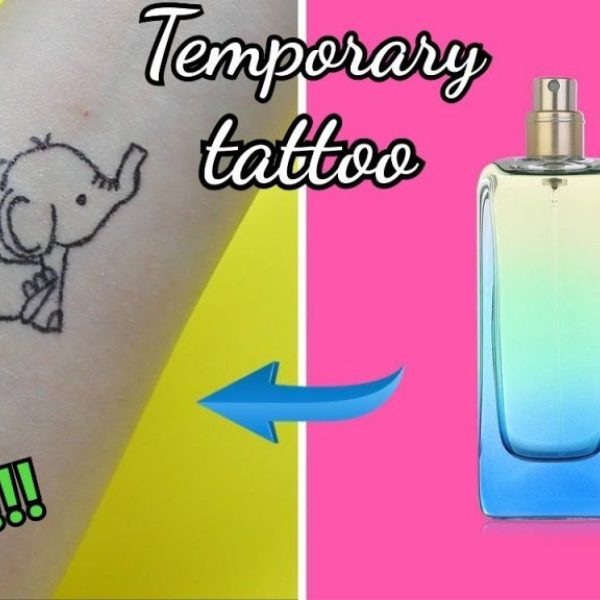 ---
All the images and text of this post are property to our content contributor BurgundyColors Please do not copy as they spent days working on the researches!
---
Are DIY stick-on tattoos safe? 
The safety of your fake tattoos depends on what materials are you using. In general, materials that can be applied on the skin(such as eyeliners/perfumes) will be safe when you are trying to decide what to use to draw on yourself. For printing a safe stick-on tattoo, you need to make sure the dyes/inks are FDA-certified colorants and they comply with CSPC/CPSIA and ASTM requirements. This means that the dyes used in the tattoos will not be harmful to the skin. Using nontoxic option is especially critical if you are planning to apply the tattoos to your children. A non-toxic stick-on tattoo is far less likely to cause any kind of reaction on the child's skin.
Special decal stick-on tattoo paper(water transfer): The most widely used stick on tattoo comes as a decal stick-on tattoo (water transfer). The tattoo is an image printed on water-permeable paper. The paper is placed ink-side down and applying for moisture transfers the image to the skin. The FDA requires that decal-type tattoos use only pigments that have been approved for use in cosmetics; this means they are non-toxic. Some decal-type tattoos that are manufactured in China or Taiwan do not meet these standards. Do not buy decal-type stick on tattoos that do not indicate of the ingredients used to manufacture them.
DIY tattoo inkjet: Is printer ink safe for stick-on tattoos? In general computer, inks are not safe to be worn on the skin and can cause irritation. stick on tattoo companies use digitally print machines to print on stick on tattoo transfer paper.
Airbrush stick-on tattoos: They are also increasingly popular, however, they do not always look as good or last as long as decal stick-on tattoos. The method of application is having the tattoo design sprayed on by an artist using a stencil with alcohol-based, FDA approved cosmetic inks. If you are thinking about this kind of tattoo be sure to ask the tattoo artist what kind of ink is used before proceeding.
Water transfer henna stick on tattoos: Henna is a plant-derived substance that is painted on the skin, staining it a reddish-orange-to-brown color. Brown, plant-derived henna, tends to cause no allergic reaction and is generally safe for use on all skin types. If you choose henna stick-on tattoos by pure henna then it is completely safe!
"Black henna" hand-painted stick-on tattoos are especially dangerous because of additives added. Henna typically lasts for a couple of weeks if it is applied correctly, but it does not resemble a real tattoo and, due to the process of application and length of drying time, is typically not a good option for children. Many stic- on tattoos received at theme parks or on beaches are henna-based tattoos, so be sure to ask for the exact material choice next time before the decision.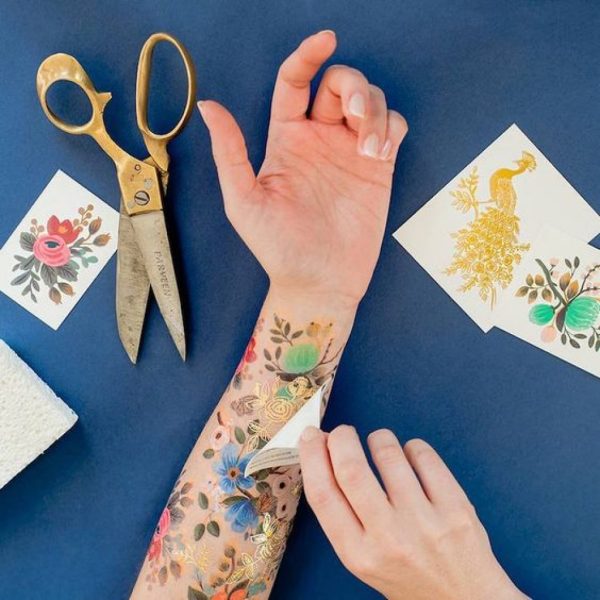 How to make a stick-on tattoo last
To DIY long-lasting stick-on tattoos, you can always follow my tips mentioned earlier such as spraying hairspray. However, if you want DIY semi-stick on tattoos that last a week, a month or 6 months, you will need to look into the following DIY methods.
DIY stick-on tattoos that last a month: Henna tattoos stain your skin a brown-orange color and it lasts several weeks typically. You can buy kits that come with the Henna already mixed with stencils and instructions. Essentially you put the design on your body using the tracing paper method mentioned earlier, or freehand if you're talented and then use the applicator tip on the bottle to trace the sketch with the henna paste. You have to let it completely dry without moving and it will harden as it dries.
DIY stick-on tattoos that last a week: Airbrush tattoos are the tattoos that get done at carnivals and fairs typically. Airbrush tattoos are great for birthday parties, festivals, and special events. These tattoos are quick and fun for all ages. You can buy an airbrush tattoo kit box for DIY at home. You pick a negative of the design and it is placed on your skin in the desired location. Then they use a machine that sprays the ink onto your skin, peel off the design negative, and you have a tattoo.
Basically, if you are getting a stick-on tattoo, it is going to be temporary and not last very long. You can continue reapplying the same design so it appears to last a while, but you will only get permanence with a real tattoo.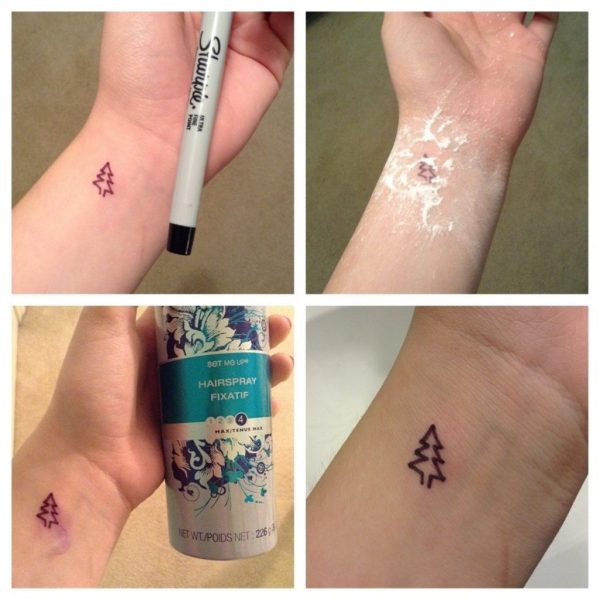 ---
How to make a custom tattoo using this tiny floral tattoo outline?
So have you decided on how to DIY your temporary floral tattoos? Draw it? Print it? Ink it? Make sure you have your tiny floral tattoo outline. After that you will have to decide your tattoo color and designs, here are our top tips:
Be creative with the use of colors, there is a variety of color choices even for eyeliners or sharpies. You should also decide on your tattoo color in consideration of the color of your hair and color of your skin.
Design your stick on tattoo according to the effect you want to achieve. A bigger tattoo may be more likely to look "fake", whereas a tinier tattoo may look more "realistic."
You can draw your tattoo on any part of your body, but flat areas without a lot of hair might be easier to work with. Make sure the skin is clean and dry when you draw your design.
You can make use of tape to mask out the area you do not want the tattoo pattern to get to.
Easy right? Now you can download these tiny roses design Pinterest viral pin inspired stick-on tattoo pattern. To kickstart, print it on a tattoo paper or a normal paper, then move it to the desired body part using any of the methods mentioned in this post! DIY a fake temporary homemade tattoo is the best way to test out a tattoo idea before getting permanently inked. Making your own stick-on tattoo is easier than you think — and you probably have all the supplies you need at home. Once the holidays roll around later this year, you also can put your DIY stick on tattoo skills to good use by making body art for your friends and family.
If you found this post useful, you might want to save some pins to your Pinterest tattoo board, so when you want to make stick-on tattoos on your own next time, this handy guide with the free downloadable design is here to help. Make sure to join the email listing now to get the free download!
Is mahogany red color your favorite color? It is the color of power and feminity, Saint and Sinner. It is a lucky color that will bring anyone a positive vibe with more confidence.  Below are just some inspiration pictures, make sure to try them out yourself to see if the color is for you!
Hashtag #NotStayingBlueToday #mahogany redColors on social media to show off your mahogany red looks and be part of the tribe empowered by the beautiful color!
More free goodies? GOOD NEWS! We are hosting a Free International Giveaway!
Make sure to check out our BEST SELLING mahogany red products below! Click the images to see more!
— This blog is approved by our editorial board
All the images and text of this post are property to our content contributor BurgundyColors Please do not copy as they spent days working on the researches!