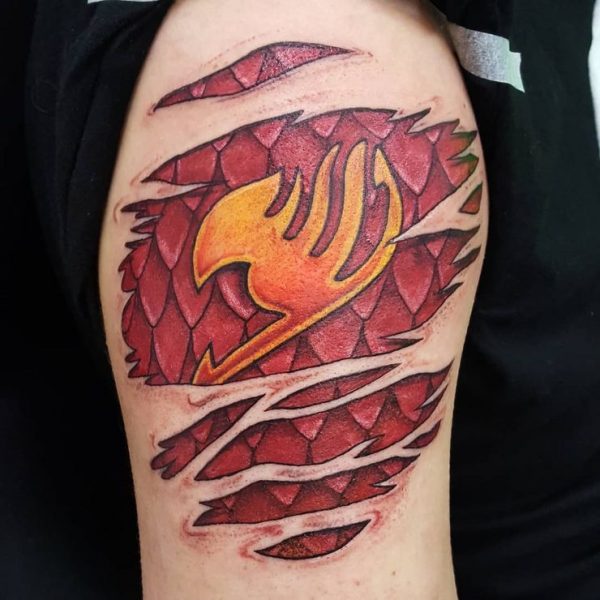 Fairy Tail is a Japanese manga with the storyline happening in Earth-land, the fictional world where guilds of wizards use their supernatural powers and serve for an appropriate price.  
Manga (the name used to refer to anime exterior of Japan) has expanded to the international audience. As such, Fairy Tail is no different, with its international fans consistently reminding their strong interest and love for Faily Tail collections.
From 2006 to 2017, Fairy Tail had its original 545 chapters published while expanding the number of spinoffs and being licensed in a few English speaking countries, including the United States and Australia.  
Natsu Dragneel is the Fairy Tail's main character and a member of the Fairy Tail Guild as a dragon slayer wizard searching for his adoptive father, the dragon Igneel. 
Turn Fairy Tail tattoos into enamel pins
If you are very sensitive to pain, or can't stand the pain of getting a complicated Fairy Tail tattoo, you can turn the tattoo design you want into personalized enamel pins online, go visit EnamelPins. These pins can be attached on clothes, backpacks, caps or anywhere you want. Or if you're a tattoo artist or the owner of a tattoo shop, I'm sure you are willing to demonstrate your special artistic style to everyone. These unique and exquisite enamel pins make great giveaways to customers to broaden your business.
Continue scrolling down to get inspired by the unique and interesting ink drawing themed on Fairy Tail. Click here for more gaming and anime tattoo ideas, and here for more Playstation vs Xbox tattoo ideas!
? ? ?  True fans? Then you must check out the following merch to see if you had the full collection. –> Just click the images below to explore!
Black and Gray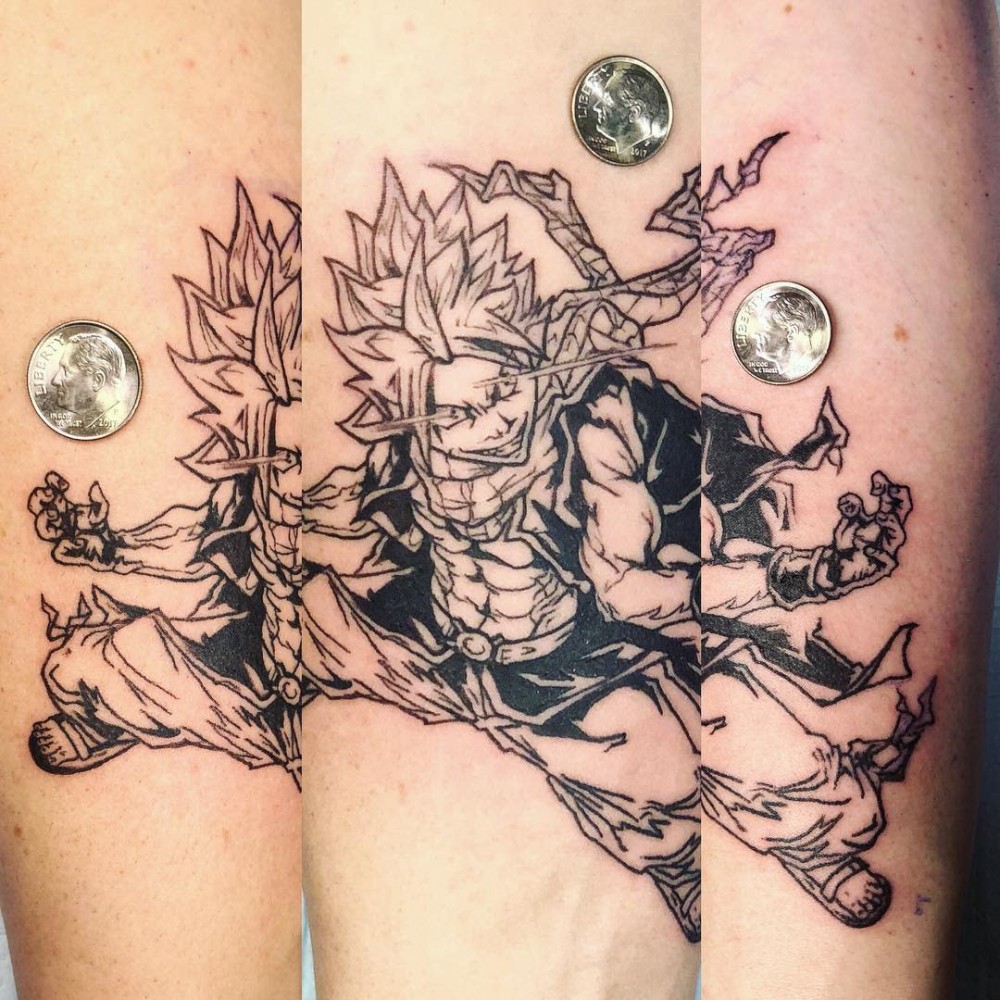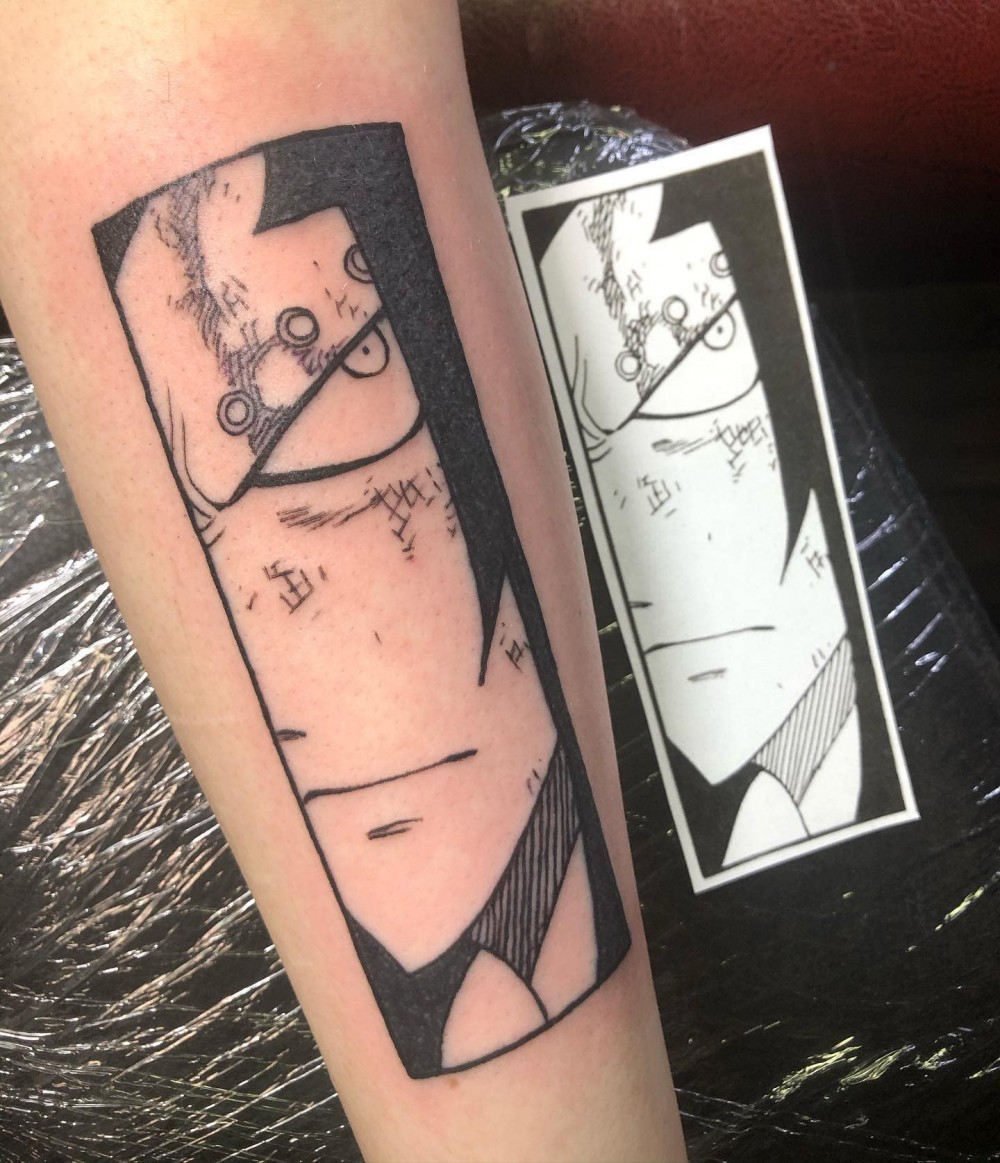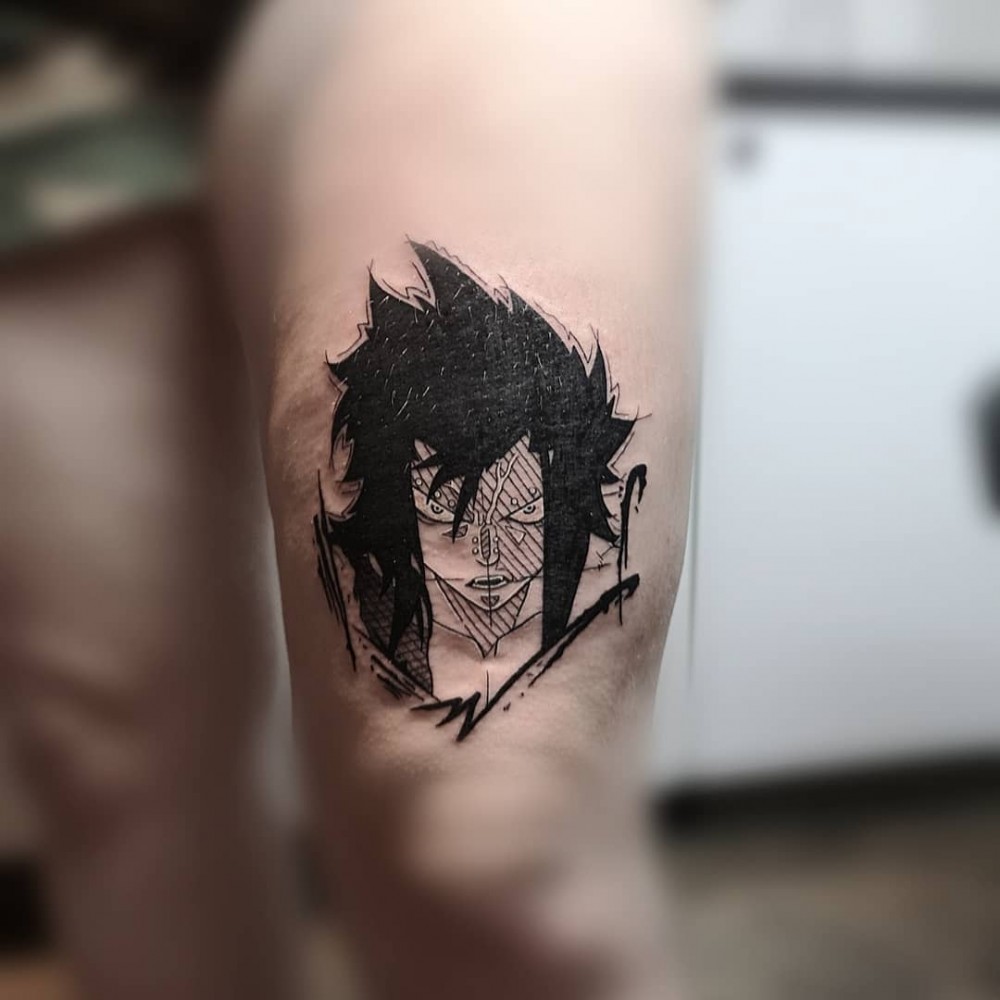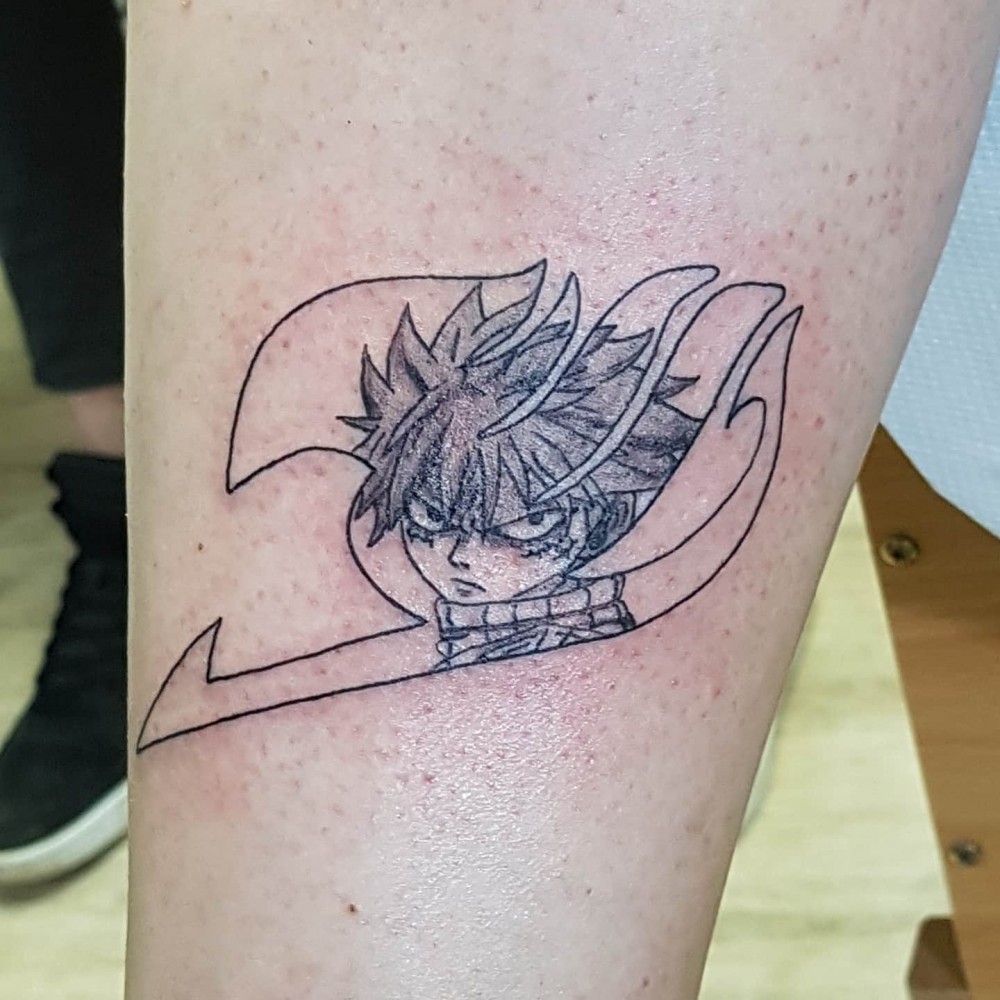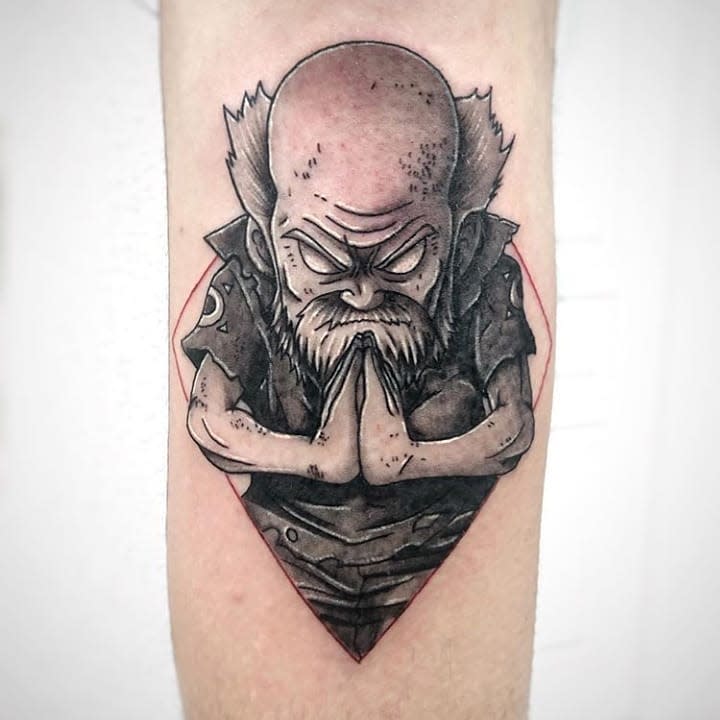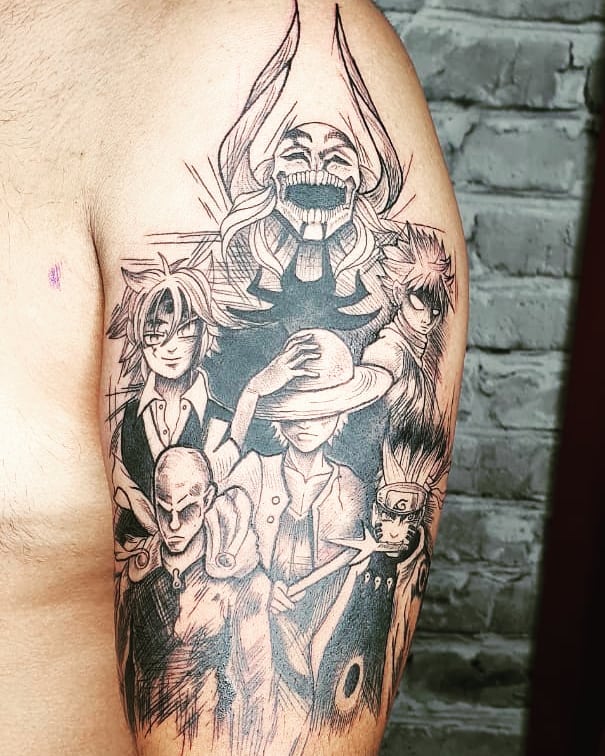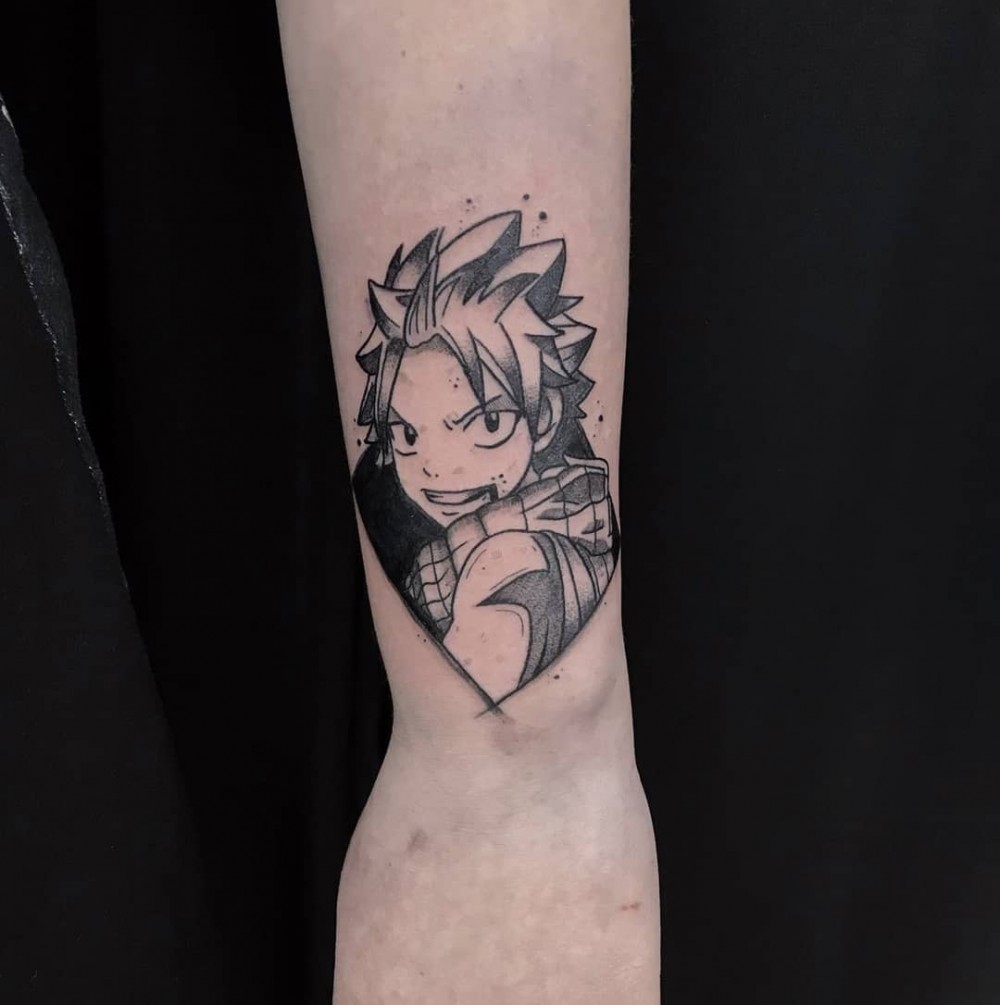 Most people get black and gray tattoos that achieve a classic sensibility that is difficult in bright colors; black and gray is better than the color tattoos because you won't experience a recognizable fading as color tattoos do.
In addition to these broader reasons,  people get black and gray manga tattoos because it is similar to the colorless black ink used to illustrate Japanese manga. This means that Fairy Tail tattoos in black and gray resembles the images from the actual comic books.
Cartoon Style Application Fairy Tattoo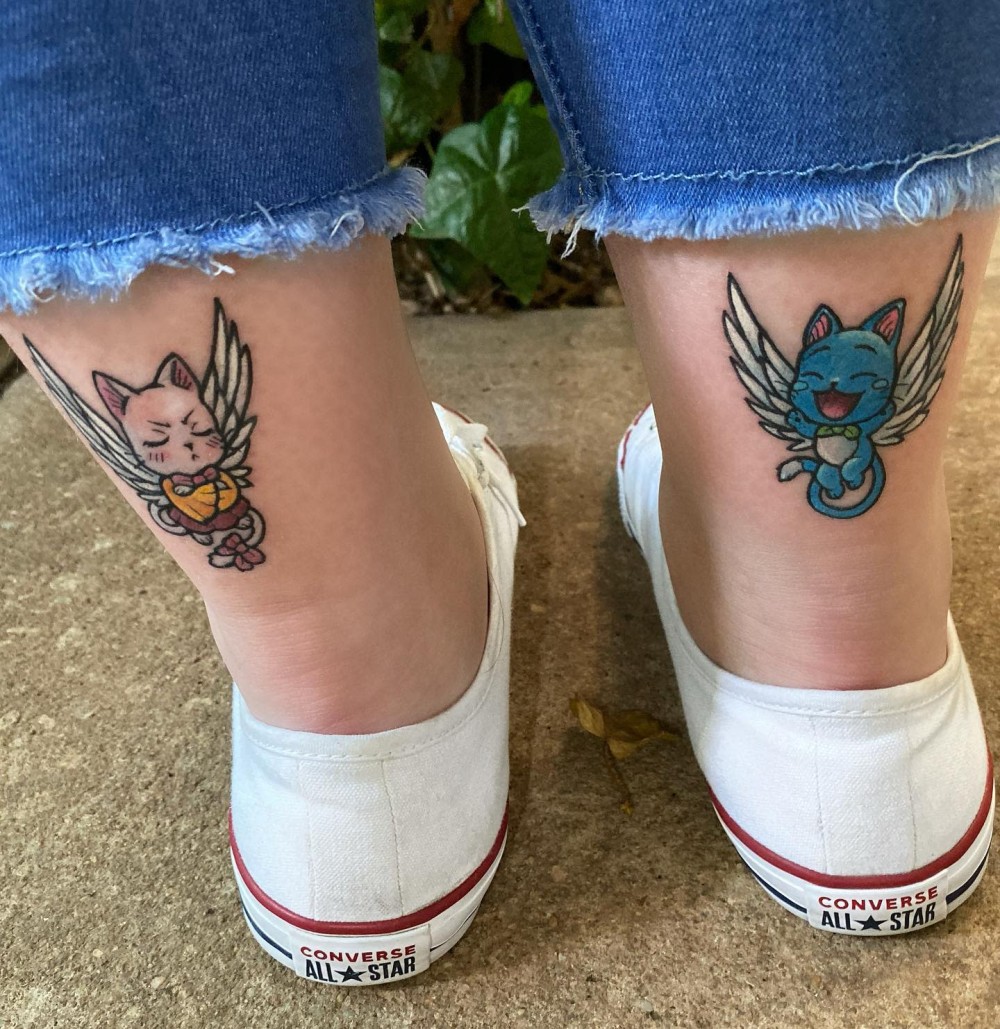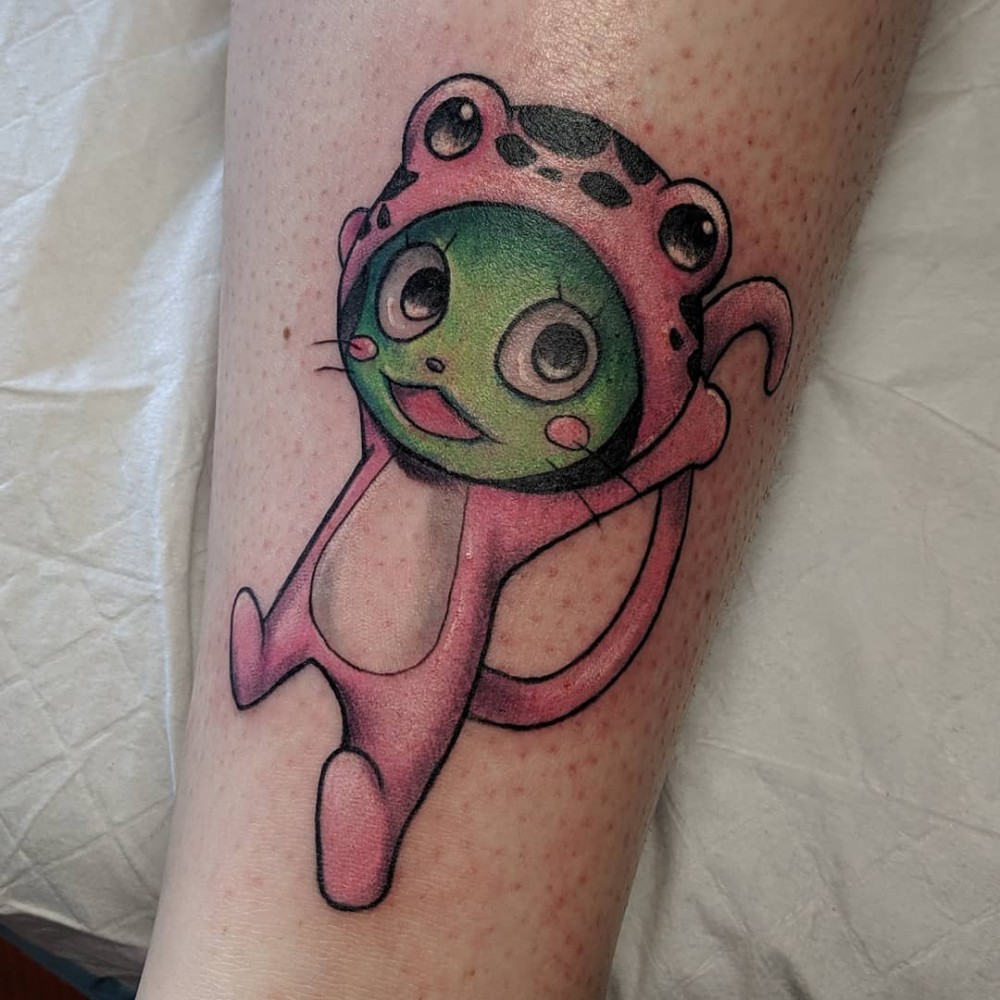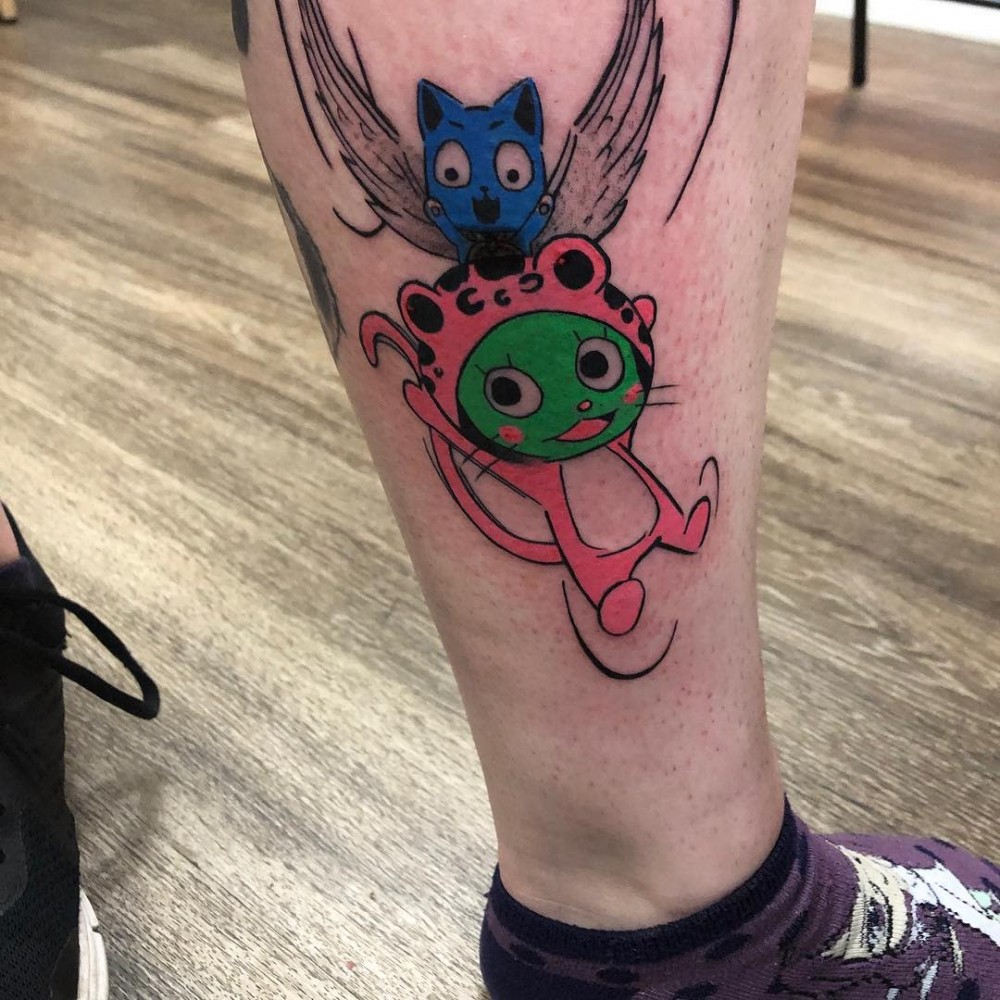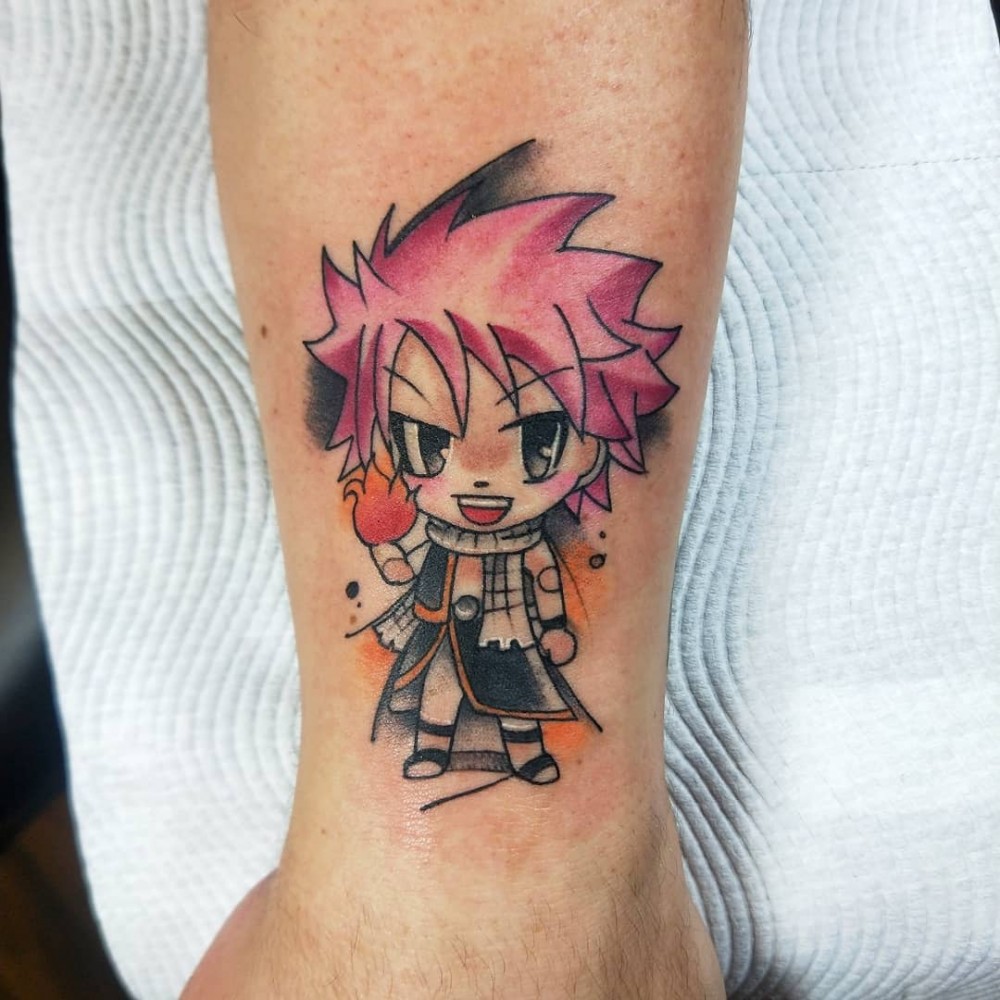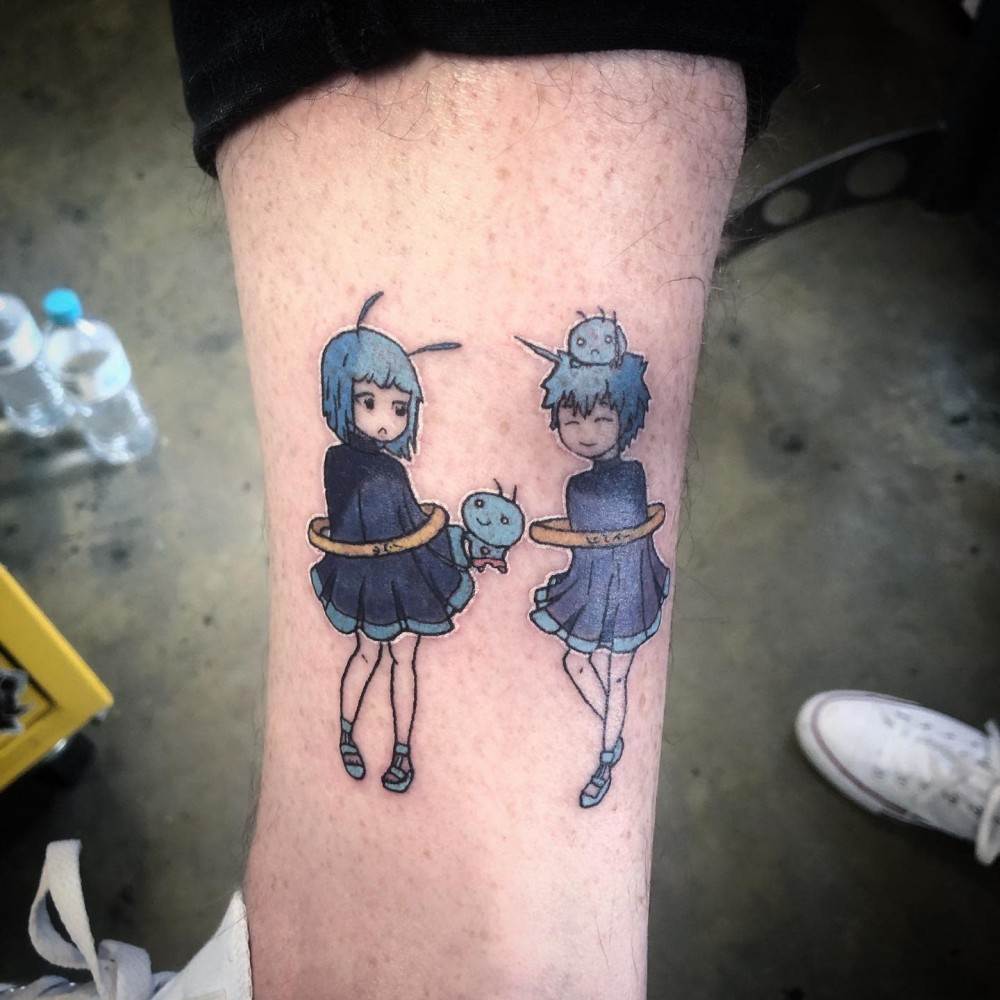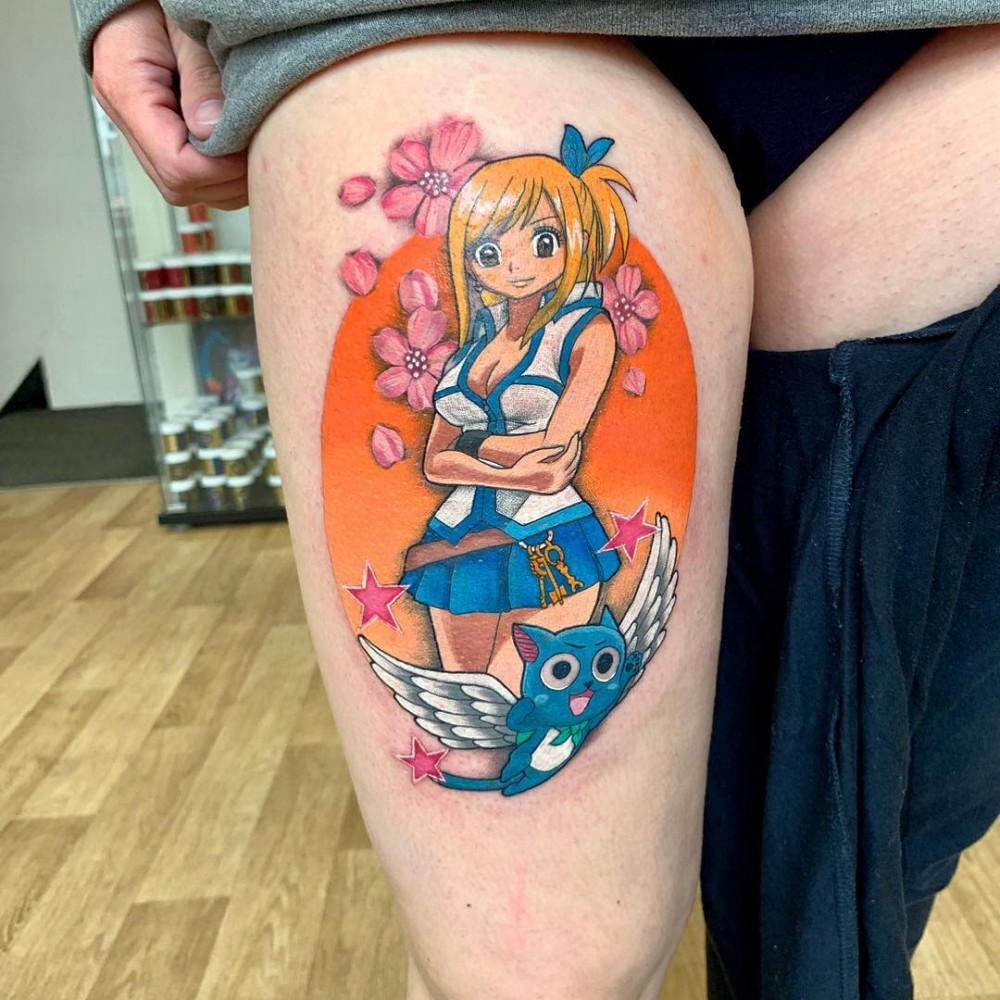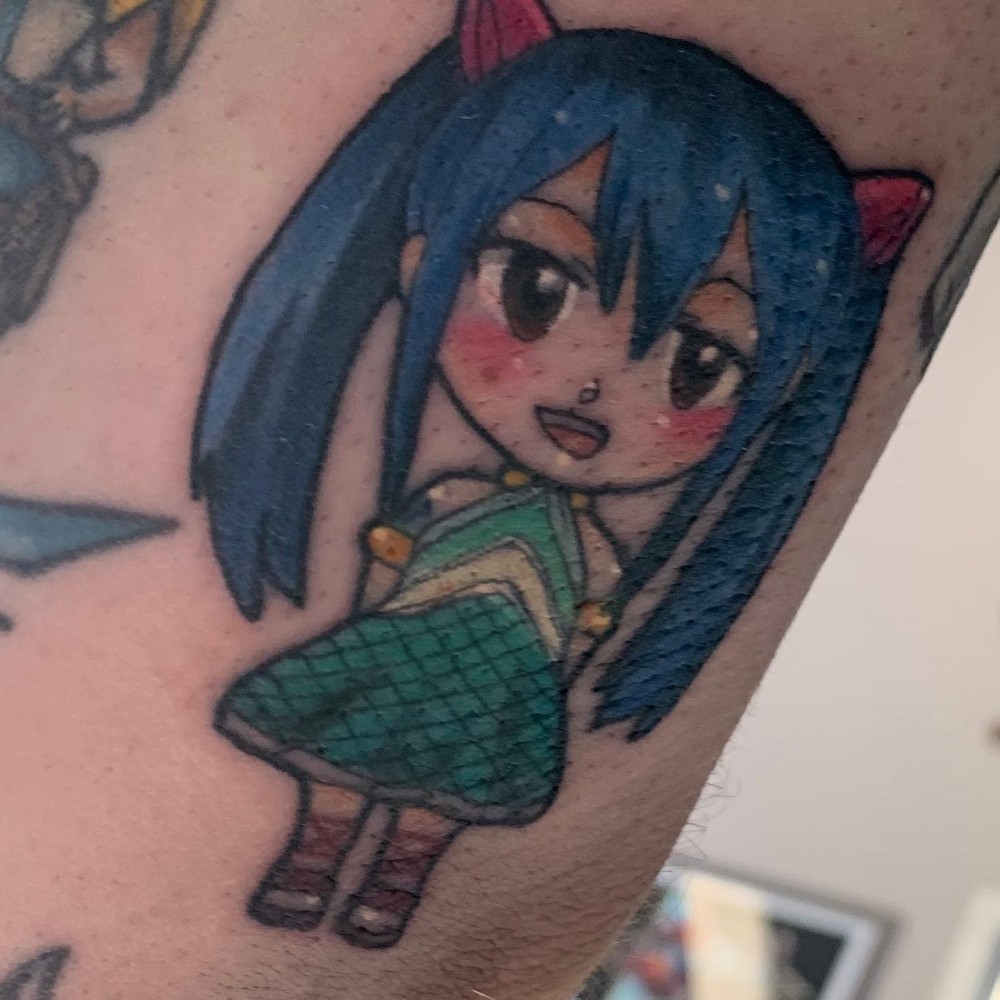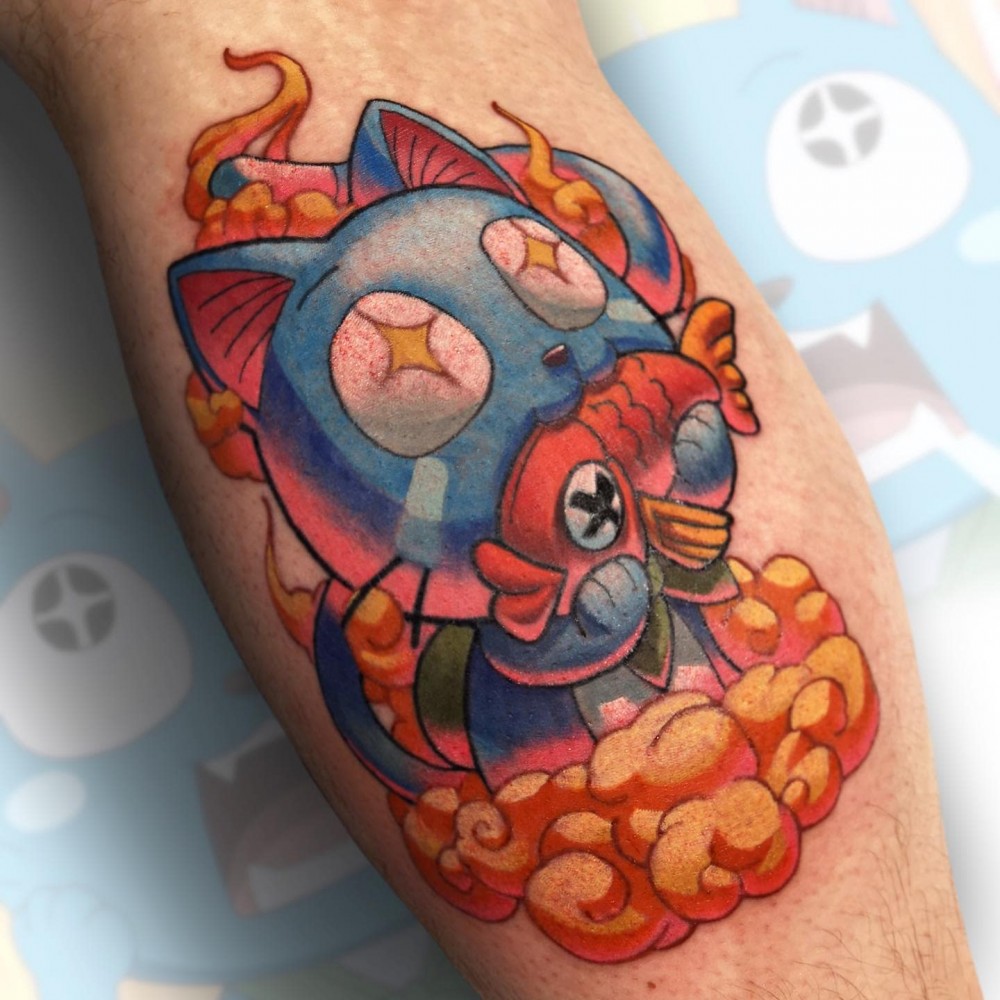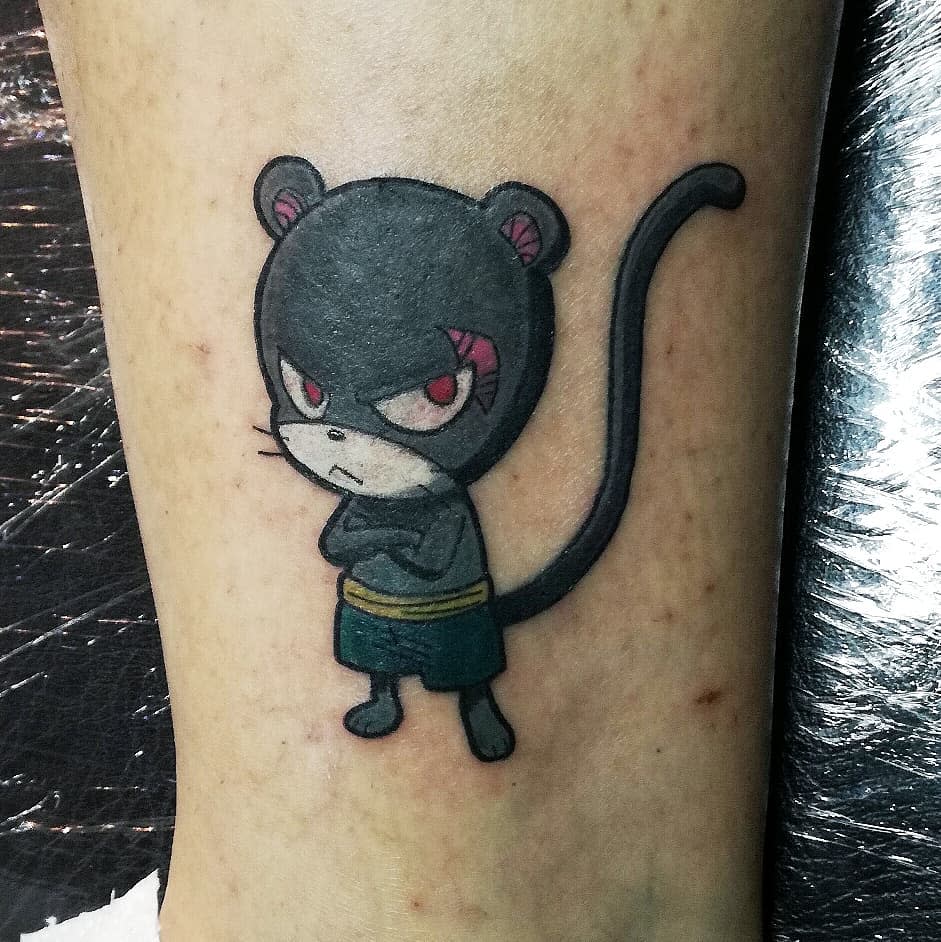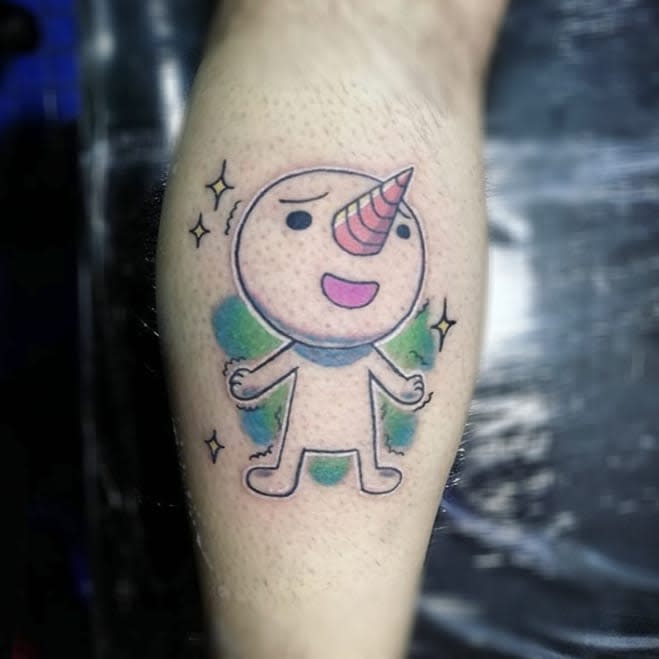 It is no surprise that many anime or manga viewers opt for Fairy Tail tattoos in a cartoon style inspired by the animation that tells the stories. Going for their most beloved characters in various settings and motions directly from the manga. Then, they changed into a more illustrative style with color inks. Check out the following collection of examples completed by the talented artists to get inspired.
Celestial Spirit Gate Key Fairy Tail Ink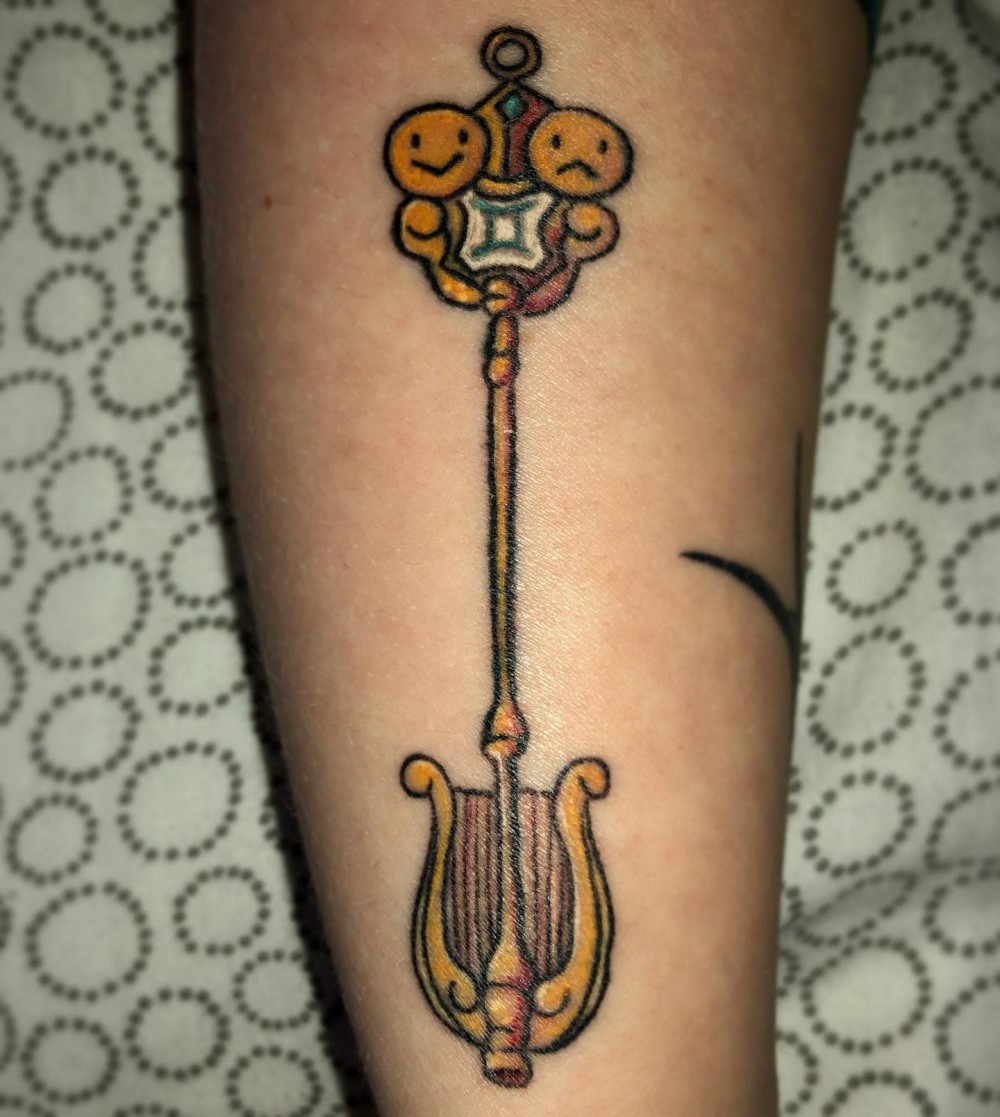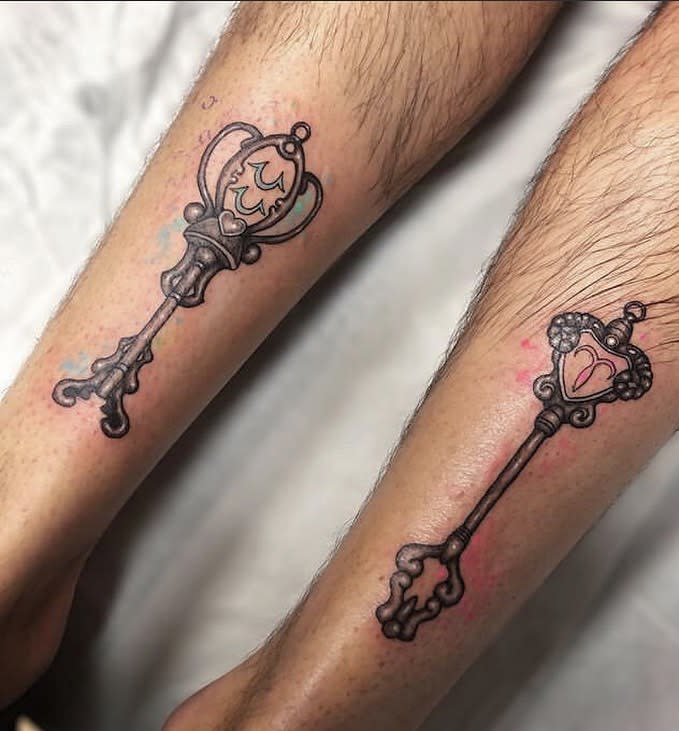 In the world of the Fairy Tail, you can use magic keys to summon creatures from other dimensions. Celestial Spirit Gate Keys allow mages to unlock the door to other dimensions and guide beings to Earth-Land to fight against enemies, run errands, or simply for company. These magical keys are important throughout Natsu and his team's adventures. Many fans love to get these magic keys as their tattoos. 
The magic keys are a great choice for tattoos because casual observers will assume them to be ornate keys, but to Fairy Tail aficionado, these are a hidden gesture to a shared interest in this beloved manga.  
Color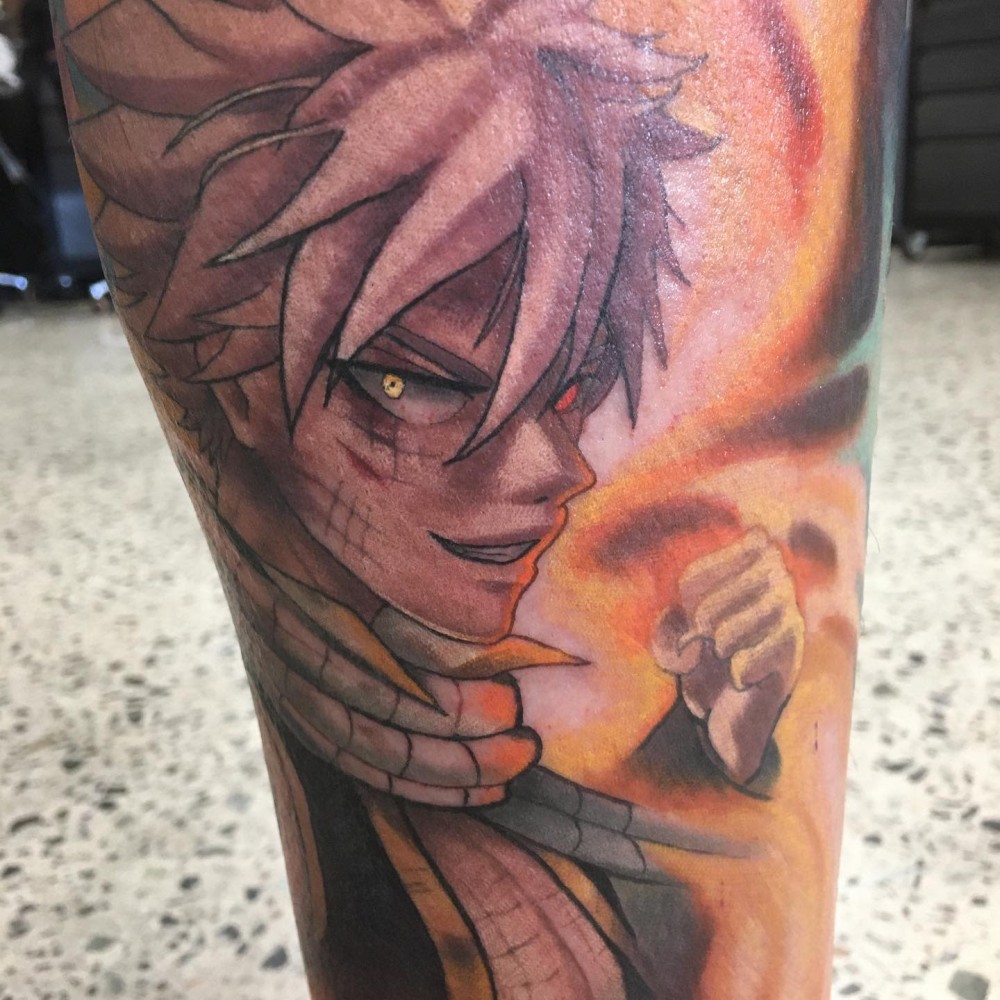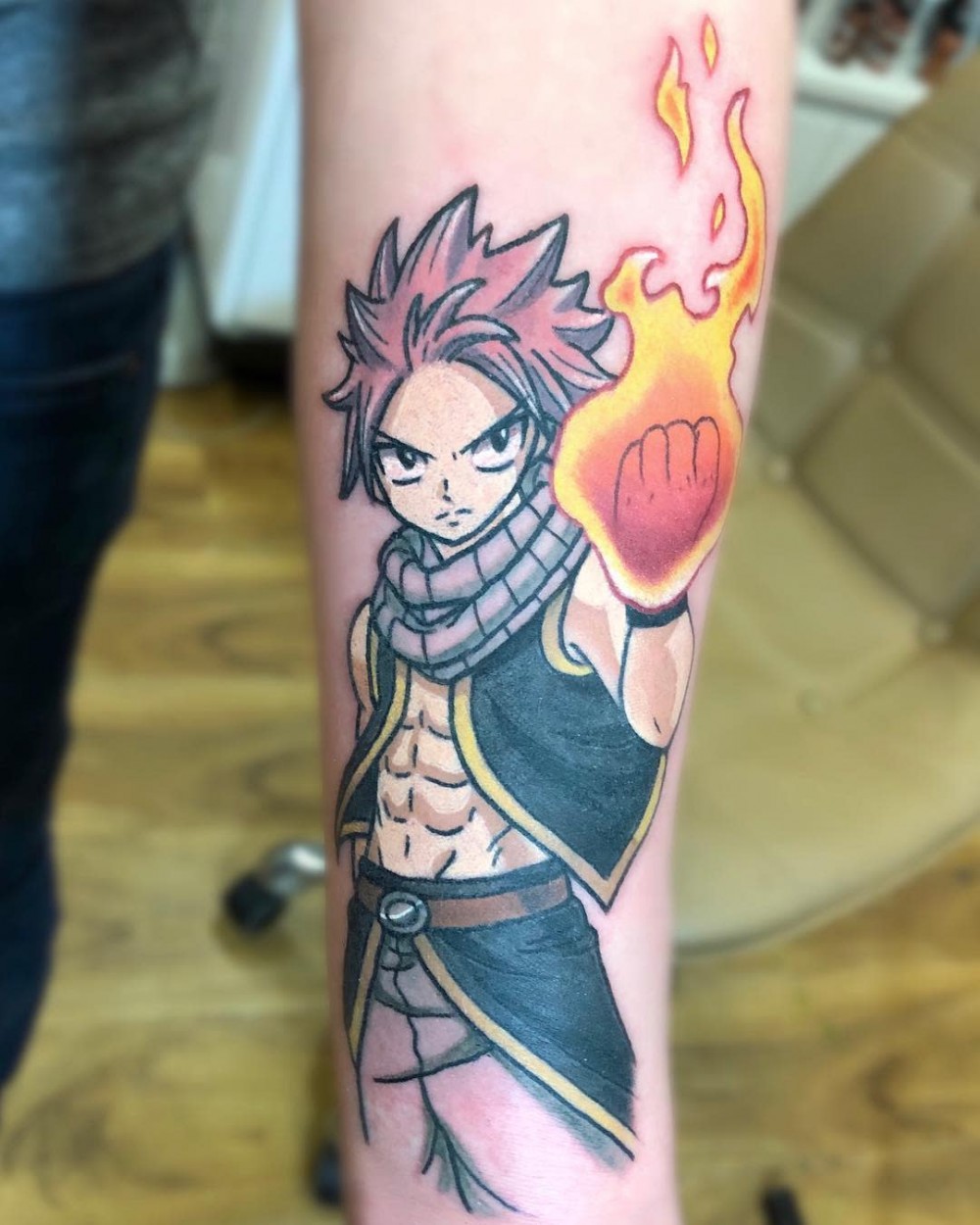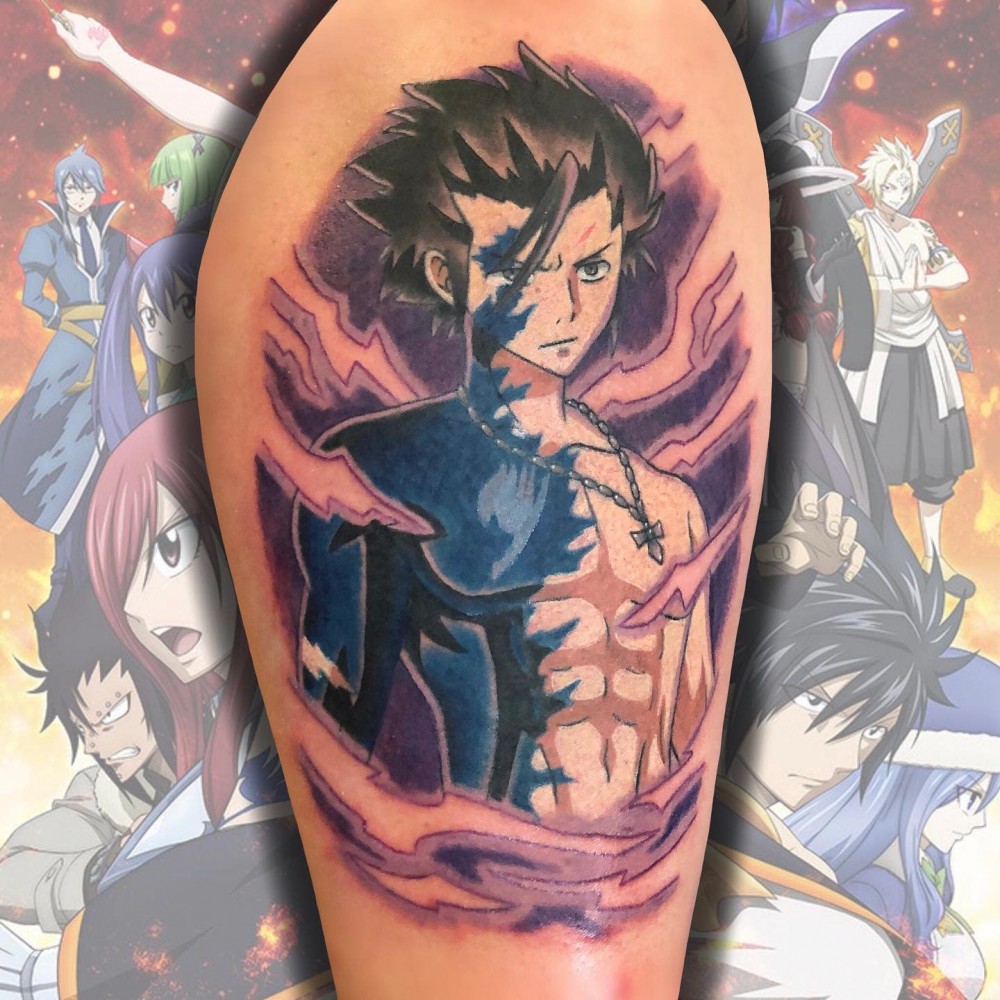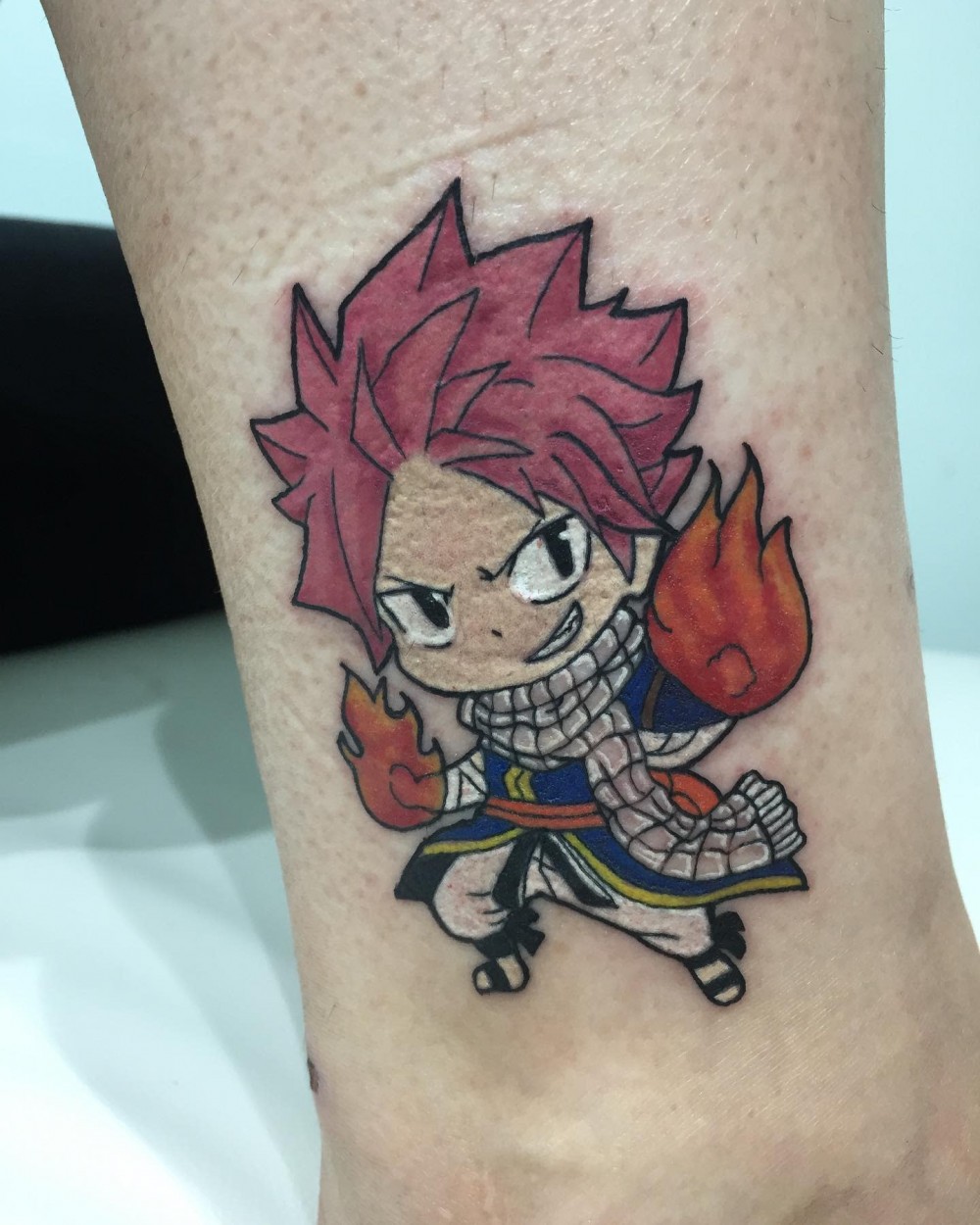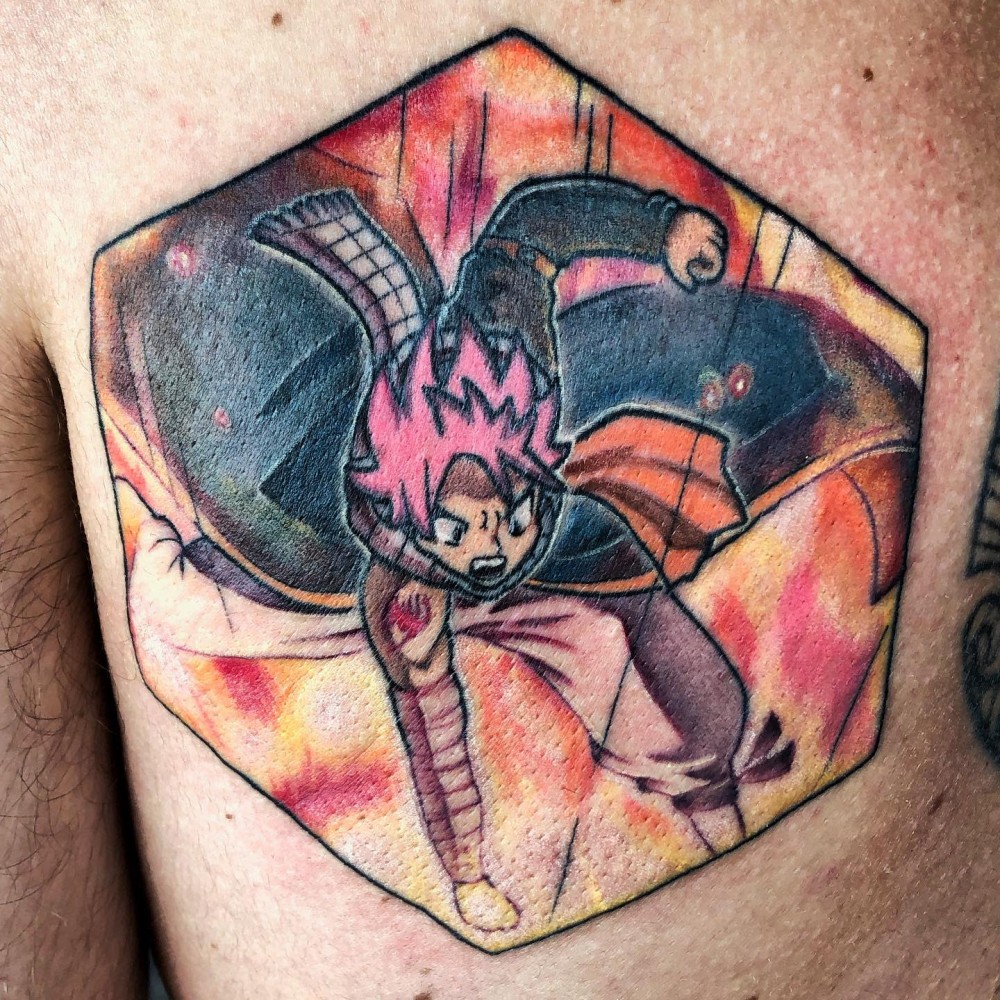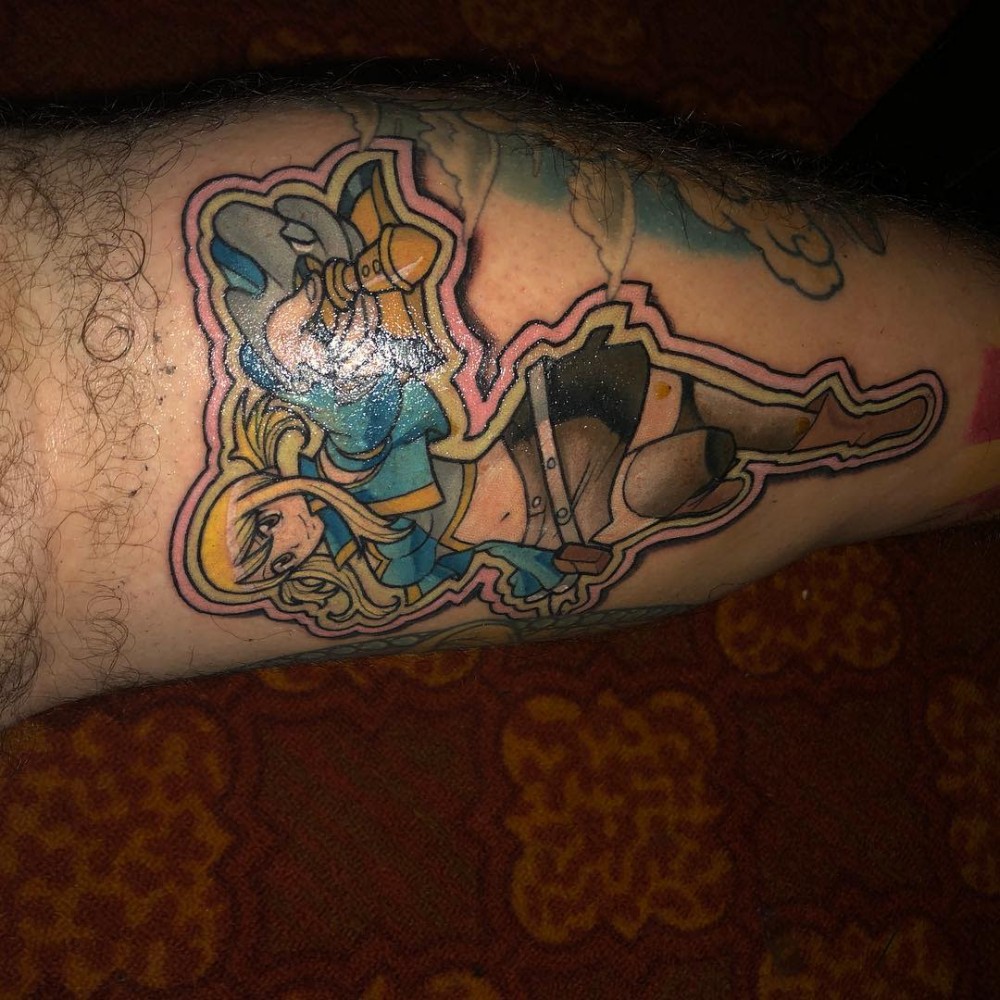 Most mangas don't use color, but many people decide to have the Fairy Tail tattoos with bright colors to personalize them to their own preference. Many of these tattoo examples are from the epic battle scenes and Natsu and his team's magic journeys put into a greater effect. These tattoos further emphasize the importance of a talented tattoo artist for successful anime designs with bright colorful ink.  
Ensemble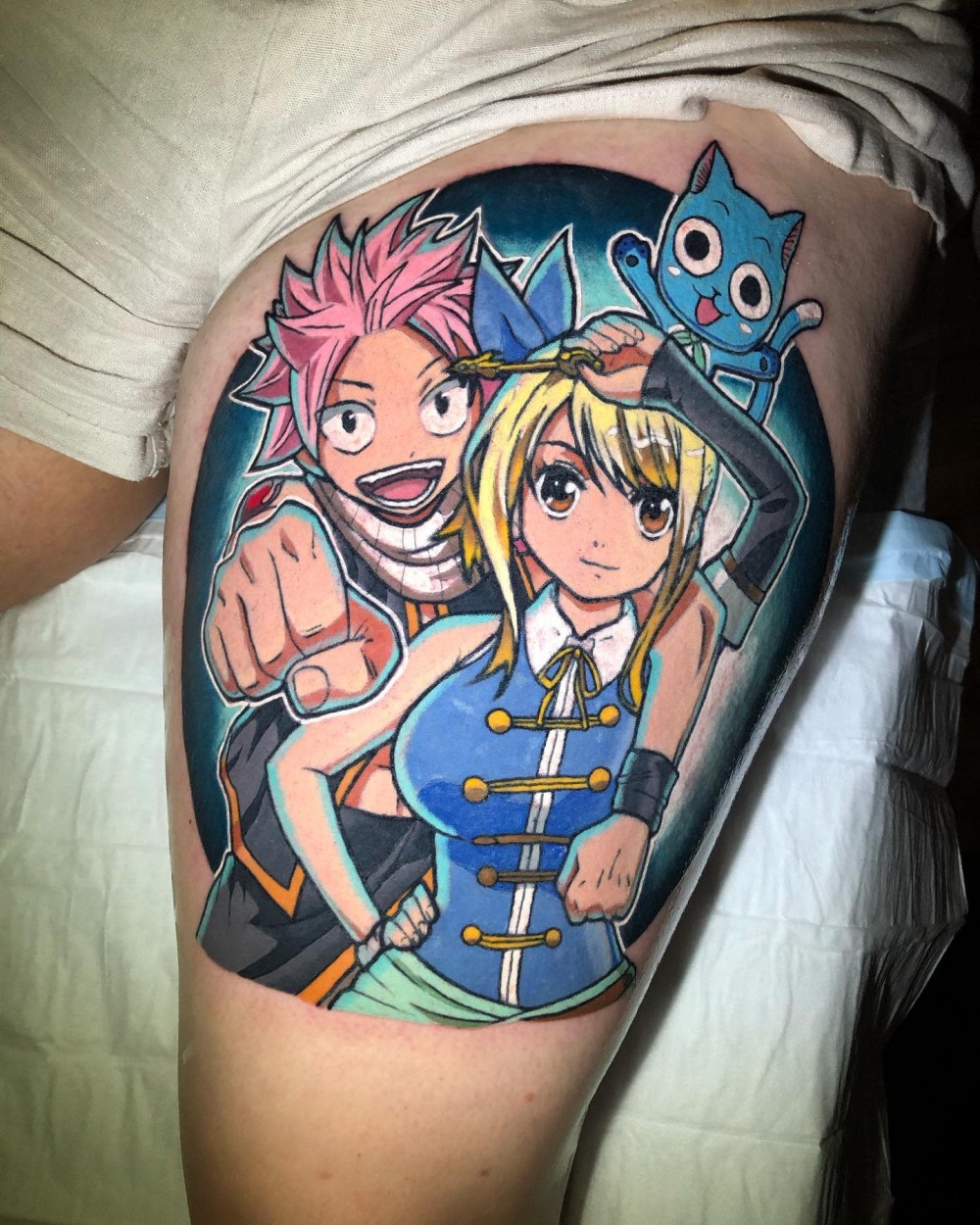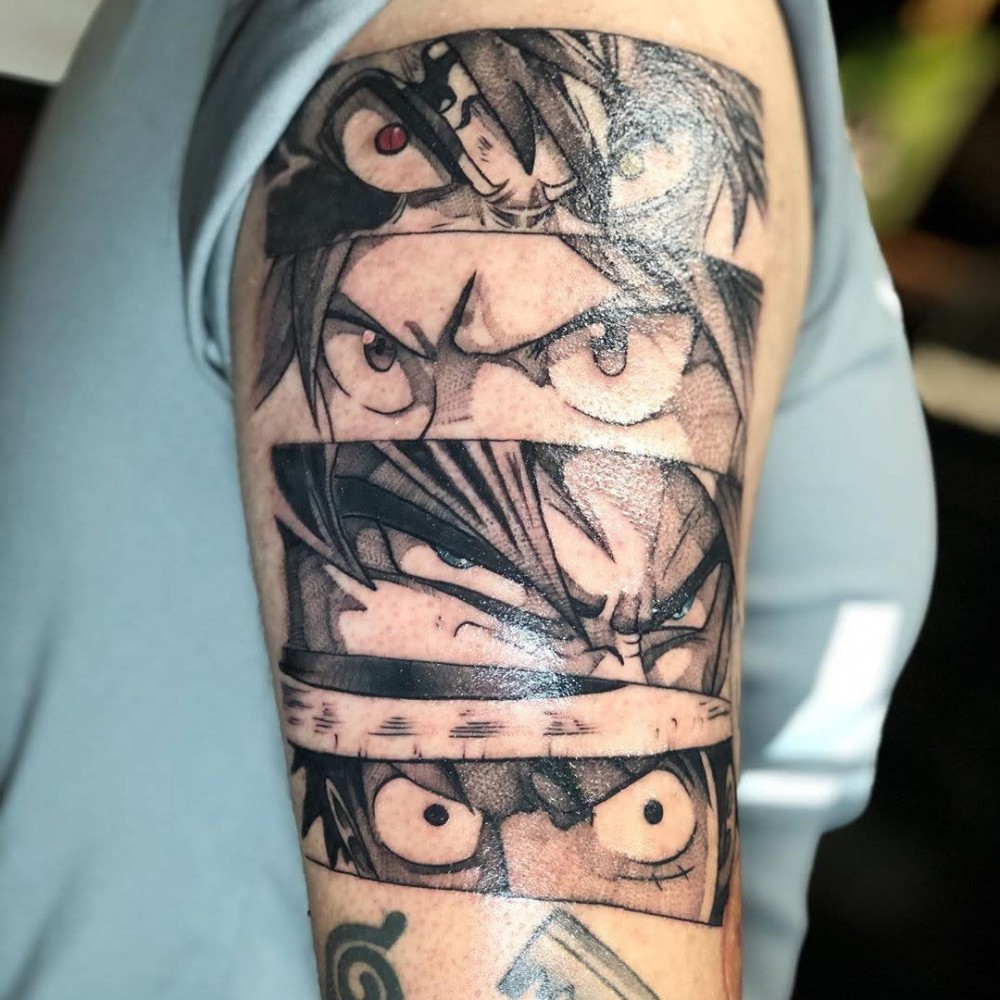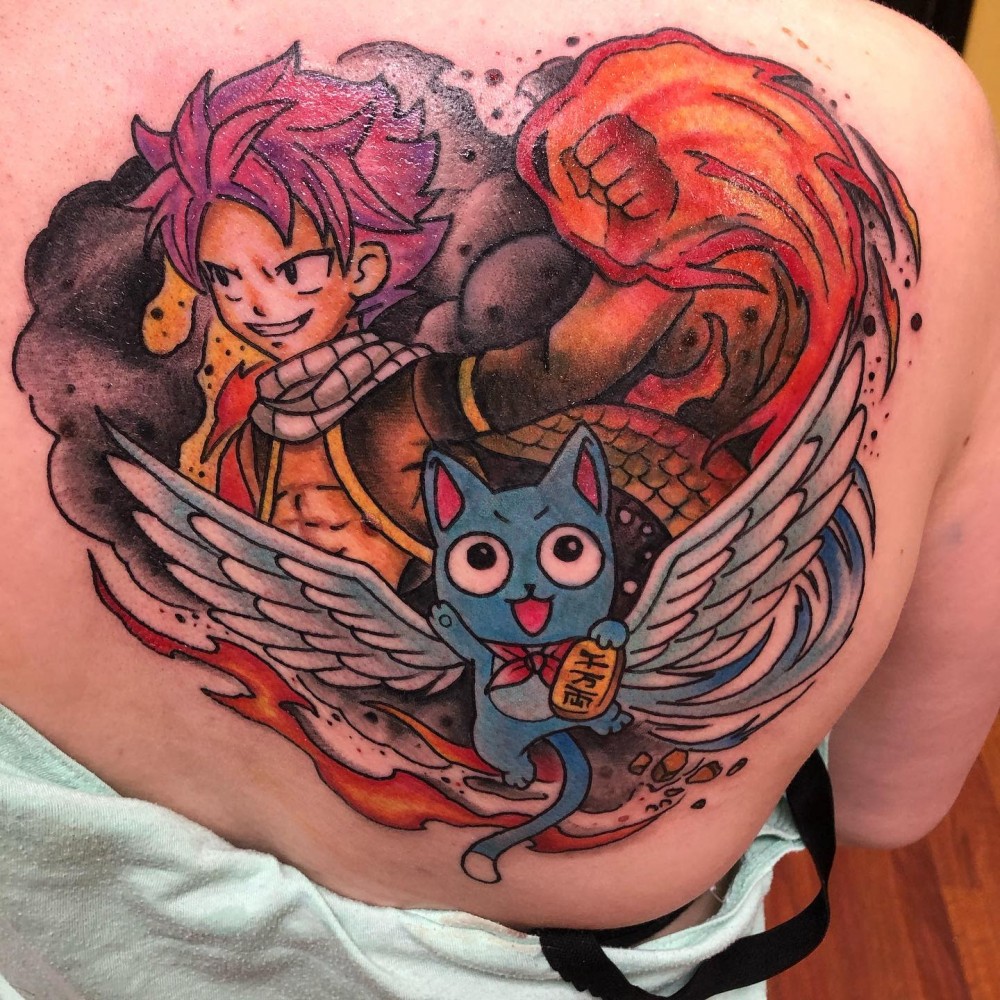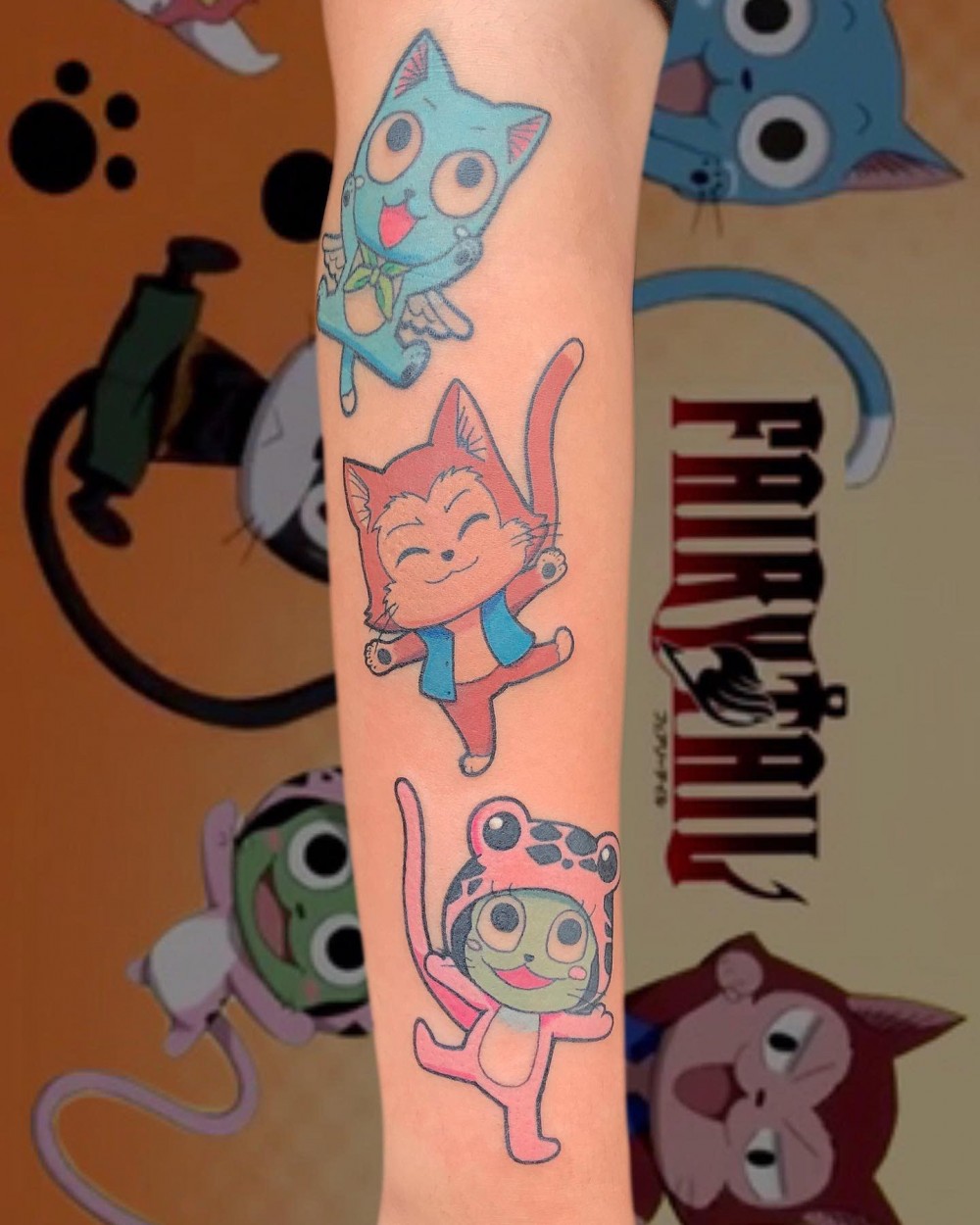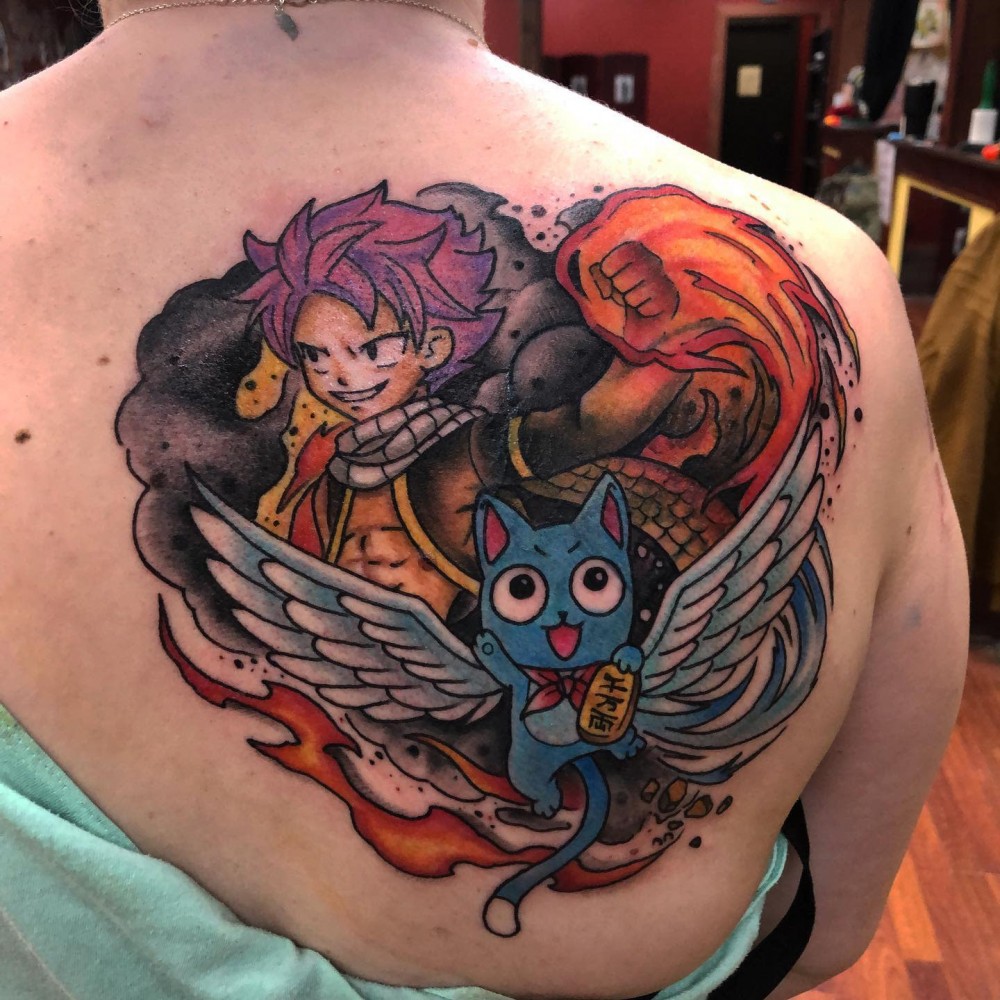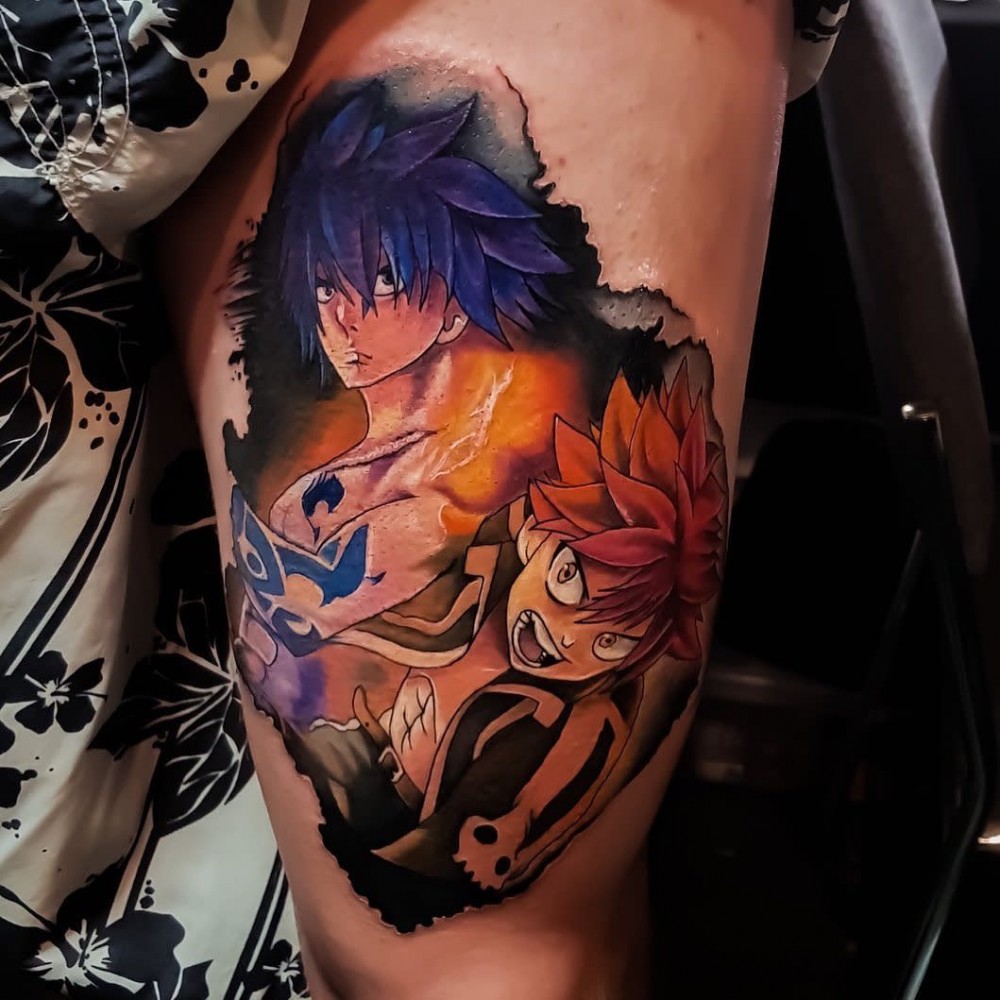 Some people get their favorite character or an action scene covered with dragons and fire, but others get tattoos with all the characters from Fairy Tail. These examples mix and make an artwork with many characters and bright color ink for some detailed parts to stand out.
Erza Scarlet Ink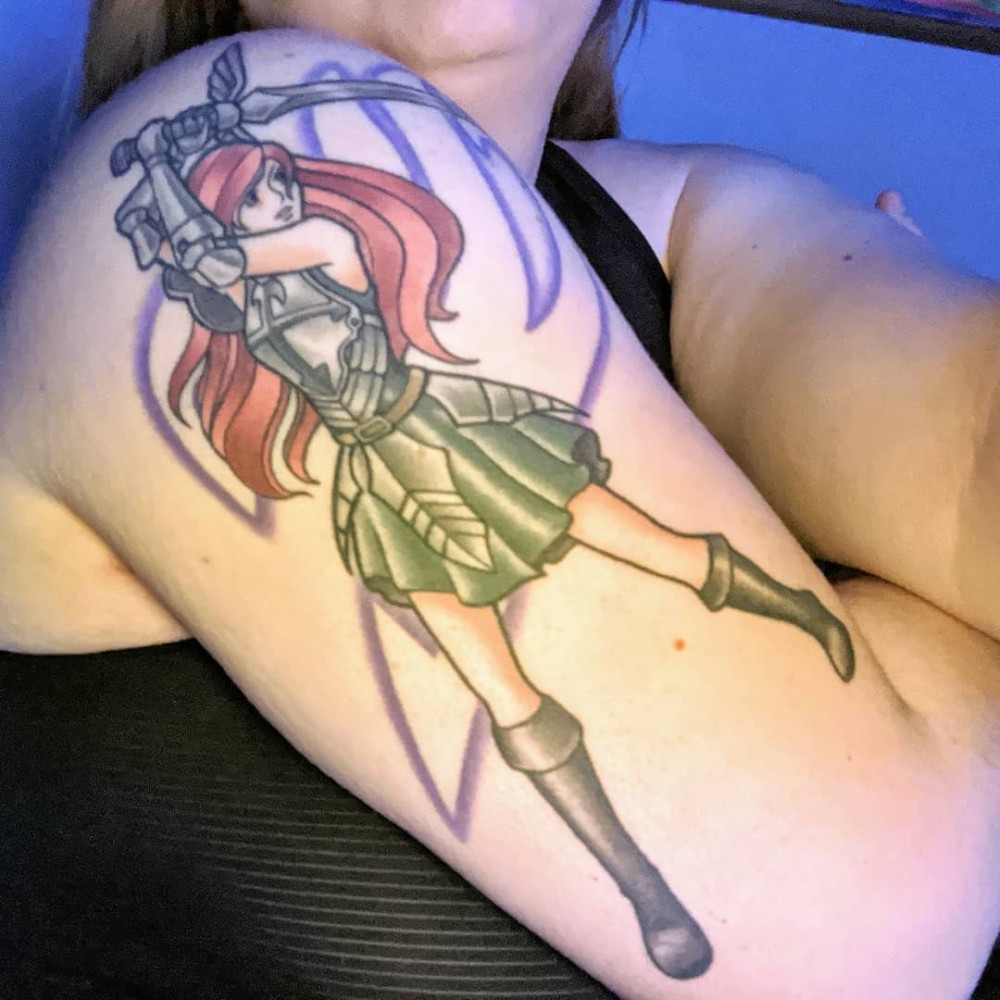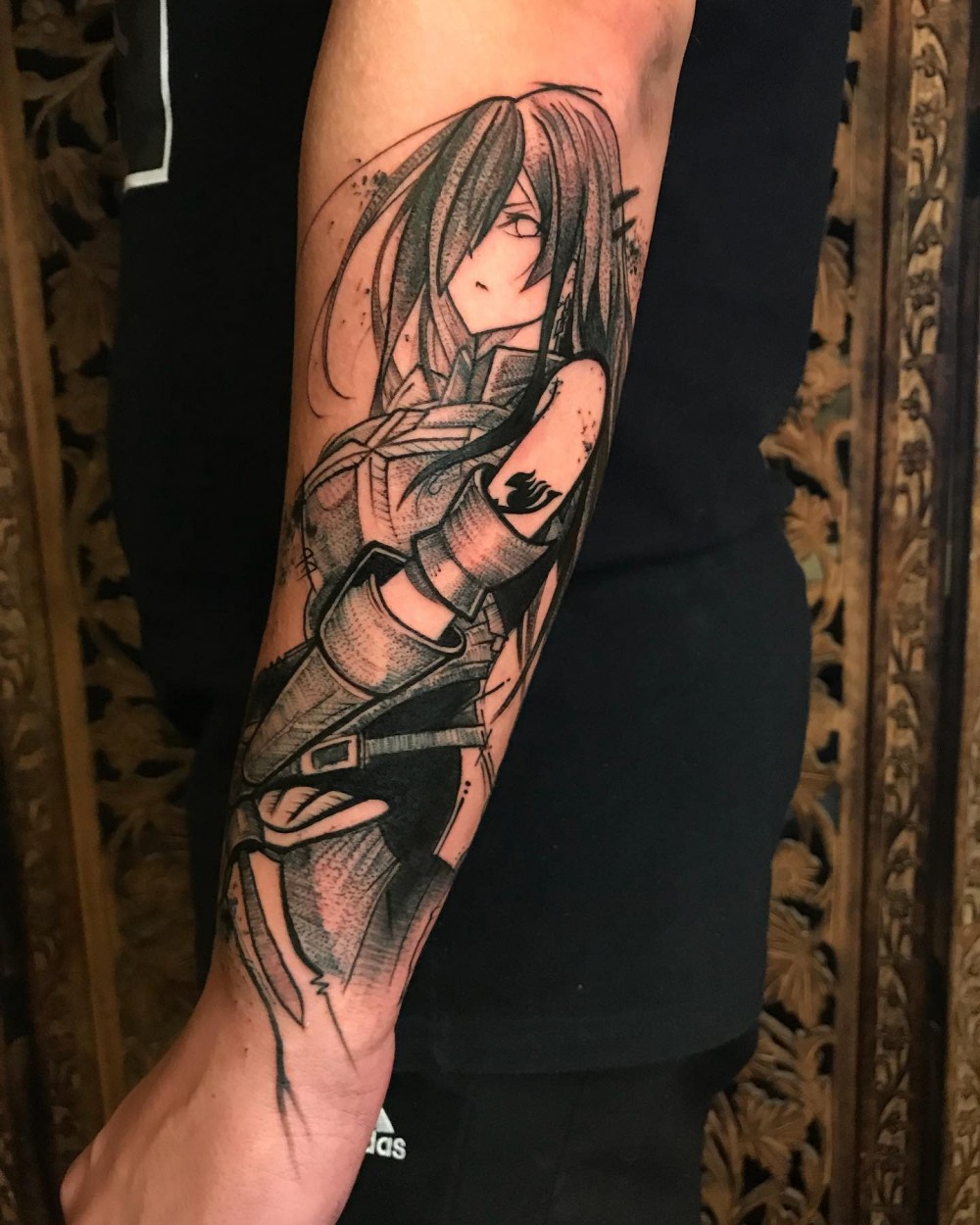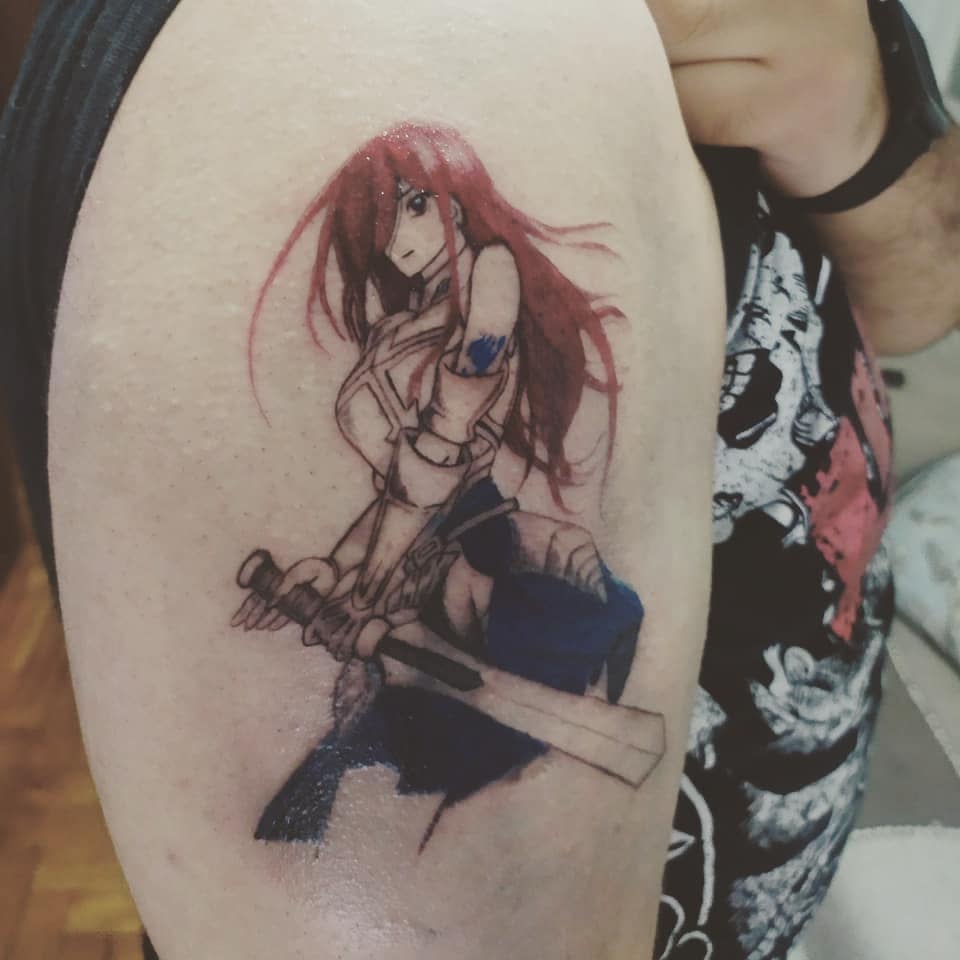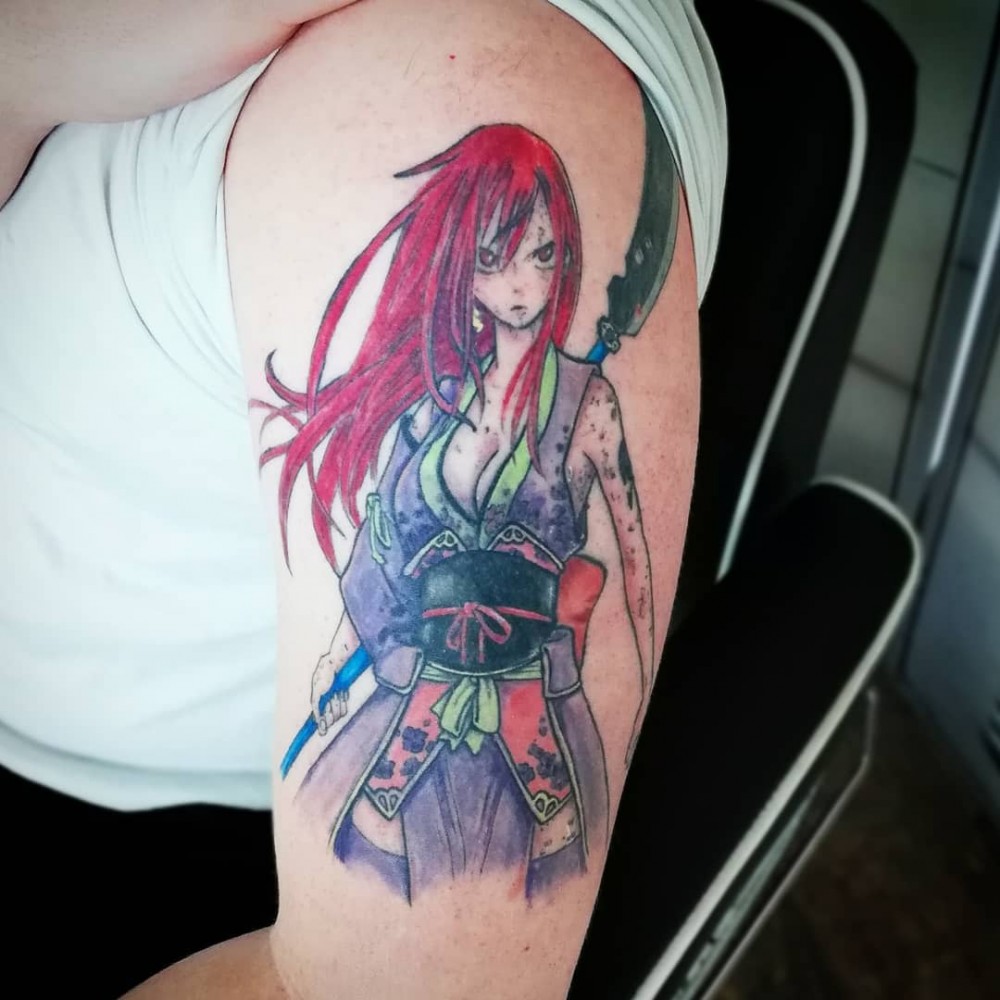 In Fairy Tail world, you can see that it's not only the men and the dragons who are fighting but also women like Ezra Scarlet, an important character participating in Team Natsu and representing the strongest 'girl' mage in the Fairy Tail Guild with her amazing magic firepowers.
Her hair is bright red hair like the meaning of her name- Scalet. She is also a powerful woman in battle. People like to express Ezra with bright colors for better recreation, but her beauty also reflects in black and gray.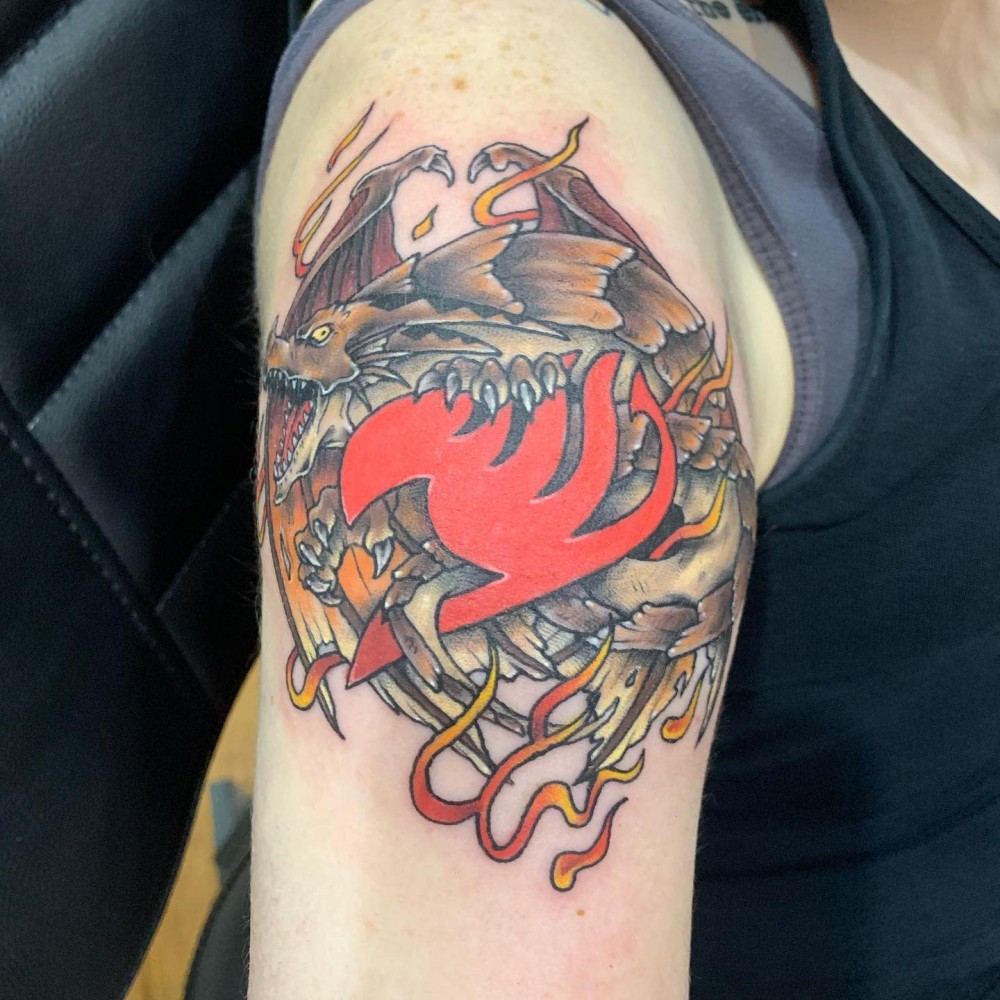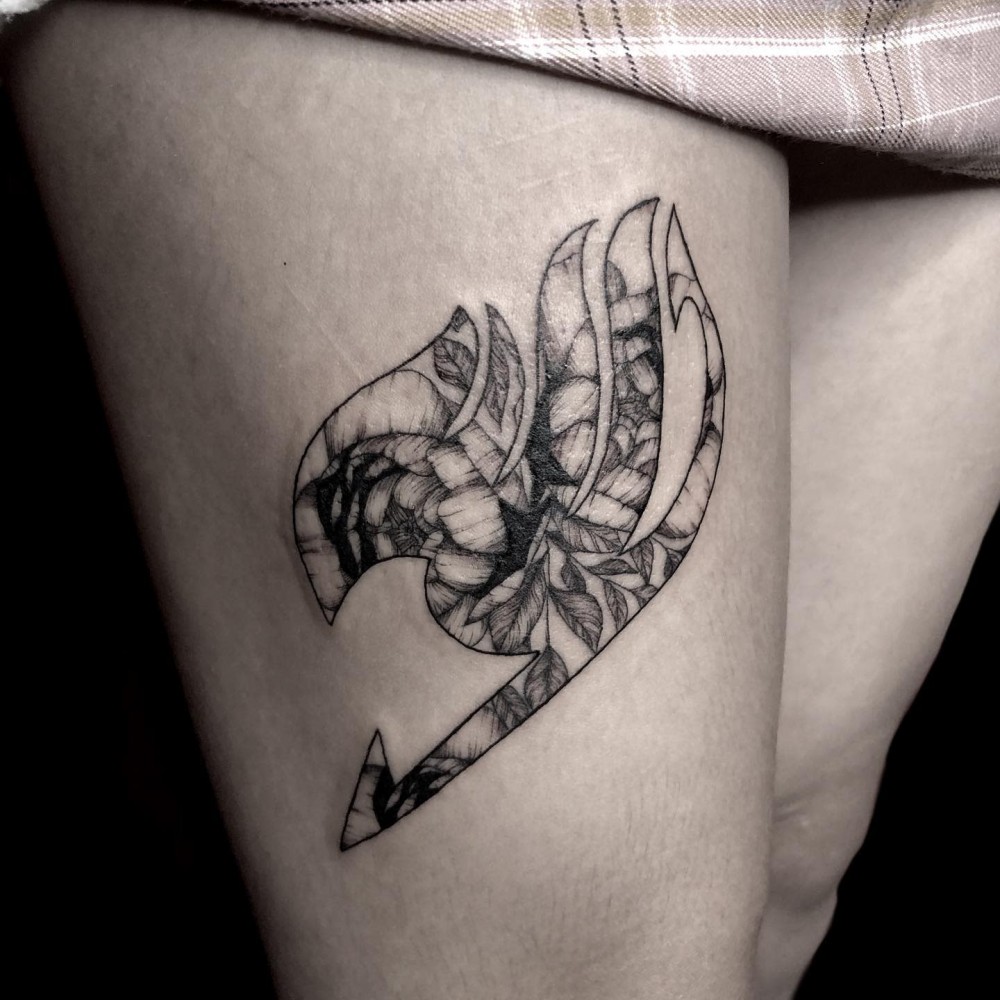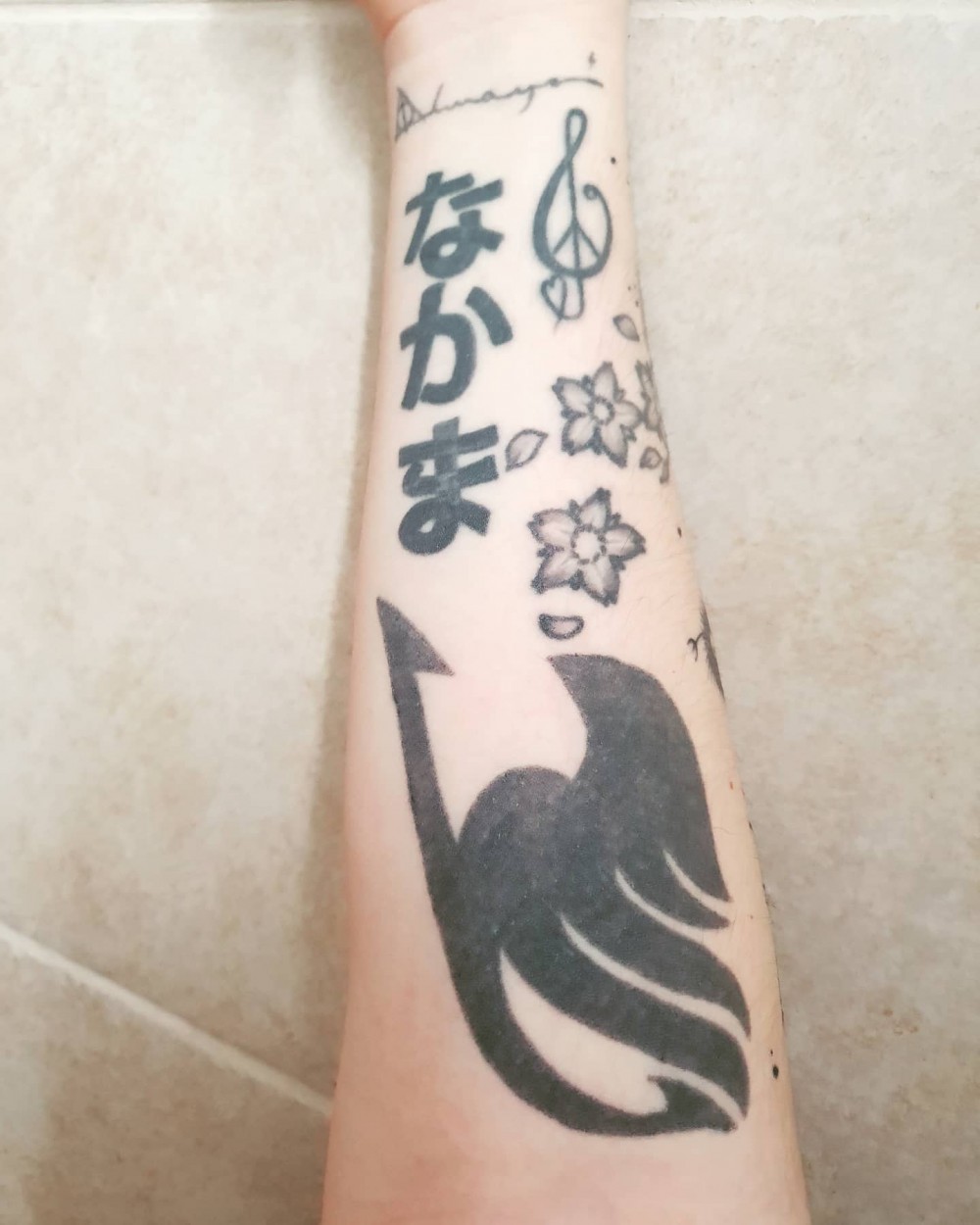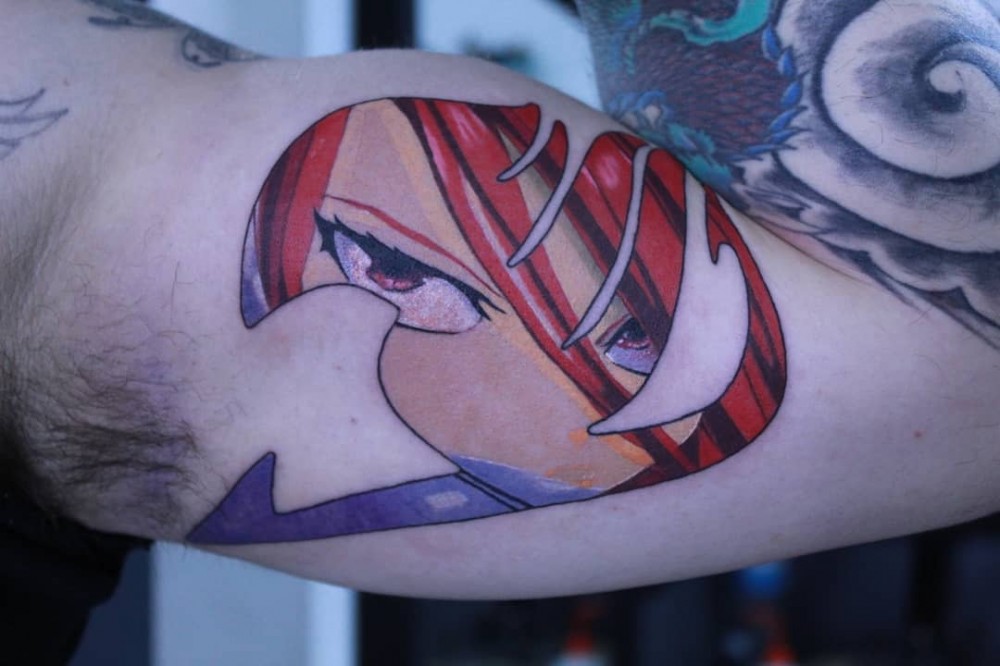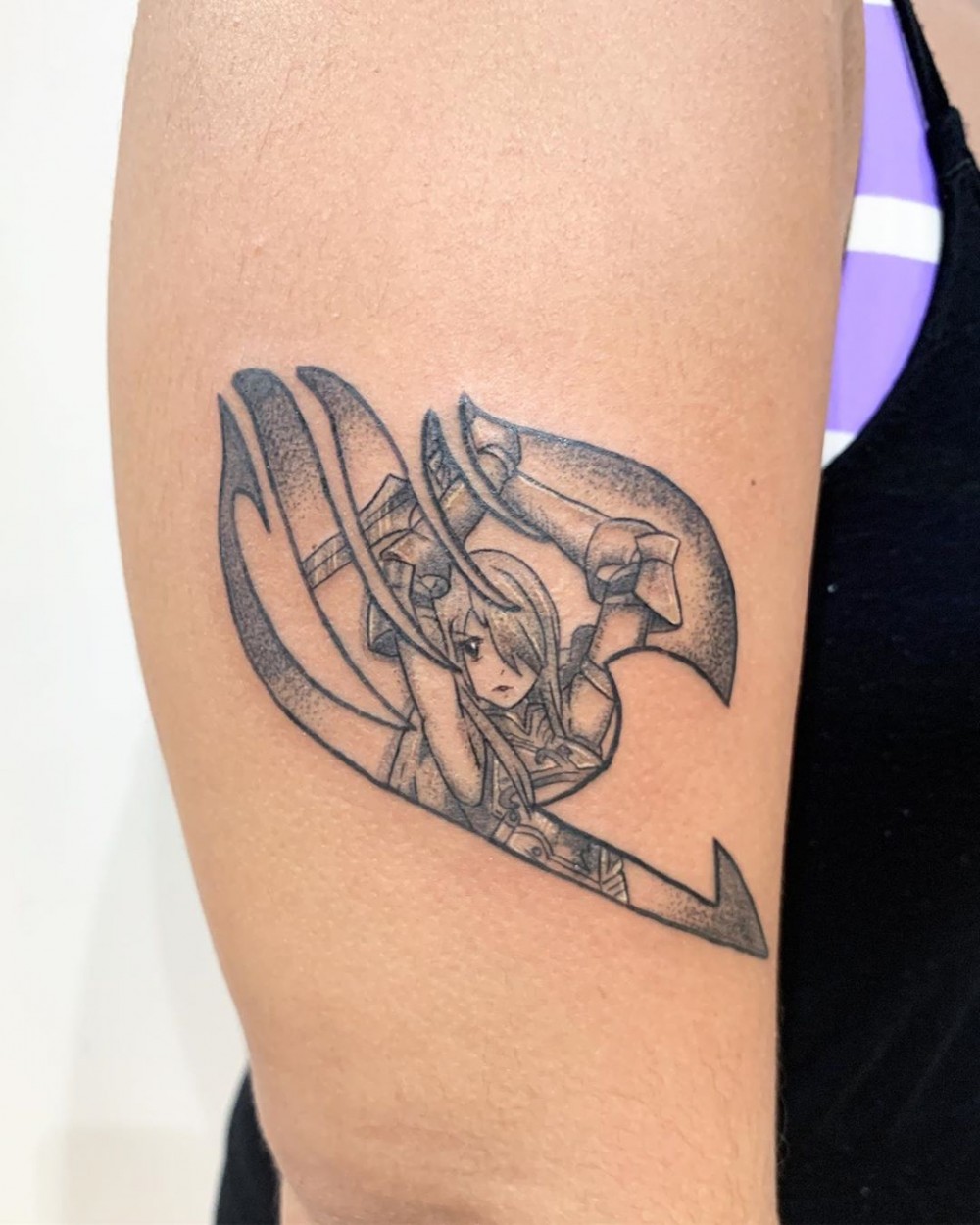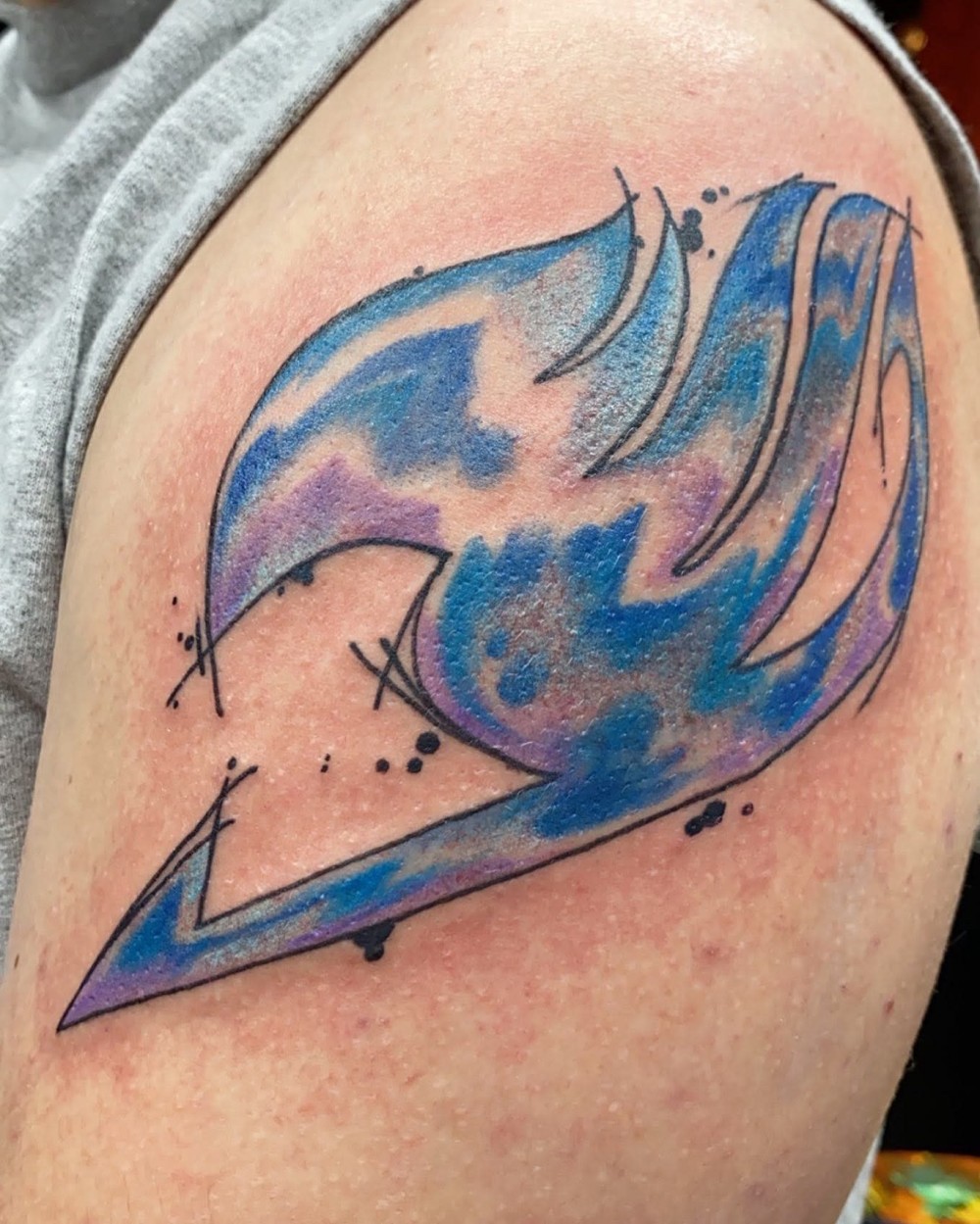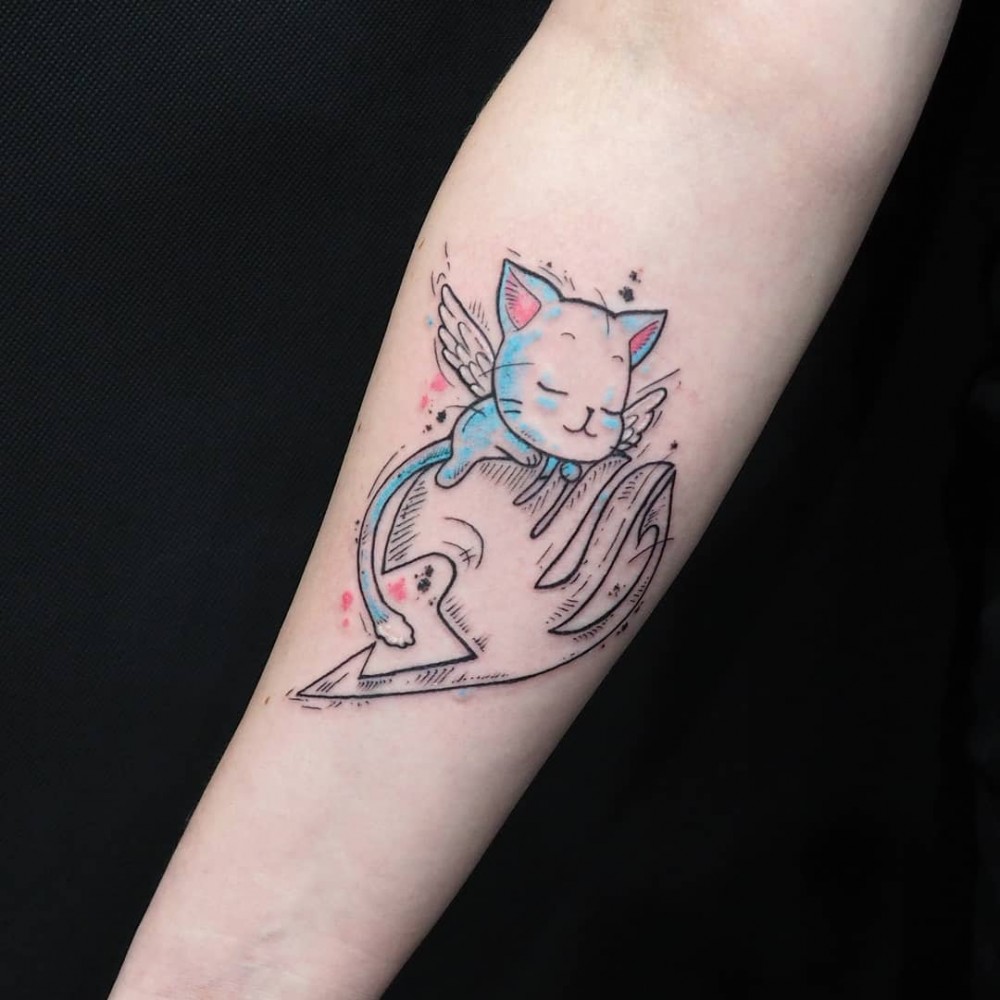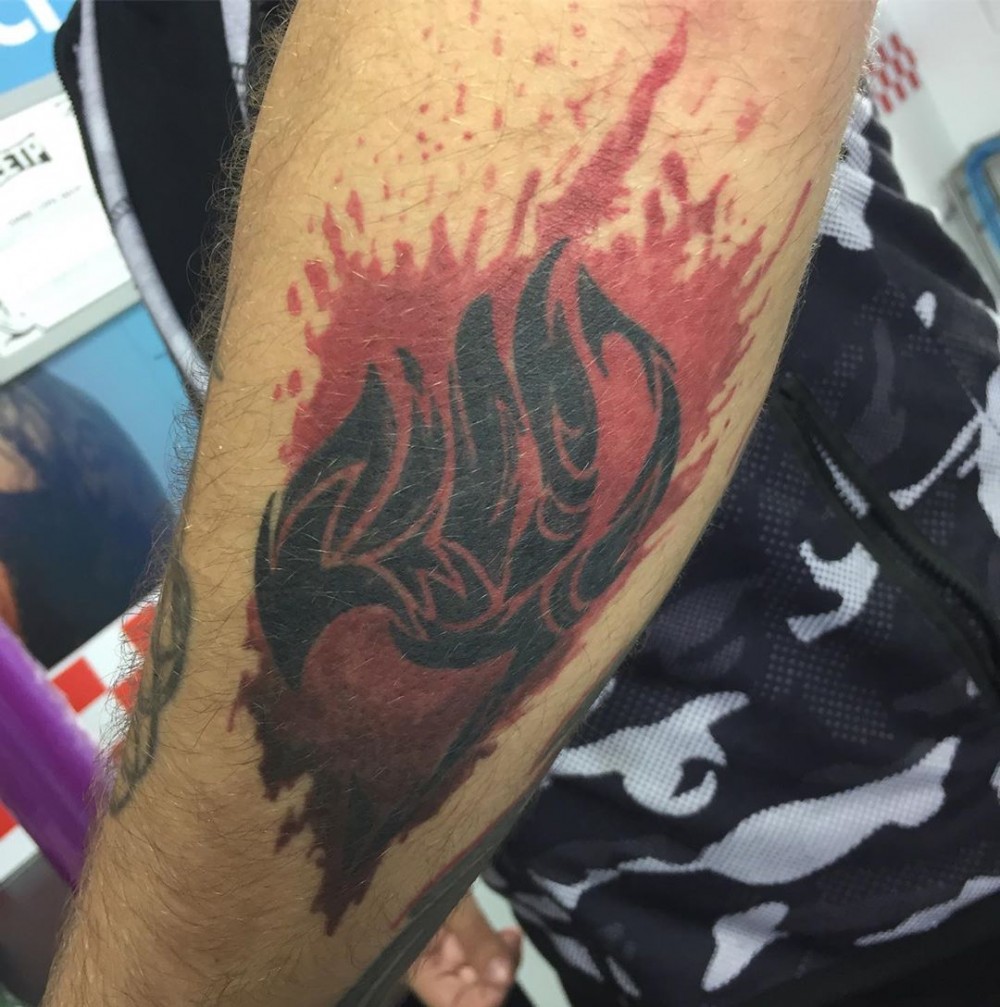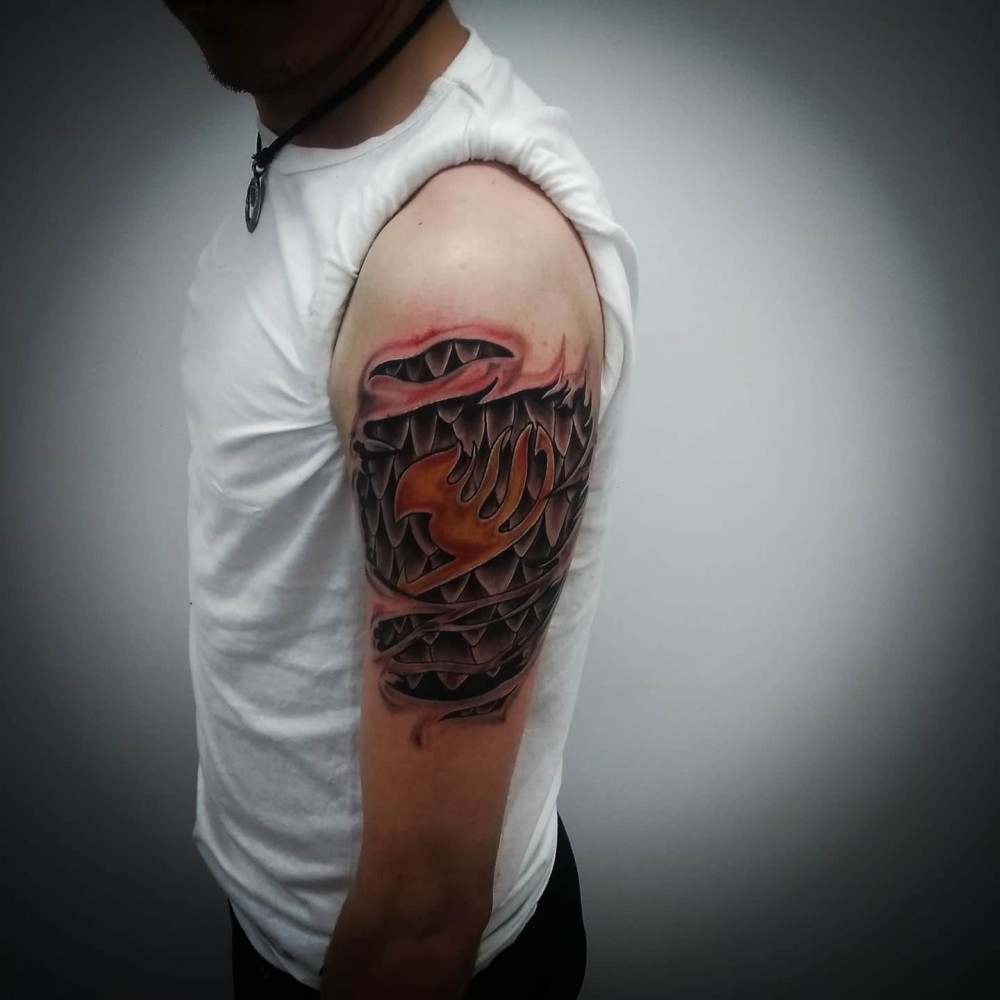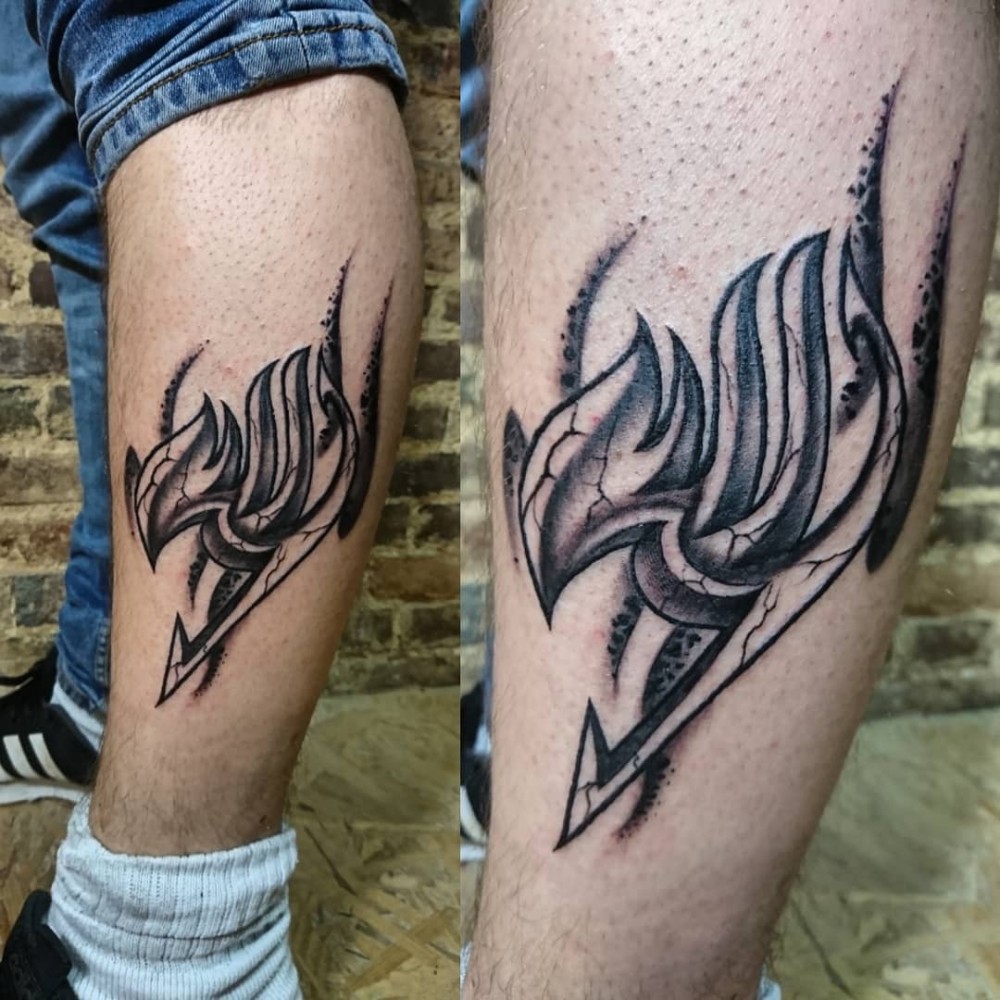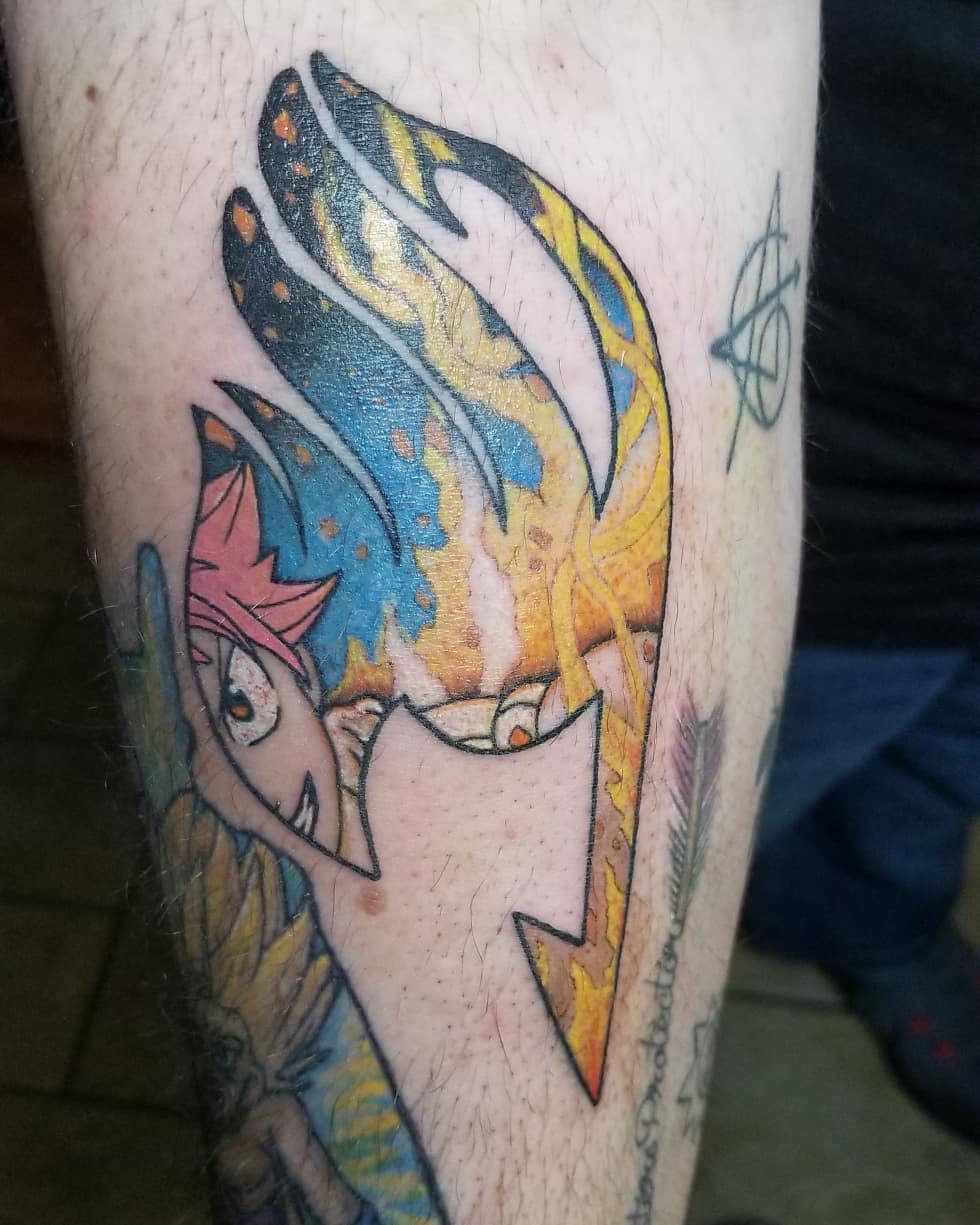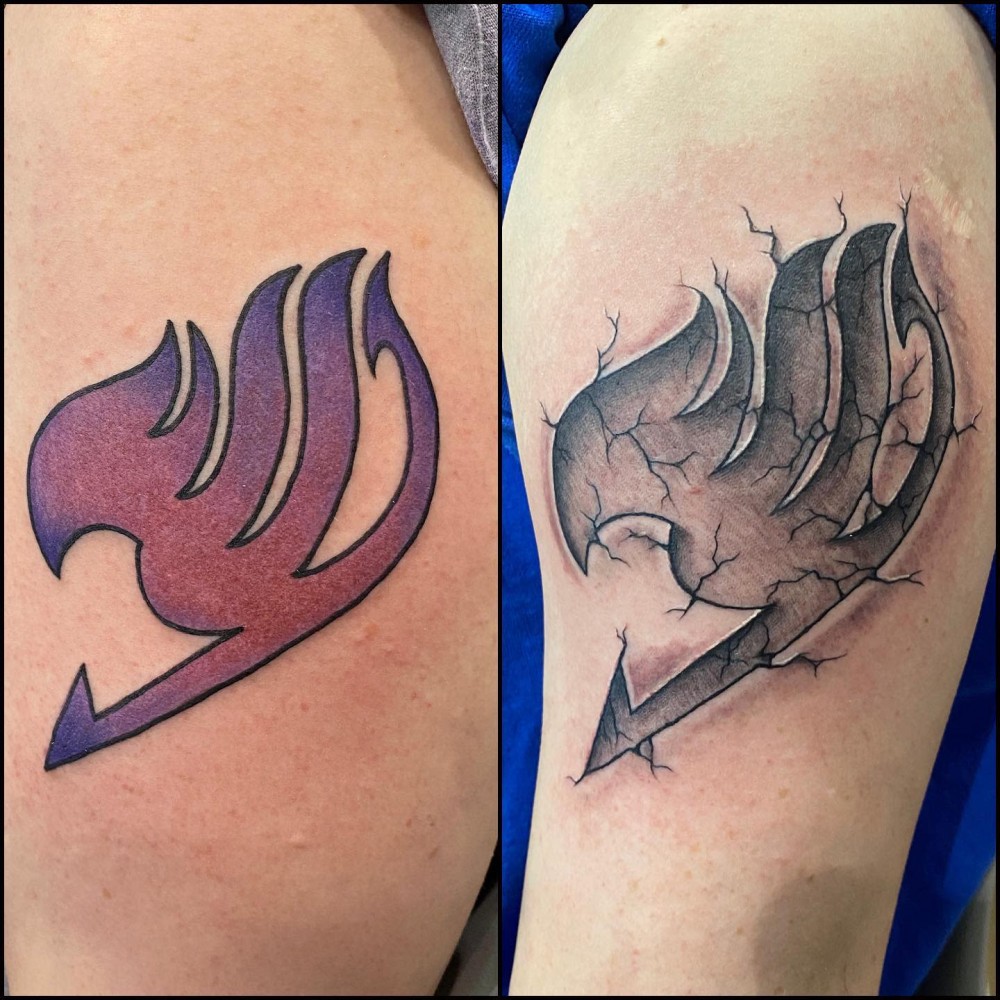 Every Guild existing in the world of Fairy Tail possesses its unique emblem. Without surprise, fans like to get this pictogram tattooed. These various examples with different styles again highlight the skilled work of talented tattoo artists with shapes and exciting stories of Fairy Tail.  
  the Blue Cat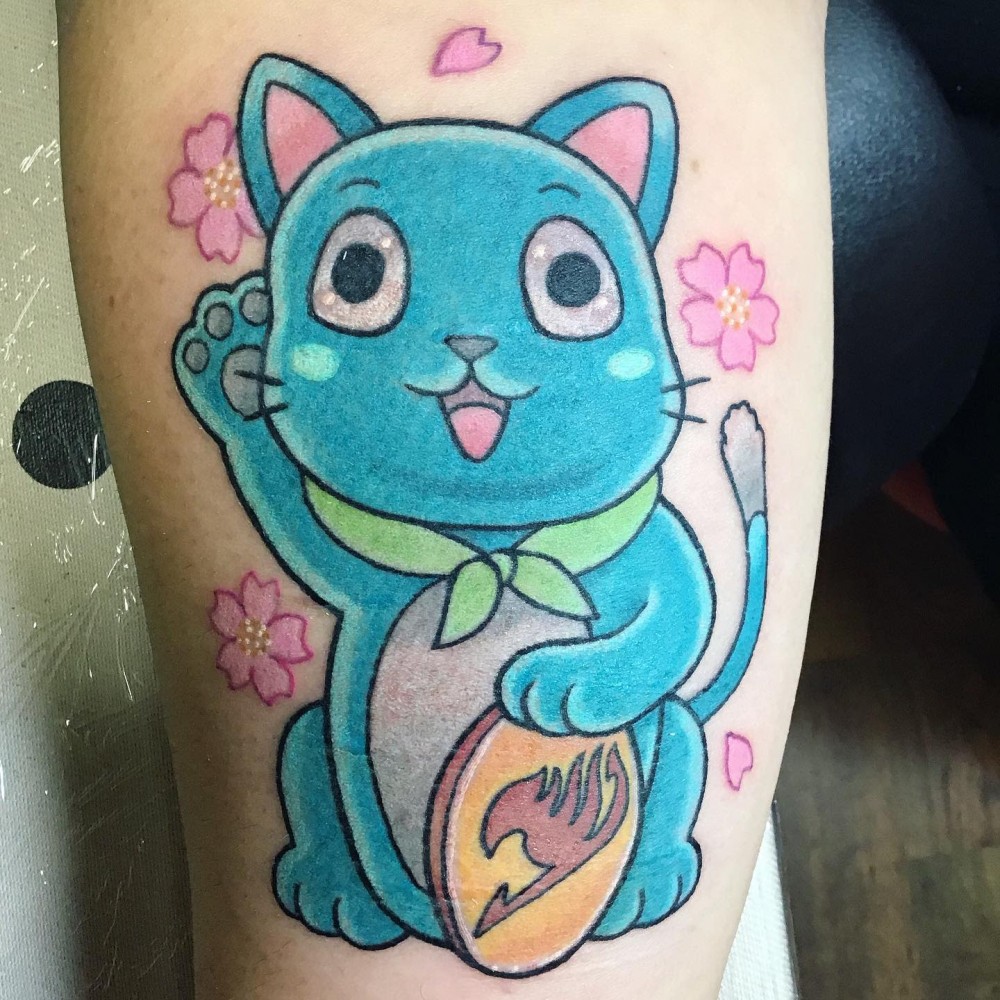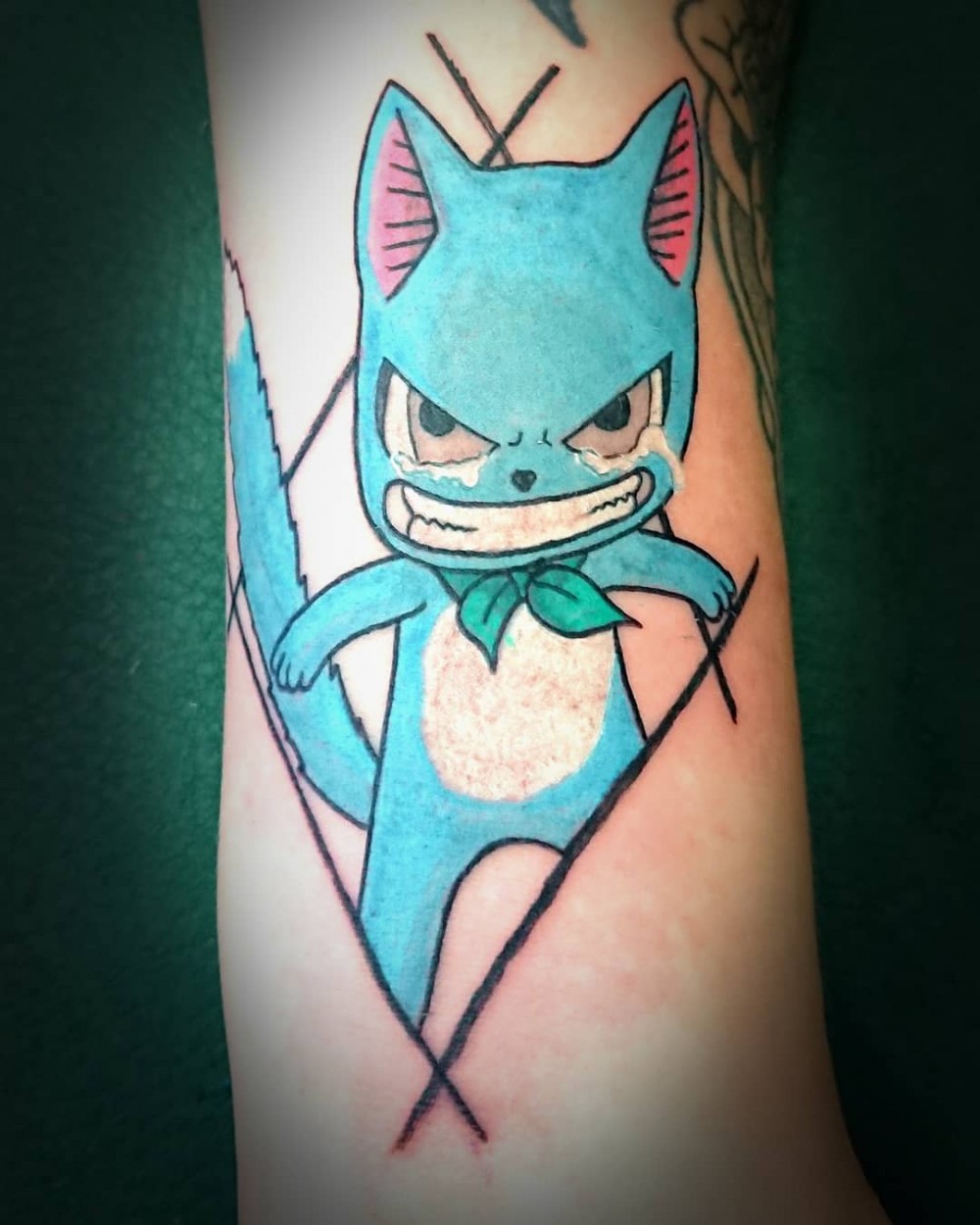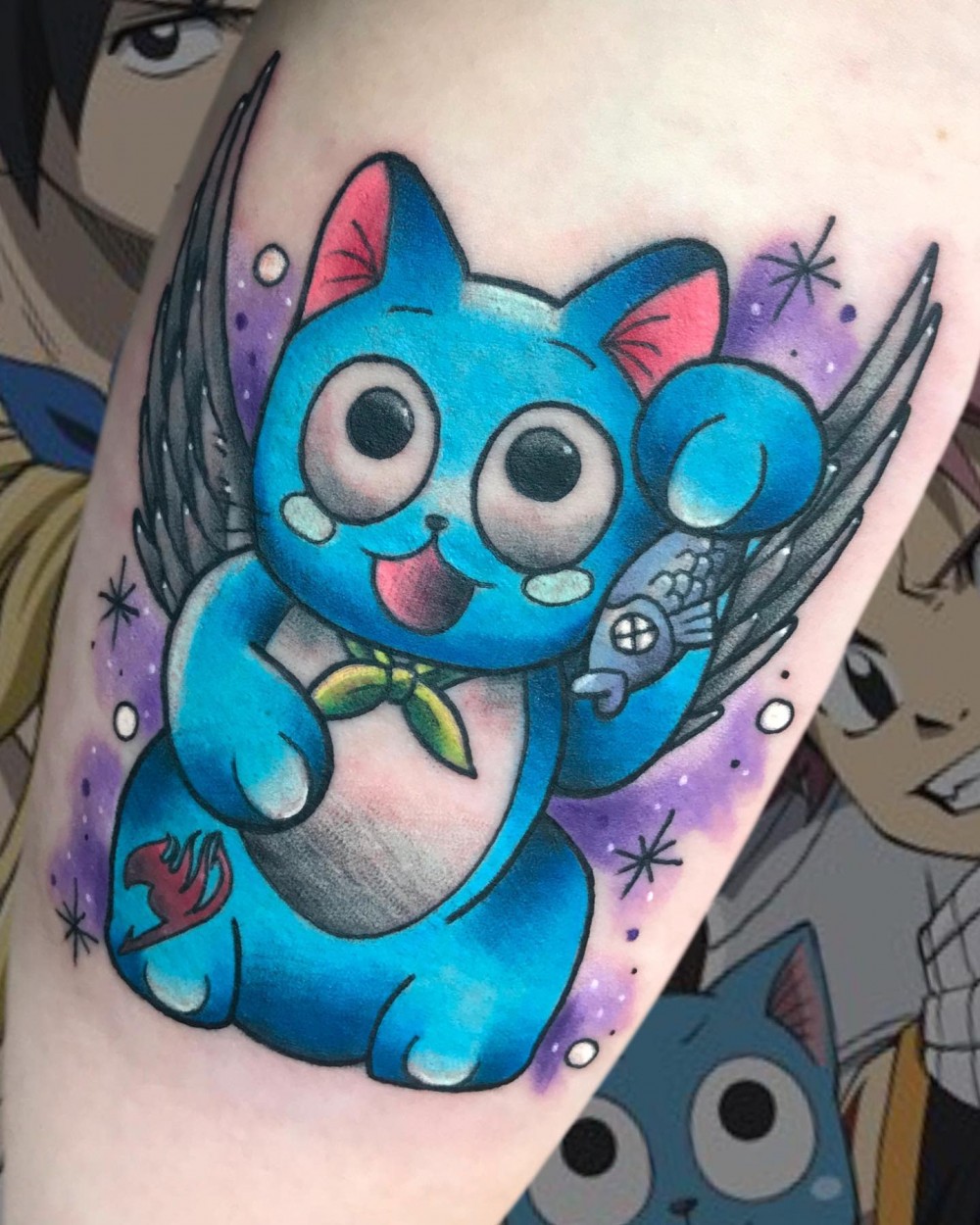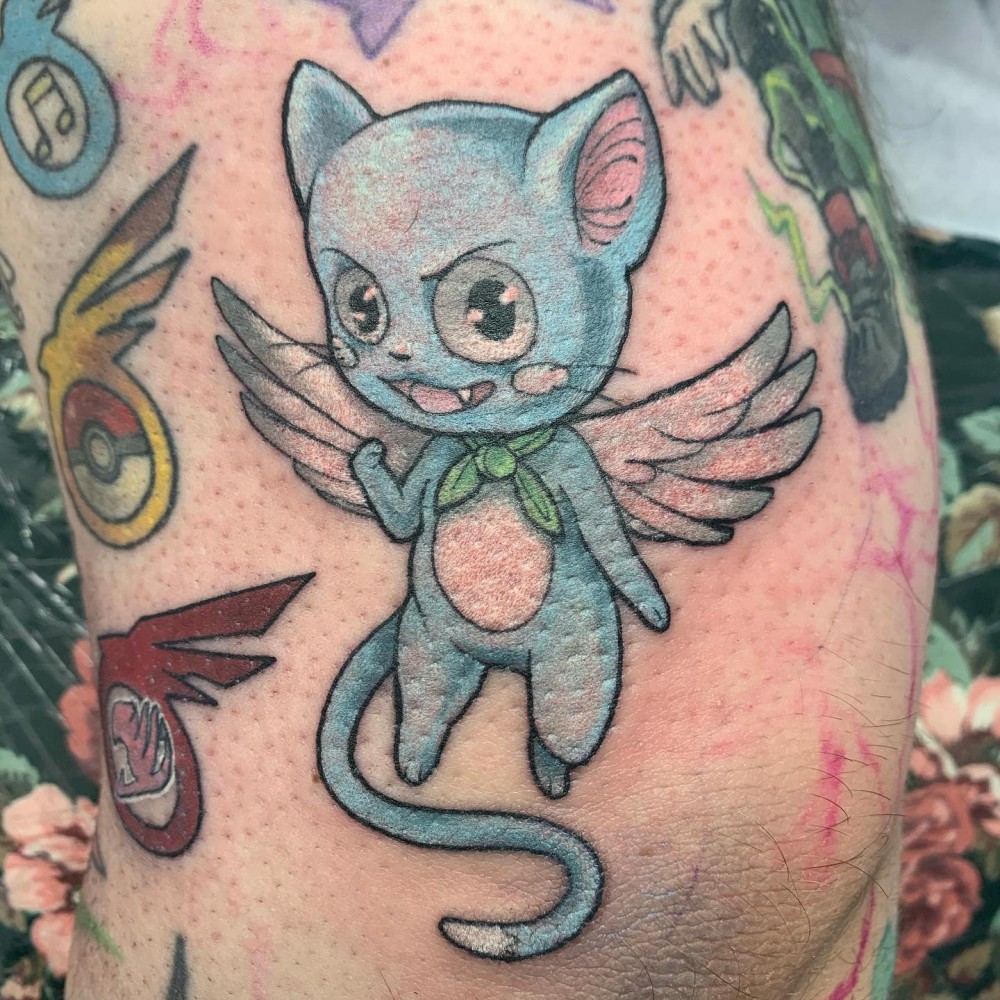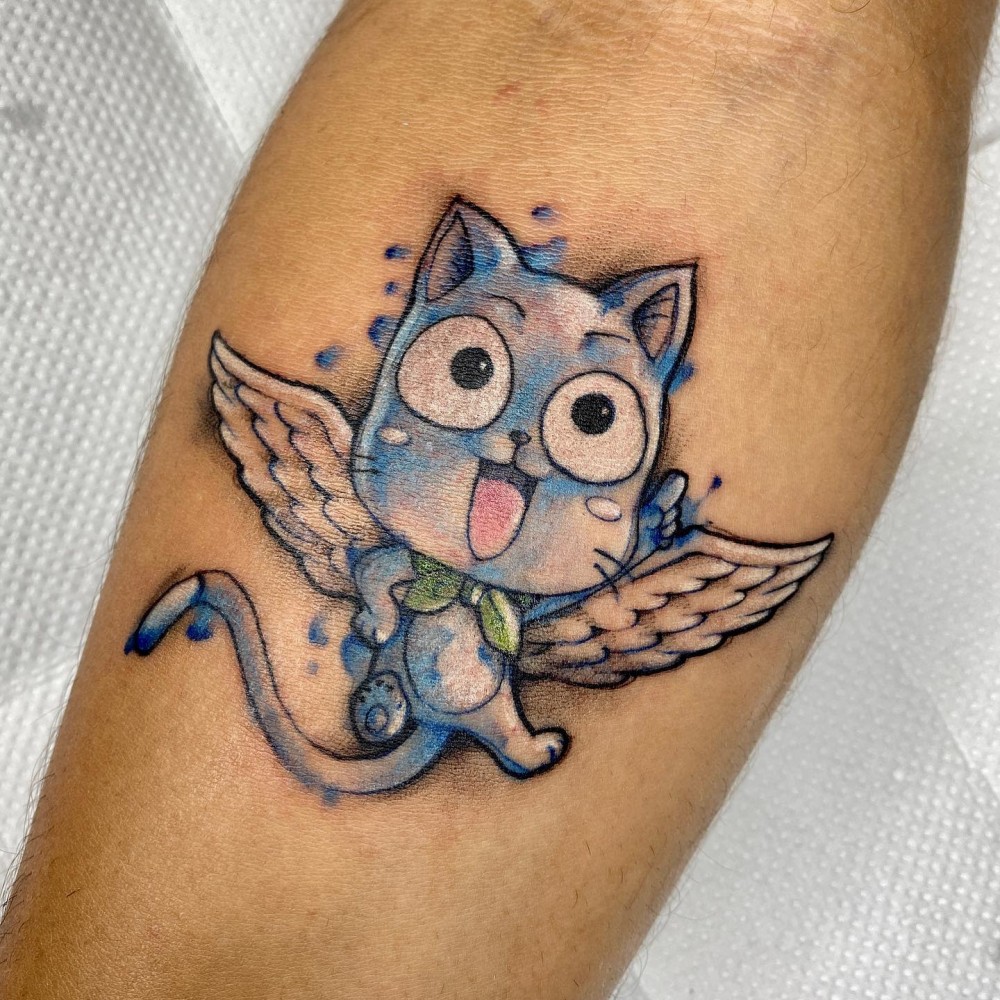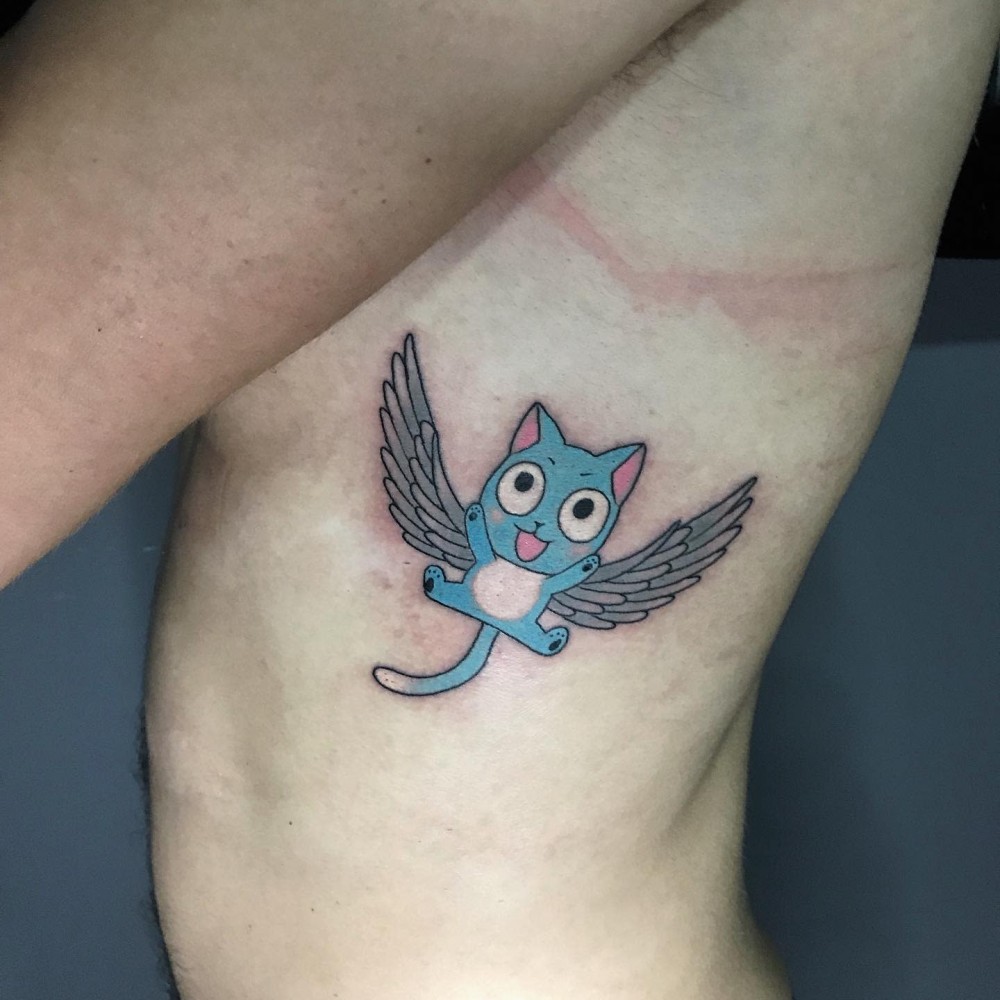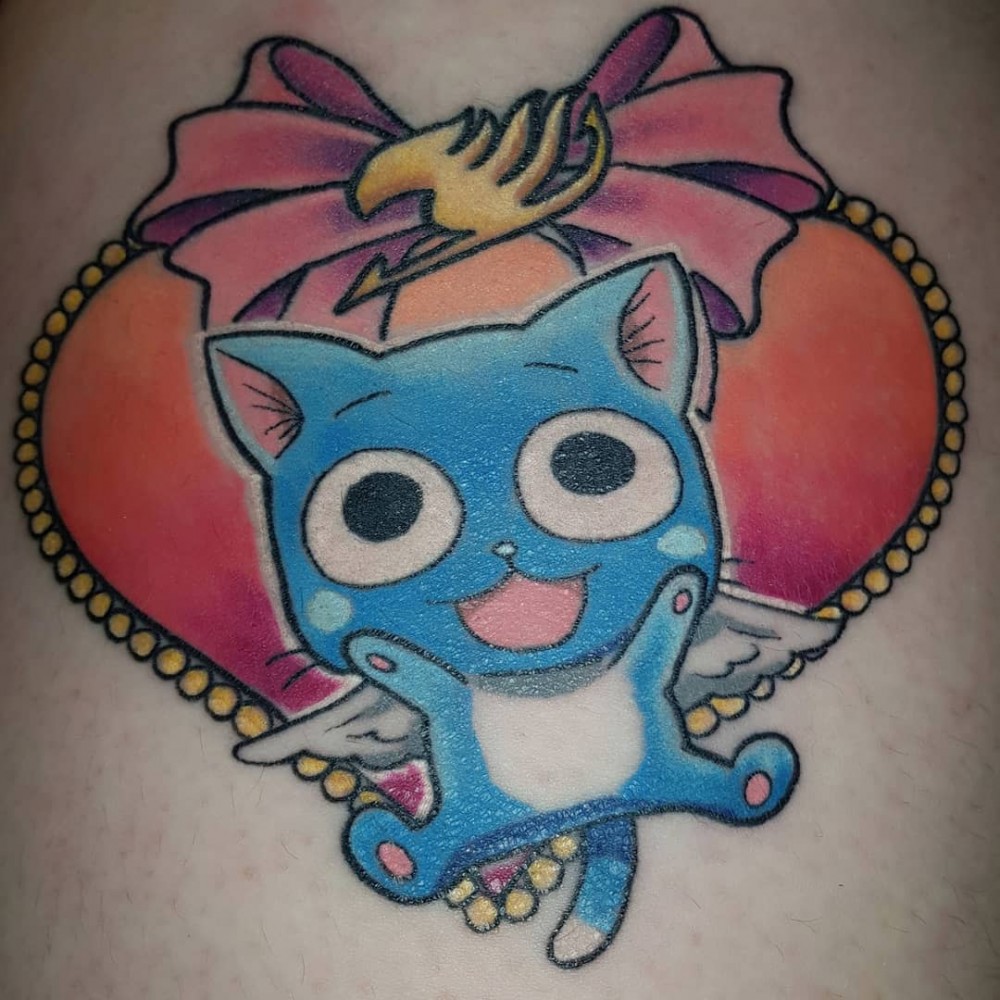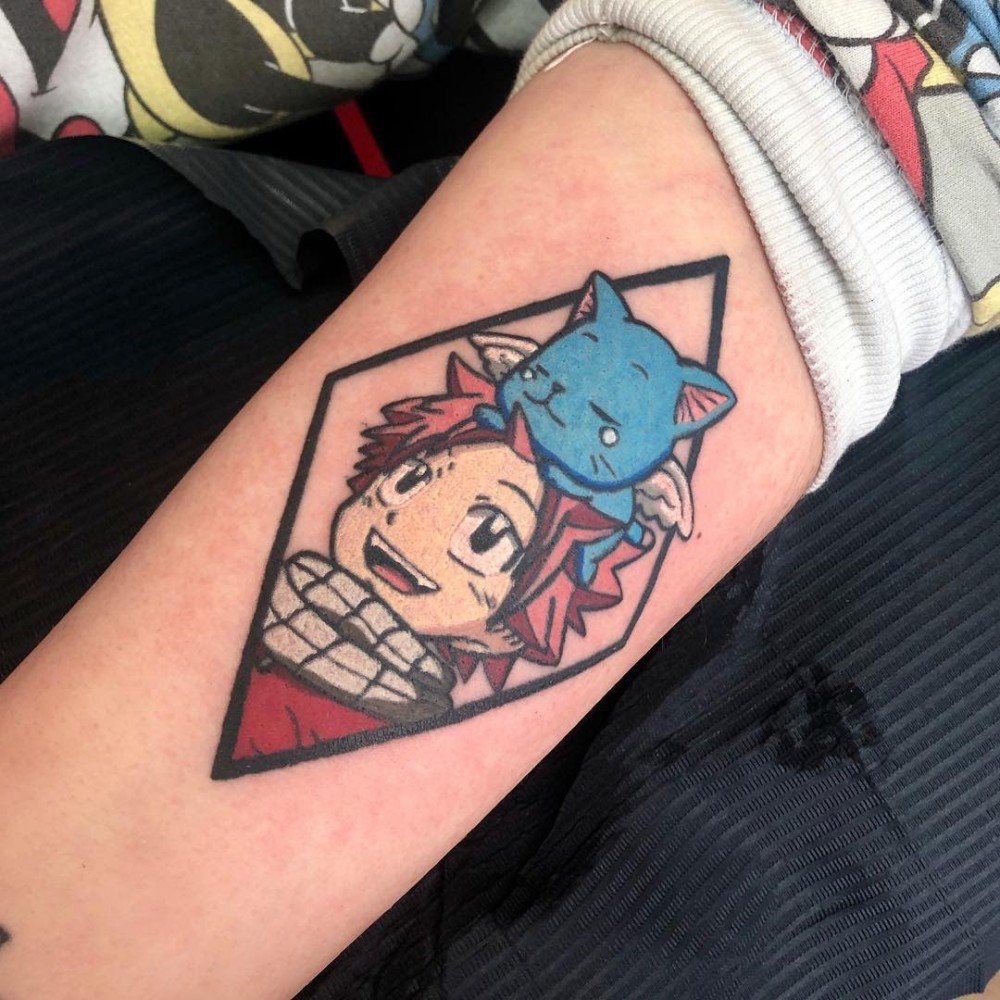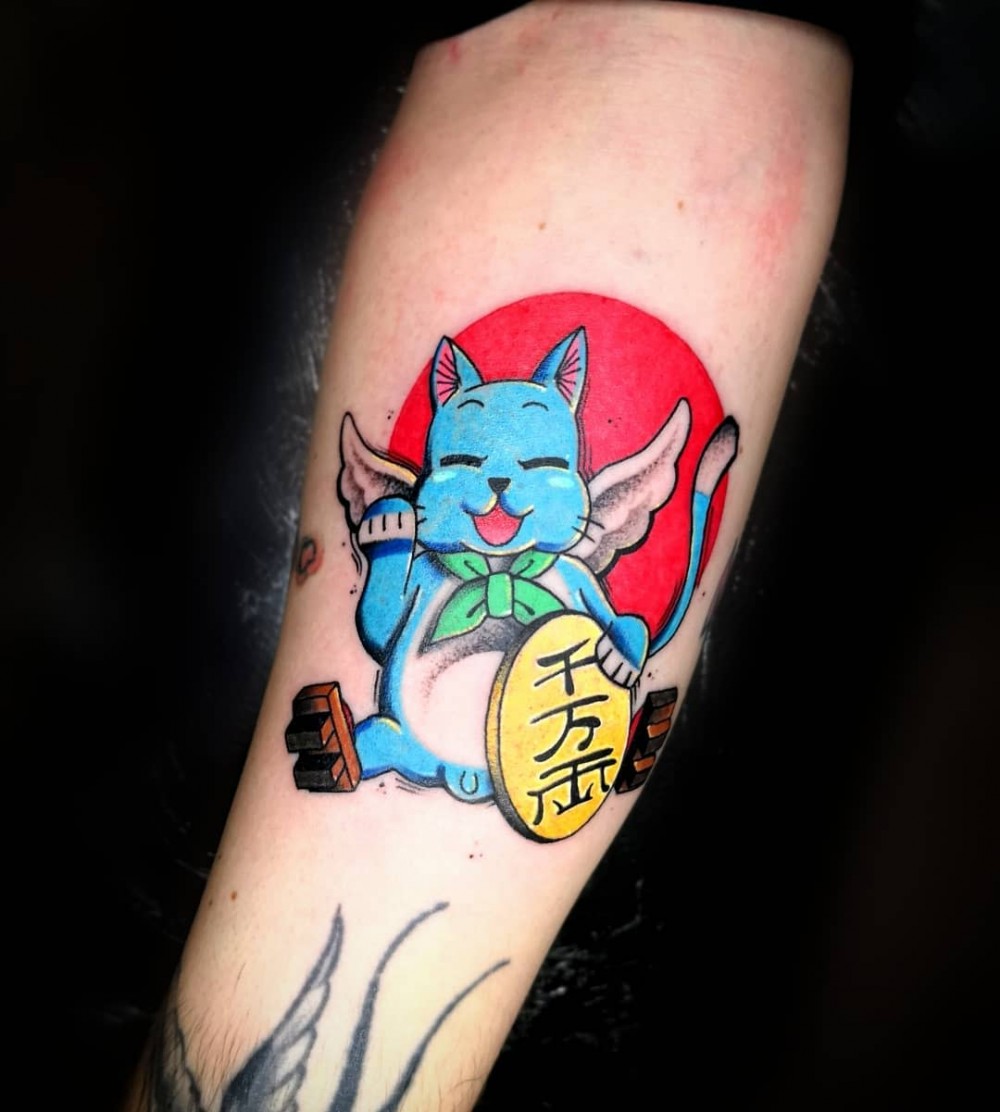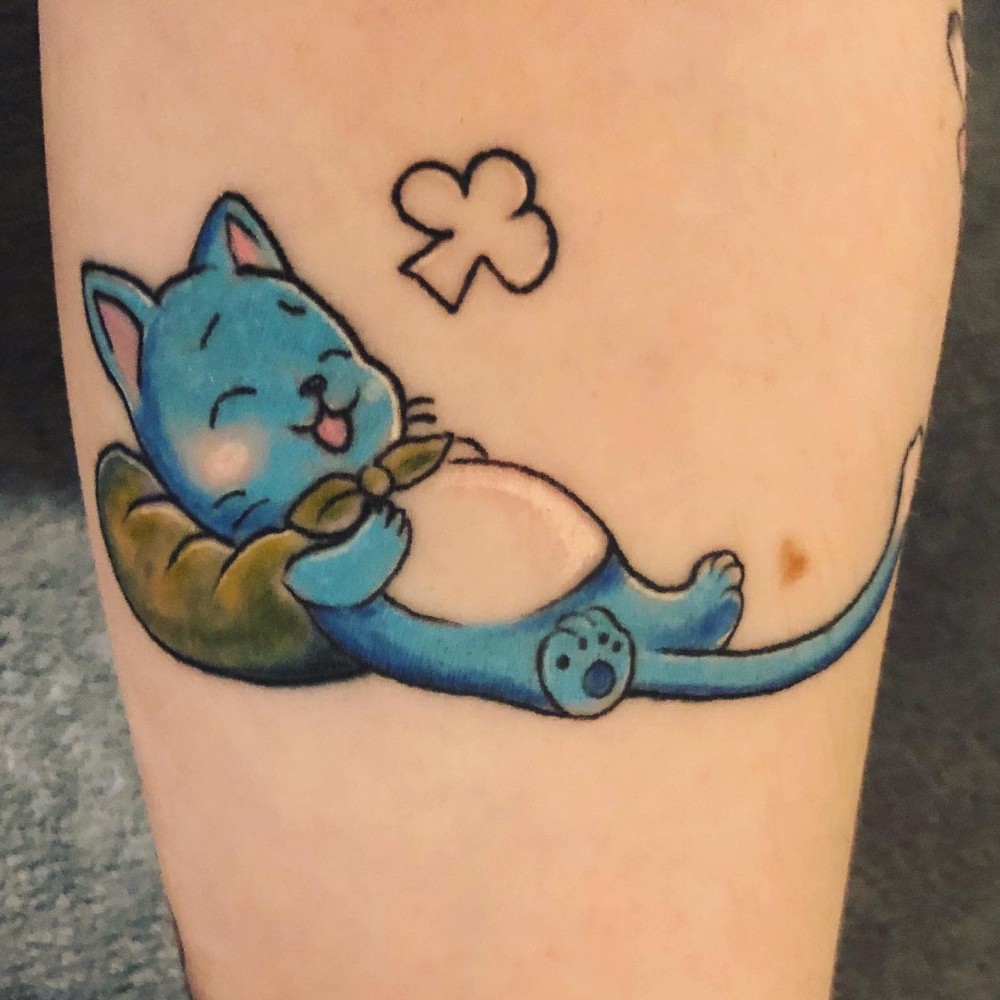 Happy the Blue Cat is an omake, a Japanese word meaning extra character, in Fairy Tail who was instantly loved by fans. With its appearance in 2011 when the T?huko earthquake and tsunami took place, Happy was dedicated to this event's survivors. 
Happy the Blue Cat is always joyful like his name, which reflects on his early character development as well. The following examples are tributes to Happy!  
Linework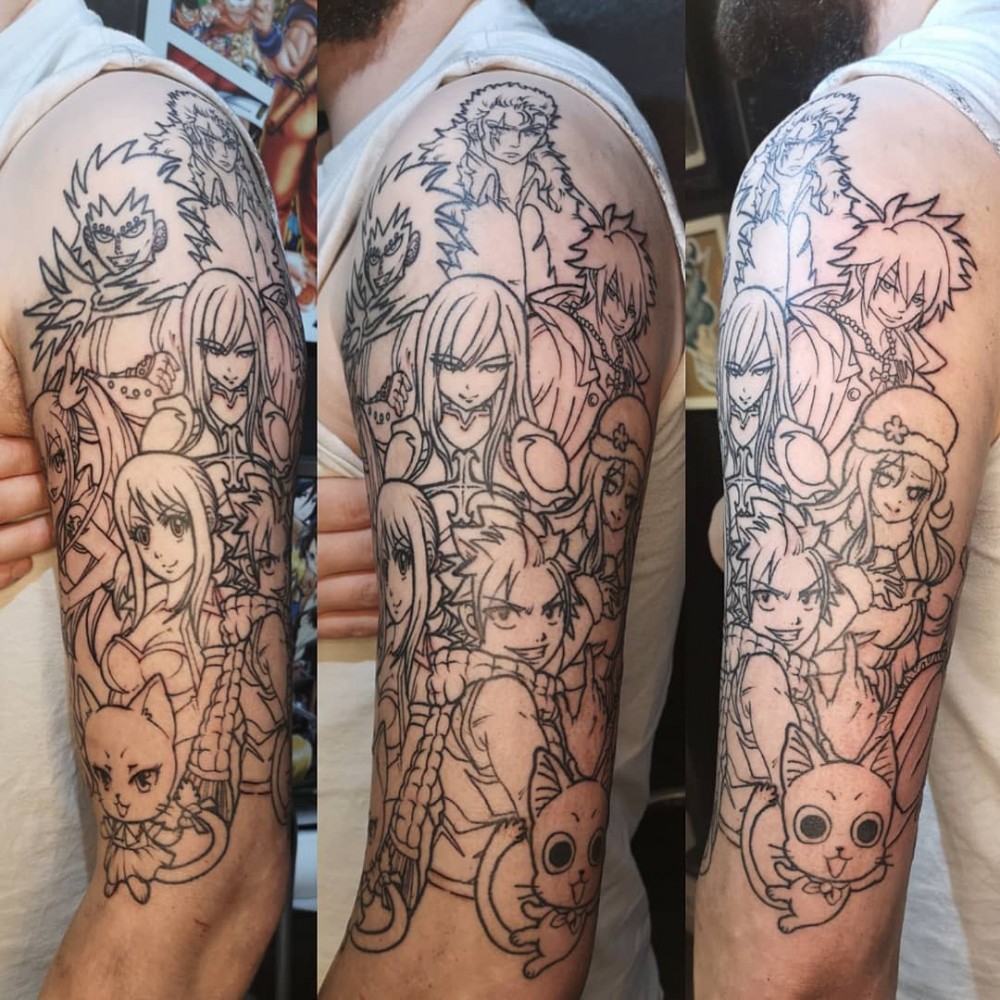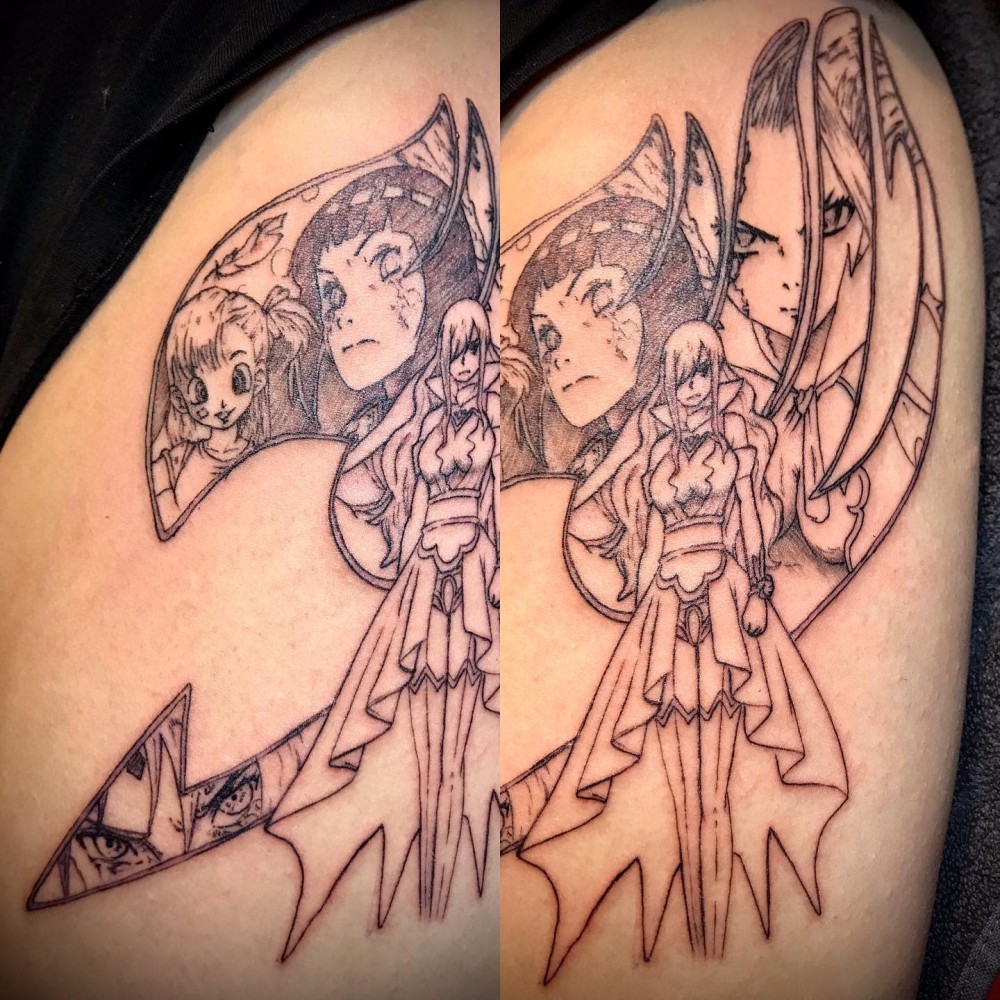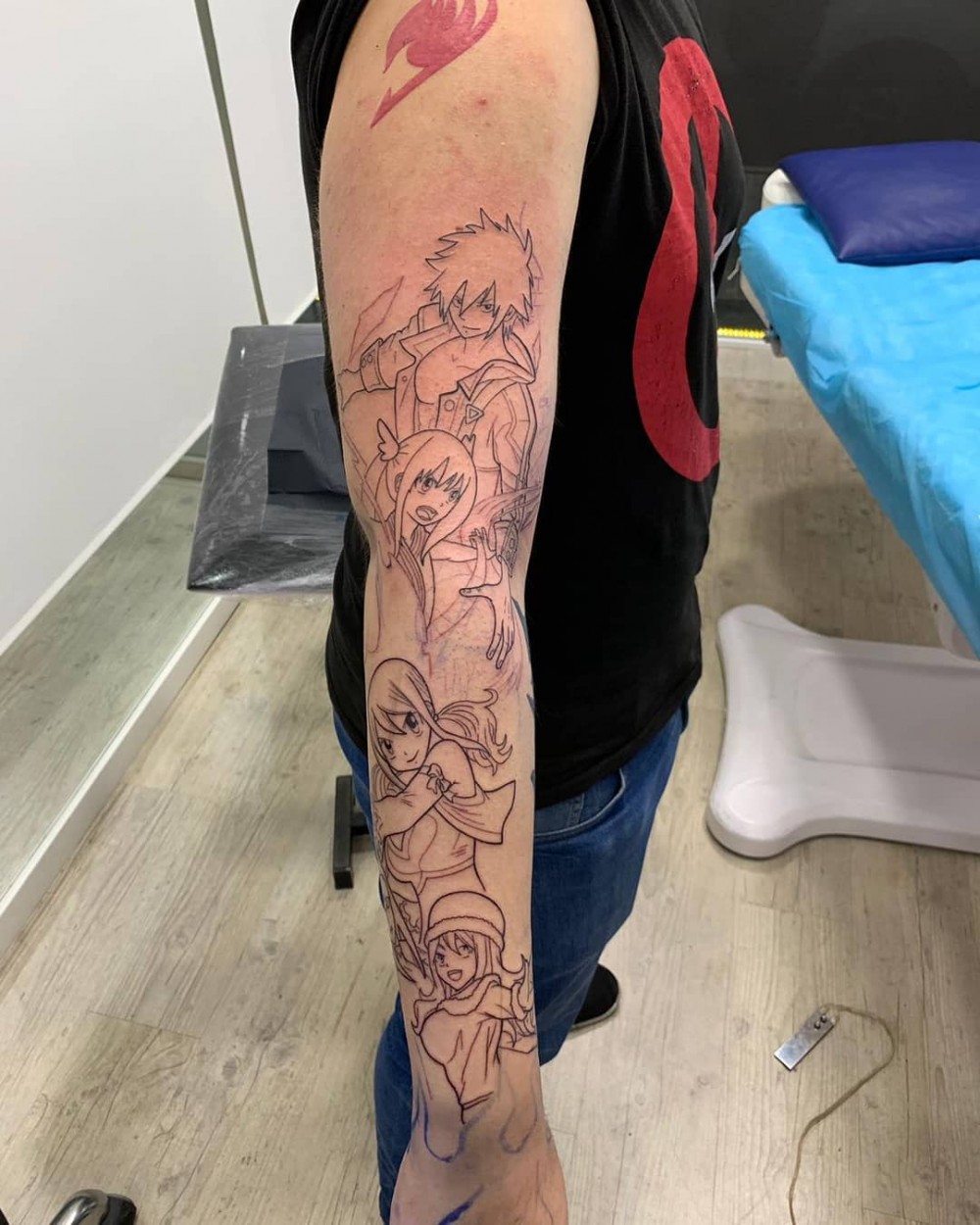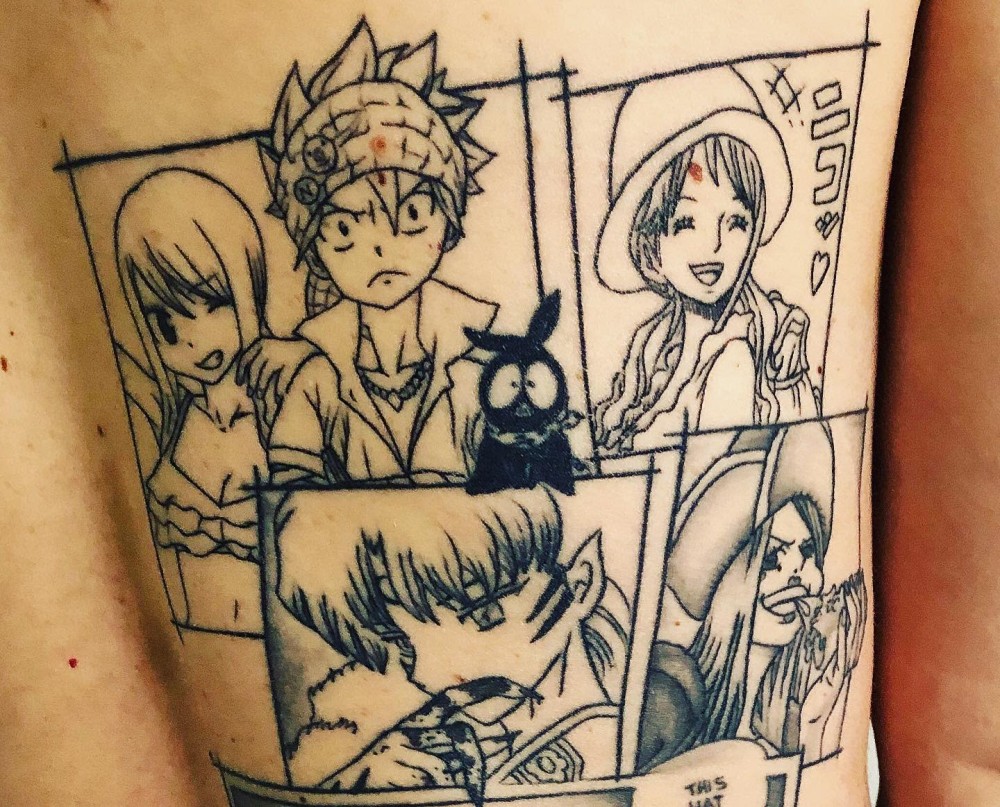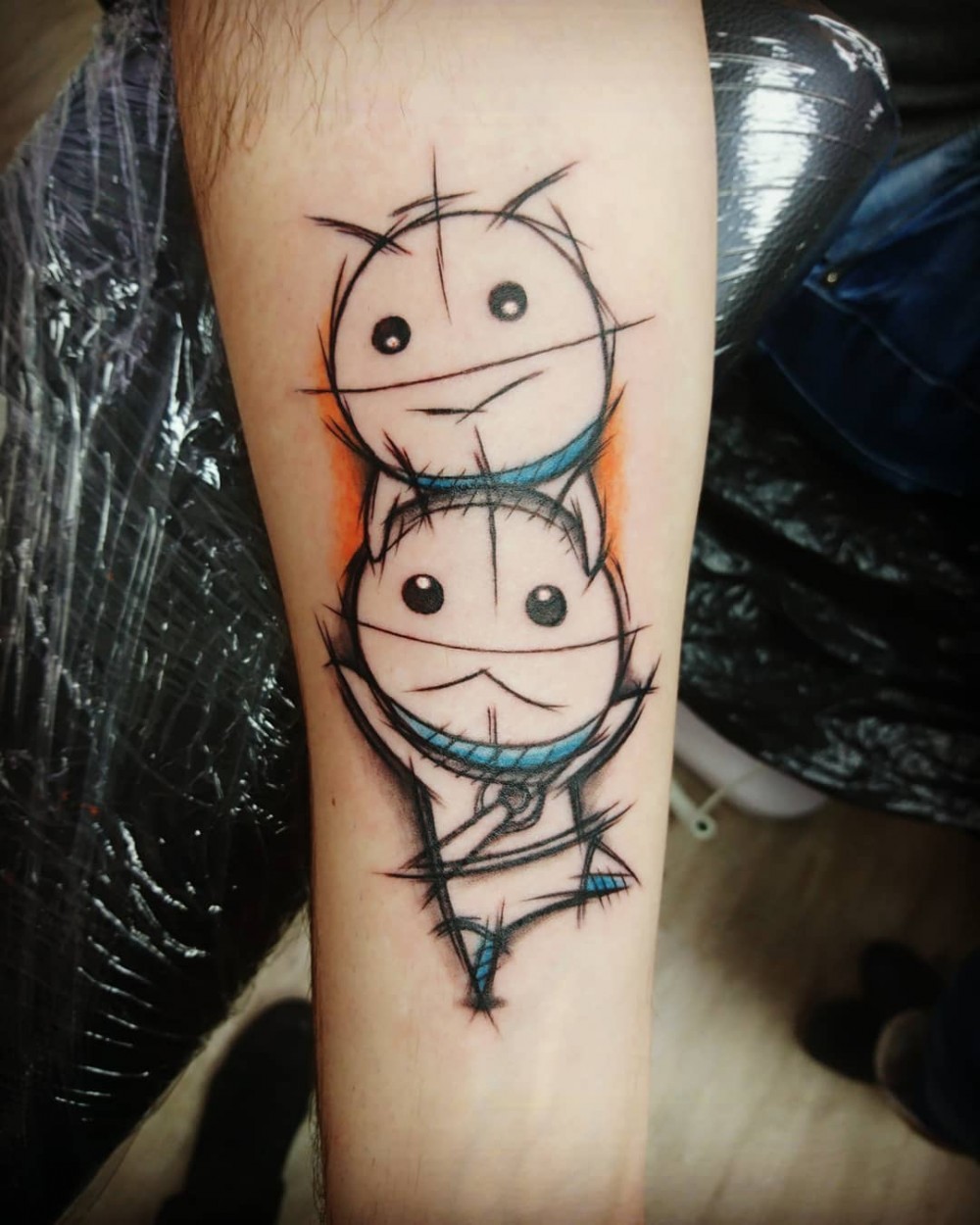 Among all the elements included in producing a tattoo, the key aspect for a great tattoo is the linework. Although the color and shading can improve the tattoo to another level, it is a doomed failure without neat and consistent line work. These pieces above show that a talented artist with skillful line work can make impressive work without color or elaborate shading. 
    FAQs
What is the   Symbol? 
The symbol is the emblem possessed by different Guilds in the Fairy Fail world. These emblems are famous tattoo choices for fans. 
The main character is Natsu Dragneel, a dragon slayer wizard in the Fairy Tail guild looking for his adoptive father, the dragon Igneel.  The Fairy Tail Guild emblem features a cool fairy with a sharp tail.
Fairy Tail is a Japanese graphic novel in the manga form with adventures happening in the fictional world of Earth-land where guilds' wizards give service to people using their powers for the appropriate price level. 
The Fairy tale series is so popular that you can find all kinds of customized merch including unique hoodies, cosplays, stickers, temporary tattoos.
Natsu, along with his partner Happy the cat, takes off on numerous journeys where they encounter people from other guilds such as an ice wizard, magic knights and other characters and combine forces to achieve a common goal.
Combating dark forces and arresting criminals, the dragon slayer and his team get involved in many battles and carry on with their journey in Earth-Land.
Check out lastminutestylist.com for more similar articles.