2020 Most Fashionable Christmas Acrylic Nails Ideas
This blog is updated in 2020
You've got your outfit ready, you've your makeup ready and you've got your heels ready. But something's missing! Your nails! Sure you don't want plain nails when your whole outfit is so glamourous, right? Here we have some cute Christmas acrylic nails designs! Choose the one the suits you the most and perfect your outfit!
1. This Red and Gold Christmas Acrylic Nail Design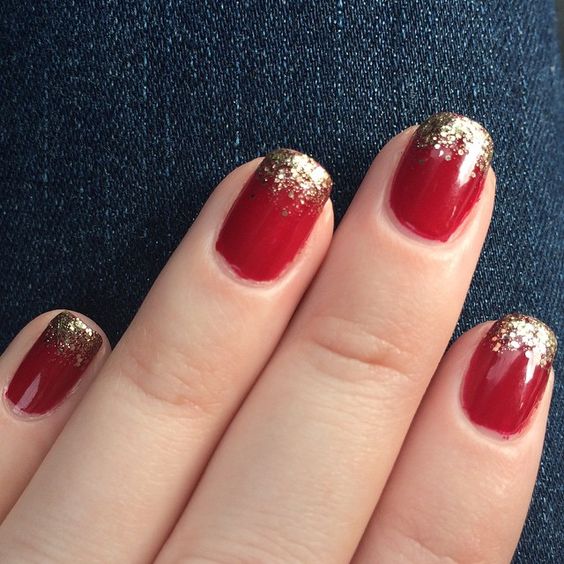 'Tis the season to paint your nails pale pink and with bright red tips. Don't forget to add some minimalist gold lines to finish off the look.
Recreate it with: Essie Nail Polish in Forever Yummy
---
2. Cute Ornament Christmas Acrylic Nail Design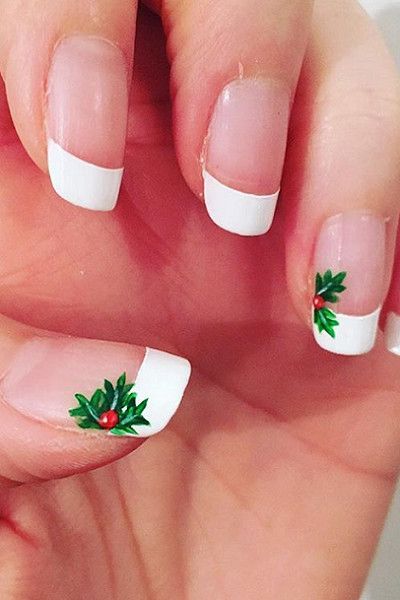 Keep your Christmas nail design simple and really damn cute by decorating each nail with iconic Christmas symbols.
Recreate it with: Essie Gel Couture Nail Polish in Daring Damsel
---
3. Cute Mistletoe Christmas Nail Design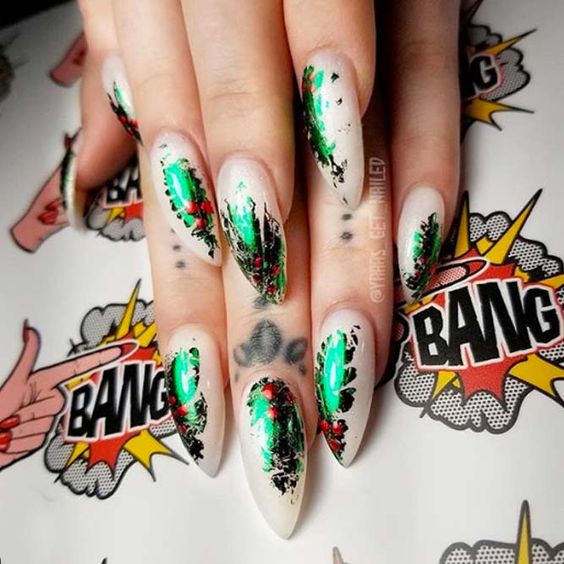 I mean, how cute are these mistletoe nails? I'm obsessed. And the best part about this design? It's super easy to pull off, no matter how long your nails are.
Recreate it with: OPI Nail Lacquer in Alpine Snow

---
4. This Candy Cane Christmas Themed Nail Design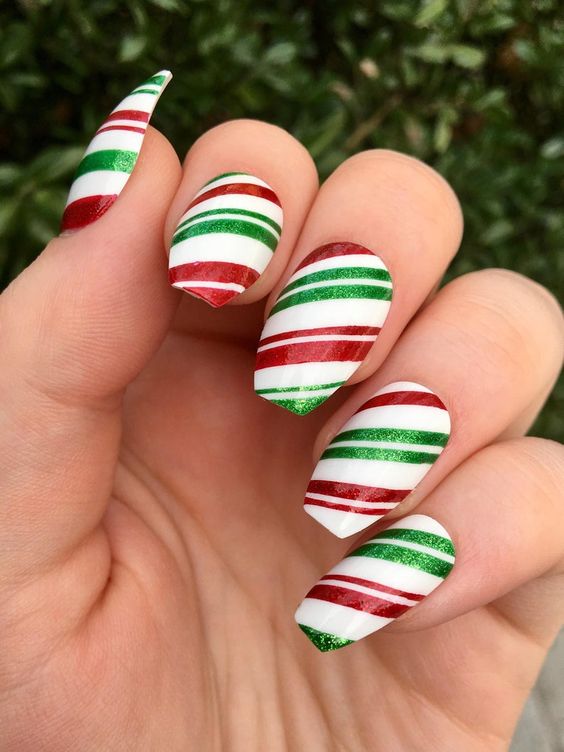 If you can't draw detailed candy canes on your nails (tbh, who can??), try out this easy candy cane–inspired look. With a combo of glitter and red and white stripes, you're going to want to keep these on your fingers all year round.
Recreate it with: Zoya Nail Polish in Snow White
---
5. This Reindeer Christmas Themed Nail Design
Not down to rock a bold Christmas hue? Don't worry—this Christmas nail design is perfect for you. The muted colors give off a chill vibe, but the reindeer design shows that you're still very much into the holiday season.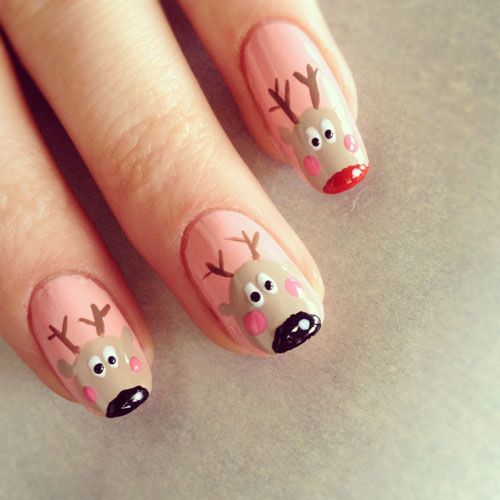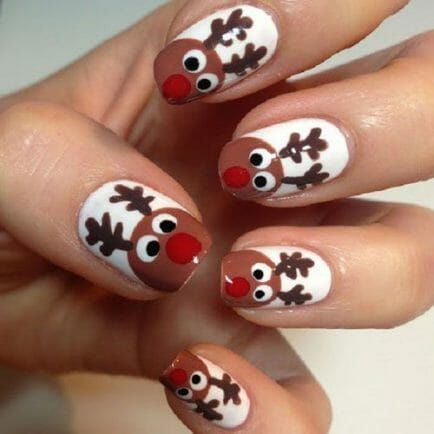 Recreate it with: Sally Hansen Color Therapy Nail Polish in Rosy Quartz
---
6. This Red Candy Cane Christmas Themed Nail Design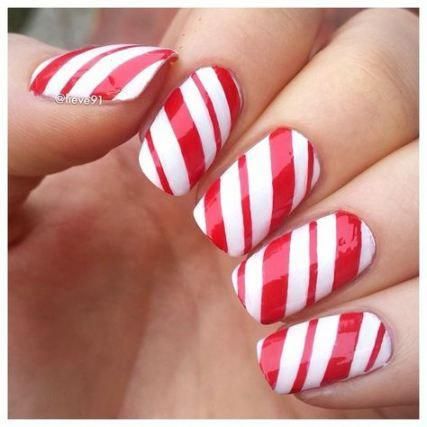 This red nail candy cane Christmas design is so cute, as long as you don't go overboard. I recommend painting candy canes on three of your fingers—otherwise it'll look too extra.
Recreate it with: China Glaze Nail Polish in Go Crazy Red
---
7. Cute Red and White Snowflake Christmas Nail Design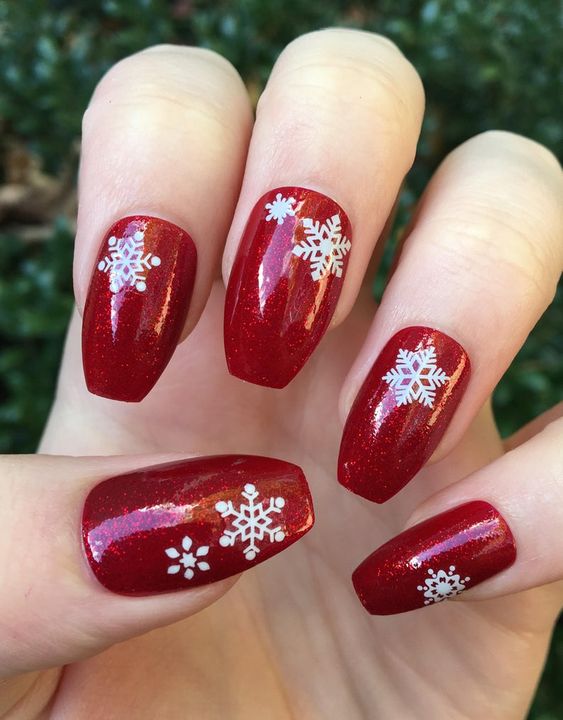 A white Christmas might not be a thing where you live, but that doesn't mean you can't add some snowflakes onto your nails to get you in the holiday mood. Paint your nails red first, let the polish dry completely, then add on the snowflakes.
Recreate it with: INLP Cherry Luxe Nail Polish in Rich Red
---
8. This Christmas Themed Star Acrylic Nail Design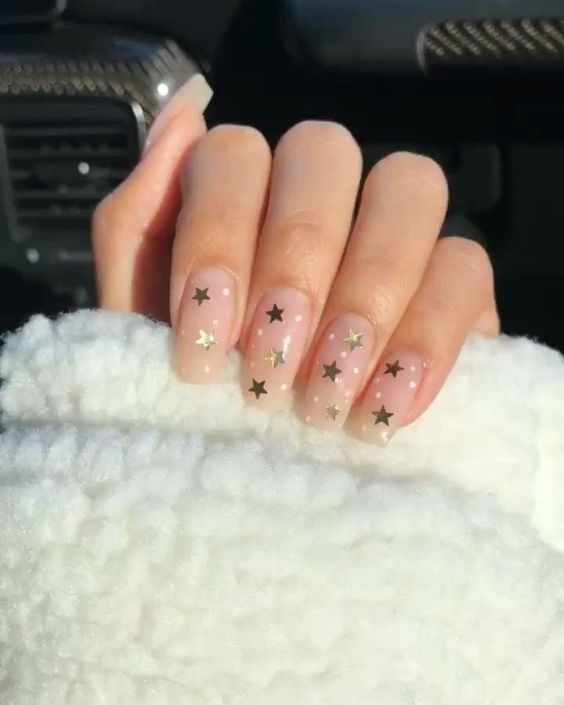 Instead of doing a basic five-point star on your nails, try out this Christmas star nail design instead. Not only is it gorgeous, but the glitter polish also adds a nice sparkle.
Recreate it with: Smith and Cult Nail Polish in Shattered Souls
---
9. Cute Penguin Christmas Themed Nail Design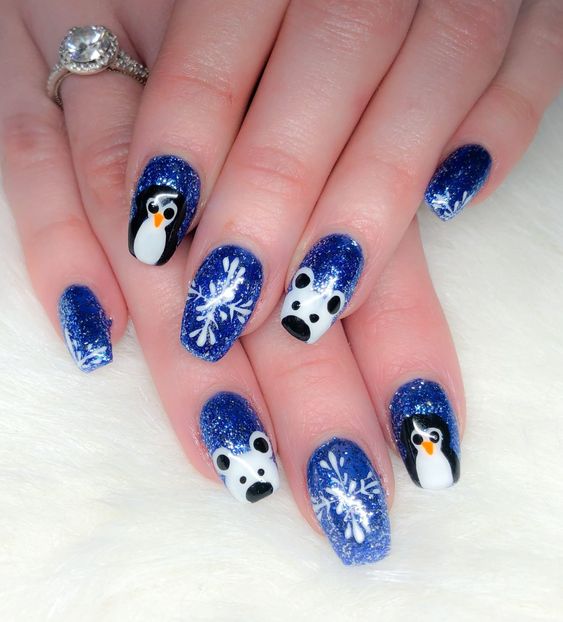 My favorite movie is Madagascar—those penguins are the best animated characters ever, IMO—so I'm definitely getting these on my nails come Christmas. Penguins plus Santa hats—who could resist?
Recreate it with: OPI Nail Lacquer in Black Onyx
---
10. This Colorful Christmas Acrylic Nail Design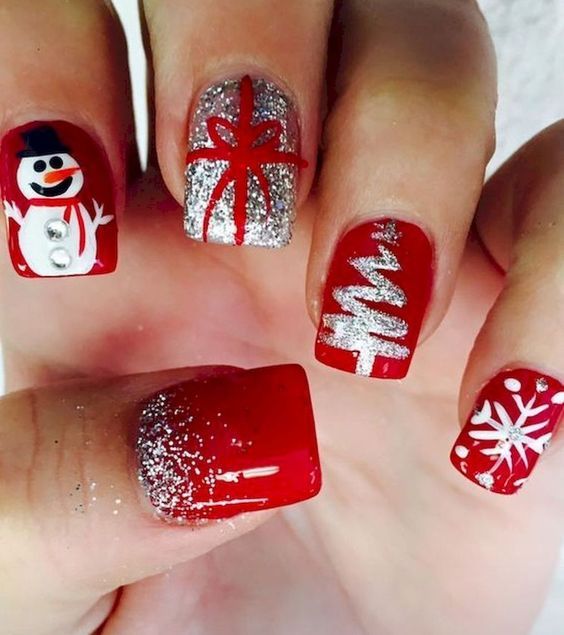 Go for a more colorful look with this Christmas nail design. The abstract Christmas tree plus the glitter studs make for an eye-catching holiday nail look.
Recreate it with: Revlon Nail Enamel in Romantique
11. This Santa's Sleigh Christmas Nail Design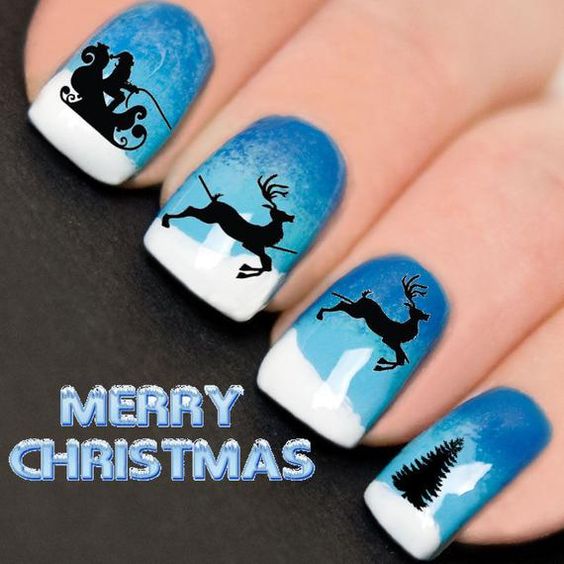 Bring Santa's Christmas Eve ride onto your nails with this extremely detailed sleigh design. You probably won't be able to do this one on your own, so take a screenshot and bring it to your nail salon for a pro to do.
Recreate it with: Pacifica Nail Polish in 1972 Pool Party
---
12. Cute Mr. and Mrs. Claus Christmas Nail Design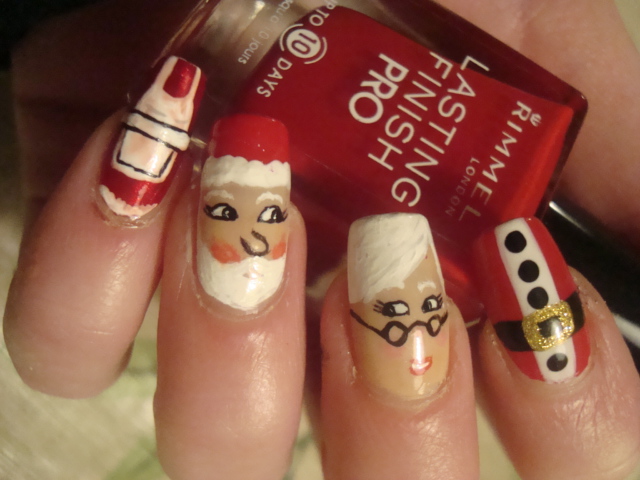 Who wouldn't want this jolly and cheerful couple on their nails? It's the perfect mani design to wear at your office holiday party this year, plus they're the cutest couple ever (sorry, J.Lo and A-Rod!).
Recreate it with: Ella + Mila Nail Polish in Naughty Not Nice
---
13. This Grinch-Inspired Christmas Nail Design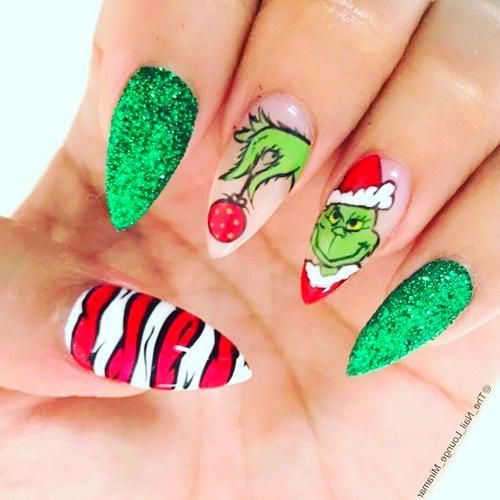 Mr. Grinch is a mean one, but he'll look really good on your nails this winter as you binge Christmas movies on TV.
Recreate it with: OPI Nail Lacquer in Envy the Adventure
---
14. This Winter Wonderland Christmas Nail Design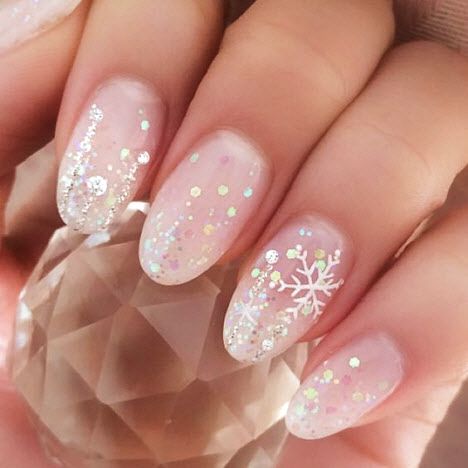 This Christmas nail design actually looks like a work of art on your fingers. It's breathtakingly beautiful and perfectly designed. If you can recreate this on your nails by yourself, you should quit your day job because you're basically Van Gogh.
Recreate it with: Essie Nail Polish in Anchor Down
---
15. This Snowflake and Reindeer Christmas Nail Design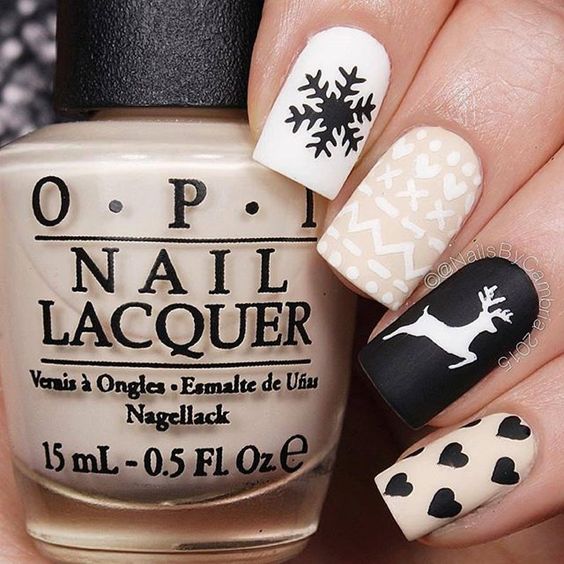 Pastels are perfect for winter, and these colors combined with the reindeer in a sweater design will for sure get you into a cozy holiday spirit.
Recreate it with: Sally Hansen Nail Polish in Slate-R Girl
16. This French Manicure Christmas Nail Design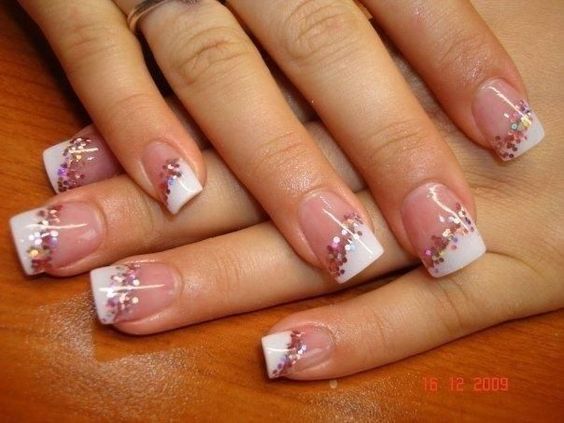 No, you don't have to give up your classic French manicure to get in the holiday spirit. Add on a mistletoe or glitters in the corner of each nail and you're instantly Christmas ready.
Recreate it with: Zoya Nail Polish in Snow White
---
17. This Christmas Sweater Christmas Nail Design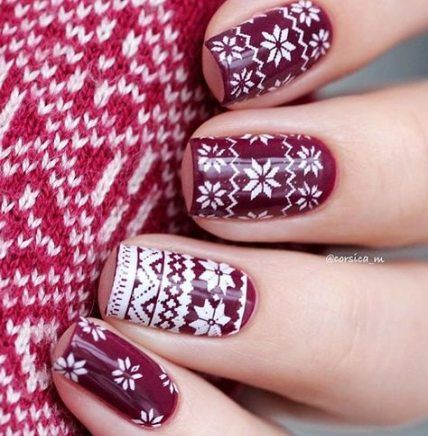 Most Christmas sweater prints leave a lot to be desired (aka they're ugly), but these nail designs are just perfect. Unless you have super steady hands, pop on pre-painted decals (you can find them on Amazon) to speed up the process.
Recreate it with: Christmas Nail Decals
---
18. This Ultra-Glittery Christmas Nail Design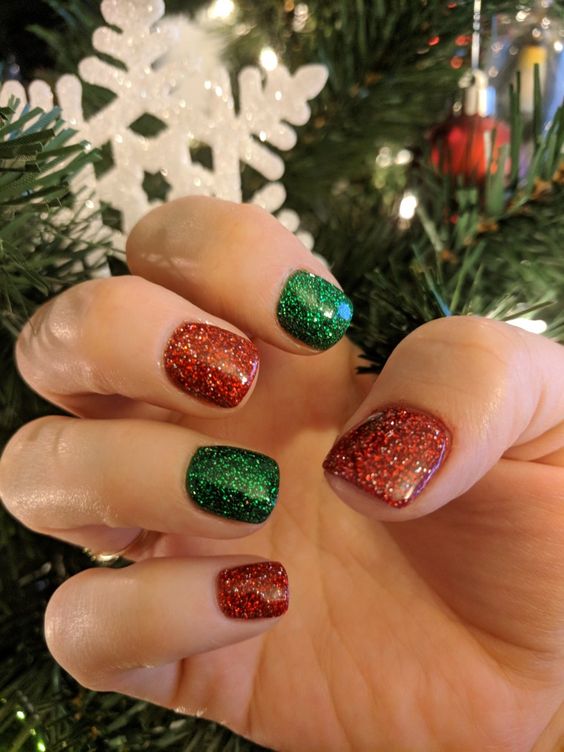 IDK about you, but the holidays instantly make me think of glitter. Get your shine on with this super fun, glitter-filled Christmas nail design.
Recreate it with: OPI Nail Polish in Red Heads Ahead
---
19. This Turtle Dove Christmas Nail Design
This nail design is basically "The 12 Days of Christmas" come to life. If turtle doves aren't your thing, pick one of the other days to recreate on your nails.
Recreate it with: Essie Nail Polish in Marshmellow
---
20. This Pretty Presents Christmas Nail Design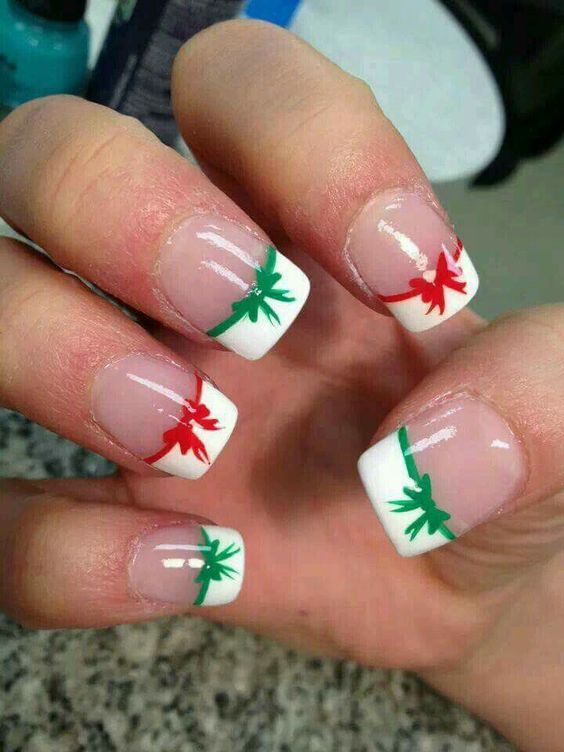 Everyone knows the best thing about Christmas are the presents!! JK, it's friends and family, blah, blah, blah. Anyway, presents are great IRL, but they're also really pretty on your manicure. Paint them onto the corner of your nails, or if you wanted to, you could recreate the full box on each nail.
Recreate it with: Zoya Pixie Dust Nail Polish in Solange Pixiedust