Simple Small Carnation Floral Designs: 27+ January Birth Month Flower Tattoo Designs (2021)
Last Updated on 2021-01-07 by Coco Chanel
The carnation is a beautiful bloom most often associated with positive feelings of love, affection, gratitude, and admiration. The carnation flower differs from more traditional flower tattoo designs and comes in a range of colors to support strong feelings.
Carnations go back to Diana in Greek Mythology and also play a part in early Christianity. It was said that when the Virgin Mary cried during the crucifixion of Jesus, that carnations grew from her fallen tears.
This vision of Mary – the archetype for a mother's love – prompted the link between carnations and love strongly, however, there are more associations this beautiful flower can deploy in body art.
Read on for some brilliant flower tattoo designs that can help you in deciding to get your next piece of ink.
1. Birds, Bees, and Butterflies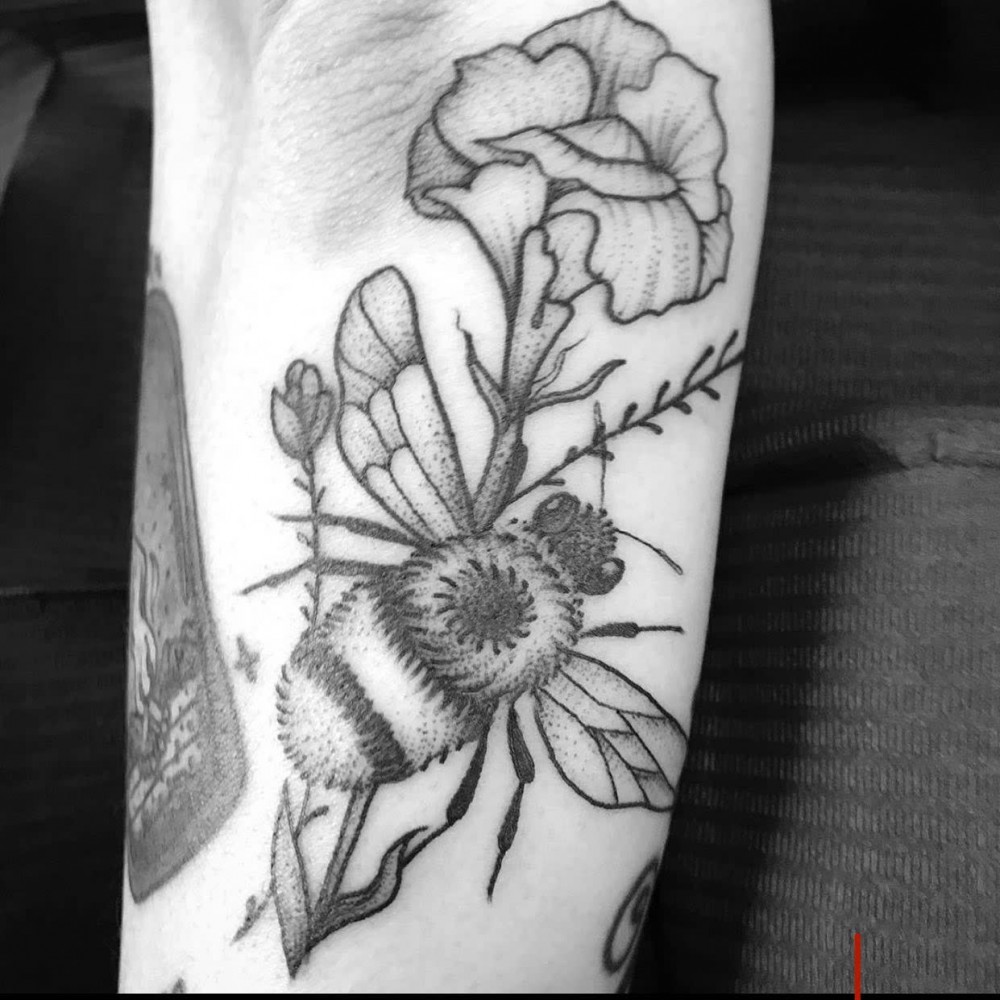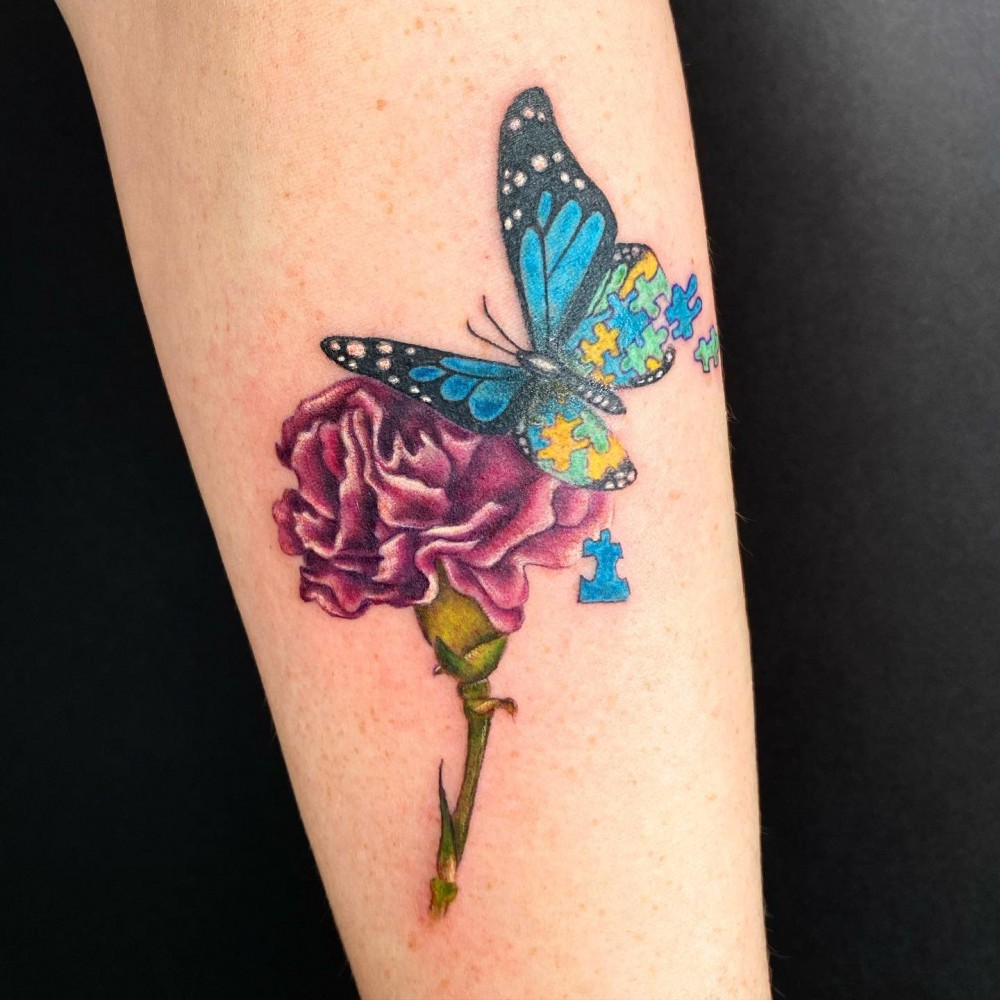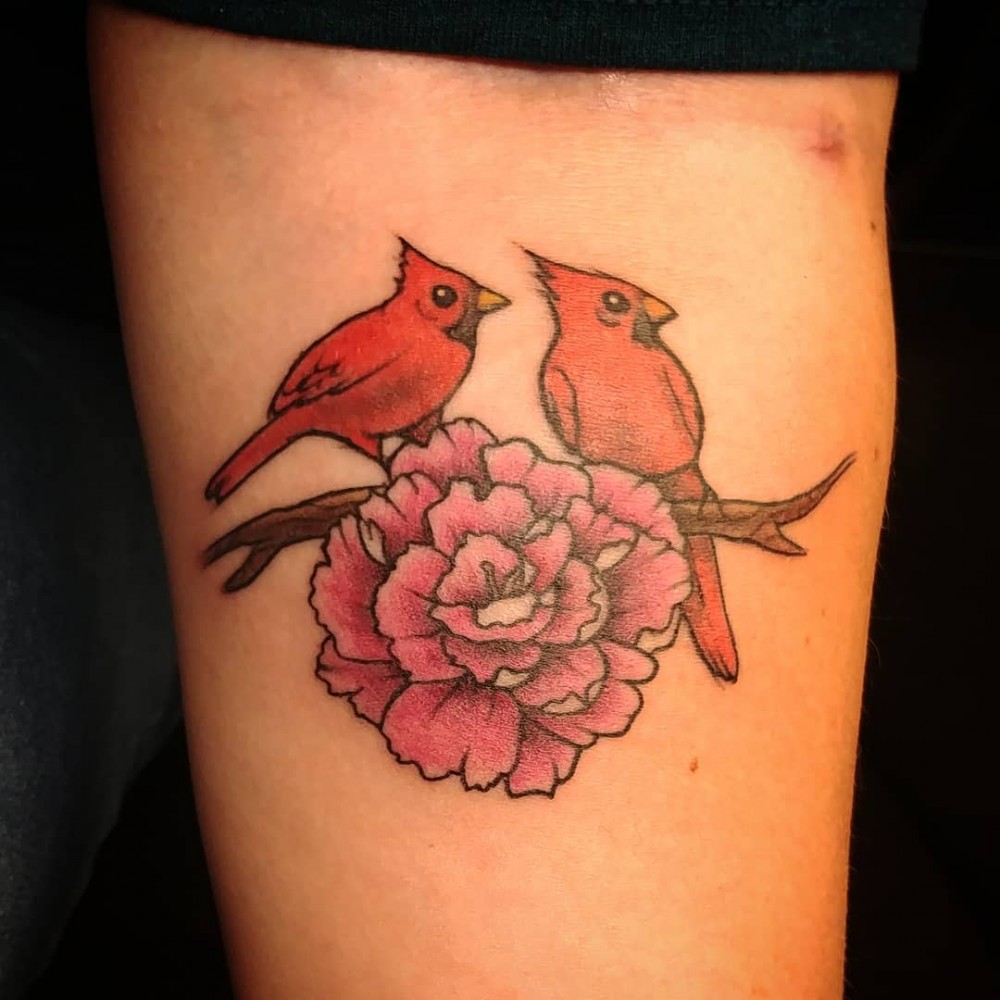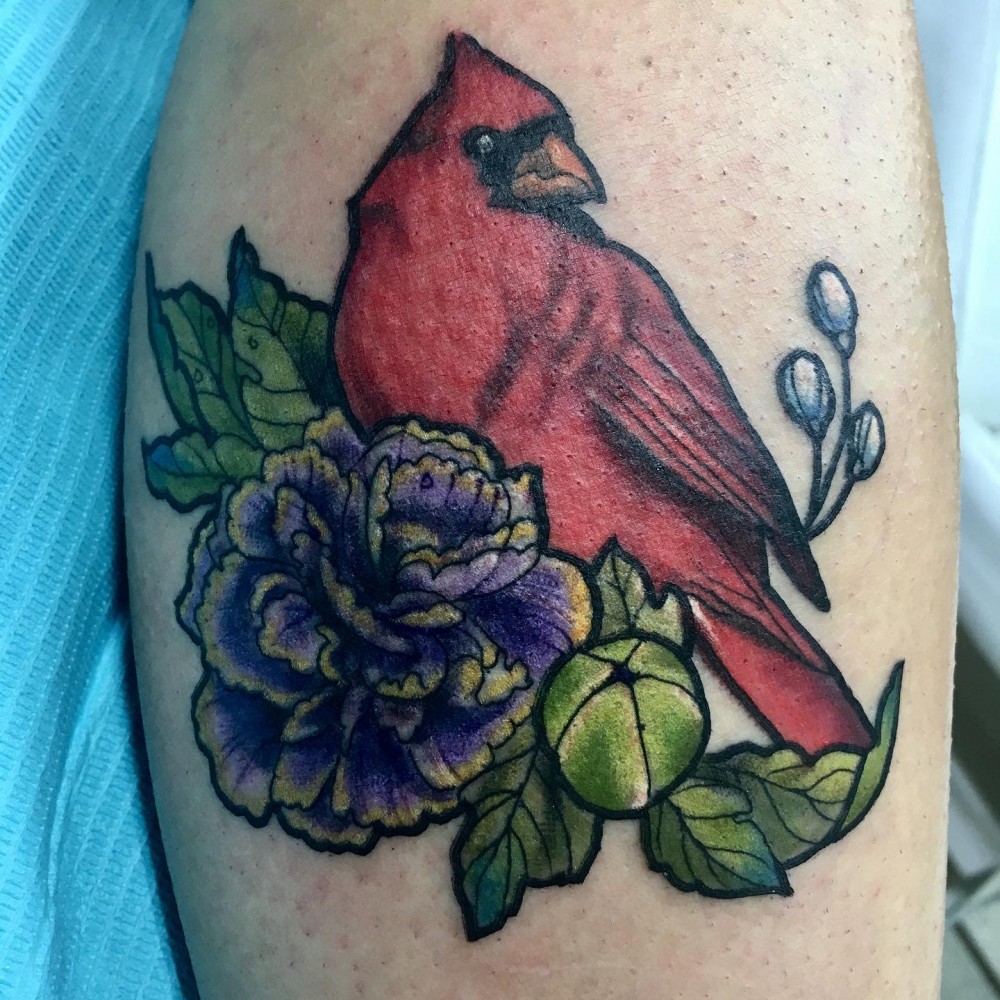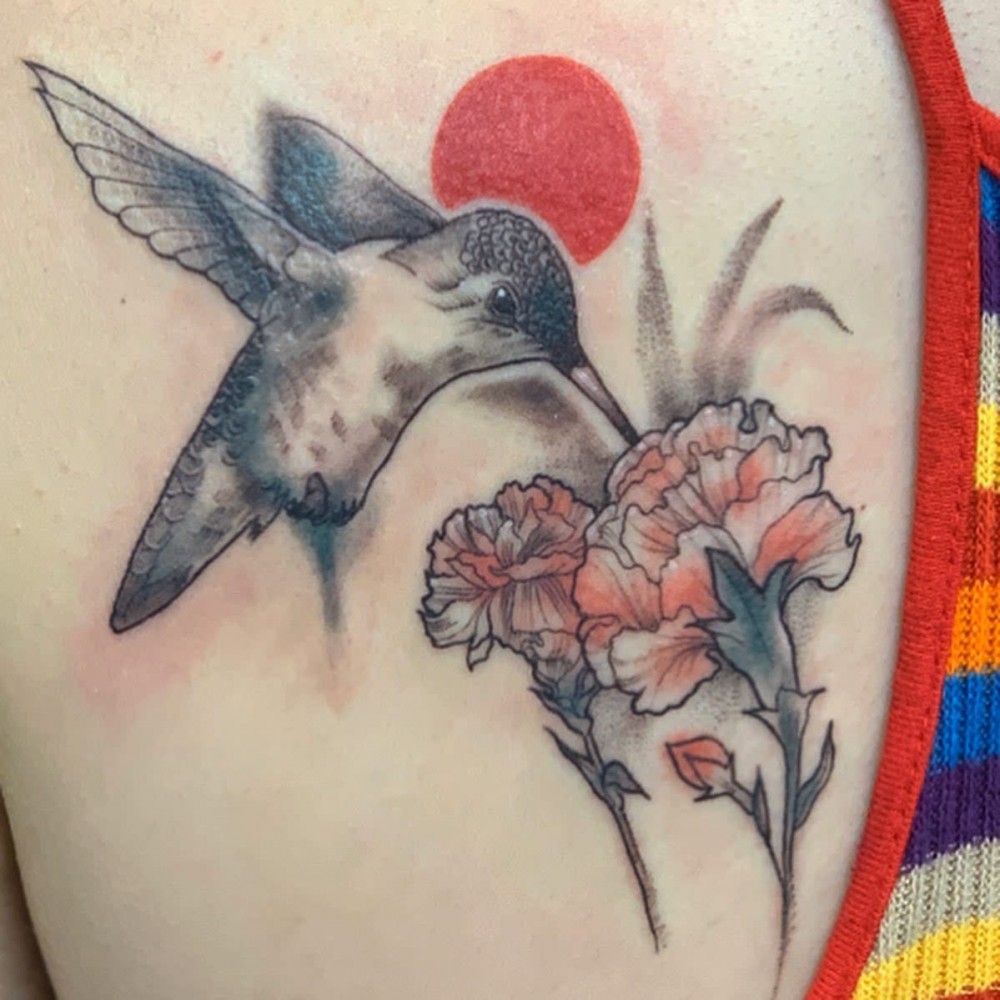 There's tremendous symbolic meaning to each January birth flower tattoo. The cardinal bird combines with the carnation as the State symbols of Ohio, whilst the butterfly broken into puzzle pieces by the skilled tattoo artist has symbolic meaning with autism – matching beautifully with the love a carnation signifies.
I really enjoy how the different colors expressed in these carnation tattoos show different aspects; purple carnations imply a certain impulsivity, a dark red carnation with the woman's ideal of a mother's pure love. And pink carnations are most often associated with strong feelings of gratitude and thankfulness.
2. Color Carnation Tattoos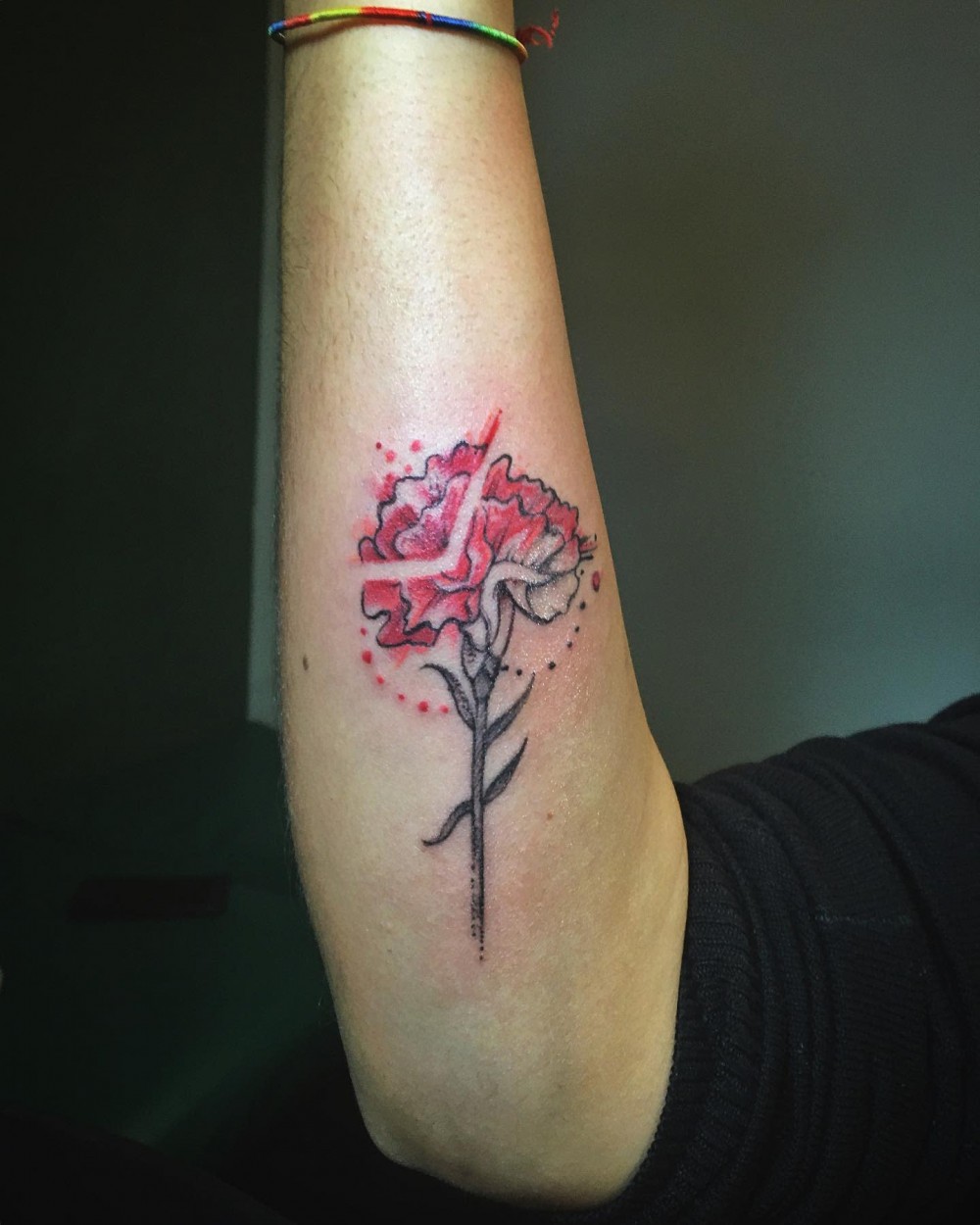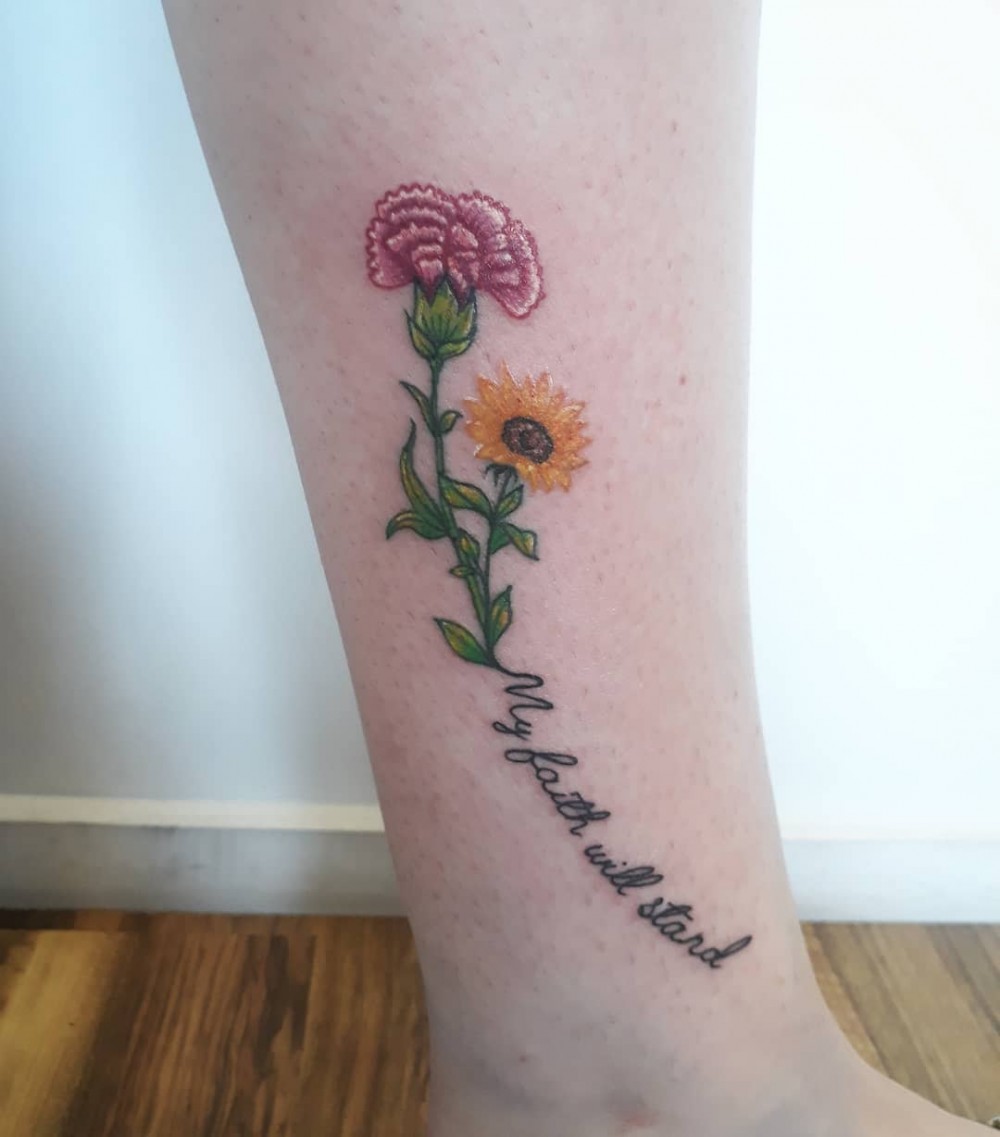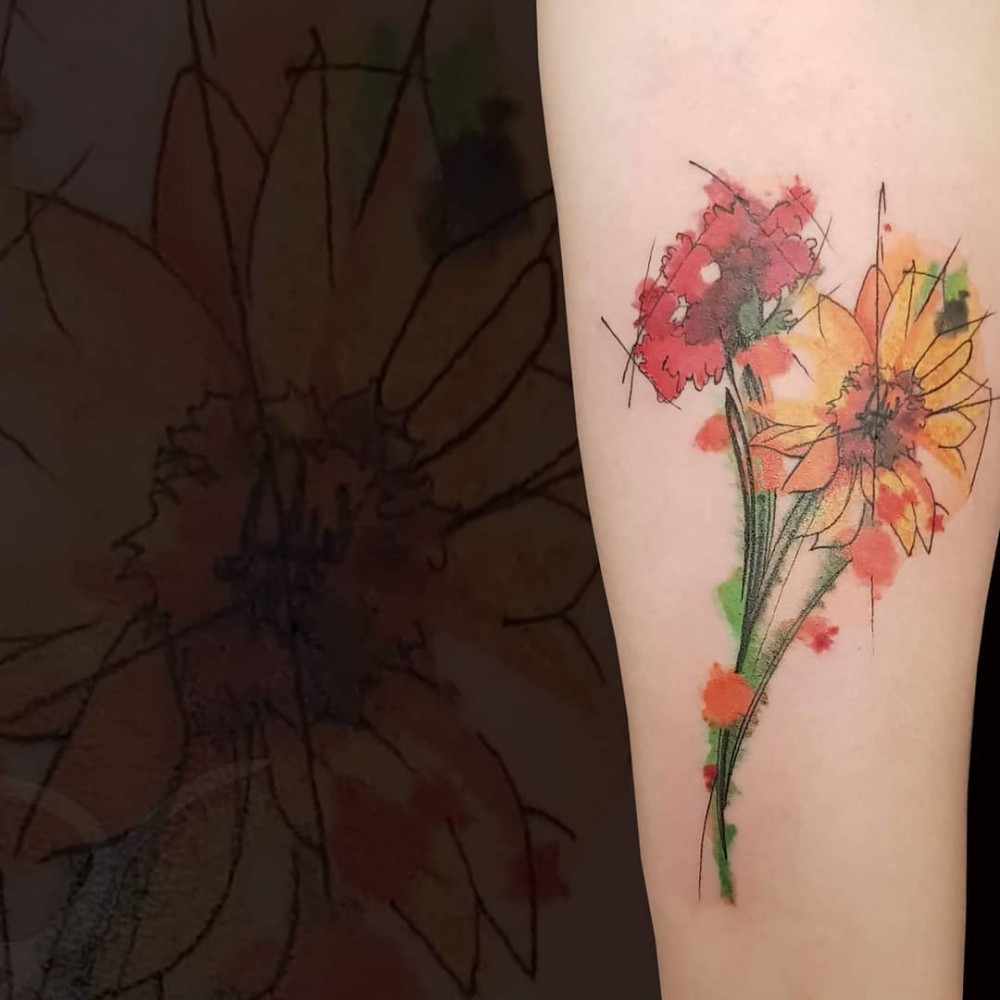 These beautiful tattoo designs aren't short of symbolism either. Linking the purple ribbon for cancer or matching the color with the script as a display of faith are great details for a simple flower meaning.
I think the third watercolor tattoo is a truly beautiful design. The looser use of watercolor yellow (sunflower) and red (carnation) has a tremendous effect on the slashing line drawing of outlines and stems.
3. Delicate Flower Tattoo Designs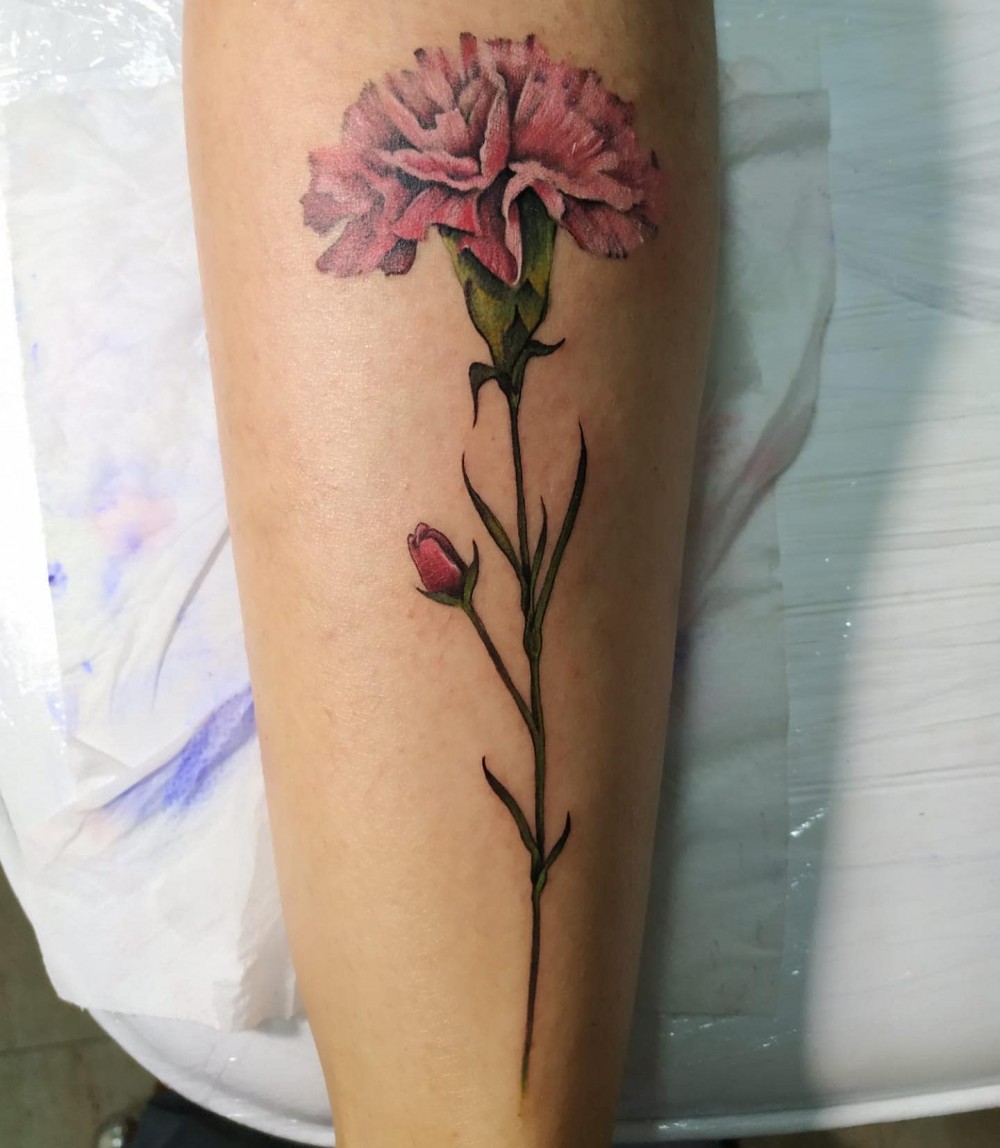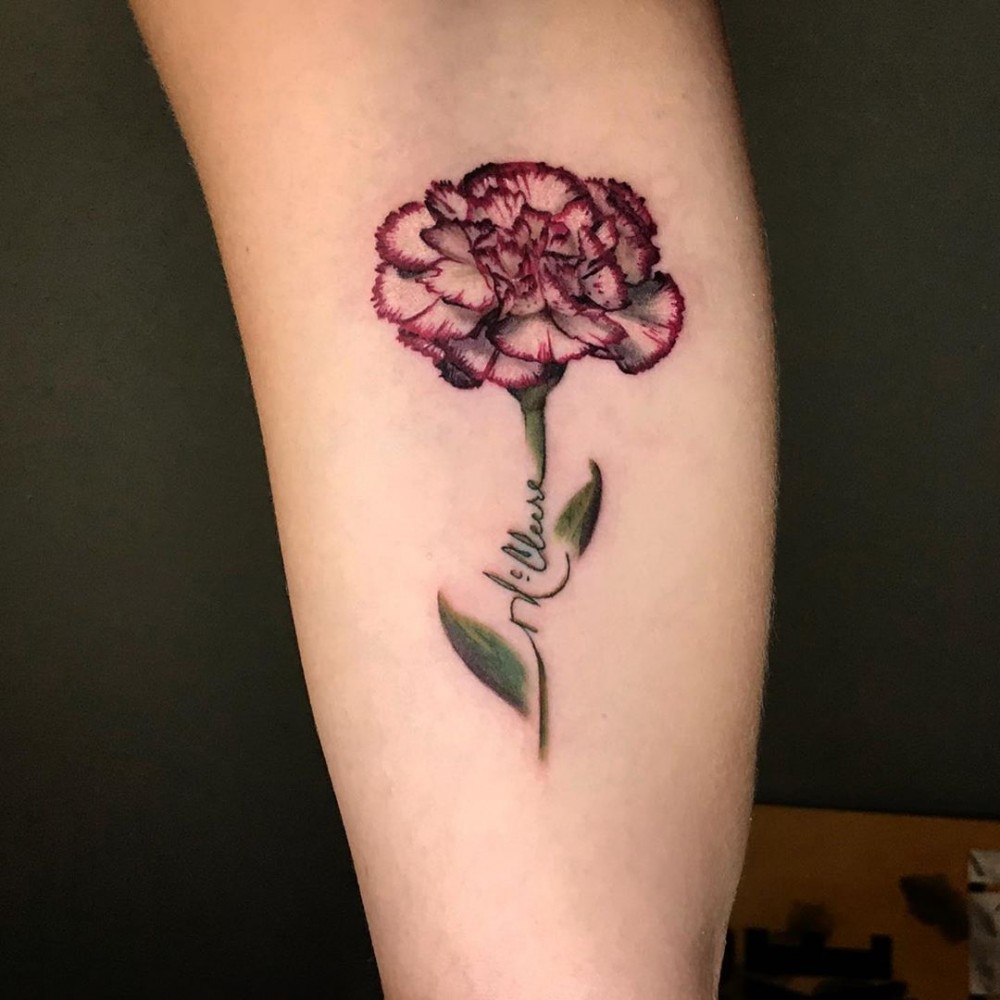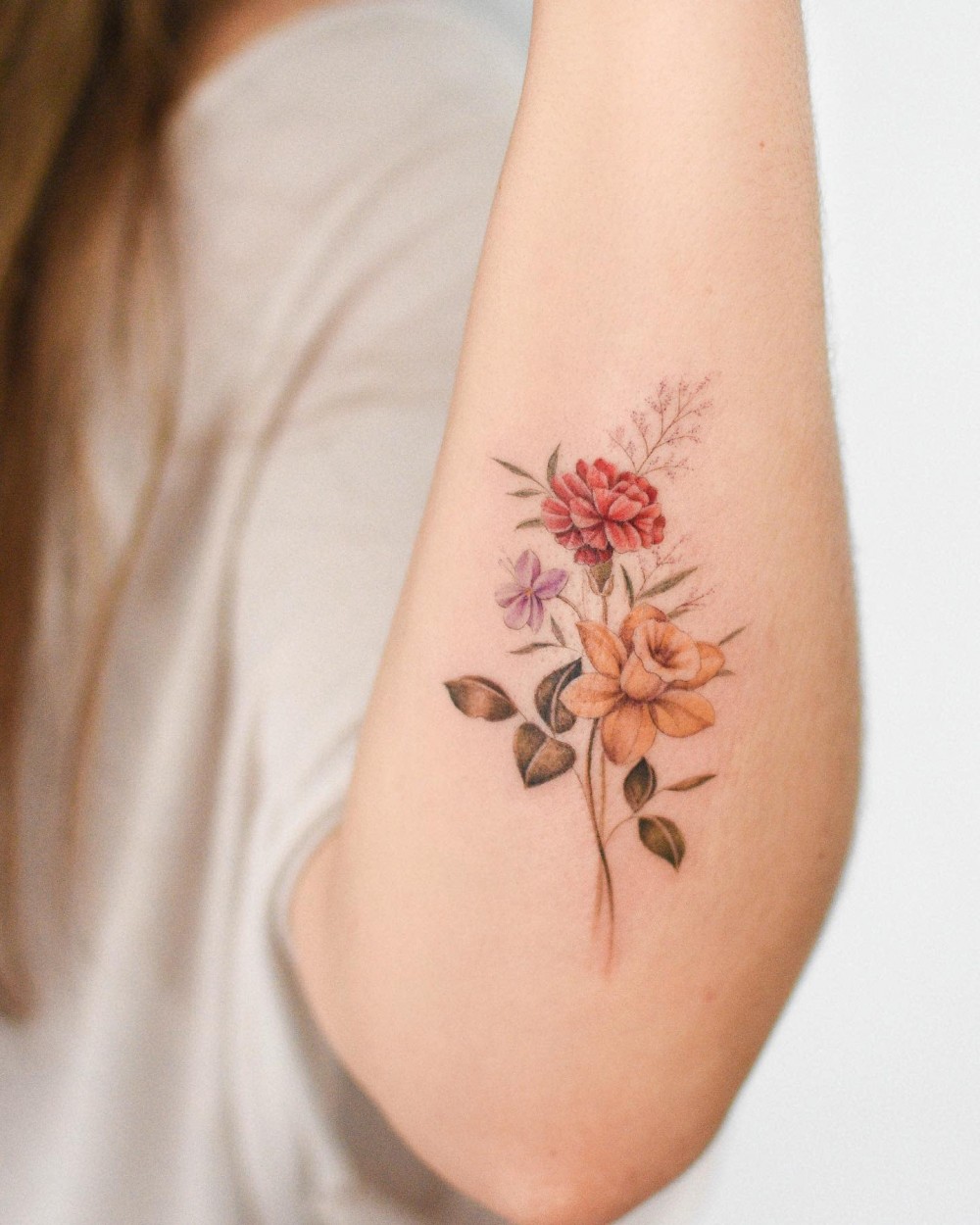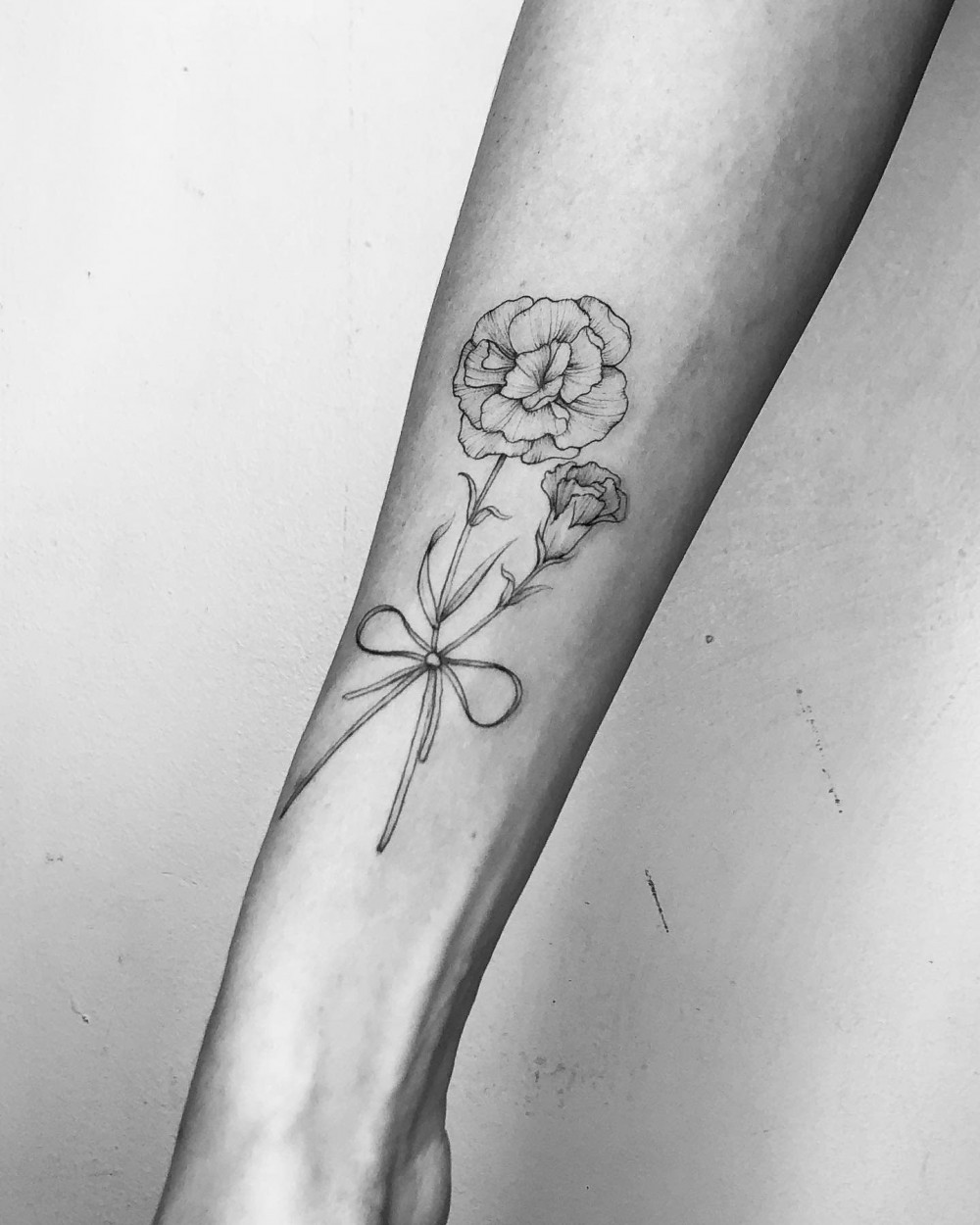 These carnation tattoos show off the beauty and individuality of the petals whether depicted with color or in sensation black and gray. The undulation of each petal allows for some beautifully precise color shifts and allows for sweet wavy black ink linework.
My favorite piece offers a precise mix of negative space, deep red carnation coloring, and beautifully worked green stem/script mix are a masterful display of tattoo design and delivery.
4. Innovative Black and Gray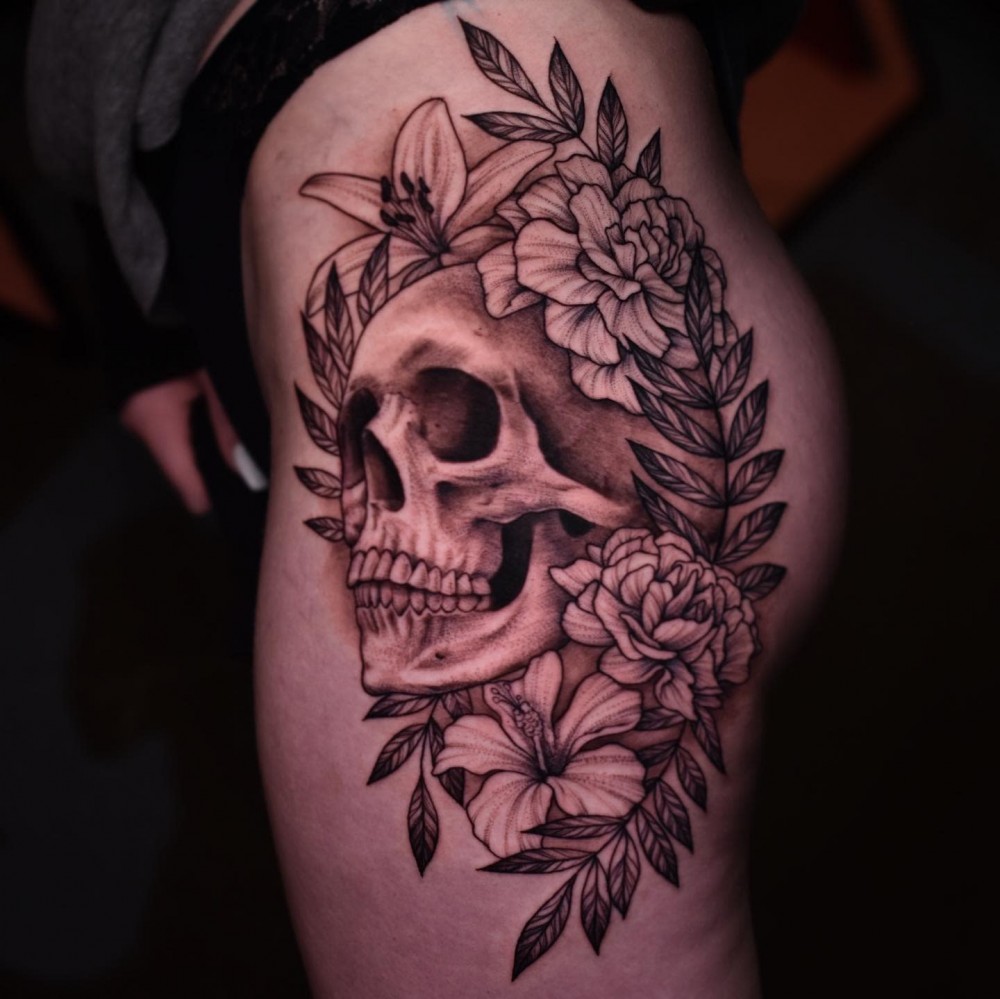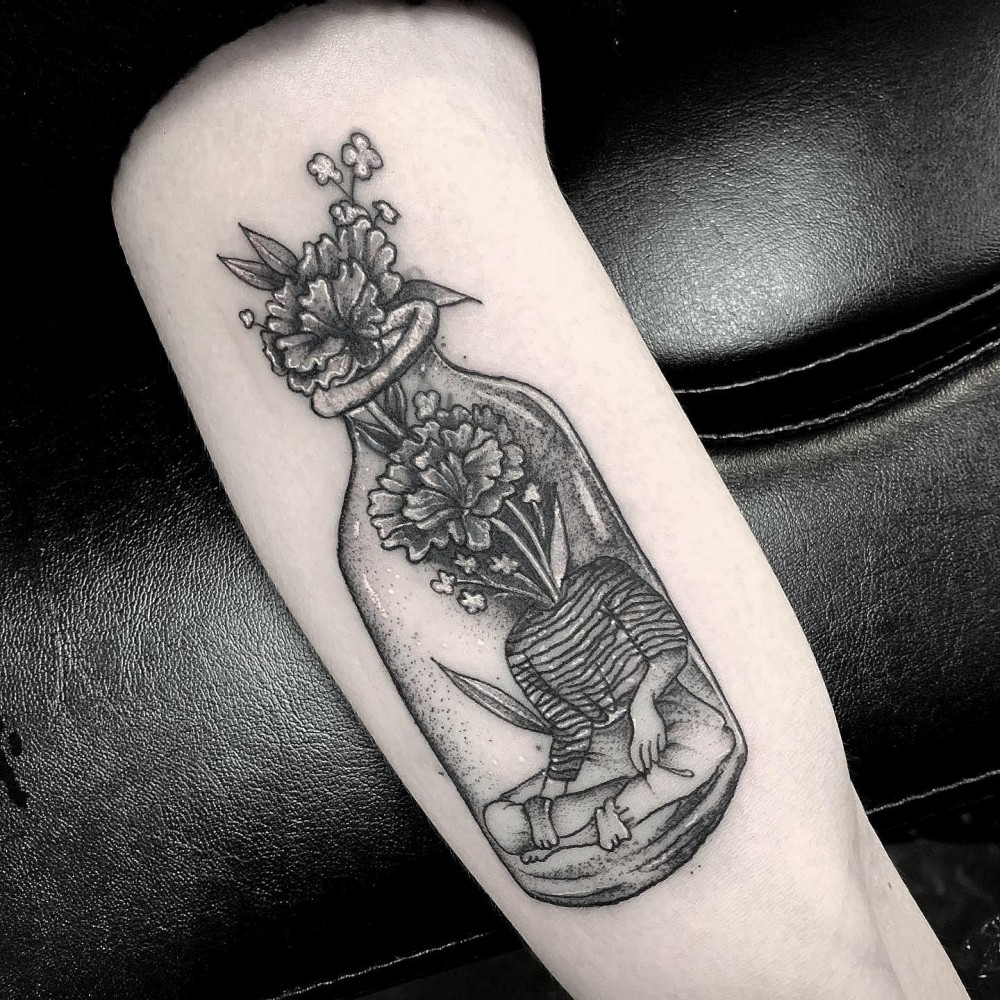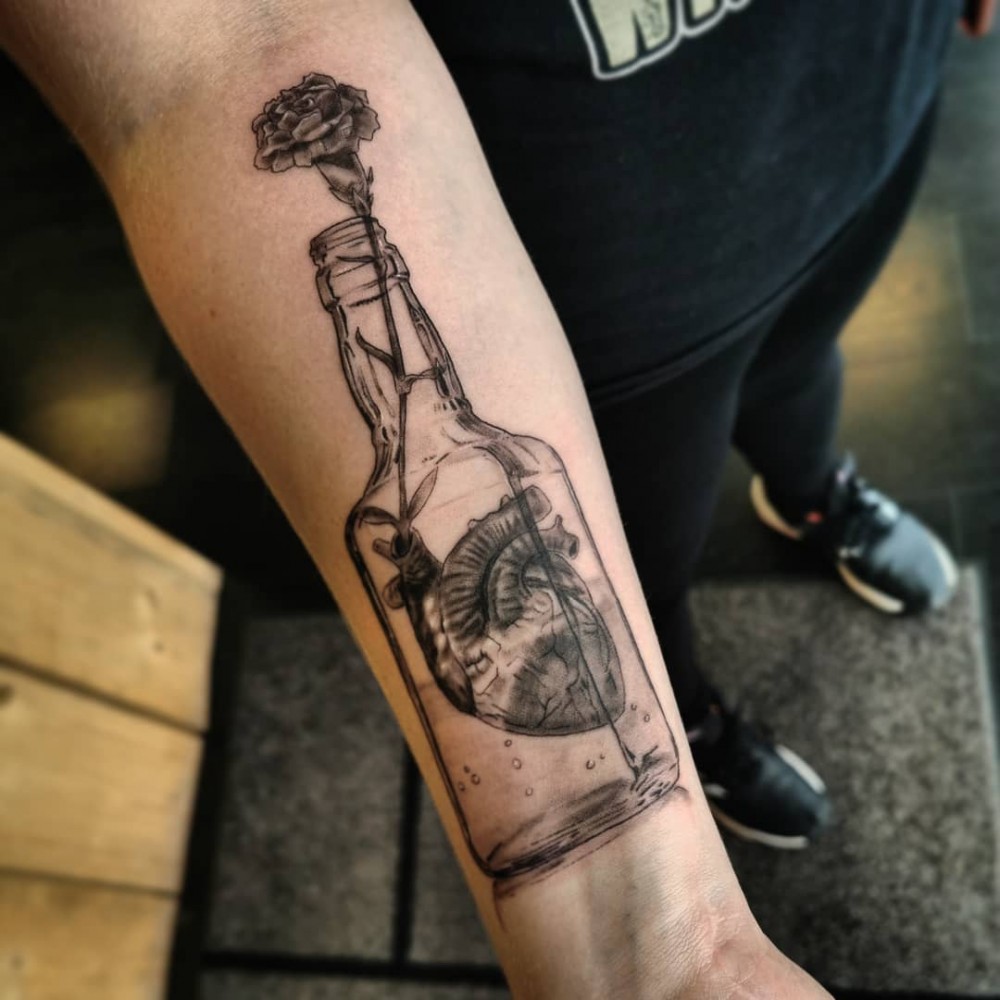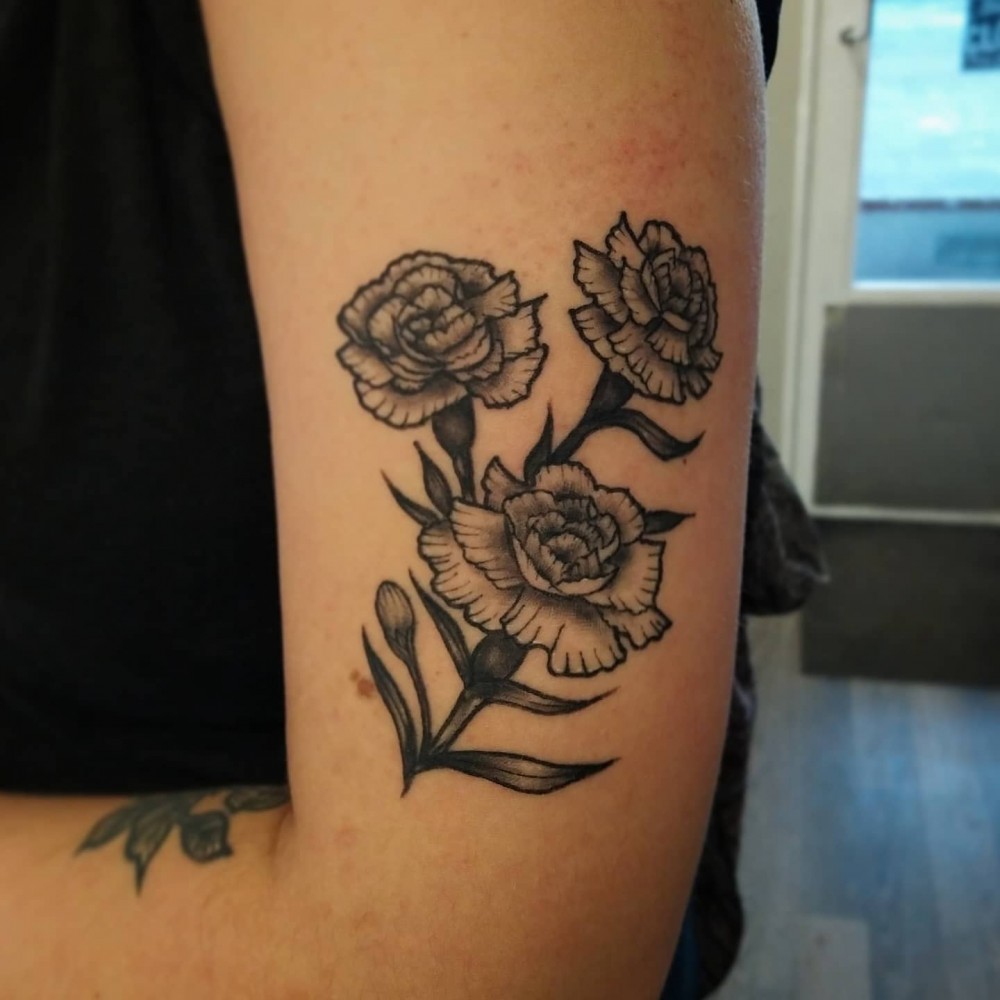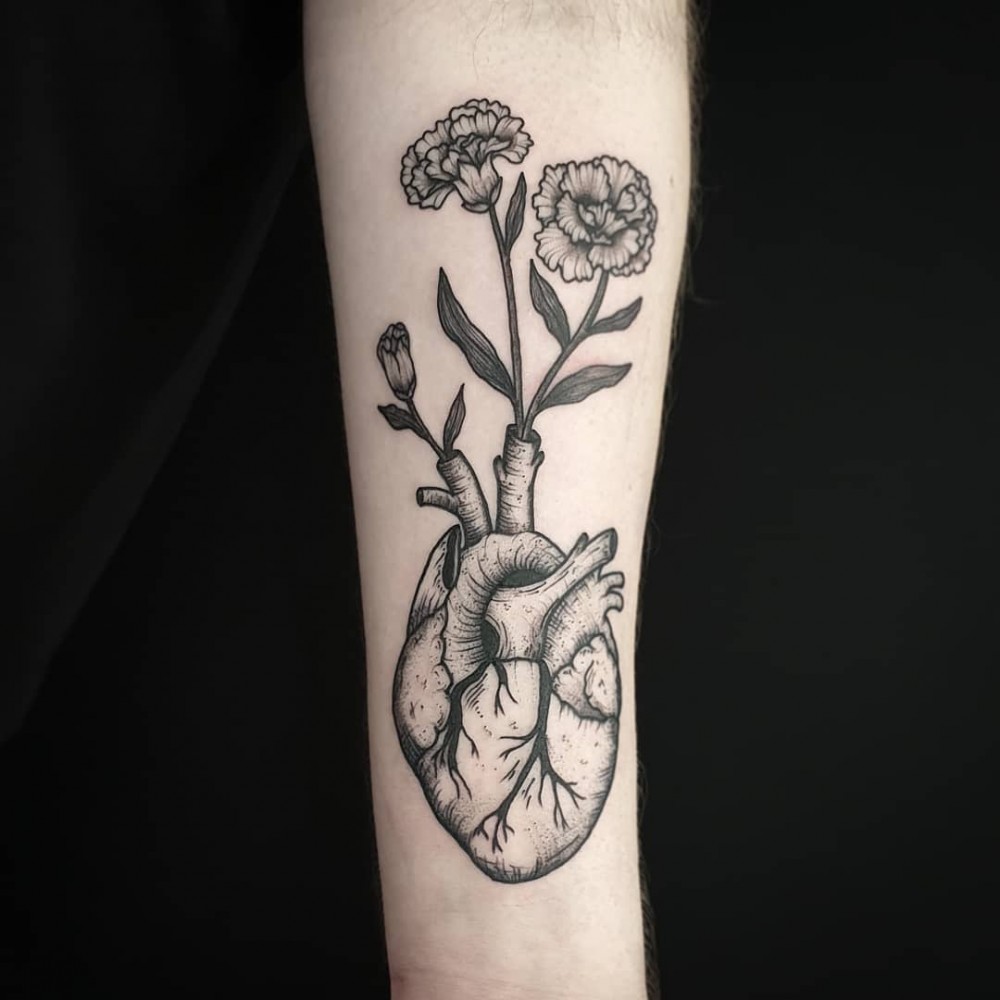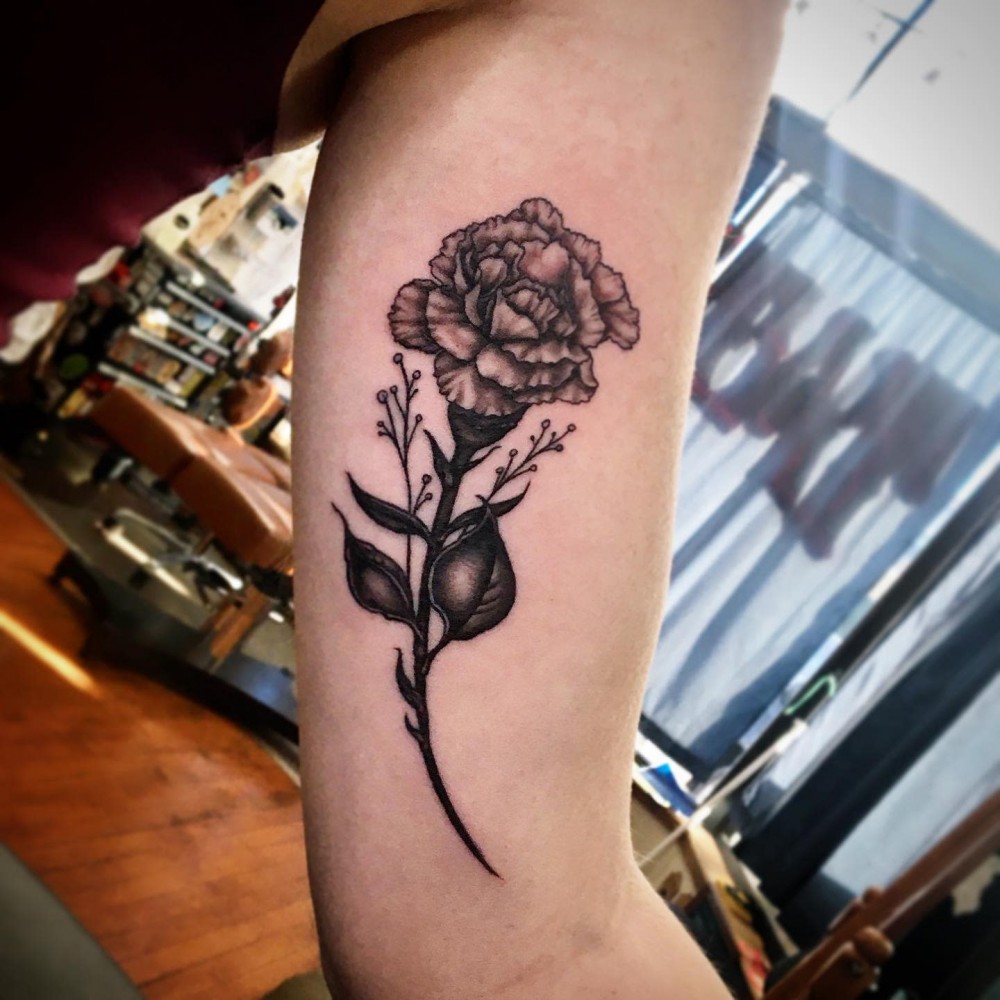 I love how these black and gray carnation flower tattoos switch the flowing sensibilities of color display and reproduction for extremely out-there concepts that offer brilliant use of gradient shading.
Putting the flower images within a bottle with a headless dude, using an almost perfect skull for a stylish floral centerpiece, or having carnations grow from out of an anatomically correct heart are tremendous style choices that make for great alternative tattoo design. Utilizing white ink highlights doesn't hurt the final product either.
5. Linework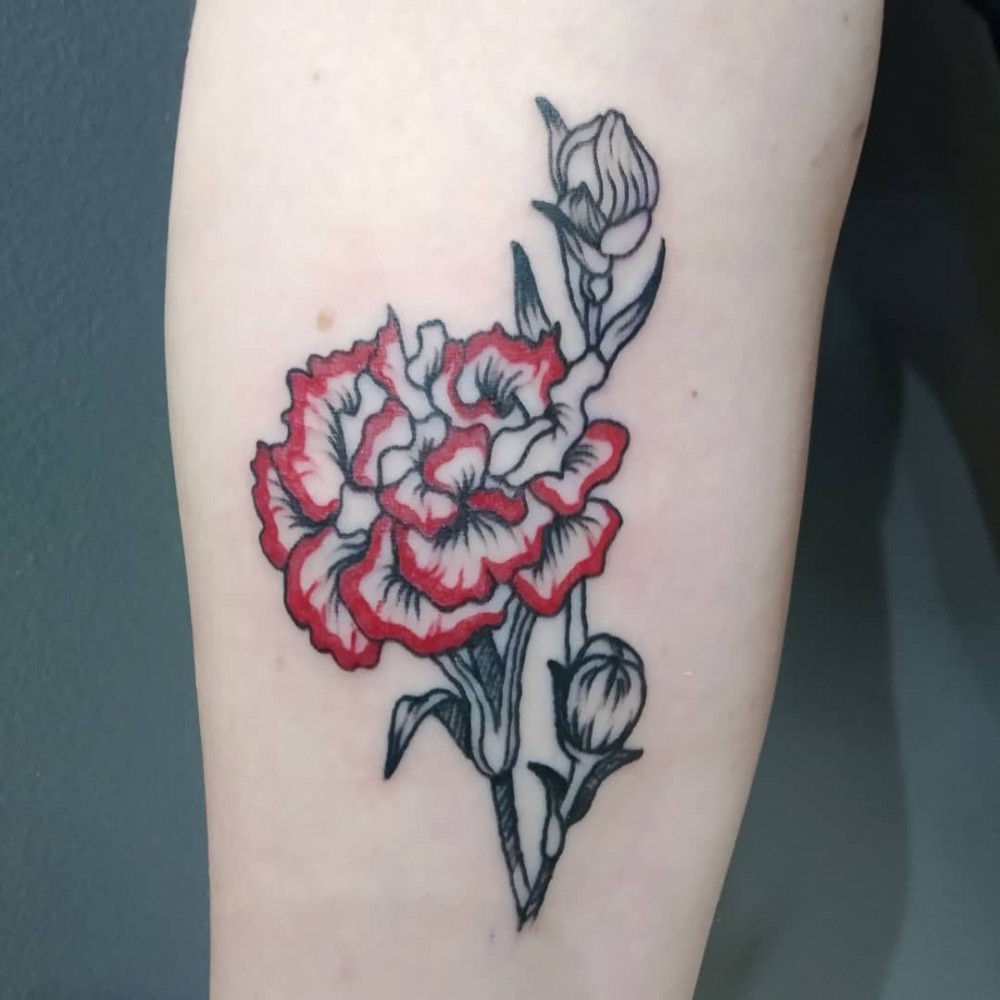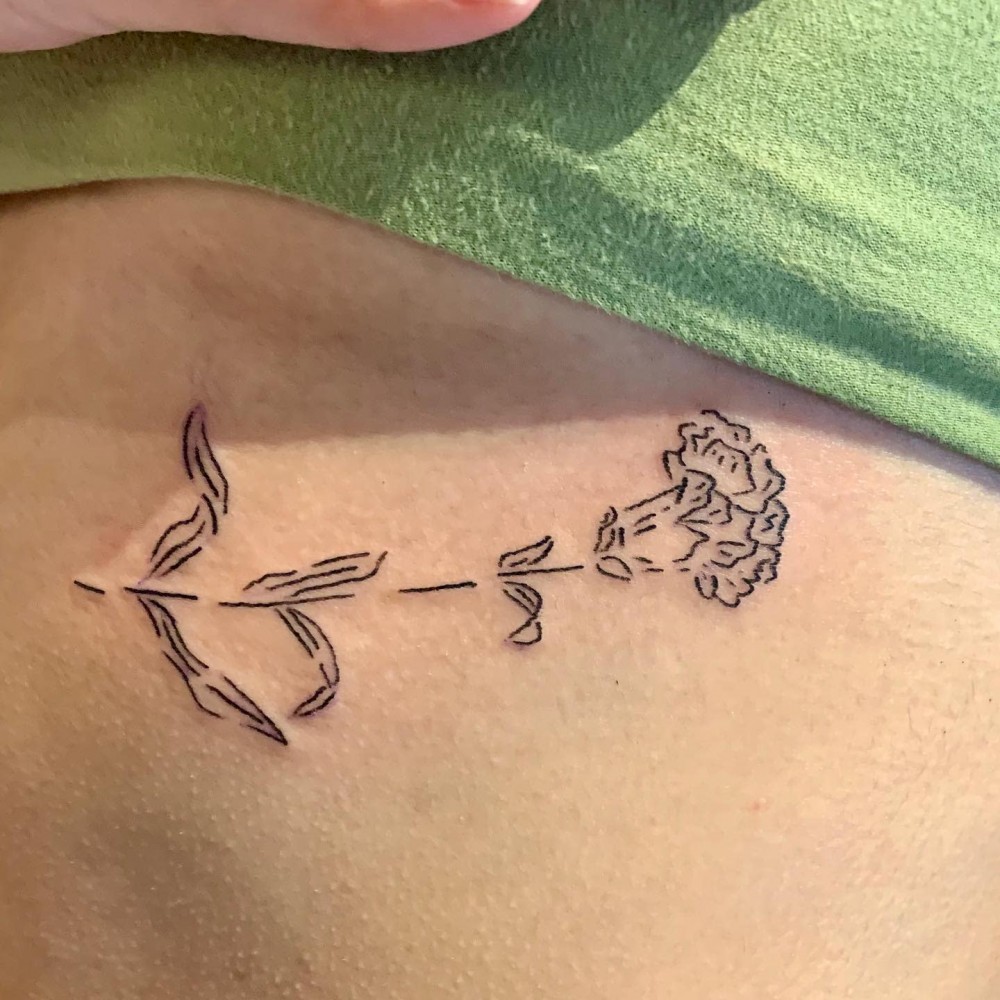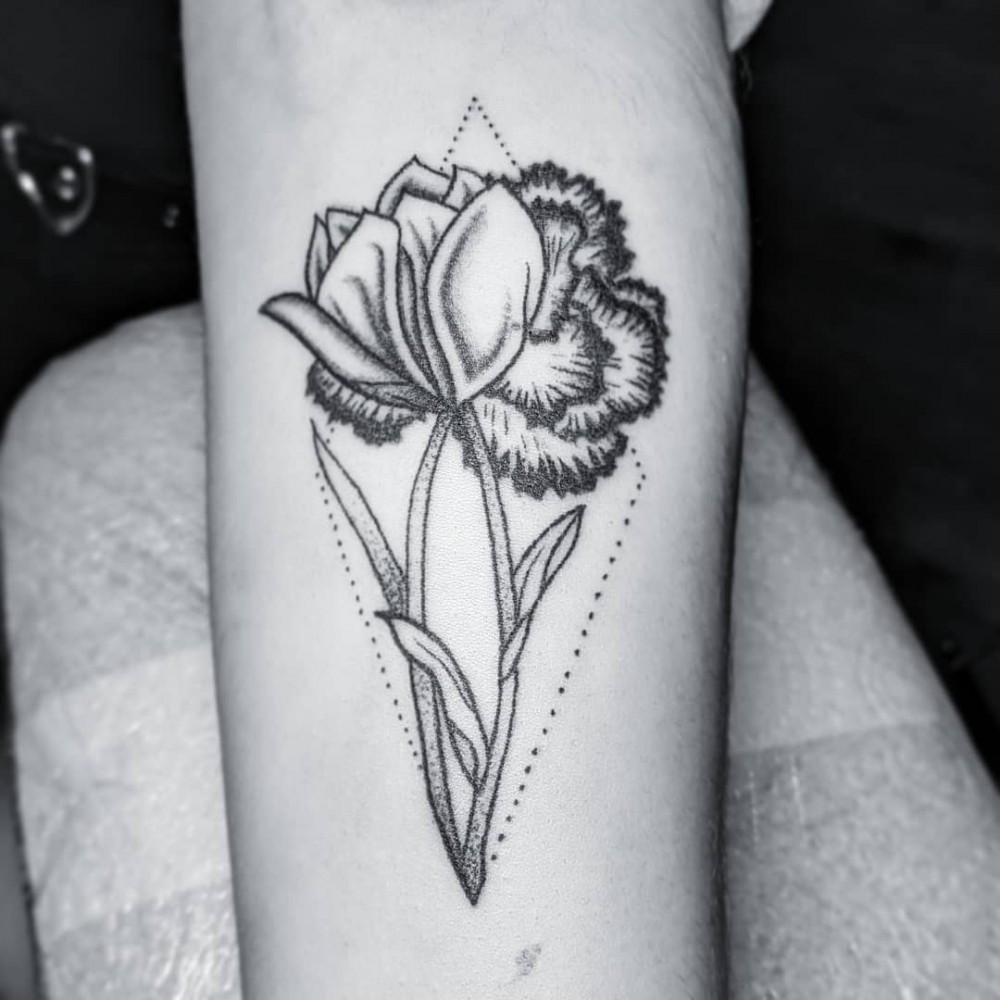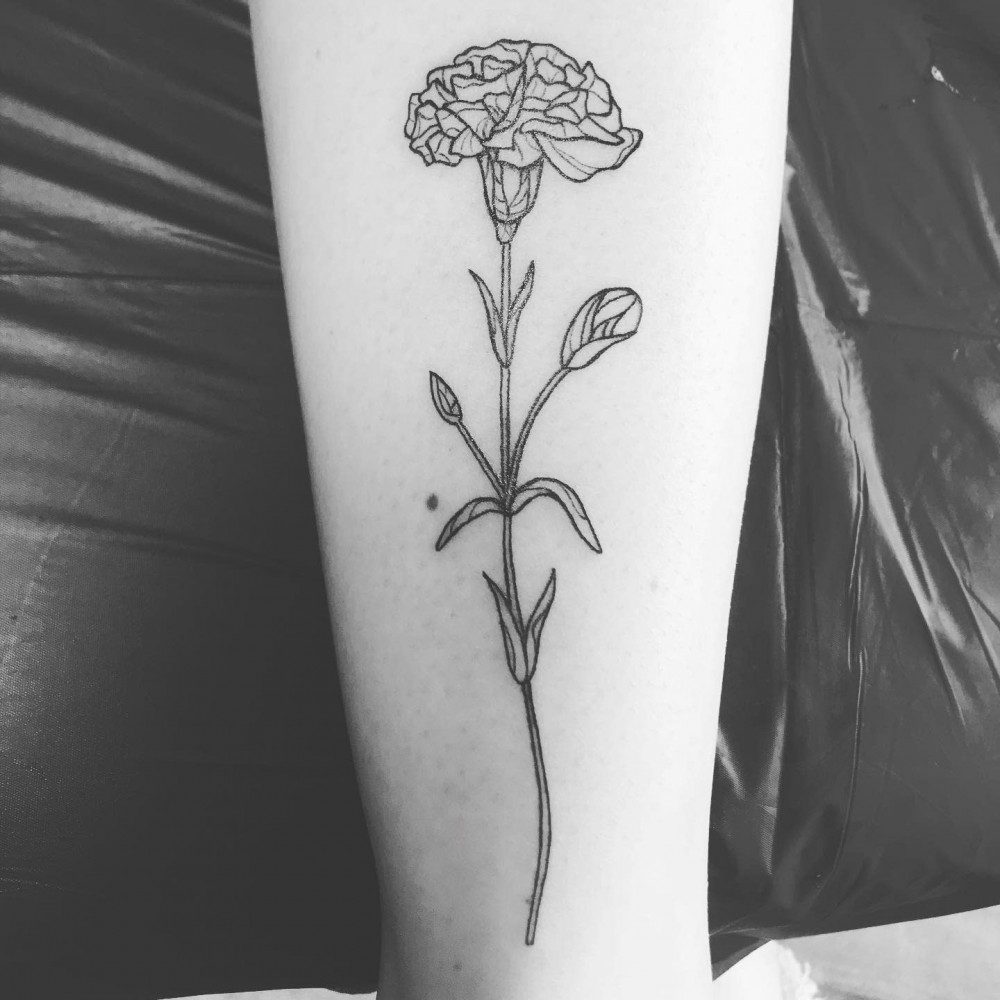 The natural shape of a carnation flower creates brilliant opportunities to play with wavy outlines, line thicknesses, or even the type of linework inked into the flower tattoo. These examples show off the cool linework that a tattoo artist can incorporate without even needing gradient shading or application of color.
6. Neo-Traditional Flower Tattoo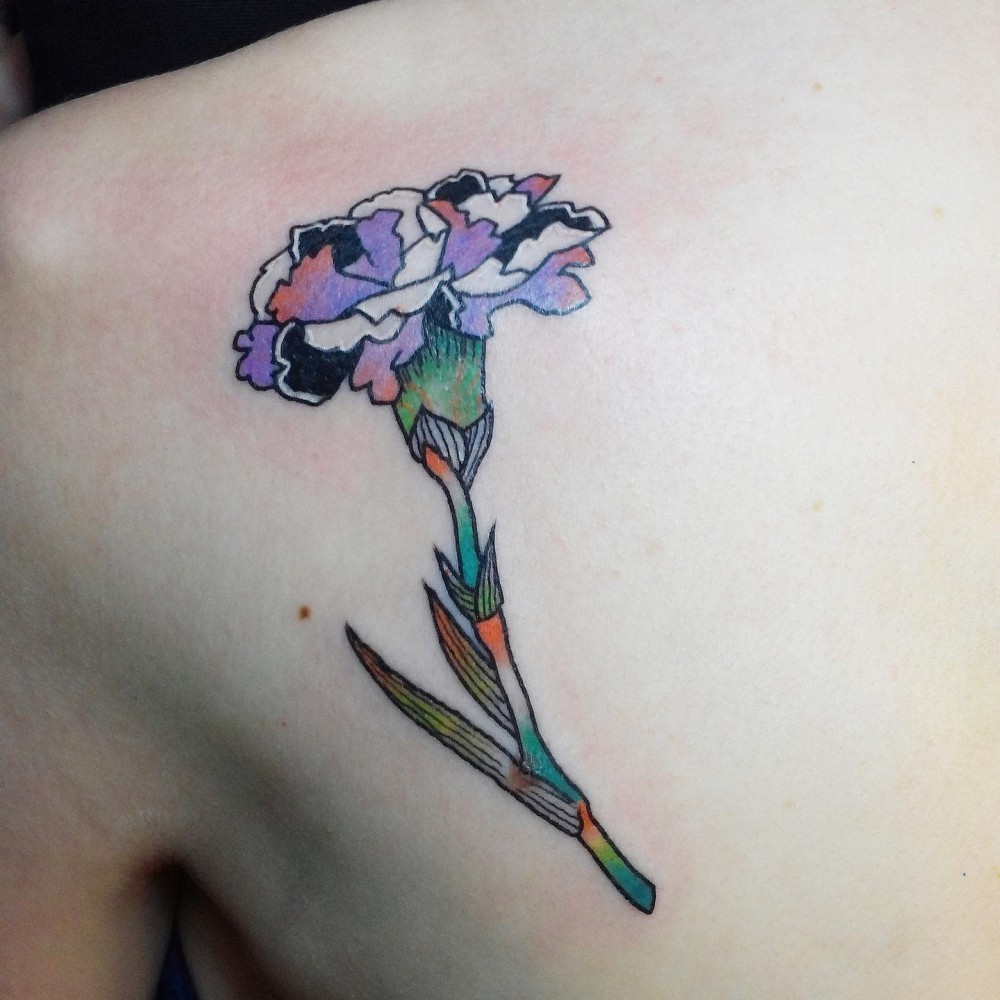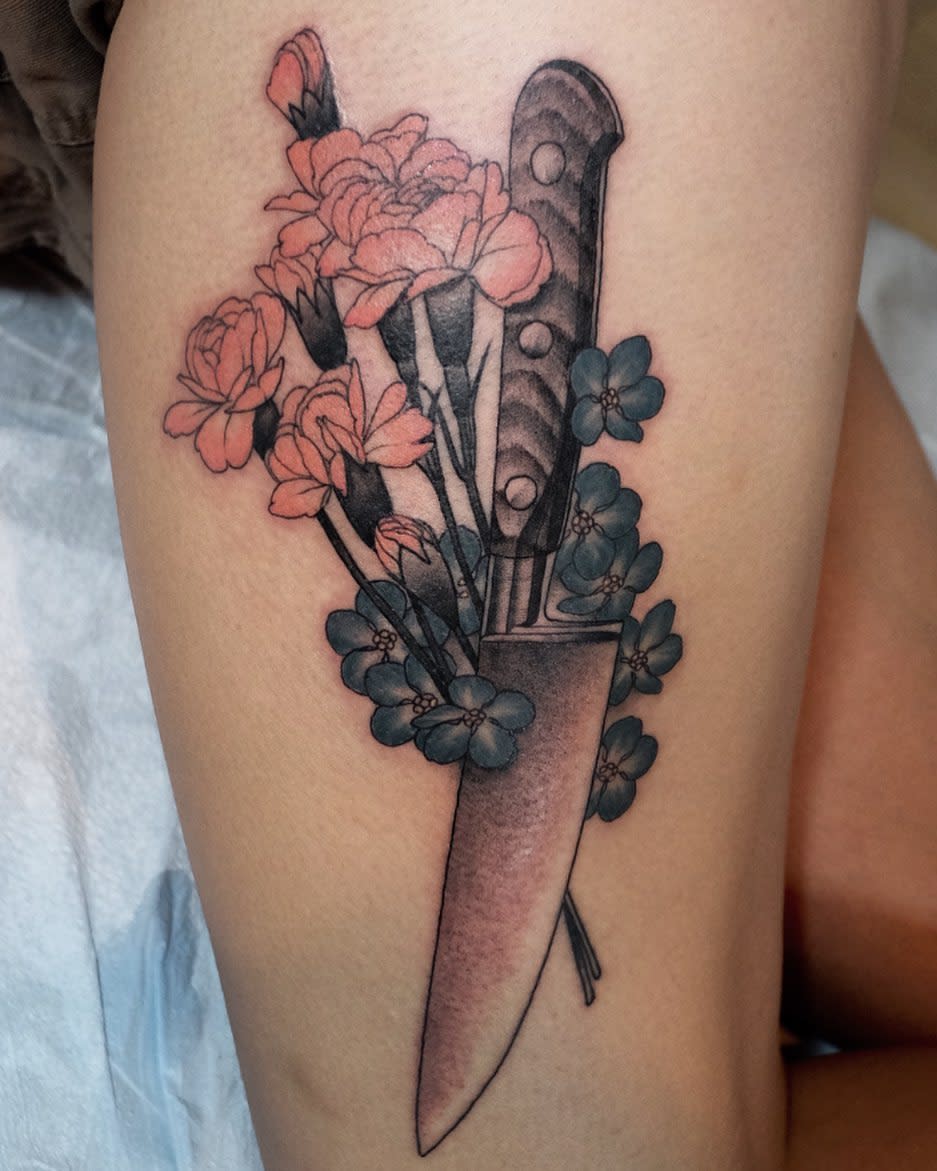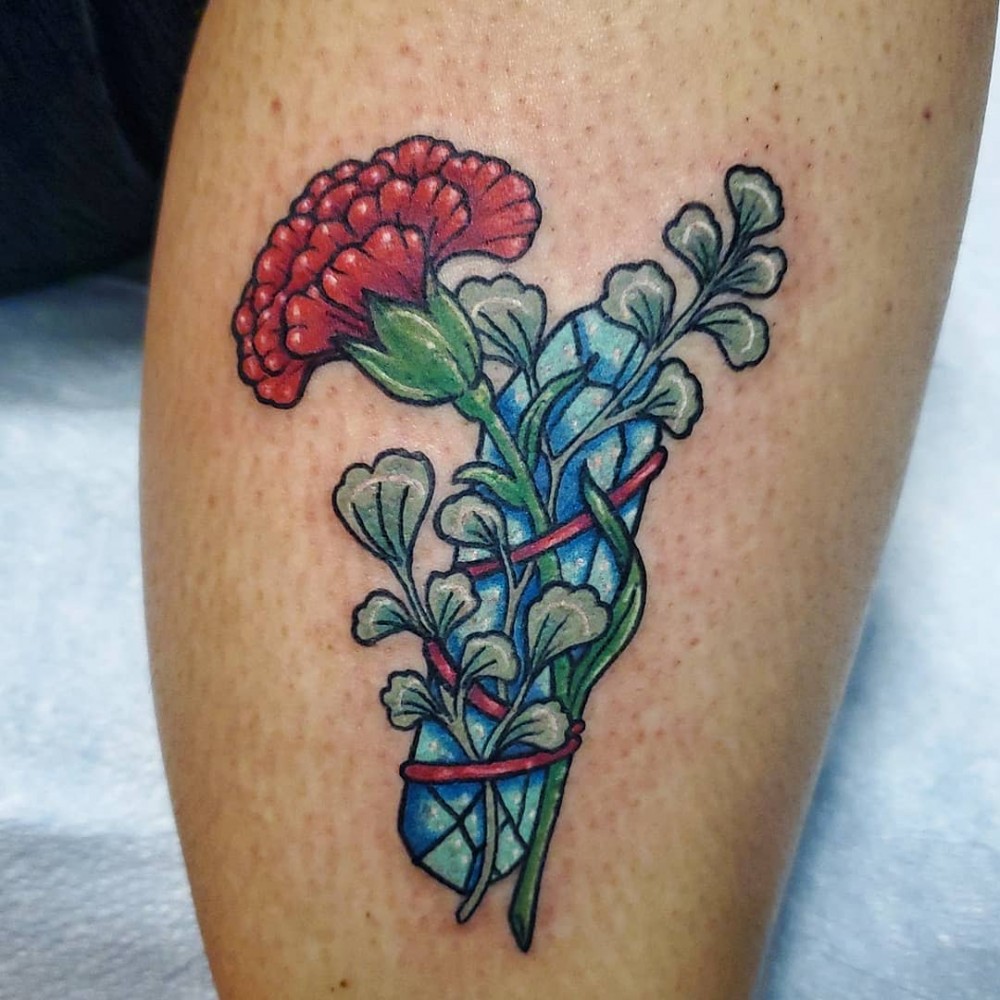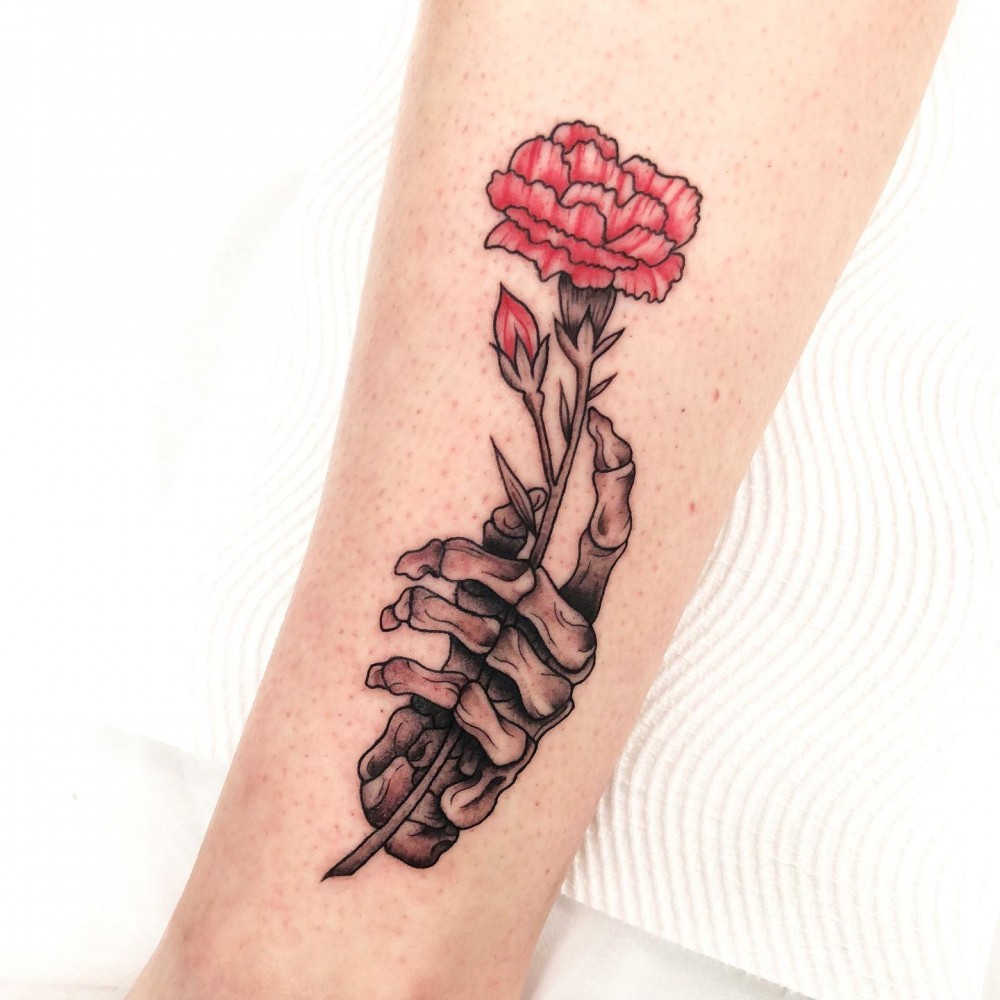 These neo pieces offer similar symbolic meaning, use of color, and even technical application to some of the previous tattoo designs, they just turn up the amplifier to ten. Brighter, richer colors, weirder image choices, thicker outlines, and bolder design.
My favorite is the fuck cancer carnation tattoo. The message is clear, the ink is amazing, and as a full shin piece of body art, the tattoo artist has crafted top quality design work.
7. Technically Applied Carnation Tattoo Designs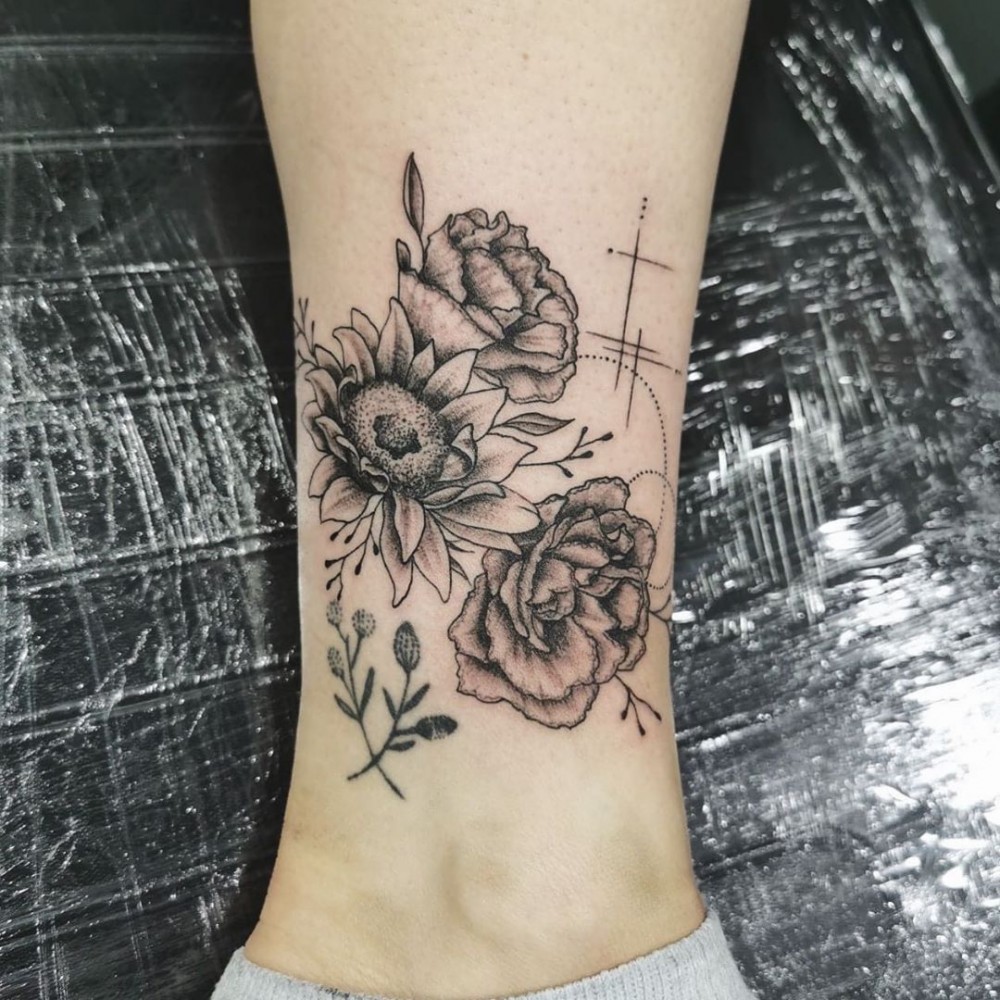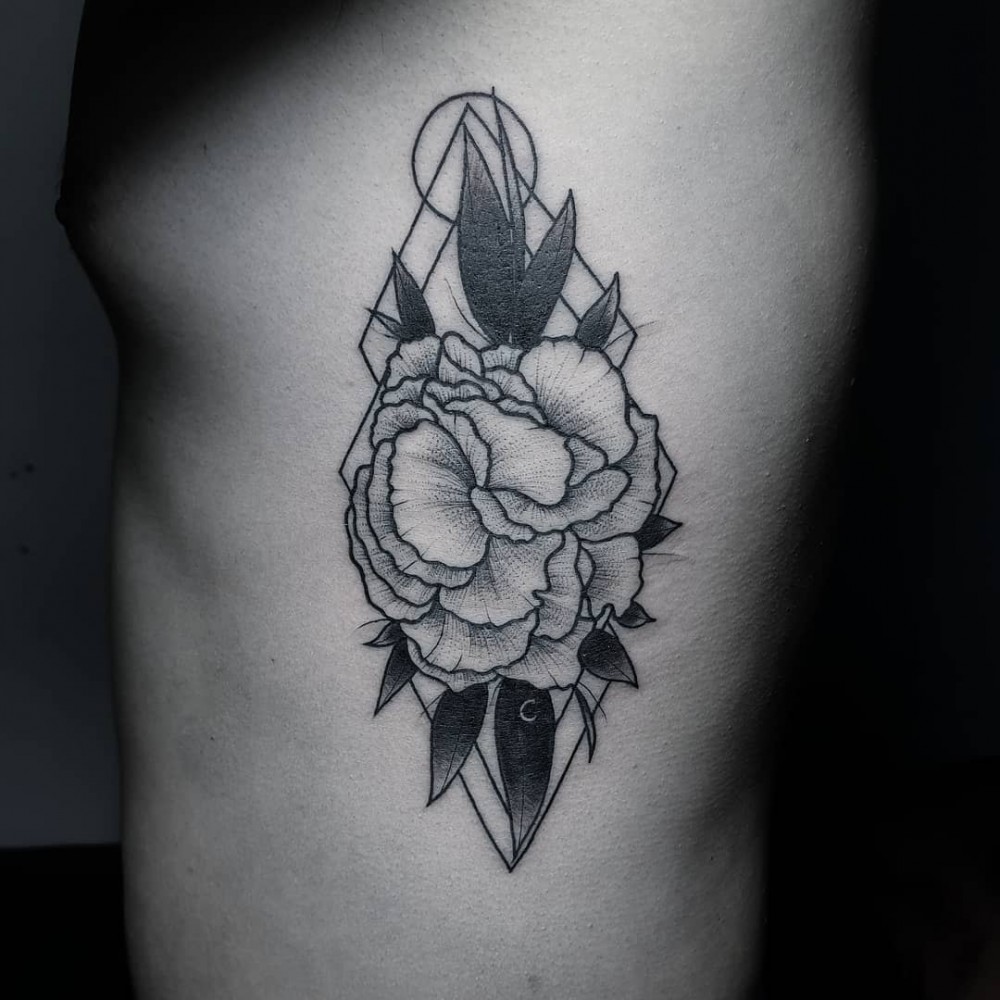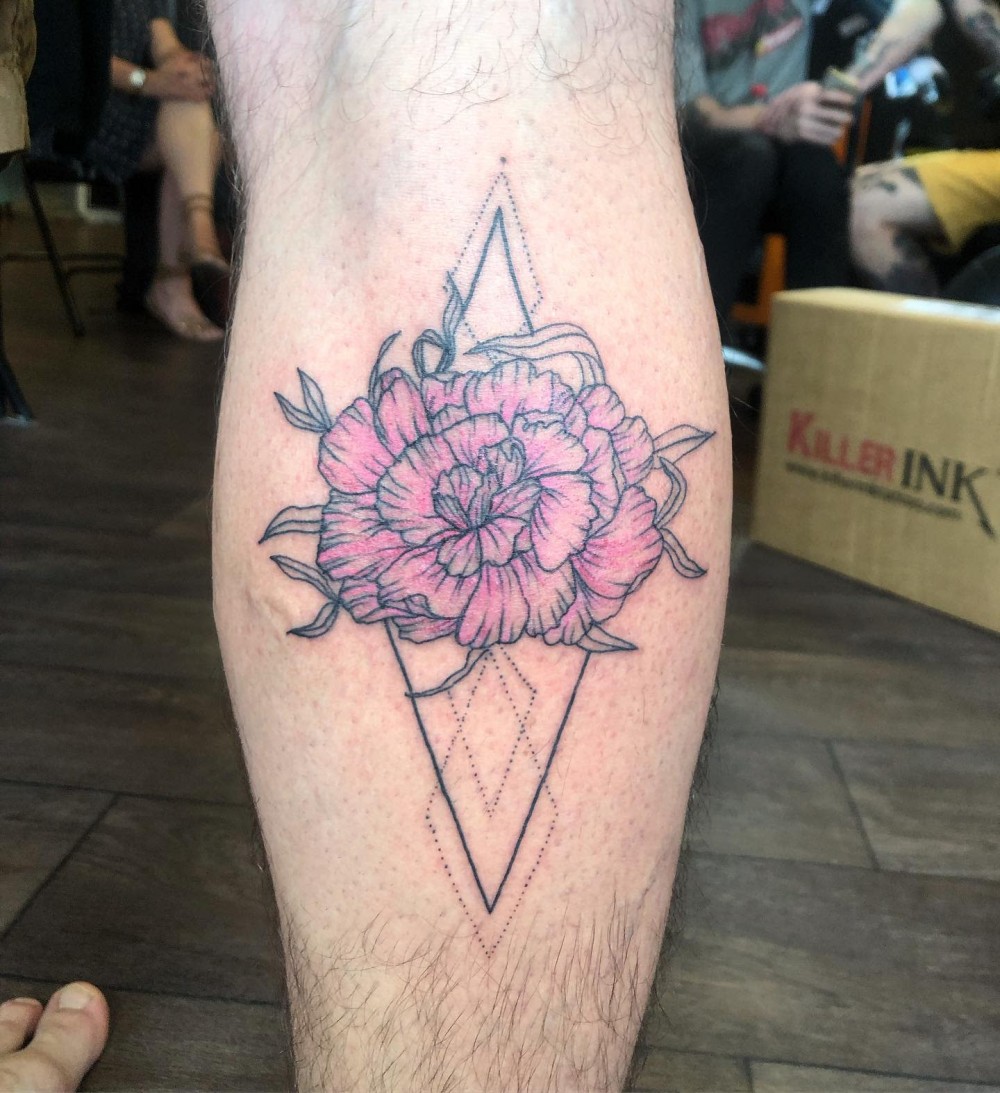 This final quartet of carnation tattoo examples shows the use of various technical aspects rounding off each design. They show a great application of space, shape, and highlighting options to create finalized pieces of body art.
I love how the second tattoo uses negative space to frame weaponry with a thick black outline while offering great, strafing shadow work and white highlights for the larger central flower. These techniques do a wonderful job of taking a simple image and imbuing it with skilled flourishes to make an exceptionally pretty flower tattoo.
And remember, if you're unsure if a carnation, chrysanthemum, lotus flower, daisy, cherry blossom or daffodil is the right floral tattoo design for you, take the opportunity to get a quality temporary tattoo, and take your possible ink for a test drive.
Carnation Tattoo FAQs
What do carnation tattoos mean?
A carnation tattoo is most often associated with positive feelings of love, affection, and admiration. These strong feelings help it as a design, used in a collage or as a single minimal tattoo.
They are heavily linked to notions of motherly love, as in Christianity it was said that when Jesus died on the cross carnations grew from where the Virgin Mary's tears fell.
The carnation is January's birth flower – and are also linked to the Sagittarius Zodiac sign – so it can also be the perfect ink to symbolize these periods during the year. The Red carnation is also traditionally used to commemorate a woman's 1st wedding anniversary.
What do different color carnations mean?
Carnations display great variety in their shading:
Dark red carnations offer love and affection.
A pink carnation signals gratitude.
A Light red carnation is a bloom to depict admiration.
A white carnation flower represents innocence, purity, and luck.
A Yellow carnation means disappointment.
Purple carnations are linked to impulsiveness and volatility.
Most colors are positively associated with strong feelings of positivity and thankfulness, and can be utilized in anything from a tiny carnation tattoo to a larger combination piece of ink
What did the carnation symbolize in Greek Mythology?
The scientific name of the carnation is Dianthus caryophyllus and has most often been linked with the myth of Diana, the Greek Goddess of the Hunt who plucked out the eyes of an innocent shepherd.
As the myth goes, Diana was returning from a hunting trip empty-handed when she came across a shepherd playing his flute and tending his flock.
Blaming his music for spoiling her hunting, the Goddess attacked the poor shepherd and plucked out his eyes. Where the eyes fell, red carnations grew in their stead to signify the shedding of innocent blood.