Flourish Your Makeup Routine With The Professional Makeup Kit
What do business cards and Scotch tape have in common? Yes, they're both on your desk, but think again. Make up how-tos and celebrity look-a-likes are never old curiosities (admit it). But now you really can look red carpet ready on your own, I swear.
Makeup artist to the stars, Jake Bailey, has become one of the industry's primo celebrity makeup artists in Hollywood and New York. His impressive client list includes the likes of Taylor Swift, Angelina Jolie, Kyra Sedgwick, Mandy Moore, and Paris Hilton, among many others. Bailey is Katy Perry's personal makeup artist, making sure she's always camera-ready à la her catchy blue eyelids she rocked at The Smurfs premiere. "It was either blue eyeshadow or blue skin," Bailey joked.
Be red carpet ready right out of the office with some of these beauty tips and tricks of the trade Bailey spilled to Fashionista using just the everyday stuff at your desk: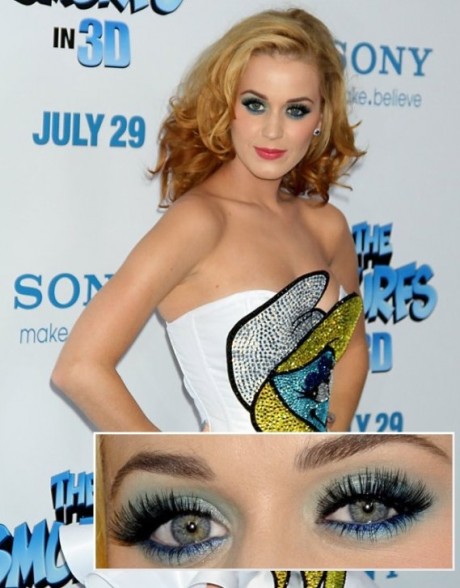 Katy Perry at The Smurfs premiere
1. Business cards as tools for eye makeup application. Bailey holds a card between the lashes and the brow line as he applies mascara, stressing the importance of putting the bulk of the product at the very base of the lash line.  Not only does the barrier prevent accidental mascara on the brow, it guarantees better results by encouraging a direct, upwards sweep of mascara to really curl the lashes.
2. Makeup Primer is crucial. Bailey asserts primer is as necessary as the perfect mascara, especially for foundations and powder eyeshadows, which will crease without an even base to rest on. As a result, he's "a big fan of products that simplify"– like CoverGirl's Intense Shadow Blasts that combines primer and pigment rich eyeshadow.
3. Scotch tape as a makeup remover.  When filming the "California Girls" video, Katy Perry wore different colored glitter eyeshadow in every scene. To switch up the eye makeup easily, Bailey used a strip of Scotch tape, lifting the makeup off quickly, gently and neatly.