Learning that you will become a parent is one of the happiest moments in your life. Soon, a little bundle of joy will join your family. Even though they are initially overwhelmed by excitement, soon-to-be parents start panicking about everything they have to do before the baby comes.
One of the first things that you have to take care of is the nursery. Unless you have already planned it down to the last detail, there are a lot of things you have to find and purchase. In this article, we will focus on the nursery wallpaper. Here are some tips on how to choose the best one.
Type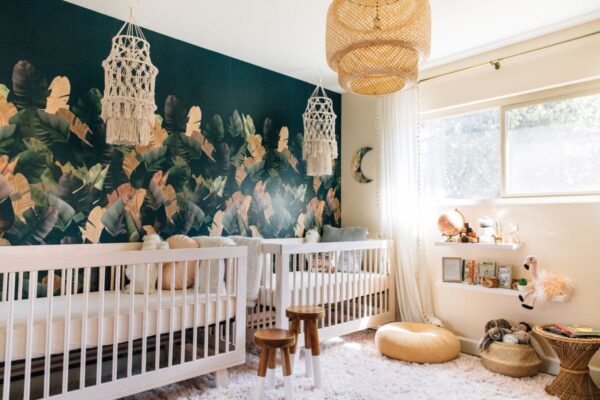 While on the hunt for the right nursery wallpaper, you should start by deciding which type you want to purchase. Here, you have three options. Firstly, you can go with a non-pasted one. The main feature of it is that it doesn't include adhesive, meaning that you will have to apply it beforehand. At first, this doesn't seem like a significant downside, but at the same time, removing it from the wall will be an absolute nightmare.
On the other hand, you can purchase a pre-pasted product.
Naturally, the main difference is that this one already has an adhesive, so all you have to do is add a bit of water. However, when applying this one, you have to be very careful.
The wallpaper has to be wet enough, but simultaneously, you have to make sure not to over wet it. Why? Well, if you do this, you can ruin the paper itself, and also, you may destroy the properties of the adhesive. The main downside of this type is that these wallpapers tend to peel off quickly, meaning that you will probably have to redo the entire room in a few years.
Finally, you can choose the self-adhesive wallpaper. Nowadays, this is the most popular type since it is fairly easy to apply. You don't need any additional products to activate the adhesive, and most people choose to install it on their own.
Material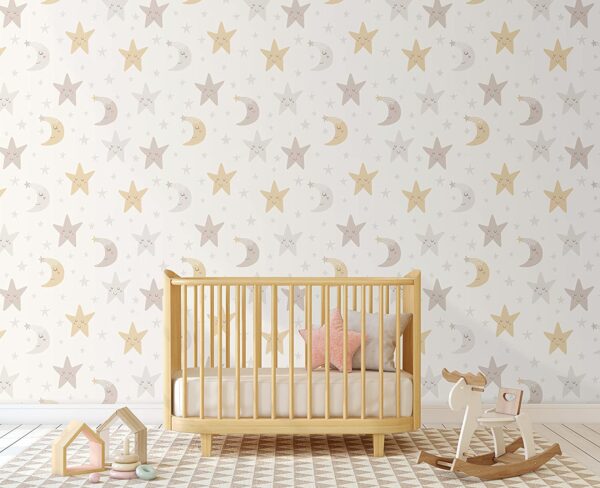 The next thing you have to consider is material. It goes without saying that nowadays, you have multiple options. The most popular one is paper. This type of baby room wallpaper, comes in a myriad of designs, so it will be pretty easy to find the one you love. Nevertheless, keep in mind that this one is the least durable. The design is printed, and the paper itself doesn't include any protective coating. This doesn't only mean that you cannot wash it, but it is prone to wear and tear.
Next, you can go with the coated fabric that includes acrylic vinyl or PVC coating. Due to this feature, it is more durable than the previous one, but it still doesn't mean that you can wash it over and over again. After some time, the scrubbing will damage the material.
Lastly, you should investigate vinyl-coated and solid vinyl wallpaper. The former includes paper substrate together with acrylic vinyl coating, which means that you can clean it as often as you need without worrying about any damages. The latter one is, without a doubt, the most durable type. Why? Well, because it is coated with vinyl film, meaning that it will last you for years to come.
Style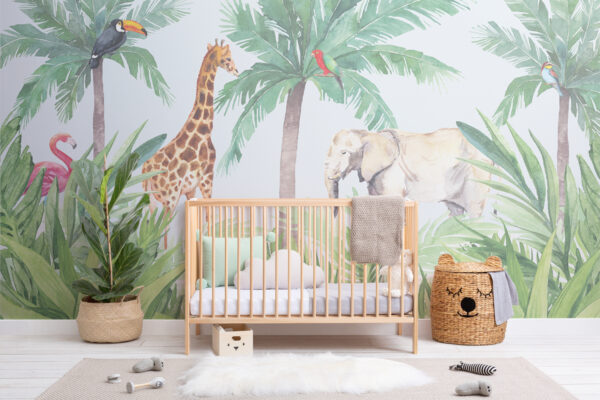 Now, we have reached the most exciting part. It is time to choose the design of the baby room wallpaper. When it comes to this, the sky is the limit. Because of these, you may want to follow a certain plan just to facilitate the entire process.
It is why you should first think about the overall style of the room. If you already know the gender of your baby, you can start by looking at nursery wallpaper of a specific design and color. On the other note, since many soon-to-be parents want to be surprised, the gender-neutral style has become a trend in recent years. You can go with a simple pattern and neutral-colored furniture and then add more details once your baby arrives.
Pattern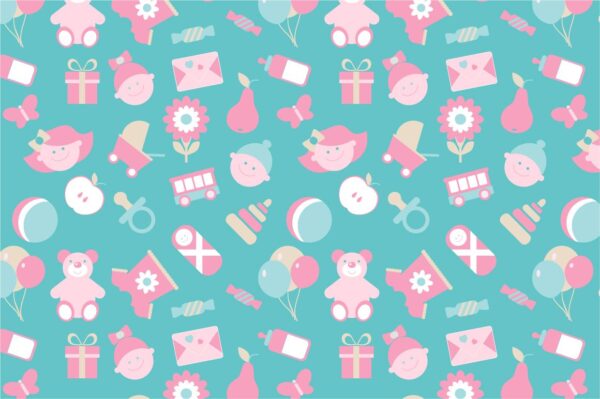 Now that you have a specific design in mind, it is time to consider the pattern. If you are in need of some inspiration for the nursery wallpaper, you can click here to find some ideas. Nevertheless, when making this decision, you have to be careful. Yes, you want it to be colorful and cheerful, but you don't want it to be overwhelming. If you really like a tight pattern, you should apply it to a single wall and simply paint the others. This is especially true if you want to recreate a movie theme or include certain characters. If this is your choice, you should go with something that is age-appropriate. On the contrary, you can go with something simple like stripes. Not only will these elongate the walls and make the entire room seem bigger than it actually is, but they will also provide you with more options when it comes to including other details.
Colors
Last but not least, you have to choose the colors. Naturally, if you have already picked a theme or a design of the baby room wallpaper, you should go with shades that match it perfectly. It doesn't necessarily mean that you can include only one color, but you should still be careful with the overall style just to make sure not to go overboard.
Generally speaking, it is recommended to go with some neutral and warm colors. These will have a great effect on your baby's mood. It doesn't mean that you should completely omit the bold ones, but you should try to include these via small décor details.
The truth is that these will make it more challenging to soothe your energetic baby. Instead, you have to create a perfect balance. Go with something that is age-appropriate, has a calming and relaxing effect on your little one, and make sure to add something i bold shades that will stimulate and promote the child's development.