When it comes to your manicure there's so much more to it than choosing your color or shape. These days there's so many manicure options to choose from. So you may be wondering which manicure is best. Depending on the occasion, your lifestyle, your time, and of course your budget, some manicure options may be more your speed than others. From conventional polishes and gel to acrylics and dip powder, there's a manicure for everyone. If you're overwhelmed by the options, we get it, but we've got you covered. Continue reading below to learn about the different types of manicures to discover which one may be right for you.
Conventional Polish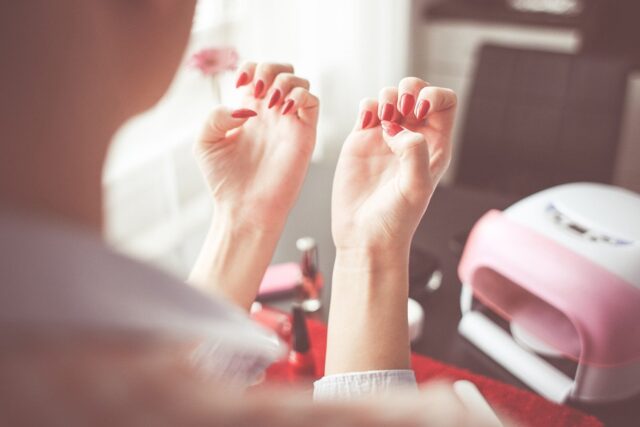 Best for: Polish changes
Downside: Chips easily
If you like to regularly change up your mani to match your outfits, conventional polish is a great option as it's easy to remove and reapply right at home. The downside of conventional polish though, is that it takes time to dry after application making it more prone to smudges and it's also notorious for chipping easily.
If you have an active lifestyle where you regularly use your hands, conventional polishes may not be the best choice you as they will likely chip. Tip: Apply a chip-resistant top coat every 2-3 days to prevent chips and keep your manicure looking its best.
Dip Powder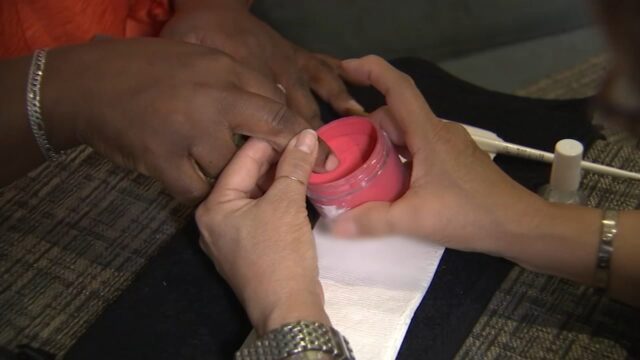 Best for: Long-lasting manicures
Downside: Unhygienic if not used correctly
Although they've been around for over 30 years, dip powder has made a major comeback as of late. Essentially, a dip powder mani consists of a fine colored powder that is poured onto a strong liquid adhesive and is cured with an activator liquid to a hard, brilliant shine. Dip powder has the flexibility of gel and the durability of acrylic making it a great middle ground.
Dip powder provides a long-lasting manicure without the commitment of hard gel or acrylic, yet can last over 2 weeks or more. Dip powder also won't damage your nails when removed correctly, and brands like SNS, leaders in the industry, actually formulate their bases and sealers with a range of healthy ingredients that make your nails healthier with every application. The downside is that dip powder can be unhygienic if your nail tech reuses the pot of powder for each client. Tip: Use the pour over method or bring your own dip powder to the salon.
Gel Polish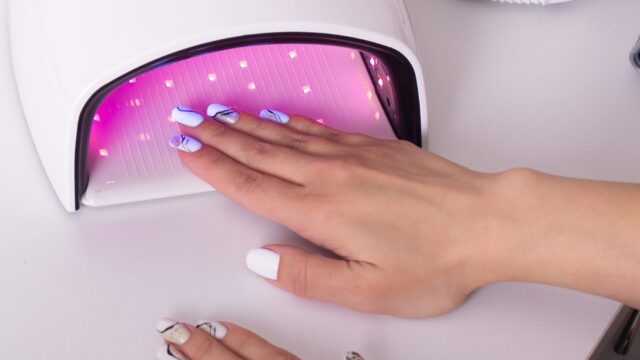 Best for: Transitioning from conventional polish
Downside: UV light exposure
Gel polishes, not to be confused with hard gel, is basically a hybrid polish of both gel and conventional polish. It's applied like a conventional polish, but requires zero drying time as it's cured to a hard, glossy finish with a UV lamp resulting in long wear like a gel. Gel polish also has the look of conventional polish, however, it won't chip as easily, and when applied correctly, can last quite a long time.
The downside of gel polish though, is that it needs to be soaked off to remove and regular exposure to the UV light can put you at a higher risk of sun damage and other health concerns. Tip: Ask your nail tech for a LED/UV hybrid lamp which can reduce the risks of harmful UV rays.
Acrylic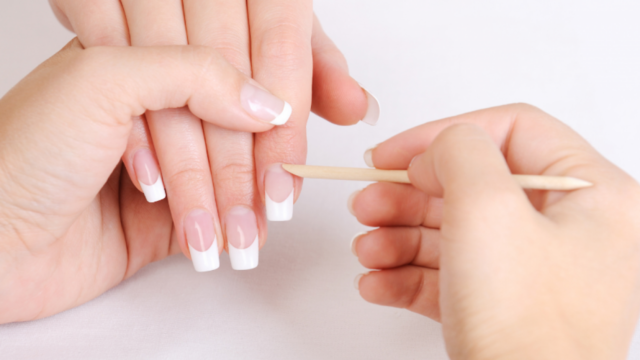 Best for: Length
Downside: High maintenance
A popular manicure option for decades, acrylic nails are great for those who want long nails but have a hard time growing out their natural nails. Acrylic is made from a liquid monomer and a powder, or polymer. When these two products mix together, they cure, resulting in a hard acrylic enhancement that can be shaped into any nail shape or length.
The downside of acrylics? The manicure can take up to 2 hours, needs to be filled regularly, can be costly, and they have the potential to allow bacteria infections to grow underneath if not taken care of properly. Tip: Every few months do a full removal to prevent infections and never pick or peel at your mani to prevent damage.
Hard Gel
Best for: A natural extension or overlay
Downside: Can potentially damage your natural nail
Similar to acrylic, hard gel nails can be used as an overlay to your natural nail or can even add length. However they are more flexible and tend to have a more natural look when compared to acrylics.
Hard gel nails can provide a long-lasting manicure and prevent your nails from breaking, however, they need to be filled every couple of weeks which can be costly and they also have the potential to weaken your natural nails during the removal process if not done correctly. Tip: Leave the removal process up to your nail tech.
Press Ons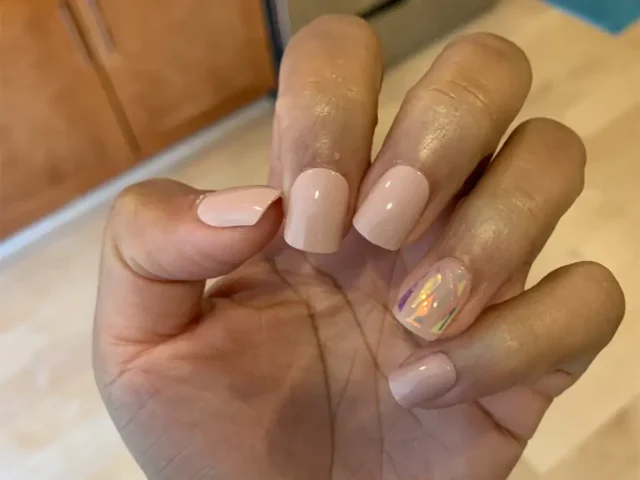 Best for: DIY manicures on the go
Downside: They can fall off
Press-on nails have really upped their game from the incredibly fake looking ones from the past you may remember. Now they're a great way to get a beautiful DIY manicure quickly and easily or on the go. These days, press-ons come in a variety of pre-painted sets for all nail lengths and shapes in countless color ways and nail art designs. PRess ons are great for the non-committal as they are easy to change up whenever you want.
The downside, however, is they sometimes do fall off, regardless of how well you think you've glued them. For best results, use a strong-hold nail glue or adhesive tabs to keep them in place. Tip: It can't hurt to keep a nail glue in your bag just in case one pops off.