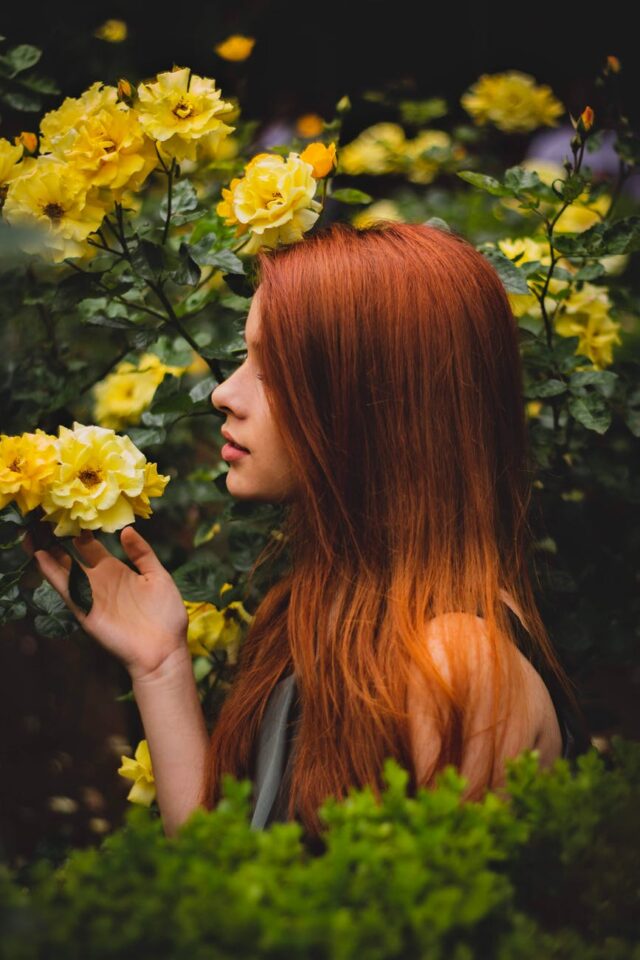 Here are 5 of our 'REDHEAD FRIENDLY' approved favourite color depositing products:
? Tressa Watercolors Color Depositing Shampoo
Great for: natural ginger hair and dyed red hair
These sulfate-free conditioning shampoos are specially created for depositing color and enriching the tones and glimmer of your hair while nourishing it.
Shades: Fluid Fire, Crimson Splash, Liquid Fire, Wet Brick
Helps my color last – 'I've used this color mixed with Molten Bronze to keep my red auburn color. It really helps it to last until the next salon appointment. I use this once a week otherwise it does dry my hair out. Totally recommend to make colored hair last longer!'
? Celeb Luxury Gem Lites Colorwash
Great for: natural ginger hair and dyed red hair
This effective vegan and cruelty-free color wash shampoo rate first on enhancing the hair color for two consecutive years!
Shades: Fire Opal, Ruby, Tourmaline
Perfect for natural red hair! – 'I have naturally strawberry blonde hair & as you know, red fades with age, mine had gotten so much lighter in recent years. I refused to start coloring my hair, so I started researching these shampoos, found this and ordered it in the Tourmaline, and OMG, I love it! It's the exact perfect shade for a natural redhead, it just makes it more vivid, brighter, but not that fake looking red. It's really orange/copper, just like my color when I was younger. I think it's beautiful and shiny, and I will continue to use this forever. :)'
? Davines Alchemic Shampoo
Great for: natural ginger hair and dyed red hair
This shampoo from an Italian brand, Davines is a cult-favorite product. If you have copper-red hair, check out this shampoo and conditioner duo!
Shade: Copper
Must have products for red hair! – 'I love Davines products. I have placed many comments on Davines products and this is has to be one of my favorite one. I recently dyed my hair burgundy with eggplant balayage. Since red dye tend to fade quickly, I always look for hair products that do not strip my color plus help nourishing/ restoring/ protecting my processed hair. Davines Alchemic Shampoo Red does it all. It actually deposits color to my hair which keeps the color last longer. I shampoo my hair with this product follow with the same conditioner 2/3 times a week. After every wash, my hair smells great and smooth. The color becomes more bright and vibrant. My coworkers often asked me if I have dyed my hair again or what I did to my hair. Love it'
? John Frieda Radiant Red Red Boosting Shampoo
Great for: natural ginger hair and dyed red hair
This amazing color depositing shampoo can maintain the red color with the anti-fade technology, improve the red tones with pomegranate extract and add the silkiness with Vitamin E. Use this affordable shampoo with the red boosting conditioner to experience a greater 'up' in your red.
Shade: Red
Great News for Redheads – 'I am a redhead that has been a faithful follower of John Frieda products. However, I've been finding that this shampoo can no longer be found in physical stores…I looked everywhere! Very happy that I could get more of this product. Excellent investment & "WOW" price…'
?

Pure Blends Hydrating Color Depositing Shampoo
Great for: dyed red hair
Filled with coconut oil, marigold, collagen and keratin, this sulfate-free and gluten-free shampoo will boost your dyed red color of the hair.
Great product if you use it correctly! – 'This has been a miracle shampoo/conditioner for my red hair. I have naturally blonde hair and decided to go red without realizing how much upkeep it would be! If I didn't have this, my hair would be so drained of color! I got my hair colored in Oct, and then retouched in Jan. It's now April and my color still looks great! I had to do a little root touch up, but the actual color has blended so well with this shampoo! You have to leave it on for a little while longer than it says, and I always try to apply it evenly and onto my hair in the way I wear it, not just slapped onto my head like normal shampoo. I basically treat it like a glaze, and it really does add color to your hair! You have to be sure to get the right color red- there is a brighter cherry and then a darker red and it really does matter I used the bright one and it definitely left it a different color than I wanted, but that was my fault, I got the darker burgundy that matches my hair well! You also have to rinse this shampoo out well or you risk dying your towels, for people complaining about that. I rinse it out with a hand shower really well and it has never dyed my white towels. I usually do a color protectant shampoo/conditioner and then once a week do this shampoo after the normal one, followed by a deep conditioner or hair mask cuz this will leave your hair dry if you don't follow with a deep conditioner or use it every time you wash your hair.'
In replacement of the permanent dyes, Red color depositing shampoos work well to naturally place color in redhead.
If you naturally have red hair, you can use red depositing shampoo a few times a week to improve the color of your red hair. It is perfect for red-headed people who are going through natural fading.
If you dyed your hair red, you can still use this shampoo regularly to enrich the red tones.
It's important to know some key tips and facts before opting for a color depositing product. Here are 7 things you should know:
If you dyed your hair red, talk to your stylist or colorist before trying the color depositing shampoo.
If you have blonde or grey hair, do not use the Color depositing shampoo and conditioners. You will see your blonde hair turn pink.
When you are done conditioning your hair with cool water, wash your hair again to speed up the closure of

the cuticle and to seal in moisture.

The color depositing shampoo may leave stains, so try to dry your hair with a dark towel.
If you're not sure about using the color depositing product, you can add some drops of your shampoo or conditioner to enhance your red hair by little.
We recommend you try a strand test before purchasing these products shown below.
To successfully 'up' the red, cover your hair with a color depositing shampoo. Wash it. Then, add a color depositing conditioner. Clean with cool water.