[2021 Ultimate Makeup Brushes Guide] 9+ Types Of Makeup Brushes And Their Uses With Pictures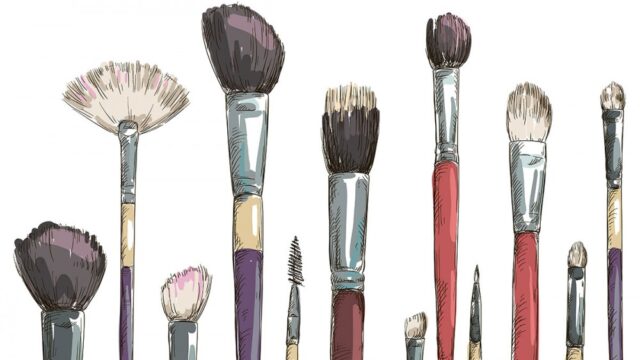 photo credit: shutterstock
The creation of any masterpiece demands the right makeup brushes.
If you expect to achieve flawless foundation coverage or the appearance of naturally lush eyebrows, you need to have the proper makeup brushes on hand.
"Everyone should invest in good quality brushes. My philosophy is the right brush will make the application process easier and much smoother," says Adi Lando, Sephora PRO lead artist, "and I use different brushes for different tasks."
Other smart beauty gadgets that you should know them to exist:
'Well worth the money! I have notified a huge difference in the texture of my skin, it is so much smoother. The pores along my nose are also smaller and I have fewer blackheads.' – This went viral on Buzzfeed, read more reviews to see if it is for you?

'I am almost 50 and have taken pretty good care of my skin but I have reached the point where I have more than "fine lines" around my eyes and the texture of my skin in my lower cheeks has changed dramatically. My pores are more visible and I have always had a lot of redness in my face. After my first use, I noticed my skin was very soft and seemed tighter. My pores appeared smaller. I have had similar results from other clay masks but not to this extent. Even the redness was reduced. I use it every 3 days and by the 3rd use, the improvement in my skin was so great that even my coworkers were asking what I was doing. My makeup goes on better and lasts longer. I get less oily throughout the day and can go to dinner after work with no touch-ups.' – Try this and get results!

'This is fantastic! I actually stayed at a hotel that had one of these in the bathroom and was blown away by it. Thankfully it has the product name on the bottom of it so I was able to look it up. I expected it to be very expensive as most good beauty mirrors are but….it's not! … The magnification is amazing. The light is perfect.' – Check the latest price and availability.
Brush shape and size are the top deciding factors
When Lando wants to define the eyes, he reaches for a brush with a small, firm tip cut to a tapered silhouette to address the crease; then picks up a brush with large, fluffy bristles to finish the job. The first one is for densely applying product and saturating color on the lid, while the second one is ideal for blending and depositing minimal product, he says.
Natural vs. synthetic brushes
The composition of a brush also comes into play, with a choice between natural and synthetic bristles. "I use and recommend both," says Victoria Falcao, a Toronto-based makeup artist, and beauty boutique manager. "I find synthetic brushes better suited for cream applications like foundation, concealer, and cream blush. Natural bristles, on the other hand, are better for blending eye shadow or other powder cosmetics. Natural fibers have a cuticle — a coating covering the hair — that allows for picking up and depositing the product more evenly, giving a more even finish."
Personal preference can also be a guiding light to what works best for you. "Synthetic brushes are great for people with sensitivity to natural fibers," says Lando.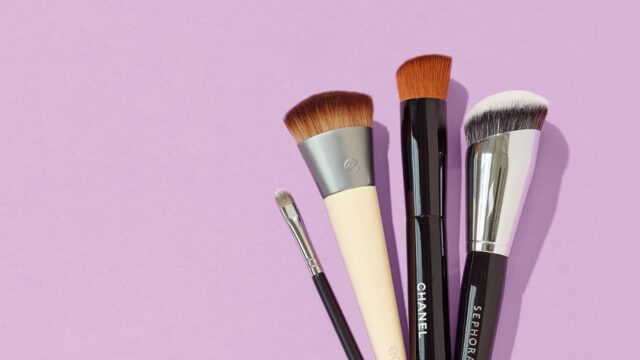 photo credit: Geoffrey Ross
The makeup brushes to ace your base
When the objective is a complexion that boasts a uniform tone you're likely to call on makeup that appears in liquid form. From lightweight BB cream to viscous, full-coverage foundation, a brush designed to disperse moist product and achieve smooth coverage over the contours of the face kicks off the pros' must-haves list.
Lando's go-to features a round head with fine, densely-packed bristles. "It instantly and evenly buffs foundation into the skin, and also allows you to achieve the ideal coverage you need," he says, "you want to lightly buff product in small circular motions, starting from the center of the face and then buffing out towards the edge."
Choosing a domed or slanted brush shape, rather than a flat foundation brush, makes this style of seamless application easy for anyone. "Use it in a patting motion versus swiping up and down to avoid streaks. And start with a small amount of product, paying attention to the areas that need more coverage," says Falcao.
Product order from left to right:
Quo Flat Concealer Brush
Chanel 2-in-1 Foundation Brush Fluid and Powder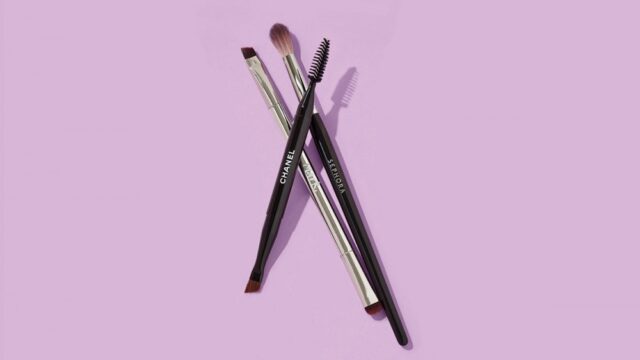 photo credit: Geoffrey Ross
The makeup brushes to create a focal point
From face-framing eyebrows to defined lash lines, the eye area is a hot spot for cosmetic tweaks that deliver big rewards. For a daily boost, Falcao makes arches a priority and relies on one multipurpose tool: a small angled brush. "Opt for a powder product if you want a natural brow look. You can also define the lash line by running a dark brown powder into the base of the lashes for some subtle definition," she says.
When your sights are set on adding more oomph to lids, you'll need to branch out
This is when the full and fluffy power of a crease brush becomes essential. For a standout choice, Lando favors the tapered one shown here with an airy design. "It is my favorite brush of all time. I love how lightweight and precise it is. [It allows you] to seamlessly define and blend crease shadow," he says. Whichever way you go, always finish lashes with mascara to lock down a bigger, brighter gaze.
Whether you're wearing foundation or not, the road to complexion perfection often requires a little detail work
With a deft hand wielding the right brush, concerns such as dark under-eye circles, hyperpigmentation, redness or blemishes can be easily diminished.
"Even when I want a more natural application, I always use a concealer brush to apply concealer," says Falcao. "Using a brush rather than a finger gives more accuracy and helps feather out the product. If you do need more coverage, use a stippling motion." Her choice of a traditional flat concealer brush features short, firm bristles and a slightly rounded edge to adeptly maneuver around facial nooks and raised skin textures equally.
Angled designs, which Lando is a fan of, are another option in the concealer brush category. "A tapered brush head has dual benefits; offering one side to place and smooth the product, while the other side is used to sheer and blend. You can also use it to apply color correctors or cream eye shadow," he says.
Product order form left to right:
Avon Mark. Dual-Ended Eyeliner and Smudger Brush
Chanel Dual-Tip Brow Brush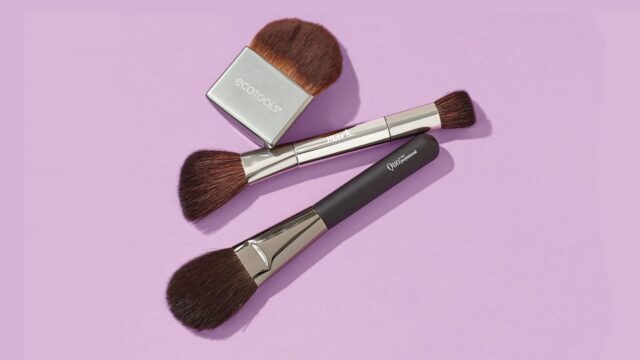 photo credit: Geoffrey Ross
The makeup brushes to get cheeky
Blush. Highlighter. Bronzer. There's no wrong way to get your glow on, but there are rules about the right tools to apply them. For most radiance-enhancing powders, the experts champion slanted designs. "I love an angled blush brush!" says Lando, "It is a multitasker that can be used for blush, highlighting and contouring. The slanted bristles are designed to hug the contours of the face for an even, precise application and will define your cheeks in a single sweep."
When it comes to a bronzer, Falcao prefers using a large powder brush for an effortless effect. After dipping the brush in bronzer and tapping off excess product, she sweeps in the shape of the number "3" over each side of the face from the forehead along the hairline to the upper cheekbones (further back than blush) and underneath the bottom of the jawline. The combo of tool and technique diffuses powder on all the areas where the sun would naturally touch the skin, she says. "Putting a little bronzer across the nose gives a more sun-kissed look."
Product order from left to right:
Avon Mark. Dual-Ended Blush and Bronzer Brush
Pro Fave: Quo Powder Brush