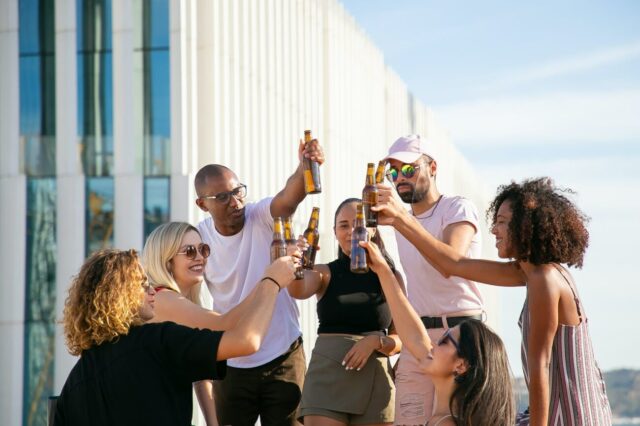 Greetings from the end of 2023! AKA The Pit of Despair. AKA the year that wouldn't end. Seriously.
Although this pandemic is still dragging out, we all can hold out hope that there will come a time. We all survived together – when the masks will come off and the gloves will be put away. Now more than ever share hope and love with your loved ones with these planners.
How to plan for your life for post pandemic world? These planners include goodies and ideas you don't even know you need to plan ahead before reading.
Here's what you can expect in the planners:
Pandemic Reflection Worksheets
Post Pandemic Bucket List
Post Pandemic Goals
Post Pandemic Travel Plan
Post Pandemic Party Ideas
Post Pandemic Vision Board
Post Pandemic Financial Planning
Post Lockdown Body Workout Planner
Post Lockdown Outfit Planner
And many more!
In addition, you'll find invaluable inspiration on:
100 Post Pandemic Activities Ideas
100 Post Pandemic Quotes
50 Post Pandemic World Predictions
20 Post Pandemic Business Ideas
20 Post Pandemic Remote Work Ideas
10 Lockdown Challenges
And many more!
And finally, we'll include also these extras for you to maximise the remaining pandemic days
Lockdown Room Resolutions
Work/Study From Home Efficiency Tracker
Pandemic Self Care Planner
Pandemic Shopping List
Movies & Books Wrap up
A To-do List
Chores List
Meals Planner
Movies To Watch List
Books To Read
Workout Plan
Video Calls Planner
Notes Section
Gratitude Reminder Section, So You Can Write Inspirational Quotes To Keep You Going
And many more!
The planners will be available in paperback. You can get the sample pages (in pdf format with instant download) by accessing our free resource library. By signing up to access the free resource library, you will automatically get notifications when pre-order is open, or when we add any new free goodies into the free resource library.
We are going to share our creations with you completely free of charge, but we would appreciate if in return you'd help us share the words to others who might also like these cute post pandemic planners! 😀
Also let us know if you have any comment so we can keep improving our work. This is what our other fans and early buyers are saying about these planners.
So pleased with this workbook! Professional, educational, informative. This workbook puts you firmly in the driving seat of your own wellness. I love how easy it is to follow and I have learnt a lot from it. I have shared with all my friends and have been working with my 15 year old niece on the room resolution section! I hope you enjoy it as much as I have and still am. Thank you for your great work! Thank You!
Well thought out and worded, good exercise and thought provoking… the designs are all in high quality. The idea of this post pandemic planner is so brilliantly done that I have to buy it right away!
Too Funny and perfect for these days of COVID madness! Not to mention they are hysterical, in a year that desperately needs laughs.
This is pretty much my life, now. This is one of my favorite things I've purchased this year. These were hilarious, and the people who received them really enjoyed them. Thanks for bringing some joy to this crazy year
Send a love note to your friend or family member (or yourself?!) who needs a pick me up during their quarantine, hard school semester, or awful work week. These planners are great reminders that everything will be okay…eventually…right? Even if you can't be together in person, sending a reminder and inspirational note when someone needs it the most thoughtful.
Choose the cover you like and this well designed planner becomes the perfect worksheet/tool/gift for the following purposes:
Kill time and stay positive with spouse/family during lockdown
Thoughtful post pandemic/lockdown gifts
Gift for someone in quarantine
Gift for quarantine/lockdown birthday
Gift for quarantine mom
Gift for boyfriend during lockdown
Gift for teacher lockdown
Gift for quarantine grandparents
Gift for quarantine family
Gift for quarantined parents
Gift for quarantine/lockdown wedding
Christmas gift idea for pandemic
Funny quarantine gift
Work from home gift
Funny quarantine gifts
Anniversary gifts during pandemic/lockdown
Covid-19 gifts for friends
Client gifts during covid
Mother's day gift during covid
New neighbor gift during covid
Father's day gift during covid
Retirement gift during covid
Teacher's gifts during covid
Nurses gifts during covid
Employee gifts during covid
Online/Digital gifts during lockdown
Gifts during separation
Pandemic valentine's gift
and many more…
Let these planners soothe your post pandemic anxiety. Make sure you keep in touch with all the people who matter most in our life. Do proper reflection and record your post pandemic lifestyle changes as the world will never be the same again.
Keep a planner of your days during the lockdown and plan for post pandemic recovery.
Lockdown, quarantine, self-isolation. The coronavirus outbreak may have changed our way of life for a while. Living in lockdown definitely brings challenges, but we wanted to give friends and family a way to find the positivity and make the most of their time at home. These journals are a great way for them to keep track of what they've done during the lockdown. Hopefully they will be able to keep these pages as a memento, something to look back with and fondly recall the happy memories they made during these weeks or months at home.
So we're locked down. We can learn new things, discover talents, experience things we don't usually have time for. We can use this time to be inspired, or to inspire our children. What can we learn? What made us smile? What ideas can we come up with? What new ways can we find to connect with others? How can we show kindness?
Turn the lockdown into a meaningful experience.
These pages are suitable for teens and adults and will hopefully inspire positivity and mindfulness during stressful times.