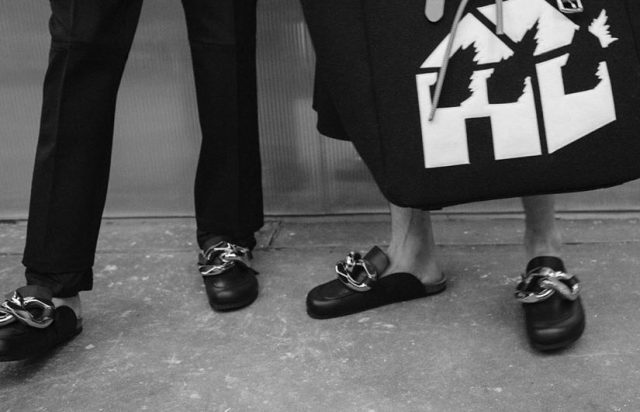 In recent years, summer footwear has had some interesting trends, ranging from socks with sandals to traditional chunky Japanese sandals – people have been digging up past trends and giving them a new twist, and the most recent shoe that is going through a transformation are clogs.
In today's market, everyone is trying to avoid overpriced and branded shoes and are putting more emphasis on quality and endurance. A survey from Highsnobiety suggested that since quarantine started, "Logos have never seemed less cool, timelessness has replaced trendiness, and selling off your sneaker closet has become not only a hustle, but an expression of common sense."
Boots and loafers are overtaking hyped shoes and fashion trends are now leaning towards a post-streetwear world, the clog – a wooden constructed backless shoe – is now the latest trend that is gaining attention. It is steadily taking over socks and sandals in terms of popularity.
Fashion YouTuber Christian Scibetta says, "Clogs are having a moment that's visible right now," and this has been further brought up by Kanye West wearing a pair from the German label Birkenstock for his latest GQ cover story. His clogs were matched with a pair of Levis X Denim Tears jeans, a beige Dunhill kimono wrap jacket and a Rochas trench coat, this look has received a lot of attention online.
View this post on Instagram

For the May issue of GQ, @WillWelch spoke with Kanye West in a series of interviews that took place over three months and across three different countries. Head to the link in bio for the full story. Photographs by @Tylersphotos.
Birkenstock, a 200 year old brand, has a lot to offer for the rising popularity of clogs, as a lot of people are following its Boston model for a trendy and non costly way of hopping on the bandwagon. The German brand has been having its moment of fame in the fashion industry, by collaborating with renowned brands like Rick Owens and Valentino.
The Boston has always been a popular model, it is liked by chefs and gardeners but has now gotten itself a market expansion. One indicator showing how popular the shoe has become is that a pair made in collaboration with Chrome Hearts reached a resale price of $5057.
Another high-end twist of the clog was released by Alyx with the brand's signature features like detachable soles or rollercoaster buckles. JW Anderson also released a pair with a range of colours from black to multi-coloured prints. This product was a massive hit for the brand – a production expansion of the shoe with large chain links were worn by two models in its fall 2023 menswear show.
The label opted to keep things the traditional way and therefore simultaneously created the most outlandish clog is Our Legacy. It consists of a chunky heel and all-leather upper, the shoe is a twist on the Swedish Hasbeen, which is the closest form to the original song. Celine also made an alteration of the Hasbeen which also highlights the fundamentals of clogs, but it is only available for girls.
Despite all these releases, the most well-known clog is actually the opposite of the original fashion. Crocs have been recognised for picking functionality over form, it is the most suitable pair of shoes for gardening, but one that you would not want on the streets.
Scibetta believes this is a false accusation, however, ""I think Crocs have a lot of potential to have a moment. I'm not sure if it's inevitable, but there are some cool collaborations like the recent Crocs x Beams, and there was the Balenciaga Croc from a few years back. So in terms of fashion with a capital F, yeah I think fashionable people will recognise them as a cool sporty clog."
With celebrity promotions from Pharrel Williams and other influencers who all own a pair of crocs, this prediction has plenty of potential. Scibetta says that most people will choose crocs soon, "In terms of trickling down, I think they're affordable, easy to wear and that is perfect for the spring/summer and really an ideal house shoe while everyone's under quarantine."
As clogs can be treated as practical slippers too, they are highly suited for life in quarantine, you can put them on and doing anything from cooking breakfast, visiting shops or to drive your tank (if you are Kanye West). For this everlasting quarantine life, it seems like there are no better options than to wear Crocs.