2021 Top 5 Trending Hair Accessories That Every Women Must Wear Now
While your hair may be currently out of sight courtesy of a warm cashmere beanie, with the weather finally reaching double digits once again (hurrah), it's time to consider upping your accessory game in the headwear department – no wool required.
For those of us who regrettably have a complicated relationship with hats, fear not. As seen on the streets of Copenhagen during fashion week, headwear needn't be a headache. Forget the fluff and rejoice as this season the humble hair accessory seems set to stay put as the most versatile addition to your wardrobe.
Embed from Getty Images
According to Google trend analytics, searches for scrunchies alone have surged in popularity over the last six months. But what's the fuss all about? Well, creative director of British silk accessories label, Mille Saisons, Jo Norton, has a theory and it's all to do with childhood reminiscence: "I think a lot of interest in hair accessories is rooted in the nostalgic 80s and 90s trends that keep appearing. There's something comforting for millennials to rediscover their favourite accessories and make them relevant again."
Embed from Getty Images
So, while playing dress up and perusing which necklace best suits your attire, you would do well to consider your hair too. And you should note that there's much to choose from, if this trend is anything it is far from one size fits all. From the classic alice band, to the much revived scrunchie and slick hair slides – you will certainly be spoilt for choice. Think pearls, velvet, and splashes of colour. Whether you're up for stacking a statement or adding a simple touch, let the Scandi set lead the way.
Headbands
Embed from Getty Images
A mainstay of the ever quirky Miu Miu, channel your inner Blair Waldorf and try on a headband for style. It may be a prep-school staple, but such headgear needn't feel like uniform. The simpler, the better and the thicker the band, the bigger the statement. While the headband is both a classic and understated embellishment, try it once and you'll be surprised how hard it works to elevate an outfit. Make like the street style set of Copenhagen and match your band to your attire for a polished effect. Accessorize's large black alice band is more than appropriate.
For a more relaxed approach, put a knot in it. The silk wonders of Mille Saisons are a delight – and, each product is made from ethically sourced fabric and sustainably crafted in the UK. It's all packaged prettily with an affordable price point – so what's not to love?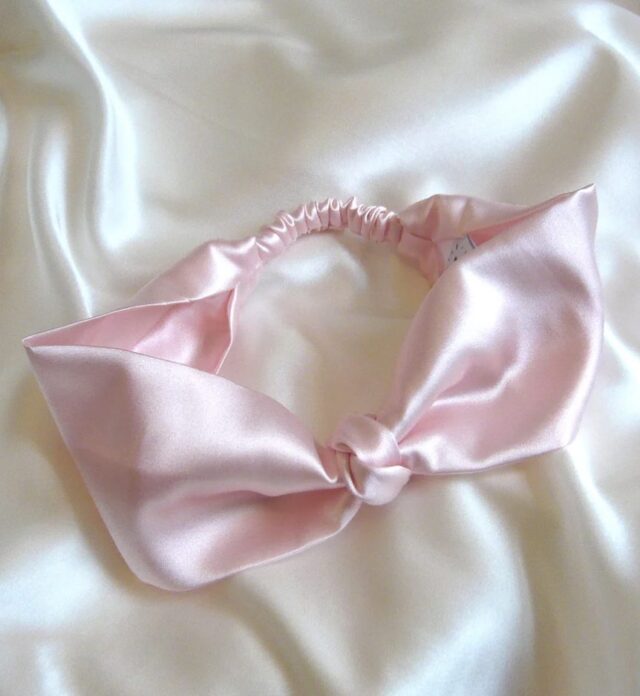 "I really love being able to offer a luxury material like silk at more affordable prices through accessories which use less fabric and making time than clothing would," says Norton, the brand's creative director.
Our pick is the turban headband in the buttercream shade. Divine. But there is impressive range of 19 more shades to choose from. One for every occasion, perhaps.
Pearl Hair Clips
No longer reserved for grandmas, the once stuffy pearl has undergone somewhat of a revival of late. Whether taking the form of a barrette, a slider or a metal clip redolent of childhood trips to Claire's, take your pick and wear it with pride. Accessorize is your high street point of call, and for high-end seek out Simone Rocha, whose sell-out version is a firm fashion favourite.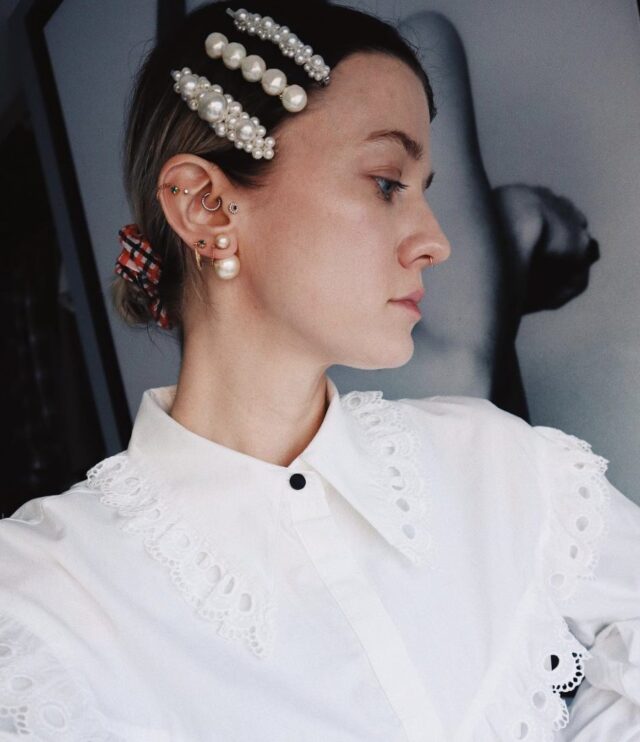 Alternatively, if you're feeling thrifty, Ebay has some wonders, too. For a bold take, go big and pile them up but don't forget to mix and match to add a unique touch à la Marianne Theodorsen (above), who boasts a whole drawer devoted to hair accessories.
Statement slides
Embed from Getty Images
Forget the slogan t-shirt, this season let your hair do the talking. As sported by everyone from singer Marina Diamandis to stylist and creative director of Spanish label Les Fleurs, Maria Bernad, spelling it out in decorative diamantes is the new way to wear the logo. Passive Aggressive? Maybe, but a statement nonetheless. While Ashely Williams' daring hair pins are currently so popular that they have sold out, Gucci's vintage barrette lets you emblazon your mane with the label's moniker; how chic.
Scrunchies
Sex and The City's Carrie Bradshaw may have once ridiculed them, but her mocking need not apply here as the scrunchie renaissance is in full swing, and for good reason, too. Not only can this hair tie revitalise the worst of bad hair days to sleek, polished effect. Top knot? Check. Messy bun? Check. Greasy, slicked-back ponytail? Check. With sustainability on the forefront of every conscious shopper's mind, it helps to combat fabric waste too, reveals the creative behind the brand Mille Saisons, whose luxurious offering of silk scrunchies are just the treat.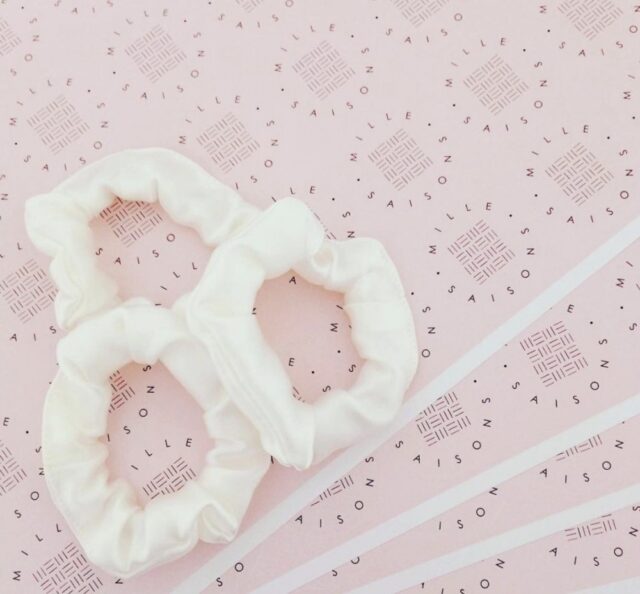 "With a growing focus on low waste products, small accessories like scrunchies allow more waste to be used. Even when not made from waste, the scrunchie rectangle creates very little waste by itself which is also desirable for smaller ethical brands," says Norton. Score.
Or, priced at at mere £15, grab yourself a scrunchie courtesy of Copenhagen-based label Ganni – the simplest way to add a touch of Scandi style to any outfit.
Hair Scarves
Embed from Getty Images
Embellish your up-do with a splash of colour courtesy of the resourceful hair scarf. If you're looking for an accessory to cover all bases, this is it. Take inspiration from Maria Bernad and wrap a patterned scarf around your low-rise ponytail for effortless elevation. Clashing colourways and striking hues are your go-to here, and Asos has plenty to offer. Let your locks standout in leopard print or tie it up with fashion's favourite pigment pairing with this red and pink monogrammed headscarf.