British Royal Fashion: 8+ Outfits That Both Meghan Markle And Princess Diana Wear (2020)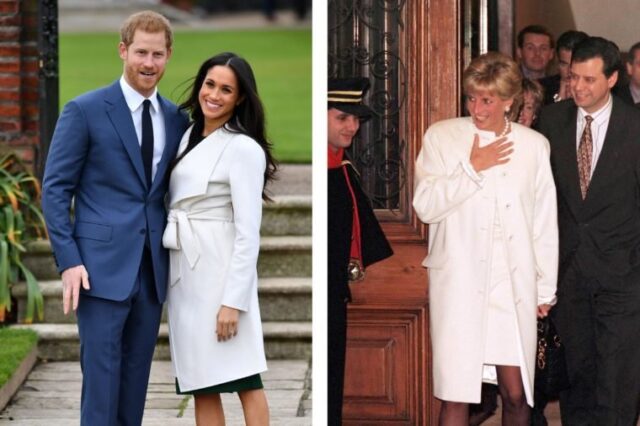 Melissa Greer
White Coats
Everyone will remember the famous white coat that Meghan Markle wore when she and Prince Harry announced their engagement. Back in 1996, Princess Diana sported a similar piece. Don't miss these Meghan Markle inspired wrap coats.
Off the shoulder
Many people were shocked to see Meghan Markle wearing an off-the-shoulder gown at this years Trooping the Colour, but she wasn't breaking royal protocol. In fact, Princess Diana wore a similar pink, off-the-shoulder dress back in 1987. Similarly, Meghan's wedding gown was nearly off-the-shoulder but remained a little more modest since the ceremony took place in St. George's Chapel at Windsor Castle. Here are all the ways in which Harry and Meghan's wedding broke protocol. 
Button-down dresses
Even though Princess Diana chose to wear a hat, she looks almost identical to Meghan Markle. Both dresses are cream coloured, have buttons down the front, and a belt at the waist. Was this Meghan Markle's first magazine cover? Our interview with the former actress. 
Black and white
Meghan Markle and Princess Diana both chose to dress in classic colours for the Royal Ascot horse race. Princess Diana wore a black and white dress with a hat to match back in 1985; Meghan wore almost the same outfit in June of 2018. Read up on Meghan's wedding diet and fitness routine.
Weekend clothes
It's rare that you see the royals out in jeans, but both Meghan and Diana have been photographed in jeans and a collared white button-down. Recreate Meghan's favourite smoothie with this recipe. 
White with blue flowers
Meghan Markle wore a blue and white flowy gown to the wedding of Celia McCorquodale that probably reminded you of a dress Princess Diana wore in November 1986. Don't miss the adorable connection between Meghan Markle and Ellen DeGeneres.
Black suits
Meghan and Diana are two royal family members that know how to look gorgeous in a well-fitted black suit. Queen Elizabeth likes to wear slightly brighter colors, though.
" alt="" width="600″ height="" />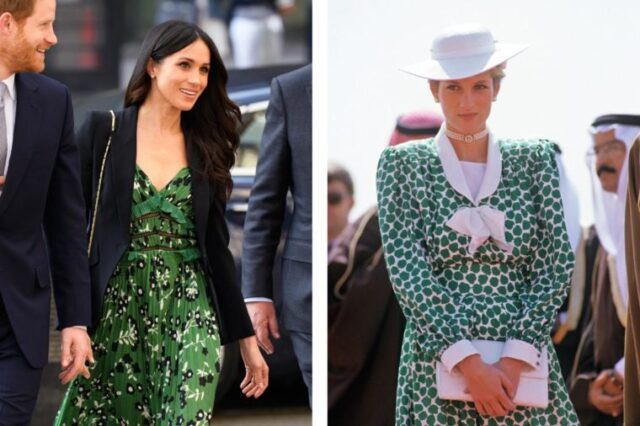 Green prints
Princess Diana and Meghan Markle pop in these green patterned dresses. Meghan is pictured here at the Invictus Games Reception and Diana on a royal tour in Saudi Arabia. Meghan's style is definitely influenced by Canadian designers thanks to her stylist BFF Jessica Mulroney. 
Stripes, stripes, stripes
Both Meghan and Diana sported the stripe look at two different occasions. Meghan Markle wore a striped button-down dress at Commonwealth Youth Forum in April. Princess Diana wore a similar striped dress on a tour in Australia in 1988.
Next, don't miss these photos of Meghan modelling clothing for a Canadian fashion brand.