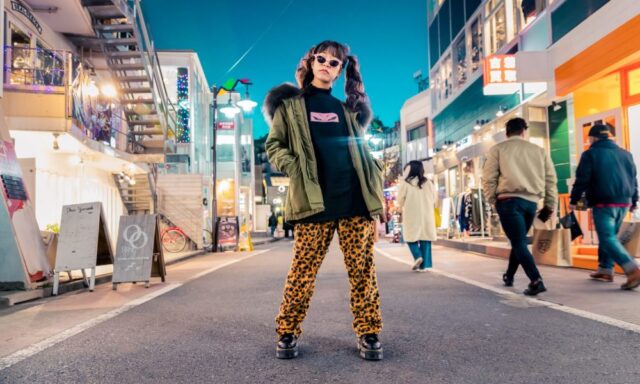 The Y2K aesthetic is back. A hybrid between a Bratz doll and Paris Hilton, expect Scarf tops and sparkly, shiny fabrics to evoke affectionate recollections of notable celebs from Y2K. 
Our childhood favorite accessories like scrunchies, colorful or patterned headbands, bow clips, are coming back stronger than ever! 
If you are a fan of beach parties, then you must have heard about body glitter! Fashion trends come and go, we used to love full glam makeup with extra highlights and glitter. Now, we are more fond of natural-looking makeup, with an extra blush that makes you look extra cute.  
The Noughties were a fashion icon, their looks vary from camp/ kitsch, emo, scene, streetwear, hip hop, and athleisure wear. 
The campy, kitchiness of Y2K was commonly referred to as the second-rated, yet they are full of surprises. Altho it is influenced by the street style and the famous designer brands, it is a distinct style that makes a charismatic twist to the 90s street style. 
The Emo style was embodied with elements of gothic and punky styles, it became one of the popular trends in the mid-2000s. The iconic clothes included branded t-shirts, chunky boots and more. 
Scene fashion was one of the trends that everyone tried by the end of the decade. It included more vibrant elements than the emo style, namely choppy, neon-colored hair, sharp colored bows and more. 
Streetwear is a style with loose-fitting clothes, low-waisted jeans or crop tops. To top off the look, you would match it with a pair of retro Nike trainers. Most of the time, people who wear street style will wear clothing of notable brands, like Tommy Hilfiger or Ed Hardy.  
One of the distinct styles is Hip Hop. Back in the 2000s, the introduction of black or rap music hit the world with a storm, celebrities like Jay Z or Missy Eliott have made an iconic influence on the fashion style. 
Last but not least, one of the most commonly worn styles is athleisure wear. Some celebrities who would like to make it more glamorous and personalized would match their tracksuits with designer heels. 
Y2K was one of the most popular aesthetics among girls in the 2000s. Why? More than 1000 accounts on social media were Y2K-themed, including the style, TV shows and TV characters.  
Here are some of our picks of 2000s accounts, check them out if you like Y2K style! @blondestuckinthe2000s, @misss2005, @2000sjournals, and @2002princesss.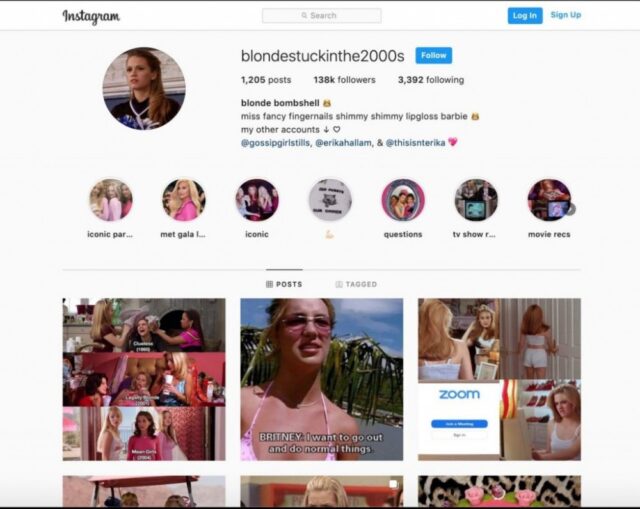 @blondestuckinthe2000s, by Erika Hallam.
She says: "I started this account when I was 14 and was struggling a lot, I found myself turning to someone who I have adored since my childhood, Britney Spears. Her music and strength are admirable and helped me through with what I was dealing with and still continues to do so."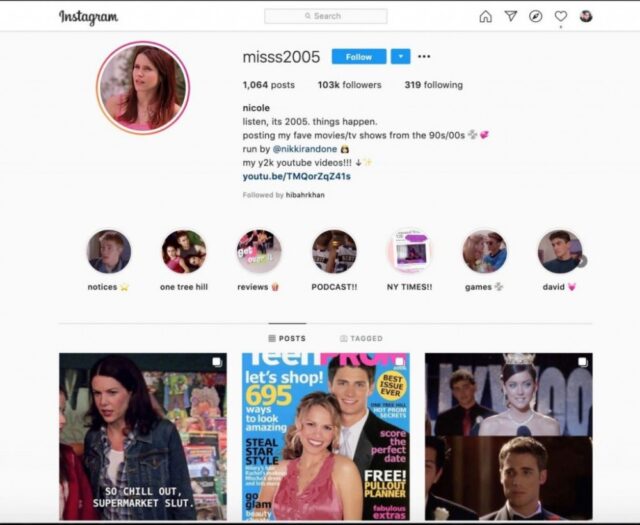 @misss2005, by Nicole Randone, who comes from New York runs the account on her own. "I started my account around three years ago, there was a growing community for people infatuated with the early 2000s and I knew I had to be a part of it."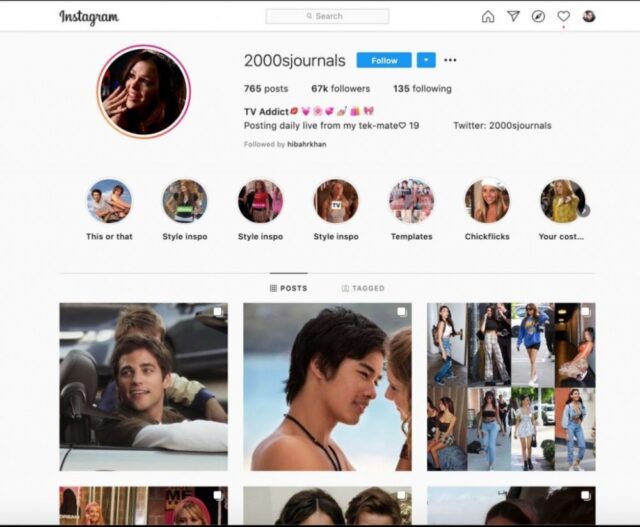 @2000sjournals, has been a fan of Y2K culture for a long time before finally running one herself. She said "Growing up I loved reading the hot gossip about stars! From a young age, l loved chick flicks such as Clueless and have always been so obsessed with Teen shows like Gossip Girl."
She continues: "My way of escapism was to live vicariously through the characters. I realized there was a community that could relate and obsesses over the same things I do. After making my account I discovered shows from the early 2000s such as Gilmore Girls, Buffy The Vampire Slayer, and The O.C. that's when my obsession grew even more."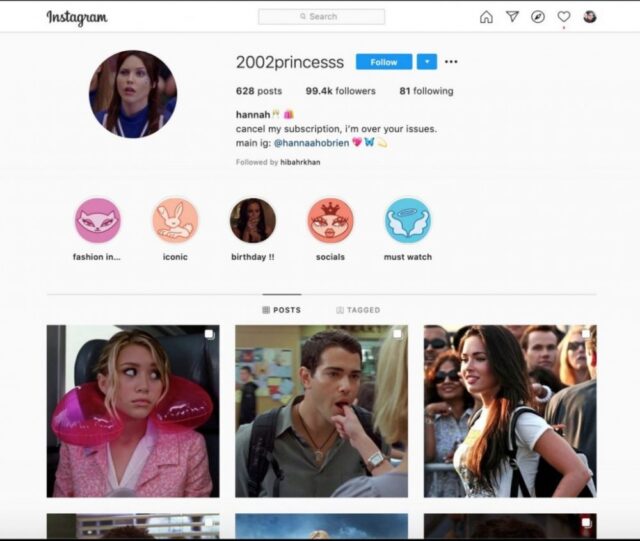 @2002princesss, by Hannah Ellen, She says: "I started my account back in July 2018 quite randomly as I had been convincing myself for a while to make one and then in the spur of the moment I finally did".  
Hallam notes: "This era reminds me of a time where people didn't take things so seriously, wore what they wanted, and were more themselves than this extremely calculated and manufactured image we see of celebrities today. I think there's more of a pressure to uphold a certain image nowadays."
Y2K memories were brought back by popular TV shows and movies. 
"No current shows can compare to the league of 2000s shows," says @2000sjournals. She continues, "Buffy Summer's style is iconic, (Buffy The Vampire Slayer). A lot of the pieces that she wears are timeless, I wish I could own her closet; especially her sunglasses collection."
"Summer Roberts and Marissa Cooper (From The O.C) wear a lot of colorful pieces that I adore. One Tree Hill also has good style too. I love Peyton Sawyer's edgy rock style in seasons one and two. For movies definitely Clueless, duh!! Cher and Dionne definitely have the best style ever. I love the plaid!"
Ellen mentioned that "It is hard to pick one show when they all kinda bounced off each other, but The Simple Life was one were they were always wearing extremely cute Y2K outfits! Paris Hilton and Nicole Richie wore the cutest outfits and are still talked about online, as people are rewatching it all over again. The style especially, nobody had personal stylists, so the celebrities chose what they wanted to wear and is now imprinted in Y2K and why it is so iconic."
Ellen continued to share with us her daily life: "I have a Juicy Couture addiction, I will typically wear them everyday and good to lounge around in especially now since quarantine. They are so stylish, yet so comfortable. I also have lots of body glitter for the  summer, bandannas, butterfly clips and faux fur jackets."
Where to shop the Y2K look? 
Randone suggested that if you want to try out the Y2K aesthetics, you'll have a difficult time finding the suitable pieces "Poshmark or Depop are good for authentic clothing from the early 2000s, and Dollskill has a great selection of 2000s inspired clothes." 
You can try using #Y2K and #00s tags, which are the more popular tags and promises quick sales. 
Hallam says: "I found this Justin Bieber circa 2009 top at Goodwill back when we weren't in quarantine. I cropped it and it's currently one of my favorite items I own." She adds: "Nasty Gal has a wide selection, there are some 90s/2000s inspired items on there with a modern spin to them."
So what are some of the trends that are the most popular and making a comeback? 
It would be Logo prints, specifically the monogram logo from Dior. Lyst found out that monogrammed pieces are getting more and more popular, it was searched 70% more lately. In popular TV programs like Sex and the City, the purses worn by the stars like the Dior Saddle bag, or other accessories like the Matrix sunglasses.   
What else? "Juicy Couture tracksuits!" Hallam says. She adds: "Tiny sunglasses are also amazing and I love how everything was pink and sparkly back then. I think if everyone was to add more pink and sparkles to their wardrobe and have it be accepted as an everyday outfit the world would be a better place."  
@2000sjournals observes "plaid skirts, layering a T-shirt with vest tops and shoulder bags!"
Ellen says: "Multi-colored monogram Louis Vuitton handbags, were such a staple accessory in the early 2000s. Chucky highlights were not flattering unless you were Xtina, to be honest, but they were so iconic! I also loved everything to do with technology. Flip phones were so cute and bedazzled ones were even more iconic."
Randone added an iconic accessory: " Candy-colored sunglasses with rhinestones in the corners." 
However, the popularisation of Y2K has given rise to both positives and negatives. 
@2000sjournals observes: "As a community when we rewatch TV shows and movies we see there was a lack of culture and diversity in movies and tv shows. A lot of characters were stereotyped. It's nice to see in 2023 we are breaking through some of those stereotypes." 
Hallam says: "I do think as a community we all need to remember that the 2000s were not 'perfect', speaking in terms of pop culture and in general. In the 2000s there was an extreme lack of diversity, homophobia, etc. And when we watch these movies, tv shows, etc. that we grew up with it's crucial to recognize that these negatives along with others being shown although they may be a reflection of the time aren't acceptable and shouldn't be brought into the real world. I think being a part of this community or anyone who grew up in the 2000s or loves the 2000s era it's important to recognize this and acknowledge it. Although I think we still have a lot of room to grow, we've come a long way since then in 2023."
Though it is criticized, it is still a growing trend on social media. Ellen mentioned that the popularity of Y2K has influenced people to create their own accounts. 
She explains: "I get DMs multiple times a week where there are multiple new accounts being created where they all start to look the same, you can tell they don't really know much about Y2K. I always get DMs from those same accounts asking for shoutouts and how I got my account big, which took a lot of work."
Randone criticized that one of the negative impacts is "I don't feel like as such an individual anymore. Back when I started my account not many people were interested in early 2000s trends or the aesthetic. It has gone worldwide again, it's almost like we are back to being just like everyone else."
Y2K vintage is an endless trend and will hardly die out, "I don't relate to the trends and fashion of today, I'd much rather dress like Paris Hilton," Randone states.