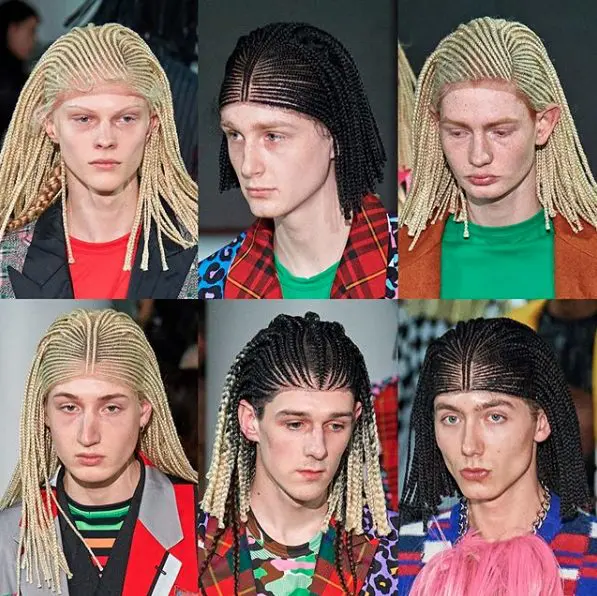 On January 18, fashion watchdog Diet Prada shared on her Instagram showing that Comme de Garcons put white models in cornrow wigs. Diet Prada was quick to air its criticism: "Back in 2018, [Comme des Garçons] cast their first black models in over 20 years for their FW18 show, following critical comments from netizens who noticed they hadn't featured a black model since 1994. Last night, the avant-garde Japanese label seemed to have taken a step back".
? LIFE-CHANGING ?? | For White + ALL People –
'I WOULD HIGHLY RECCOMEND. This book is NOT an insult to white people but rather a book to understand and educate the "issue" of cultural appropriation and the obliviousness to it. This is not an attack to all non-black people, this book helps you understand (through solid facts and research) the affects of cultural appropriating even in it's "innocence."
THIS WAS NOT TAUGHT IN SCHOOL. If you (non-black and black people) often ask yourself "What is the big issue?" then you NEED to read this book. This IS information black people WISHED non-black people knew so that we (yes, I'm a black woman) can stop explaining its historical effects while continuing to be unheard (this book is our voice). This book covers the unintentional culture appropriate to the culture vultures from recent and older events throughout American history.
"White Negros" is NOT about:
( * ) black people complaining
( * ) looking for sympathy
( * ) demanding to be credited (so inaccurate)
( * ) or wanting to insult non-black people
it's about helping ALL people better understand the cost (yes, its a real cost) black people pay for cultural appropriation and the internalized effects.
I recommend this (and this topic) to be read by every non-black and black person in the world. If I could send a copy of this book to everybody that would be open to read this for understanding (with their defense wall down), I would. This will help you have a more intelligent conversation when you're referencing culture and the importance of respecting those cultures. It can diminish ignorance and HELP bring people CLOSER together. I dare you to read this book for clarity and YOU WILL BE AMAZED. This can change your life and make us ALL better people.'
 

 

View this post on Instagram

 

Back in 2018, @commedesgarcons cast their first black models in over 20 years for their FW18 show, following critical comments from netizens who noticed they hadn't featured a black model since 1994. Last night, the avant-garde Japanese label seemed to have taken a step back with their men's show, this time putting white models in cornrow wigs. Some black models also sported the wigs, while some wore their own hair. ????????? Vogue Runway called them "odd", which is a curious statement in itself, considering the stigma and discrimination of natural hair and hairstyles that embrace cultural identity (braids, Bantu knots, twists and locs). It was only in 2015 that Fashion Police host Giuliana Rancic said that Zendaya's dreadlocks at the Oscars made her look like she "smells like patchouli oil or weed". Suffice it to say, CDG's decision to appropriate the braided hairstyles for white models is indeed problematic. ????????? On the positive side, more states are legislating to ban race-based hair discrimination, following New York and California's decision in 2019. Dieters, what do you think about the wigs at Comme des Garçons? The look on the model's faces say it all, don't you think? • #commedesgarcons #culturalappropriation #pfw #pfwm #pfw20 #cornrows #wig #wigs #caucasity #commepocracy #reikawakubo #adrianjoffe #discrimination #hair #naturalhairstyles #locs #locstyles #blackhair #blackhairstyles #naturallycurly #protectivestyles #goodhair #model #malemodel #avantgarde #cdgconverse #cdgplay #cdg #vogue #dietprada
The fashion industry has always been a testing the limits and taking the blame for cultural appropriation. On social medias like Instagram and Twitter, Adwoa Aboah, a famous supermodel asked,  "Are we surprised?"
Unfortunately, in the industry, most of them are ignorance to issues of cultural appropriation. Rei Kawakubo, the founder of Comme de Garcons was given criticisms by Marc Jacobs immediately, as the Instagram users noticed the three hearts posted by Jacobs among the cornrow criticism.
Cultural appropriation stresses on the appropriateness in adopting customs, practices and ideas of cultures that one is not familiar of. There is a vague definition of cultural appropriation and designers often find themselves in a difficult situation when they come across sensitive topics.
Dr Serkan Delice, a lecturer in cultural and historical studies at the London College of Fashion explaines that cultural appropriation, "happens when there are power inequalities between different cultures".
"We are still living in a world where white people and institutions are much more powerful than black and brown people," he continues.
One of the most common enquiries is that, what if black women straighten their hair or wear weaves? Marc Jacobs famously made his 2016 apology redundant with such racial insensitivity: "Funny how you don't criticise women of colour for straightening their hair, " he asked.
Racial ignorance plays a role in the misconduct of cultural appropriation, since it's often put on a similar level when it does not reflect the reality. It is neglected that in most of the time, marginalised culture will sacrifice their own culture and adopt the mainstream culture to fit in.
Photographer and Shades of Noir content creator, Favour Jonathan, says, "You're ignoring the reality that people of colour disconnect from their Afro hair as a response to racism or the anxieties that cease to heal after the policing of our hair, which is still happening today. Until a brother shaves off his locs he won't get a job or a black women with children to feed, needs a job so her locs have to go, her history, her culture has to go."
"It wouldn't be cultural appropriation because cultural appropriation implies that a more powerful culture is using another less powerful culture," says Delice.
Racial ignorance detach the black culture and politics from black hair, causing the cultural appropriation to be mis-narrated.
"You've captured and policed my freedom for so long that you are not allowed to have any of me," Jonathan says.
Black hair is more than just a type of hair, it has been used and manipulated for a long time. People who are coloured might still get discriminated because of their hairstyle even though they are in professional or academic settings.
 

 

View this post on Instagram

 

"A Statment of Pride" displayed 12/10/17.
It was only in 2015 that Fashion Police host, Giuliana Rancic said Zendaya's dreadlocks made her look like she "smells of patchouli oil and weed." More recently, Amari Allen, a 12-year old black girl was reported to have been pinned down last September by three white male classmates, who called her dreadlocks "ugly" and "nappy" then cut them off.
"That's the bias stereotype that is associated with our hair. We have the Afro, the cornrows, the locs but it's told for us to take it off because it's not appropriate, it's not neat but in your privilege its fashion," said Jonathan.
"You see people not of colour want to wear these styles and be voiced the right to by other people not of colour, and it's like 'no you can't'. You will never walk in the same shoes that we have or understand the burden of our history and for you to feel the need to carry it when not just generations ago, but today, you destroy black hair and the black movement of it, and the black body itself in attempt to erase us," continued Jonathan.
Fashion industry is transforming into a more versatile and accepting form. Yet, the situation has remained unchanged. Though efforts have been made, the world is still in a state where people are ignorance of the troubles faced by people of colour.
Afro-type hair requires a very high maintenance, meaning which, people could take hours to wash their hair. It is the most fragile type of hair and it could take a long time attempting to comb or brushing it out.
Following the controversy, Comme de Garçons hair stylists Julien d'Ys called the criticism stupid, in a now deleted comment. He has since issued an apology: "My inspiration for the Comme des Garçons show was Egyptian prince – If I did, I deeply apologise." The apology didn't go down well, with critics asking why the brand didn't use Egyptian models if that was the case?
"Apology or no apology is bullsh** because you could have prevented the whole situation if you did things right. We've been destroyed for so long, we need a lot more time to heal," says Jonathan.
Curator and founder of Kanaiza, Vanessa Onalo, says, "If I was going to Kenya to do a story on Messiah people, even someone who is Kenyan, I would, one, have to ask for the permission, two, get a greater understanding and, three, make sure I'm representing that community in a way in which they want to be represented".
It's easily taken politically when it comes to problems in the fashion industry. A question that we should ask is why do people suddenly not take it politically when they borrow from other cultures?