In today's world, there are many things that have impressed people to another level. One of these things is interior design. It has taken the world and people's living standards to another level. There are numerous elements that are nowadays used to design and decorate people's rooms in the best possible way.
One of the most underrated yet difference-creating elements used to enhance a room's interiors is pillows. Pillows have become an excellent cost-effective trend. Many companies like ProstoConcept provide customized pillows, including a cloud and star pillow for designing rooms.
People have certainly used creativity and innovativeness to find ways to decorate a room with pillows. Many throw pillows are used as a set to create a unique and attractive space. Apart from this, there are various ways to decorate a room. The following section gives a detailed guide to using pillows for a room as decoration.
7 Brilliant Ideas For Designing Room Using Pillows
The following points highlight the top effective ways to decorate a room using modern and trending pillows.
1. Fix a color theme
Pillows are most effectively used in interior design when an attractive color combination is defined for the room. People should fix or take an anchor color and use props and tools like pillows matching that color.
An anchor color is the most crucial component in decorating rooms with pillows. They should be used and kept in such a way that people perceive them as the main highlights of the room. It is suggested to use a cohesive design to maintain uniformity in styling.
2. Involving Pillows With Mismatched Prints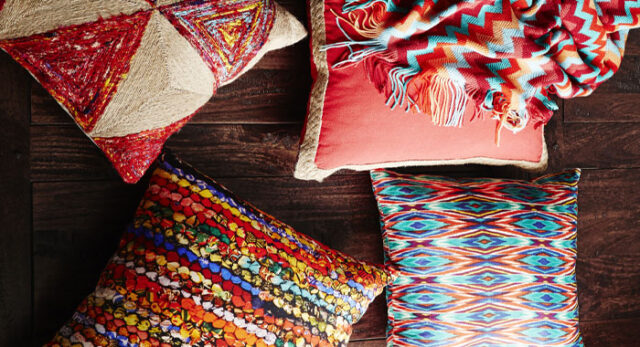 Contrasting, mismatched prints, patterns, and styles are the most modern themed look for any interior design. A person can design a pillow with floral prints and can take a plain contrasting shaded pillow. In this way, it will make the space look more attractive.
3. Placement And Positioning Of Throw Pillows
When people think of pillows and interior design, they usually relate to their pattern, colors, and size. But, there is much more to decorating a room with such small yet effective props. Similar to windows and doors, pillows can add elegance to the bedroom.
But, it depends on the symmetry of the pillows to create an impact through this decoration. The placement and positioning of the pillows will determine the bedding style and attractiveness.
4. Color – Bold Or Light?
The most challenging dilemma while decorating the whole room or house is the color selection. There are various colors to choose from. People should research and try different color codes and combinations to select the most appropriate color for their pillows and walls.
The trend for pillows is using modern and minimalistic colors to enhance the inner details of a room. Apart from this, people can also select bold color combinations if they are confident about the palette. People also use a variety of bold and light colors to give an excellent contrasting touch to the entire flat or room.
5. Shape Of Pillows
Nowadays, people have innovated various styles of pillows based on their shape. There are several shapes a person can try for their pillow decoration in the room. These types and shapes include the following: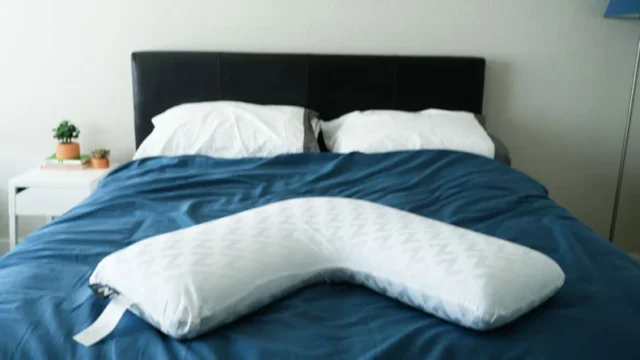 Bolster pillow
Square throw pillow
Round throw pillow
Novelty-shaped pillow
Rectangle or diamond-shaped
6. Matching Wallpaper
Apart from getting the right color combinations and shapes, tuning the pillows with the best backgrounds and wallpapers is also important. With emerging creativity in wallpapers, a person can try various customized 3D wallpapers.
A mixture of wallpapers and sofa pillows is an excellent blend to remove the minutest flaws on walls. Apart from this, it also helps fill empty space. People can place their beds in whichever direction they want with the help of aesthetically good pillows.
Strike A Balance Between Visual Weight Of Furniture And Pillow Decoration
It is crucial for a person to view their bedroom from a guest's point of view. They should consider what it will look like in reality when guests enter the room. The visual weight of existing furniture gives an effective presentation to an onlooker.
When selecting a pillow for decorating a room, it should be considered whether it is too much for a person to visualize. The addition of too many colors can lead to focus diversion. As a result, they will dislike the interiors.
7. Brilliant Lighting
In order to add elegance and highlights to the beautiful pillows, people can use layered lighting. They can highlight or focus on the particular props and items using different lights like LED, focus, floor lamps, dimmers, etc. However, people who have a natural source of light (like the sun) should avoid disturbing the standard sunlight.
Key Takeaway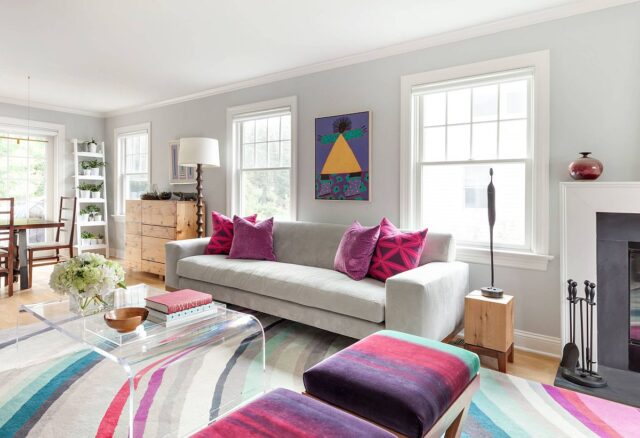 Bedrooms can be one of the most challenging areas for any budding interior designer. With the evolution of humans and technological advancement, decorating a room has become a more stressful activity.
The problem grows more intense when a person does not hire a professional interior designer. However, with different props and innovation levels, entrepreneurs have realized the true worth of items like pillows. They give an exquisite touch to the monotonous interiors.
There are various tips and hacks for getting the most out of a pillow for interior design. Corporates have realized that small things can create a huge difference in the overall room decoration. Patterns also hold an integral part in deciding the pillow size and weight.
The tips and ways mentioned above for creating an impressive pillow decoration give a detailed guide for a person to understand the 'what's' and 'what nots' when decorating a bedroom. A person can try various Do It Yourself (DIY) things to save cost on these hacks. However, they should research different ideas before finalizing the best one for their room needs.