Winter is here and it's the perfect time to go shopping – for your dog! Snow boots, knitted sweaters, and adorable winter coats will jazz up your puppy's wardrobe in no time. However, before you start adding vibrant, colorful, and fuzzy outfits to your shopping cart, here are some things to keep in mind so that the puppy clothes are breathable, functional, and super fashionable!
Dog Health And Breed
If your dog has fine, short hair like Yorkshire Terriers, they'll most likely need some cozy, warm winter clothing to brave the weather. Similarly, if your dog is thin and doesn't have 'natural insulation' like fat, you don't need to think twice about getting some warm winter clothes.
Young puppies and elderly dogs may also not prefer going out when it's chilly. Puppies don't have fully-developed immune systems, and the best way to prevent them from catching a cold is to don them in some adorable winter apparel.
In general, if your dog has a compromised immune system, the breed doesn't come into play. You'll have to clothe them appropriately while going out, to maintain their health. Giving your dog warm clothes like a sweater to wear inside the house, will help them move around indoors freely, without seeking warmth inside a blanket or fireplace. You can also consult your vet if you're unsure of making your dog wear winter clothes.
Find The Perfect Size
Neither do we want to roam around in clothes that don't fit well, nor do puppies. Needless to say, you have to consider your dog's measurements before you buy them winter clothes.
You can use a tape measure to get all your dog's measurements then shop online or go to a pet shop near you. Going to a local pet store will give you the benefit of finding the right fit for your puppy, especially if they're not used to wearing clothes.
However, if you want some of the latest, tending pieces in puppy fashion, online stores like PawPurrs are perfect. To take the right measurements for your dog, measure their shoulder blade and their tail base, as these include the widest and narrowest parts of their body, respectively.
Not only do well-fitting clothes look great, but they also ensure that your puppy can walk and play about freely. Tight winter clothes can chafe their skin leading to sores, whereas loose clothes can fall off making your dog trip.
Choose The Right Material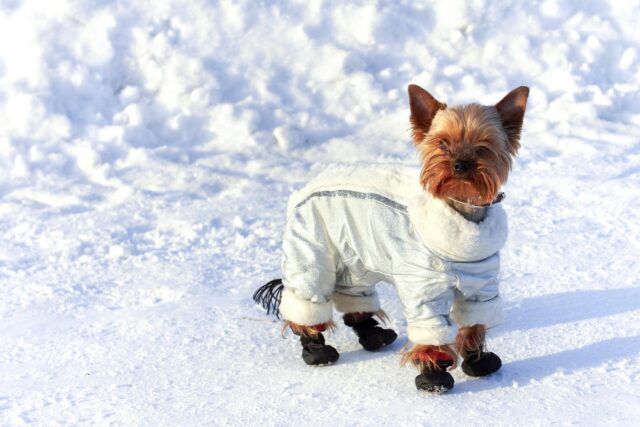 Once you've got all the measurements you need, the next step would be determining the material of the puppy clothes. Whatever fabric you choose, ensure that it is durable, comfortable, and quite sturdy.
Most dogs are super active so make sure the fabric you select can withstand a certain degree of wear and tear. For indoor clothes, you'll want to select a comparatively lighter fabric such as cotton.
For outdoor wear, like winter jackets and coats, you'll have to make sure that it is well-insulted, windproof, and waterproof. This way, your dog will be able to play around in the snow, without getting wet.
It's recommended that the fabric you choose is machine-washable so that it's hassle-free to clean. Also, the fabric shouldn't be so heavy that it weighs down your furball while they're trotting about.
Some of the best fabrics for dogs include wool, nylon, and fleece. No matter what material you choose, keep an eye out for any symptoms of allergies like sneezing, swelling, or red patches.
Analyze The Design
There are plenty of coats, jackets, and sweaters to choose from, which means there is no dearth of amazing designs to suit both your and your dog's fancy. However, apart from the color combination and style, also consider the design and ergonomics of the clothing.
For instance, if your puppy is small and not too strong, you may want to select something light that's easy to put on. The same goes for elderly dogs. Also make sure that the winter clothes completely cover their neck, legs, and tummy.
If your dog is active and energetic, select a design that offers full coverage around the trunk of their body. You may also want to avoid too many layers of lining for active dogs, as exercise warms up their body.
Short-haired breeds like Greyhounds may require an extra layer of insulation and warmth. For dogs with thick fur, like Border Collies, avoid body-hugging clothes and allow some room for comfort, ventilation, and ease of movement.
Another aspect to look out for while analyzing the design is safety. Make sure the winter clothes you buy don't have any small parts or choking hazards that can be pulled off, chewed, and then swallowed. So, avoid any clothes that have accessible buttons, zipper tabs, or pom poms that your puppy may try to eat.
Accessorize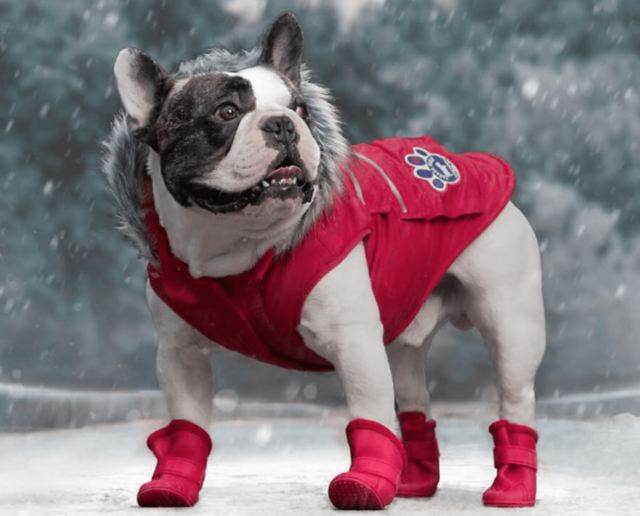 Depending on various aspects like the breed of your dog and weather conditions, you can always go in for some extra accessories and clothing. Dog booties are a great add-on, especially if you stay in an area where there's a lot of snow and ice formation.
If your dog's paws are particularly susceptible to the coldness of snow, ice, or the salt used to melt them, you can buy matching pairs of booties for your puppy. Make sure they're waterproof and offer a good grip.
Dog booties will keep your dog's paws warm while they walk on the freezing snow, and will also protect them from ice, snowflakes, and salt that may leave their paws dry, injured or cracked.
If you're accessorizing your dog's winter clothes with booties, ensure that their material is durable enough to withstand harsh weather conditions but flexible enough to facilitate easy movement. Other accessories include scarves and hats, which can be worn when it's extremely windy and chilly outside. Wearing them indoors will be too warm for your dog.
Final Words
There are several options out there for keeping your puppy warm when it's cold outside. From coats and jackets to boots and scarves, your dog will be all ready to play in the snow, without a care in the world!