Every rider understands the feeling of riding through the streets like a true hero. And it's not just the bike that makes you feel good. This experience has a lot to do with what you're wearing. A proper, full motorcycle gear that's functional and stylish is the dream for most riders.
In this article, we'll look at 5 must-haves for every motorcycle rider and how you can always choose the best ones to look effortless. But if you don't have a motorcycle yet and you are just thinking of buying one, ZeCycles is always ready to help you with the choice.
Choose the right kind of helmet: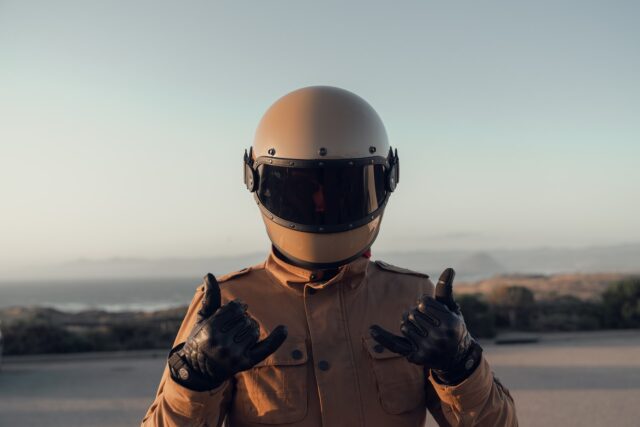 It's almost impossible to imagine a motorcycle without a helmet. They are like the peanut butter and jelly of the bikers' world. Most states have stringent laws on wearing helmets as an essential safety gear for anyone riding a two-wheeler.
Although many people think that helmets are uncool, there are so many benefits to wearing a helmet and not cracking your skull on the pavement being the first one. You also protect your hair from the dust on the road and prevent your hair from flying into your mouth and eyes.
The good news is that there are many different kinds of helmets in the market. You get half helmets, open-face helmets, full-faced helmets, brain buckets, and many variations.
Typically, the basic full-face helmet is the go-to option for many bikers, but if you don't like this particular look, you can check out other types, like the Bell MX-9 Adventure MIPS helmet.
It has a sporty yet elegant look and is ECE-certified which means it will protect your head in case of a crash. This helmet makes out the top list because of its functionality and versatility. You'll find them available in many colors as well.
Pick the best motorcycle jacket for your body
Of course, you need a motorcycle jacket to go with your motorcycle. It's almost like a necessary gear to have when you become the proud owner of a motorcycle. Motorcycle jackets are constructed to adjust to the temperature and keep you cool when the weather is warm and keep you warm when the weather is cold.
It also makes you look like you have everything, riding a cool bike with an even cooler jacket.
Consider customizing your leather motorcycle jacket with patches as a great way to add your own personal touch. With a little creativity, you can create a stylish and unique jacket that shows off your personality.
Once you've chosen the perfect motorcycle patches for your jacket, it's time to start styling them. You can attach patches to different parts of the jacket, such as the sleeves or back. Experiment with different styles and see what looks best on you. Getting those customise patches from 4incustompatch would save you a lot of time styling your patches.
Most have shoulder pads, back protectors, and elbow pads and have proper stretch technology to give you freedom of movement while keeping you safe.
Our top recommendation is the Rev'It! Proteus Armored Jacket. As the name suggests, it is an armored base layer made of breathable mesh, so you are always comfortable in your outfit. Another option is the Jacket Maker's Ionic Leather Jacket. It's stylish, sleek, and chic apparel that gives you everything you want in a motorcycle jacket.
A great pair of leather gloves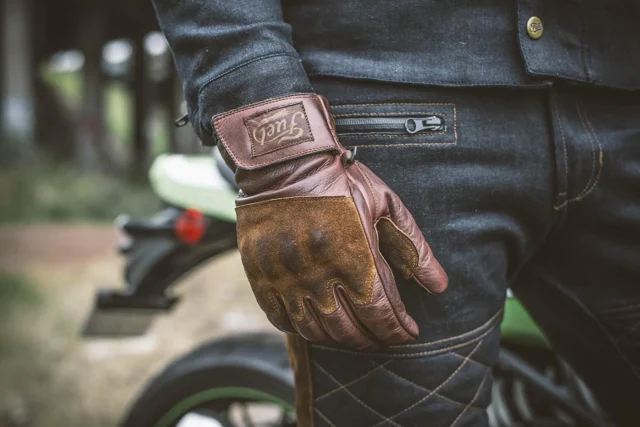 While many believe motorcycle gloves are the least important on the list of motorcycle gear must-haves, it is a common misconception. For instance, if you were flying across the air after crashing into something on the road, your first natural instant would be to use your hands and break the fall. This means your hands are the first to take the impact of the fall or crash. So you need to invest in a pair of high-quality gloves that look stylish as well as serve the purpose of protecting your hands.
When choosing your pair of gloves, ensure that your priority on the checklist is abrasion resistance. So the best kind of gloves would be full-grain leather or any other specially constructed super fabrics that can give you the flexibility and protection you need.
Beyond the ability of your gloves to protect your hands, they look incredibly cool. Plus, these gloves rarely come without knuckle protectors, so you're looking at structured gloves that give you a badass look.
We recommend the Alpinestars Celer V2, a short-cuff glove with a minimal design that still makes you look and feel like a true biker.
A functional pair of motorcycle pants
It might be tempting on a hot summer day to throw on a pair of shorts ad ride in the sun, but that doesn't give onlookers the feel of a biker. Plus, wearing motorcycle pants will protect you on the road from sunburns and your knees from scraping if you fall from your bike.
Most people don't like wearing motorcycle pants because they are either exclusively made of leather or some synthetic material that doesn't work as everyday wear.
However, there are pants like the Alpinestars Andes V2 pants that come equipped with excellent abrasion resistance and protection but also look stylish at the same time.
Suppose you're into the whole leather look. In that case, you can take a look Rev'It's line of leather motorcycle pants that are carefully constructed with cowhide leather and Dynax mesh that allows both protection and breathability.
Find versatile footwear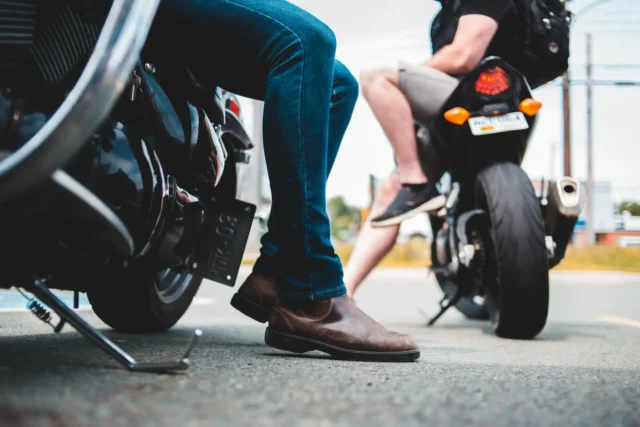 Compared to the other motorcycle gear we mentioned, motorcycle boots or shoes are the most commonly sported, even outside the niche of bikers. It is almost like a mainstream fashion statement piece worn by many people.
While they also play the role of making you look like you just stepped out of an action movie, it has their fair contribution when it comes to road safety. What you want to look for in your shoes is one that is sturdy enough to take on the impact in case of a collision but also comfortable enough that you can power through a whole day in them.
Our top pick is the Terrain 3 motorcycle boots which come with a waterproof membrane that is sturdy yet, breathable. The construction of these shoes is comfortable enough to let you hike in them if you ever feel like it.
The Ginza boot by REV'IT! is another pair that cuts because of its subtlety. If you have plans at a fancy restaurant after a day of biking, these are the perfect shoes that won't catch too much attention like you just returned from a mission in the desert.
Versatility is always a good thing!
Conclusion
When you think of safety, you might imagine big bulky suits, elbow pads, and puffy life jackets. However, when it comes to motorcycle gear, everything about it screams cool, stylish, and still very functional as safety gear.
If you're new to the motorcycle gang and want to look just as good as your imagination, or if you want to upgrade your gear, this list of the five must-have motorcycle gear will do the trick. These items keep you safe from accidents but also help you get that cool biker look that tops all checkboxes.