If you are thinking of opening your personal salon, there are a few things you must do before taking the plunge. First, ensure you have a clear idea of what your salon will be like. Do you want your salon to offer exceptional services like manicures and pedicures?
Or do you want to focus on providing hair care and styling services? Once you have figured out the kind of services you want to provide, it will be much easier to find a good location for your salon.
Also, decide on a name for your salon. This step is vital because it will establish your brand and help you to attract clients. Finally, ensuring that you have a staff in place before you start offering services to clients is a must.
You have what it requires to create a big difference in the public and set up your salon as the trendiest thing in the city. This guide will help you in each step of your journey, from developing a business plan to selecting the best strategies to maximize profitability. Read below to find out how:
1. Buy Furniture, Skincare Products, And Toolkits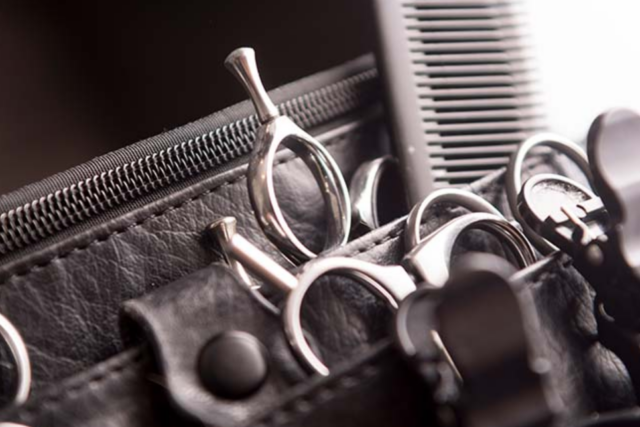 Whether you are opening a barber shop or a hair salon, you will need furniture to stock your shelves with supplies. Begin by strolling through markets in search of the latest professional skincare products, techniques, and fixtures at reasonable prices.
Conduct thorough market research before purchasing furniture such as hot spring beds, all-purpose seating, wooden chairs, showcases, desks, pedicure kits, lighting fixtures, displays, manicure ramps, tables, etc.
Order serums, body washes, scrubs, body butter, moisturizers, bath salts, natural active components, essential oils, massages, masques, and other wholesale skin care products.
Consider purchasing necessary items such as body and facial clothes, trimmers, cosmetics and hair brushes, conditioners, and so on. Look out for wholesale and good-quality offerings. Make sure you make all the investments at the right place and time.
2. Make A Business Plan And Seek Legal Advice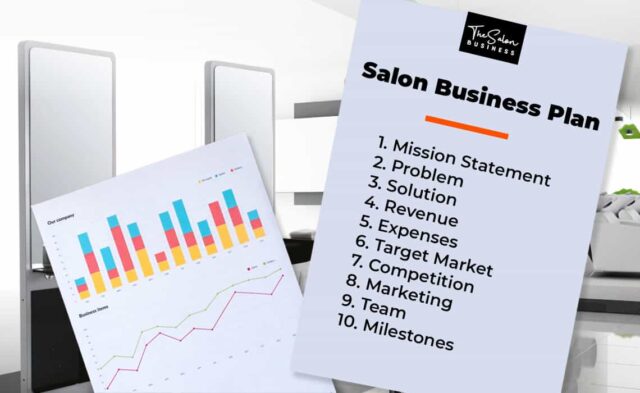 Beginning a salon requires a business plan. Before implementing the exact procedure, you, as a business owner, must properly plan and write your goals on paper.
The written plan provides salon owners a blueprint to follow and assists innovators in considering all aspects of the business. Keep in mind to have a solid knowledge of the salon market in your local area, along with its size, growth rate, and market dynamics.
Even the slightest point you miss can impact the final outcome of your days and nights of planning. Thus, you must create a business strategy and consult with a lawyer before embarking on the journey of establishing a salon.
A successful business strategy can assist you in staying on course and within your budget. It will additionally help you in avoiding future legal issues. A decent lawyer can ensure that your company complies with all laws and regulations.
3. Select A Convenient Location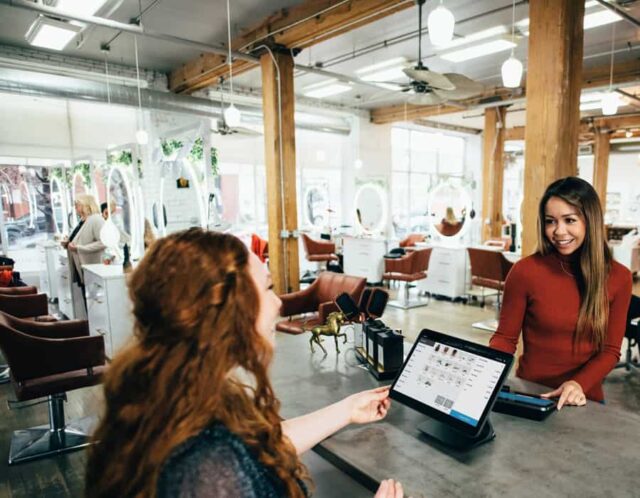 Whether you acquire a facility or lease a commercial space, your location is among the most expensive aspects of starting a salon, and there are numerous things to think about.
It must be located in a crowded area and readily available by public or private transit. Also, ensure that you are sufficiently separate from industry rivals who provide similar services to yours.
Selecting the appropriate salon venue is also essential to ensure that there is adequate room for the beauticians you intend to hire and all the facilities you intend to provide.
Furthermore, ensure that you have decent, good-quality, and noticeable signboards so anyone who drives or walks by your shop can see them.
4. Begin Hiring Employees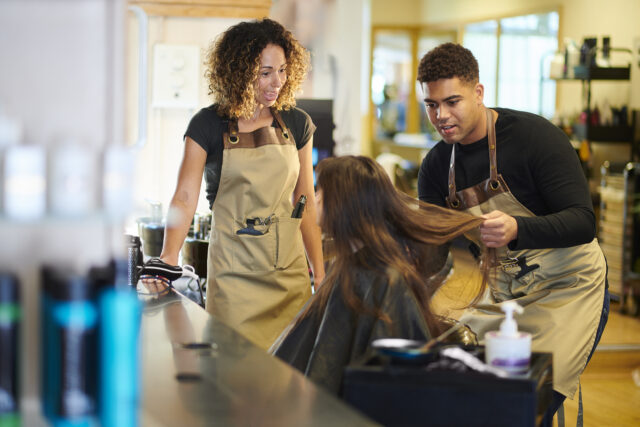 Except if you intend to become the sole beautician, you will be required to hire – and hire smartly. Your company is only as valuable as the employees who work for it.
The perfect stylist or spa employee possesses a unique combination of skill, mindset, and public persona. You already know what kind of image you desire your shop to build, so seek beauticians who can support and express your vision.
Definitely, the individuals must be certified and understand the fundamental procedures. You can always assist them in honing their skill sets. However, you can't change their character traits.
Conduct a background investigation and obtain references. A good worker must be dependable, have no blemished record or public image, adhere to sound business morals, and have good communication skills.
Additionally, effective communication involves informing your customers of any changes at your spa. This will help make the clients feel important and involved, which in turn will lead to their increased interest in your services.
5. Develop A Strategy To Distinguish Your Shop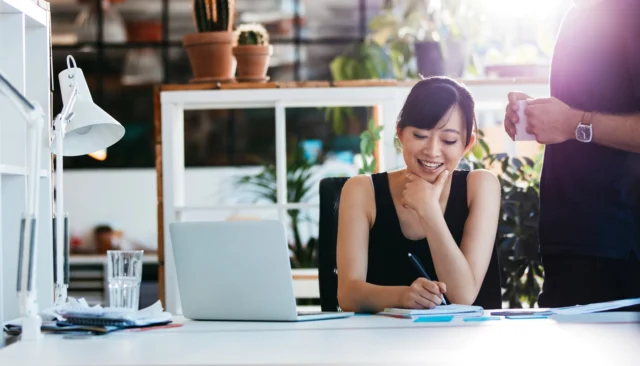 You might have the most stunning salon in town, with skilled and experienced stylists offering cutting-edge care. However, if it's not popular, you might fail.
A marketing strategy and a business plan are essential for making your goods and services stand out from the competition. As a beautician, you must emphasize your customers and their overall experience.
This method will result in loyal consumers, eventually forming a dependable client base for your business. Examine what your competitors are providing and what is missing from their services, and then enhance your business accordingly.
Look for a unique strategy that will set you apart from the other salons in your city or area. This will indeed help you generate more traffic.
Wrapping Up!
Do you have the wish to open your own salon business? Acquiring your own shop can provide a consistent source of earnings as well as the possibility to achieve more liberty and become your own master.
To assist you in making your salon vision a reality, we've put together the above list of initiating your beauty salon tips. It involves the crucial factors you need to understand in order to start.
The main element of a spa or salon's success is to deliver a calming and relaxing experience and provide seamless treatments. Last but not least, one must take into account integrating safety precautions for the customers.