2020 Male Outfit Guide: 5+ Ways To Style Like Lewis Hamilton
Widely regarded as one of the greatest drivers of all time, the British F1 racing driver Lewis Hamilton has also been pretty impressive in the fashion industry. He has been attending the shows of Versace and Missoni and has released numerous collaborations with Tommy Hilfiger. While he hasn't been regarded as a full-fledged style icon yet, his fashion shows promise and potential and his frequent experimenting with streetwear and accessories get others to relate to his style as well. He is most popularly known for his frequent accessorizing, especially with necklaces. If you lewis hamilton fashion line and get inspiration from his jewelry such as lewis hamilton's famous padlock necklace- then you've come to the right place.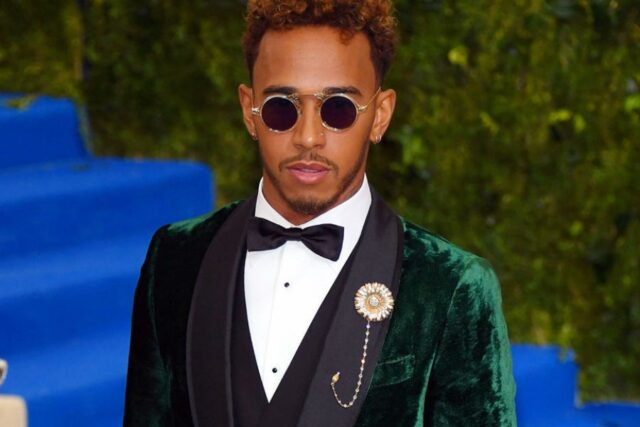 1. Tonal Tailoring
While most people go for black suits which is the most classic color, Lewis Hamilton does things differently. He rarely appears in black tailoring, instead opting for colored suits. He usually maintains the same silhouette while selecting suits; a slim cut single-breasted jacket and tapered trousers. Like most fashion icons, Hamilton has found what works for him and his body- one of the most fundamental steps to looking fashionable and put together. He successfully uses the same formula over and over again, whether it's an emerald green velvet or a red tux and isn't afraid to play with color.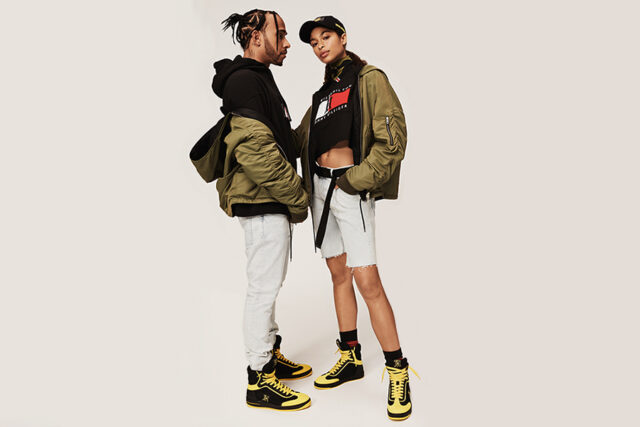 2. Vegan Vibes
Lewis has been a proud and vocal vegan for a couple of years now and recently collaborated with Tommy Hilfiger to launch a vegan-friendly fashion collection for Spring 2020. The range has a comfortable streetwear aesthetic, consisting of tracksuits, sneakers, t-shirts, hoodies, etc. The Lewis Hamilton fashion collection was made with materials from eco-friendly company Sorona, such as organic cotton, vegan down, and recycled water bottles. So not only is our British race car driver in extremely talented racer- but he also cares about the environment as well as animals. We love that!
3. Playful Patterns
Rather than going for the standard conventional plain dark suites, our British race car driver likes to do things out of the box. A good pattern is straight out of the Lewis Hamilton fashion playbook. The F1 champ is often seen sporting polka dots, checkered and gingham prints. His 2019 met gala Tommy Hilfiger metallic zigzag graphic suit and red Versace suit of the 2017 British Fashion Awards are some of our favorites. Though classic styling etiquette says that with overly patterned prints one should not jack up on accessories but Hamilton manages to pull that off as well.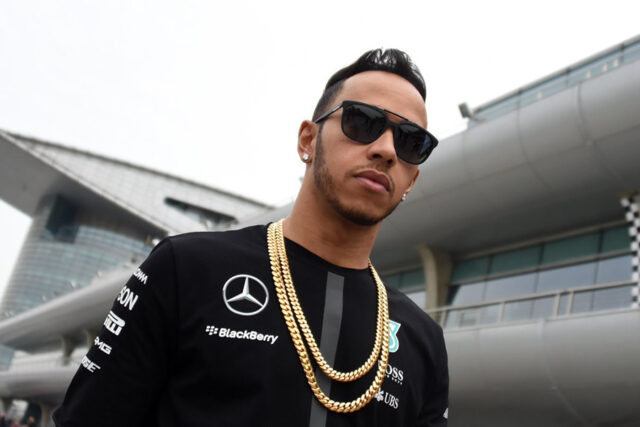 4. The Bling King
Whether he is on track or off track, he is always seen rocking his famous lewis hamilton padlock necklace along with some chunky gold chains. Whether its some earrings or a chunky diamond ring, hamilton is usually never seen without his signature bedazzled jewelry look. As one of the highest-paid racecar drivers, he, fortunately, has the money for his indulgences such as investing in luxury jewelry brands such as Cartier.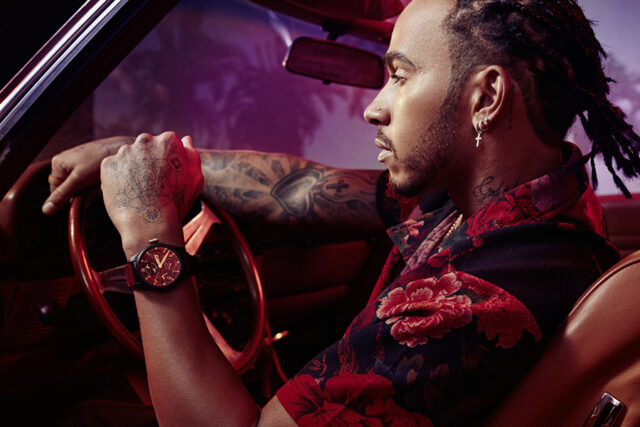 5. Watch Out
The racecar driver's love of jewelry extends to timepieces, with the Brit often seen sporting a custom IWC Top Gun watch on his wrist, estimated to be around $60k. Hamilton also recently collaborated with the Swiss watch manufacturer on a stunning Big Pilot Perpetual Calendar timepiece. The resultant limited edition watch is a celebration of the F1 driver's unique style; with a burgundy dial set and burgundy strap.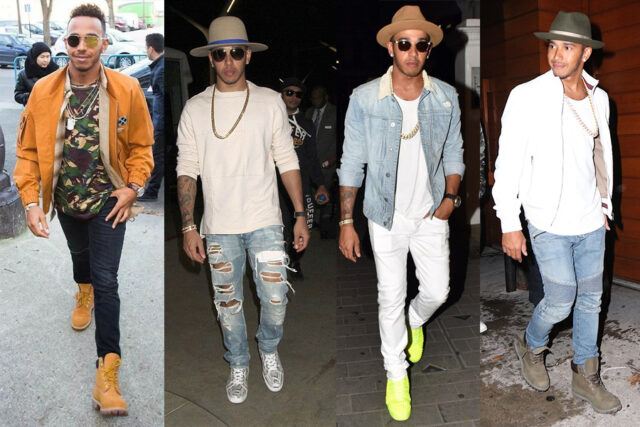 6. Elevated Everday Essentials
Hamilton's style is the perfect combination of simultaneous minimalism and maximalism. He not only experiments with patters is constantly pumping up his looks with his judicious use of accessories- he can be simple and classic at the same time with longline t-shirts and skinny jeans. He is also often observed rocking Timberland boots and other hi-top sneakers. After all, he is the perfect example of classy meets edgy and is always able to find the perfect balance between simplicity and bling.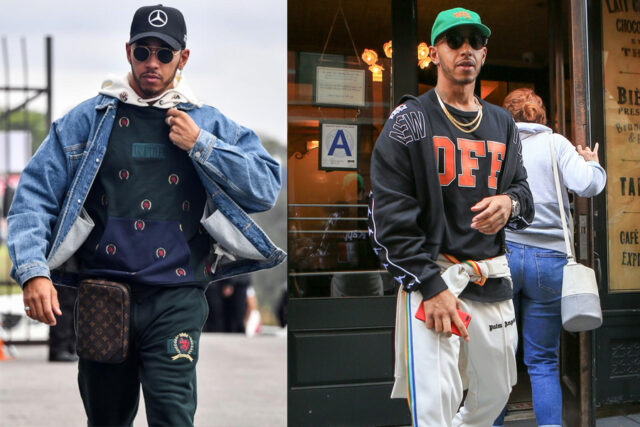 7. Logo-Maniac
Lewis Hamilton has embraced the sartorial zeitgeist of our time, consistently sporting logo-clad looks. Whether it's a Louis Vuitton bum bag, or an Off White t-shirt, Hamilton regularly rocks logos of different brands and makes them look classy rather than flashy.