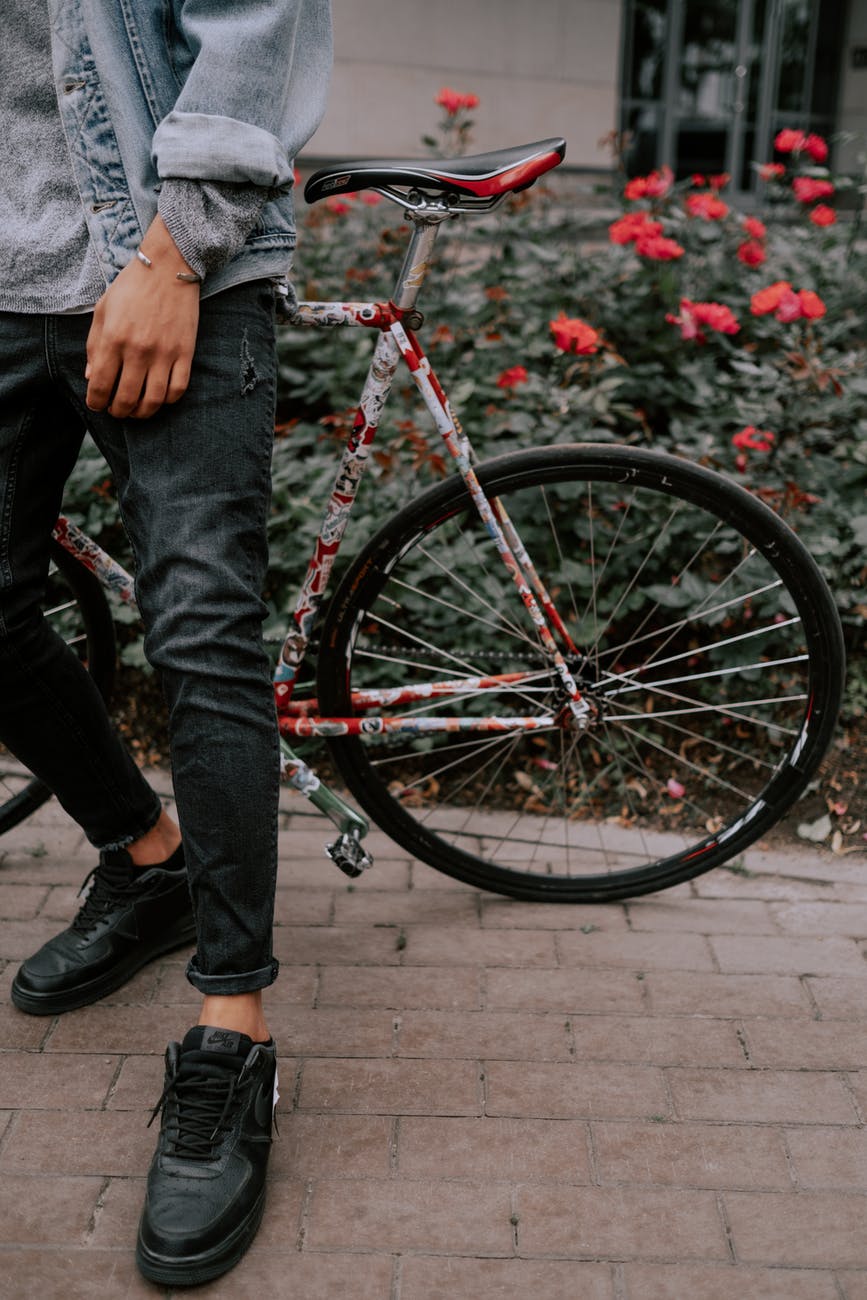 ????? ==> These men's shoes are on sale today, check it out!
The shoes you wear can either complement or ruin your entire attire, so it is important to pick the most suitable shoes. All boys should know what footwear partners the best with their pants. However, this problem gets tricky when finding a perfect pair of shoes with jeans. Jeans come in many forms and designs too, so it is hard to find a pair of shoes that matches all styles. Despite the challenge, today is your lucky day as we will give you the ultimate guide to finding the perfect pair of shoes! Regardless of whether you need a pair to complement your jeans, to match your figure, to work with both formal and casual wear, you have come to the right place.
? Quick Shopping Guide
Curious about what others are buying for their jeans? Here are the best sellers from popular brands with 10k+ good reviews. If you do not want to waste too much time on shopping around and comparing price, buying the classy model will not go wrong.
What Shoes To Wear With Skinny Jeans
Today, most boys own a pair of skinny jeans as they are modern, easy to match, and stylish. However, there is one factor that can completely ruin a pair of skinny jeans: the wrong shoes. When you go out with your skinnies, it is essential to consider that not all shoes complement the tight-fitting denim style you are rocking. Specifically, shoes that are bulky will make your feet look awkward in contrast to your slim legs.
To counter this problem, it is best to go with simplistic and mainstream styles of footwear. In particular, Chelsea boots are a good option as they have features of being slim and smooth. A pair that is in black or brown leather would always complement skinny jeans. Another good option would be Oxford shoes, they are specifically more suitable for formal events. Lastly, sneakers would also work and be a good fit for casual events, but be sure to pick a slim pair to avoid looking silly.
? CLICK THE IMAGES BELOW TO SEE CURRENT PRICE
What Shoes To Wear With Slim Jeans
If you don't know what to wear, a pair of slim jeans may come in handy! They match with a variety of looks and shoes too. When you do, it's important to keep your outfit balanced with a pair of slim footwear. Choose slim-looking shoes like loafers instead of bulky shoes like lace-up boots when you put on slim jeans. Your outfit will look more polished and classy, it will make a better balance to your body proportion too.
You can also match your slim jeans with a pair of derby shoes for a more formal occasion and put on sneakers for casual outfits. Compared with the ones you match with skinny jeans, your shoe choice can be a bit thicker. Just keep in mind that they should still bring out a slim impression.
? CLICK THE IMAGES BELOW TO SHOP THE LOOK
What Shoes To Wear With Boot Cut Jeans
Boot cut jeans go perfectly with boots. Boot cut jeans have their unique cut that sits perfectly over a pair of boots. Undoubtedly, they will have to go with a pair of boots. When you're looking for a pair of boots that you want to wear, match them with the aesthetics of your outfit. Specifically, Chelsea boots are great when you want to go with smart casual or semi-formal outfits. Meanwhile, lace up boots are great for casual wear.
If you are not a boot enthusiast, derby shoes can also go well with boot cut jeans. They will have to have a thick sole and a round toe. You can match it this way when your boot cut jeans can cover your ankles while showing some of your shoelaces. Make sure the style of the derby shoes and the hem of your jeans are balanced well then you're good to go.
? CLICK THE IMAGES BELOW TO SEE COLOR OPTIONS
What Shoes To Wear With Straight-Leg Jeans
Straight-leg jeans are another must-have item of every man. Their simplistic outlook goes well with different aesthetics and occasions. Since they are minimalistic, you can easily match them with either fashionable casual or smart casual outfits. The possibilities are limitless, which is why we love straight-leg jeans!
A lot of shoes go well with straight-leg jeans, including brogues, boots, sneakers and loafers. Choose anyone of them to match it with the aesthetic you would like to pull off. They can be relaxed or posh depending on your choice. Unlike the other jeans, both slim or bulky shoes work well.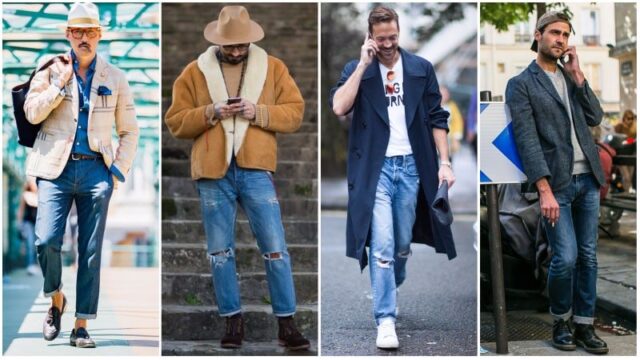 ? CLICK THE IMAGES BELOW TO SEE MORE IDEAS
What Shoes To Wear With Tapered-Leg Jeans
Tapered-leg jeans are designed to accentuate the shape of your legs by having a looser fit at the thighs and tapers near the ankles. It can achieve the effects of both straight-leg jeans and slim styled jeans. If you choose bulkier shoes or boots that covers your ankle, they will balance out the bulkiness of the jeans at your thighs.
If you prefer wearing leather sneakers or derby shoes, then you should pin-roll or cuff your jeans to balance it out. Suede shoes are also a great choice if you would like to add more dimension to your look. High-top sneakers or chukka boots are also great choices that allow you to rock the jeans without having to show your ankles.
? CLICK THE IMAGES BELOW TO SHOP THE LOOKS