[2020 Makeup Guide] Try This Gentle Fragrance-Free Skincare Collection that is Affordable for All Ages and Income Levels
When Alex Steinherr departed from her role as creative and beauty director at Glamour earlier this year, a loyal social media following held their breath awaiting her next career move. And, to their delight, on Monday Steinherr launched a 20 piece CFI-certified skincare collection exclusively for Primark.
"Everyday I have the privilege of speaking to my readers via my social media platforms and the question I'm asked most is – what's the best high street skincare brand? And I struggled to recommend one brand that offered a total skincare solution," says Steinherr.
The journalist-turned-influencer took matters into her own hands, creating her own skincare line to fill the gap in the market. Two years in the making, the partnership features products ranging from anti-blackhead sticks to sheet masks, separated into five categories depending on skin concern, from Pore Balance to Pollution Solution.
"I was already doing some behind the scenes work with Primark so a collaboration with them to fit this bill made perfect sense. Together we took a blank sheet of paper and started from scratch, working to develop 20 products that offer my readers and the Primark customer great skincare at great value," she says.
This marks a shift in beauty marketing, as the high-street powerhouse and beauty director fuse to create a highly accessible, available-to-all collection. Though an online influencer in her own right, her career in magazine journalism has armed Steinherr with professional understanding: "I have always been obsessed by skincare and have been incredibly lucky over the years to have had a career that allowed me to test thousands of products and have constant access to the most well respected skincare experts."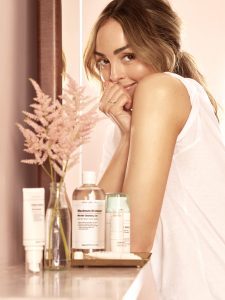 While Primark Beauty gains momentum, it is the currency of Steinherr's name, with her 179k Instagram followers, which sets this collection apart. With her large millennial audience, maintaining the accessibility of the collection was crucial in its development, with a low price point to ensure Alex's long-term goal of helping everyone achieve good skin, regardless of age or income.
Speaking of prices, the products range from £3-£5: ideal for students and young adults.
"The low prices are a definite motivation for me to buy, because I can trial products to see what works for me without feeling guilty about how much I've spent in the process. I have sensitive skin with rosacea flare ups and I'm often nervous about what I put on my skin, so it's a breakthrough to be able to try gentle, fragrance-free formulas that don't cost my entire student loan," says sociology student Lily Fry.
Meanwhile, the fashion student perspective offers high praise for the woman behind the products: "Alex always has incredible skin, which everyone wants. I'm much more likely to buy something when I feel I've forged a rapport with the person behind it, and social media is the most potent tool to achieve this in 2018," says fashion marketing student Fenella Chamberlain.
"The Plump and Glow moisturiser and the entire pollution range is on my wish-list – studying in London can take its toll on your skin!"
But make no mistake – ingredients have not been compromised. Hyaluronic acid, niacinamide and squalane are all active components featured in the range to help achieve Steinherr's much-coveted glow.
"There are some indispensable ingredients in this range which is very promising, especially the salicylic acid and raspberry leaf extract in the Pore Balance cleanser. There's a huge buzz around hyaluronic acid right now too, since it can hold up to 1000 times its weight in water, so those serums and moisturisers will likely sell very well, providing a good base for underneath makeup," says make-up artist Alice Sear.
"I'm also impressed by the packaging, which has been left clean and minimal to match her aesthetic."
If the collection seems too good to be true, be quick to get your hands on it. Shelves had to be restocked throughout the day when it dropped in stores on Monday, though increased deliveries are expected throughout the week, and fortunately, the collection is not limited edition. Race you to the tills.