Greece has one truly magical place, and that is Santorini. Both in the high season which lasts from April to October, and out of season, the sunsets are always beautiful. Food and drink are even better, and when you pack it all together, you get romance. All that Las Vegas is, Santorini is not. It is not for instant lovers and crazy nightlife, it is for romantics and all who seek peace. And you can find it in the heart of the season when it is occupied by tourists, and the sounds of crickets mingle with the sounds of mopeds, the most common means of transport on the island. Okay, the moped is the main means of transportation on the island, but how do you get there if you are staying in the Greek capital, Athens?
Santorini is considered one of the most beautiful and famous Greek islands. What makes it recognizable is its appearance – all the houses are white with intense blue doors.
Although considered one of the most luxurious and expensive resorts in this country, this does not diminish its popularity. Moreover, more and more people decide to spend their vacation right here.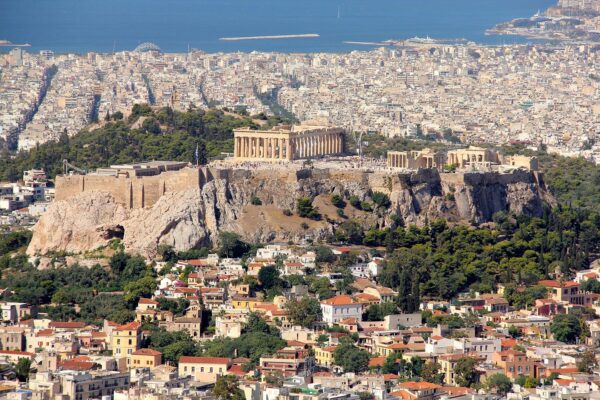 You will need a little more time and money for this trip. Given that the distance is 300 km, and that Santorini is located on the island, the car and bus can be completely excluded as an option for transportation. Of course, you can always take a ferry. Given that Santorini is well connected to Athens by water and that many ships carry passengers from one place to another, you will be able to choose whether to travel by "standard" or "fast" ferries. If a standard ferry is your choice, prepare to travel 8-9 hours. But, if your choice is a fast ferry, you will save a lot of time and reach your desired destination in less than 5 hours.
The price of transportation also depends on the type of ferry you choose, as well as on the class of seats (50-10 euros). What is important to note is that in high season it happens that the capacity is full, so it is better to book transportation in advance. Although considered one of the most convenient modes of transport to Santorini, it is not recommended for those prone to seasickness. However, keep in mind that these are travel hours.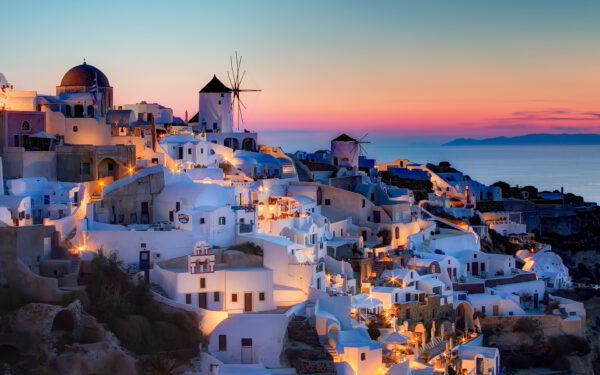 Although many people travel by car on holiday, more and more people are opting for air transport. Let's be realistic, who else enjoys spending hours behind the wheel on vacation? Therefore, many choose to spend more money but to get quality service, including air transportation. Air travel saves a lot of time. If you are flying from Athens to Santorini, it will take you only 45 minutes. Best of all, there are many companies that fly to that destination, and there are many cheap flights that cost less than a ferry. However, even though there are several flights a day, it is very difficult to get a ticket if you have not booked it before. This is especially true in the summer.
However, what has proven to be a very popular mode of transportation is renting a private jet charter. Yes, it will cost you a little more, but this type of transport brings many advantages – you do not have to worry about whether there will be enough space because these charters have room for 15-20 passengers. This means only one thing – perfect for a vacation with friends or if you have a larger family. IcarusJet advice you to think what is exactly what you need because there are also charters for a smaller number of passengers. In addition, transport by helicopter is possible, it is up to you to decide. When it comes to private flights, there is no need to schedule months in advance, it is enough to call the company 2 hours in advance and the plane and crew will be ready to wait for you. This is especially suitable for those who do not like to travel long and those who have a lot of luggage because the number of suitcases is not limited.
What to see in Santorini?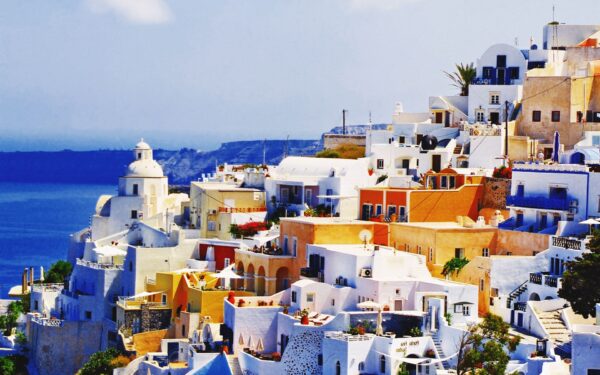 Now that you have finally chosen transportation and arrived at your destination, your vacation can begin. While many make a plan in advance of which places they are required to visit, it always comes in handy for some suggestions. The island of Santorini is one of the most beautiful holiday destinations, and because of its picturesqueness, romantic sunsets, and beautiful sea, it is already called the best destination for a honeymoon.
What is definitely worth visiting is Thera, a town on steep cliffs at a height of 360m. Thera is one of the reasons why many choose to visit this island. Due to the excellent climate, spending time on the beaches is guaranteed. Kamari Plaza is the most famous beach on this island. Also, don't skip a tour of Nea Kameni, a sleepy volcanic island. Wherever you are, don't miss the sunset because it's amazing!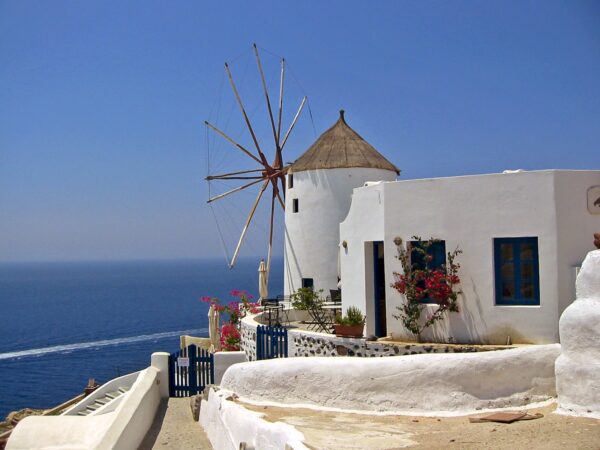 Make sure you put an outdoor cinema on your 'to do' list. The cinema is located right at the entrance to the village of Kamari. It is open from May to October and admission is € 8. In addition to watching movies, there is also a cocktail bar, and you can try local beers and wines with snacks while you wait for the movie to start. Movies usually start around 9:30 pm and are in English with Greek subtitles.
Final thoughts
Now that you have reached your desired destination, enjoy sipping ouzo, eating gyros, enjoying the endless sandy beaches and the turquoise blue of the sea. Use a bicycle or moped for transport around the island, because that way you will get to know all the charms of Santorini the best. Don't come here just for one day while cruising, you won't experience Santorini properly. It will be crowded, you will only have a few hours to experience an island that deserves a little more attention.