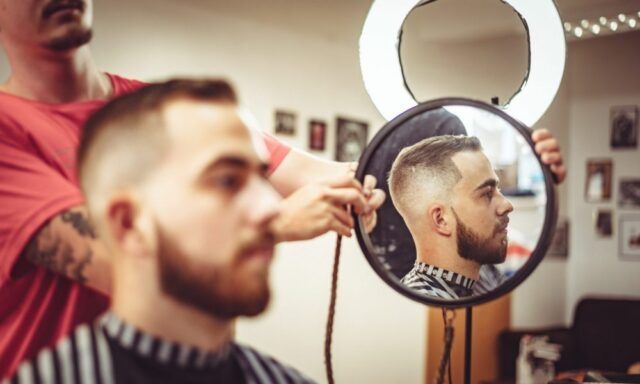 The pandemic has been around for a while now, lockdowns and quarantines have gotten every men to learn being their own barber at home. Since men are in need of regular hair cuts and I bet all of you have started to be dependent on your home shavers.
Unsurprisingly, buzz-cut becomes the trend for 2023. Instead of fancy haircuts like waves, dreadlocks, or lengthy hair, a clean-shaven look is what people search for now.
Men have been looking for defined structure of their faces since the Ancient Roman times. Roman barbers (commonly referred as tonsures) will gather the men and shave at a same occasion that allows them to spend time with one another. Usually, only elites have barbers at their houses, while people get celebratory cuts that symbolises adulthood in parties.
The staple shape-up or buzz-cut is still one of the most popular haircuts till today. Since barbers become within our reach nowadays, most of us rely on them for haircuts.Editor of Many Of Many magazine and ex-barber Nick Hall reveals the truths behind your grooming maintenance woes.
What is the buzz behind 'shaving your head' during this time?
"Shaving your head is not only a convenient way to stay sharp and feel fresh but it is also one of the easiest grooming procedures you can do. I feel more guys are choosing to shave their heads due to the proverbial 'fail-safe' nature of the current circumstances. If you have wanted to shave your head but never had the guts, now it is the perfect time to give it a go," says Hall.
If you are fond of going on adventures, you should try changing your style. It makes a bold statement and is easy to maintain. You could also use balms and toners to touch up on your look and make it different everyday.
"Should it not turn out the way you had hoped, there is no harm," explains Hall. "You are stuck inside for another few weeks, so you can easily wait it out and avoid the jeers from your friends."
Take English former footballer David Beckham as a pointer.
View this post on Instagram

Just had to be done ?? #stayhome #staysafe #staystrong GOODNIGHT ?
Even David Beckham is getting on this trend. He captioned the post: "Just had to be done." With the following hashtags: #stayhome' , #staysafe and #staystrong to his 62.8 million followers. With one follower commenting: "Ha! 'The Corona-cut'. Me too."
He has hopped on trends for a couple of times, and has constantly changed his appearance.
Why it is important to maintain good grooming standards at this time?
Sometimes we don't feel the necessity for a nice groom. However, grooming regularly is beneficial for both your appearance and your mental state. When you are more satisfied with your looks, you'll be more motivated to work on your work and feel more energised in general.
A poll on Survey Monkey suggests that out of the respondents between age 18-30, 66.67% of them have a groom regularly with an interval of roughly 2-3 weeks before there was lockdown. One of them mentioned that the lockdown was the culprit of making him "feel ugly" and became "lack of confidence".
"Routine is an extremely valuable tool for exercising mental strength and keeping your mindset in check," says Hall. "This is particularly important in light of recent events. The world is an unpredictable place, so by maintaining a consistent grooming routine, you can add a level of certainty to your day."
"Further, a routine that results in a healthier and more aesthetically pleasing you, will always boost your confidence and self-esteem. Take the time to invest in yourself now, and you'll be better placed to take on the world tomorrow," states Hall.
What issues are grooming companies facing at this time ?
Since people can only go for a groom at particular times, some grooming companies find it difficult to maintain quality service due to the flood of customers. Bulldog Skincare, one of the popular men's beauty brands in the UK, expressed that they found difficulties keeping up with the orders as the demand was too high.
The pandemic brought a lot of uncertainties to the economy. Though some of the companies are doing well under the influence of the pandemic, undoubtedly, some of the companies are struggling with their business. Most customers tend to go for lower-priced options instead, causing a decline in the financial performance.
'The obvious issue relates to lockdown measures," says Hall. "Fewer people are heading into a physical premise or workplace, meaning there is no need to get fully dolled-up for the day."
However, Hall adds: "The so-called lipstick index truly is in effect. When consumers struggle with poor self-esteem, they regularly turn to beauty products for a confidence hit. I suspect we'll begin to see this more in men's grooming over the next few weeks."
Advice
It is important to start developing regular grooming practices. It is a self-loving process that you could choose the way to do it. You can start with practices like changing your hairstyle, or simple gestures like switching up your beard oil or shaver.
"Take the time to invest in yourself", Hall emphasises. Just as you would if you were heading to work. Get dressed, do your hair, shave or oil your beard and moisturise your skin.
Besides, as Hall says, "Good grooming isn't just about picking up ladies, it's about self-respect."