Minimalism is a way of simplifying your life and finding freedom, and your closet is one of the best places to start. Even if it's the only place you put minimalist techniques into practice, it will be worth it.
After all, one of the first things we do each morning is get dressed, which sets the tone for the day — and it's a much more effortless and successful start to the day when your closet is clean of clutter and in tune with your style.
A minimalist wardrobe is a collection of adored essential pieces that you can easily mix and match in versatile and very "you" ways. For some, decluttering their closet and doing this to create a personal uniform is a significant way to reduce decision fatigue and other forms of wasted energy, as well as reduce wasted time in the mornings.
For others, adopting a minimalist wardrobe is a simple way to improve their appearance by embracing the minimalist aesthetic (a simple and elegant look that always emphasizes quality over quantity).
No matter your motivation, though, a minimalist wardrobe will ensure that every day when you open your wardrobe or dresser, you will see that it's full of ensembles you adore and feel great in!
Set the Stage for Your Minimalist Wardrobe
Don't go throwing everything out and shopping for cute boots and unique outfits just yet. Before you start seriously shaping your wardrobe, you'll want to set yourself up for success, so:
Know What You Want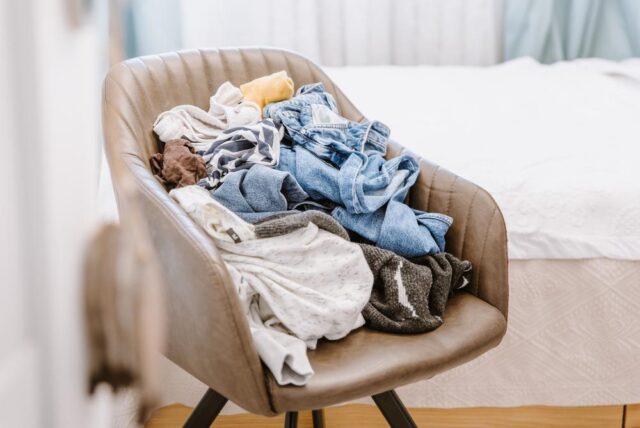 Put some thought into the professional and personal image that you want to portray because having limited pieces will mean that every one of them has to do your image justice. By identifying this image early on, the perfect pieces won't just be easier to find, but will probably be popping right out at you.
Know What You Need
So you can imagine some of the perfect pieces that you want to make your vision come to life — they pop out at you, you try them on and they just aren't as perfect as you pictured (whether that be in terms of fashion or function). This isn't uncommon, but it can be easily avoided. You'll want to know what styles, fits, materials, and features you need to make yourself look and feel your best!
Create the Perfect Space to Showcase It
Cleaning out your closet is a given, but cleaning up your closet is equally as important. Piles of clothes scattered about aren't doing you any favors. And they certainly don't speak to a minimalist lifestyle.
So whether you hang your minimalist wardrobe amongst matching hangers or you fold your minimalist wardrobe up into dresser drawer organizers, it's essential to support the simplicity of your wardrobe through the way that it's showcased.
Shape Your Minimalist Wardrobe
Once you have a vision, an honest understanding, and a space set for it all, we suggest keeping the following tips in mind as you begin shaping your minimalist wardrobe.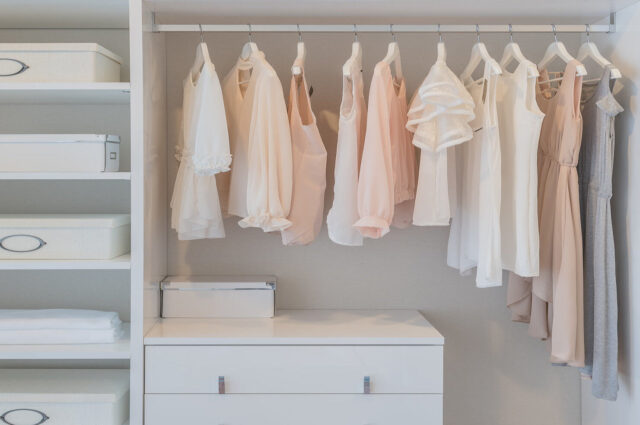 Tip #1 — Every article of clothing that you allow into your minimalist wardrobe needs to be intentionally added (meaning that even though it's versatile enough to do more, it has a clear purpose and belongs in your wardrobe with the rest of your clothes).
Tip #2 — Every article of clothing that you allow into your minimalist wardrobe needs to follow your color palette if you aspire to have a minimalist wardrobe that's easily mixed and matchable. This means establishing your base colors and building on top of them with accent colors that combine well.
Tip #3 — Every article of clothing that you allow into your minimalist wardrobe needs to fit you well. No matter what look you're trying to create, fit will be the key, so know your sizes and main measurements and ALWAYS try things on if you're unsure.
Shop to Fill Your Minimalist Wardrobe
While most minimalist wardrobes will feature anywhere from 30-50 pieces, it's important to remember that it's not actually about having as little as possible, but instead about only having good quality, versatile pieces that you connect with. To make approaching this more accessible, we suggest separating your wardrobe into sections.
Essentials
Bras, underwear, socks, and hosiery should be limited to the amount that you will wear for a regular week. This will encourage you to do your laundry on time, as well as refresh pieces as needed.
Basics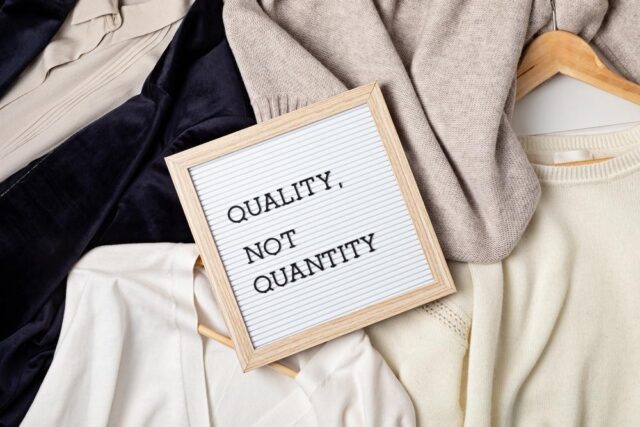 Tank tops or camisoles, t-shirts, long sleeves, leggings, jeans, pants, and skirts should make up the majority of your minimalist wardrobe, and while it depends on your lifestyle and personal style, one to three variations of each of these pieces should hit the sweet spot.
Workwear
To create work looks, you can generally work with your basics as a base, and incorporate industry-appropriate pieces on top. For instance, a blazer on top of a basic camisole and skirt combo will create an instant office aesthetic!
Above all else, having a separate pair of comfortable work shoes for women catered to your career and the professional image you hope to project will be key.
Loungewear and Sleep Sets
A single matching set that includes pajama pants, shorts, a tank top or short sleeve tee, and a robe is ideal. Like your essentials, this will encourage you to do laundry on time and refresh as needed.
Care for Your Clothes
These are timeless pieces that will stand the test of time both in terms of fashion and function, but only if you take care of them.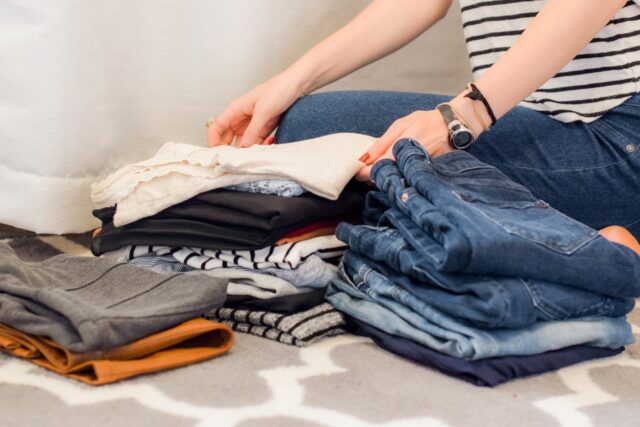 This means that you should always be tackling stains appropriately (and in a timely manner), washing delicates correctly, going to a dry cleaner to get certain pieces done, and spraying your comfortable sandals, shoes, and boots with a protective spray of one sort or another and storing everything in a way that speaks to the quality of your clothes — whether that be on hangers, in baskets, on shelves or in organizers.