Are you a huge fan of stylish and new sunglasses? Are you always looking for something new to try out? If so, would you ever go eco-friendly? Now is the right time to do this step! Fortunately, several businesses make sunglasses that are not only durable and friendly to the environment, but also adorable and fashionable. If you want to browse through your options and discover something new, cool & different + you're interested in their specs, keep on reading and find your answers below.
How are they made + what you should look for when getting eco-friendly sunglasses?
Sunglasses made of recycled plastic were quite difficult to find up until a few years ago. However & luckily, many of the manufacturers incorporate plastic from broken bottles and fishing nets in their frames.
There are several wooden sunglasses on the market, but just because it is a natural material does not imply it is environmentally friendly. You should always seek out sunglasses that are manufactured from recycled or upcycled wood or that display the "FSC-Certified" emblem, which denotes that the wood comes from a firm or forest that was managed responsibly.
PS: The safest bet to go for at first is cellulose acetate since it is used to manufacture most sunglasses frames through cotton or wood pulp.
What to know about sunglasses in general
Lenses are usually the least expensive part of a sunglass frame despite being its most important component. The truth is that most people spend more than 10 times as much money on its lenses as other high-end designer sunglasses do.
Also, when shopping for your perfect pair, you should be aware of your UV protection. When sunglasses advertise 100 percent UV protection, they frequently just include a coating on the front side of the lens. According to a study, the rear side of the lens reflects more than half of UV light into the eye.
Another fun fact to know: plastic lens shavings, often referred to as SWARF, produce over 6,000 tons of trash annually in the United States alone, much of which winds up in landfills or the ocean. If you want to become a lot more smart & eco-aware, why not start changing this?
How to pick out the best pair: top 5 things to consider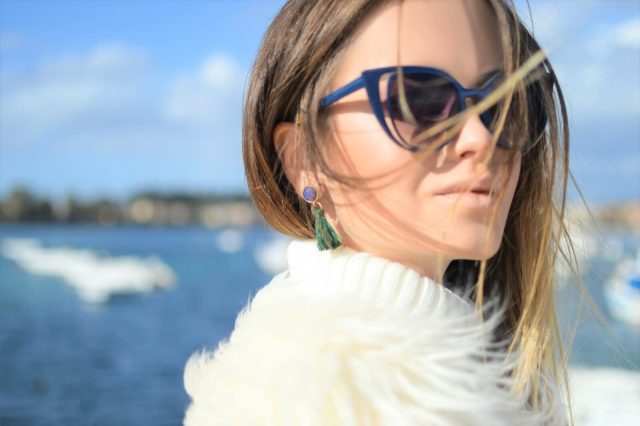 1. Go for classics
The majority of fashion purchases are best made on durable items rather than items that will make you uncomfortable the following year, or items that are there to make a statement.
Wayfarers and aviators are examples of unisex styles that have been fashionable for decades.
Designed in the 1930s for pilots, Ray-Aviators Ban's and Wayfarers rose to fame in the 1950s and '80s courtesy of Tom Cruise.
2. The right color for you
The color of the lens will not influence UV protection, but it will determine which activities and environments your glasses are best suited for.
Grey lenses, when used for any purpose, do nothing more than make your vision darker.
Green tones and brown/amber hues both enhance contrast and are perfect for inclement weather and activities requiring awareness of depth perception (such as golf and tennis).
Many people think that rose-tinted lenses offer the best contrast, which enhances road visibility, and are also the most comfortable to wear for prolonged periods because it prevents eye fatigue.
3. Know your face shape
Your face shape is created by the lines and angles of your most noticeable facial features, including your forehead, cheeks, and chin.
Keep in mind when purchasing that the overall shape has an impact on how well sunglasses fit and seem. If you are unsure of your facial shape, don't fret over-identifying it.
Is your hairline more straight or rounded?
Depending on the shape of your face, your chin may be pointed or rounded.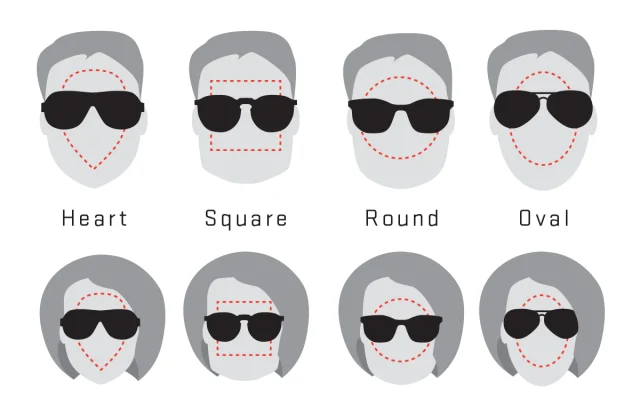 Do your cheeks protrude more than your jawline?
Is the space between your brow and jaw wider or roughly the same as the breadth of your face?
You can find the face shape that most closely resembles yours by combining these parameters. Do a quiz online if you're not too sure of your features.
4. The right frame
Here's how to choose a frame based on the form of your face:
To provide some contrast to your round face, it is preferable to select a frame with clear, defined angles, such as square-shaped sunglasses or a vintage cat eye frame.
Go for sunglasses with a round shape or a vintage aviator to lessen the angles on your face.
Choose a frame with a wider top and a narrower bottom to complement your features if your face is heart-shaped.
Go for cat-eye sunglasses or frames with thick, pronounced brows.
5. Sunglasses all day every day
To protect your eyes from damage, it is advised to wear sunglasses outside as much as possible, no matter how cold or hot it may be, the sun is always around you.
On bright, sunny days, sunglasses are especially useful because the glare could make us squint and strain.
It's never too late to start wearing sunglasses, even if you've never done so before.
As a general rule, it is preferable to obtain a pair as soon as possible. The truth is that we absorb a lot of rays by the time we're 18 and experience the cumulative effects as we become older.
Starting to wear sunglasses as soon as possible is essential.
Where to find some cool sunglasses?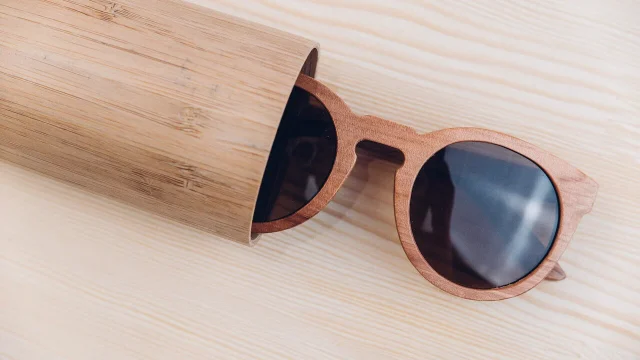 So, are you ready to go eco-friendly? As you can tell, there is a ton of perks to consider. If you're on the hunt for the perfect pair and some durable sunglasses for yourself or someone you love you should click here! You can find a pair for men, women & kids + enjoy their various models. You can go for bold or casual looks and browse through different colors. Find the perfect look and also enjoy a 10% discount on your first order.