5+ Ways To Wear White Shoes With Black Jeans Without Looking Dull For Men (2020)
In recent times, white shoes have become the most popular staple wear in everyone's daily life. White shoes are one of the most gender-neutral and easy to pair with items and almost everyone's closet. Black jeans are an even more staple and gender-neutral piece in almost everyone's wardrobe right now. Despite their versatility, many people forget to pair the two together. Black jeans and white shoe outfits are so versatile that they can be both casual and fancy at the same time. If you're wondering, "Can you wear white shoes with black pants?", the answer is yes. Black jeans and white shoe outfits are timeless and will never go out of style. Here's how to style white shoes black jeans outfit for men.
How to Style White Shoes and Black Jeans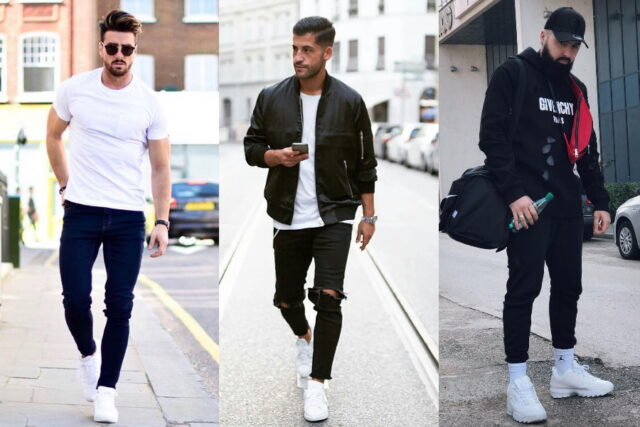 White Shoes with Casual Attire
Individually, black jeans and white sneakers are more casual and can easily be worn together without much effort. Skinny black jeans look best when worn with white sneakers, you can however experiment with different styles by trying distressed denim or even roll up your jeans to show some ankle. Low top sneakers typically pair best with black jeans though you can experiment with options like Adidas Stan Smiths, and even try various fabrics like mesh, canvas, or suede.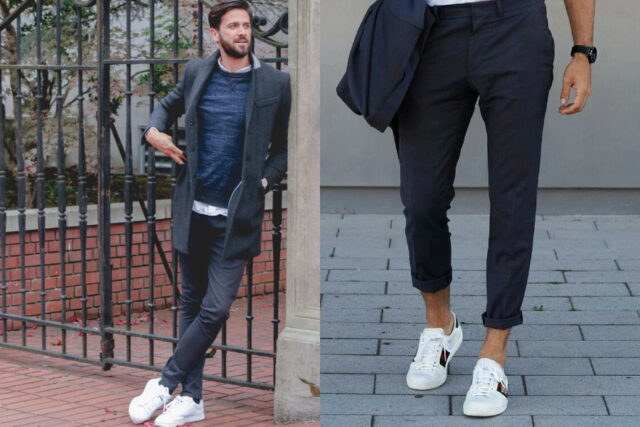 Smart Casual Attire with Shite Shoes
Teaming your white sneakers and jeans with more structured and refines shirts or upper wear will bring them to smart casual status. Stick to, slim fit or straight leg jeans paired with white sneakers in smooth leather. Opt for polished yet relaxed pieces for your top half, like a t-shirt teamed with a blazer, or a turtleneck sweater worn with a structured coat.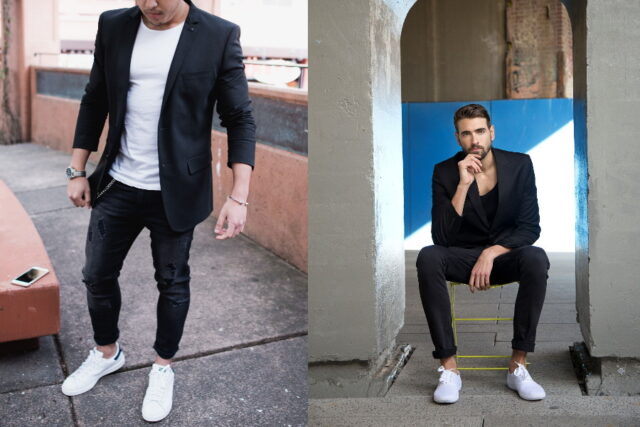 Semi-formal Attire with White Shoes
It can be difficult to pull off sneakers and jeans in a semi-formal setting, but white and black makes it a little easier. However, you can still dress them up for semi-formal occasions like cocktail events or brunches by making sure you pair them up with more formal pieces like blazers and pocket square handkerchiefs. 
8 White Shoes and Black Jeans Outfits
The muted color palette of white shoes and black jeans make them a solid foundation that you can build almost any outfit around. The monochromatic duo finds the appropriate balance between style and versatility. Though it doesn't seem like it can be pulled off in a business dressing or as formal wear, the right styling can make them suitable for casual to semi-formal dress codes. Here are some ways to wear black jeans with white shoes.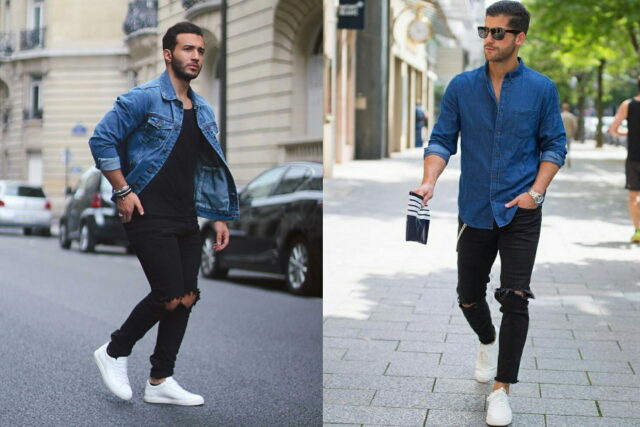 1. Denim Shirt with White Sneakers and Black Jeans
Add a subtle pop of color with double denim; try a denim shirt worn over black jeans and a pair of low-top white sneakers. For a more casual look, wear a denim shirt unbuttoned over a white t-shirt with any black jeans of your choice, preferably distressed and converse or vans white sneakers.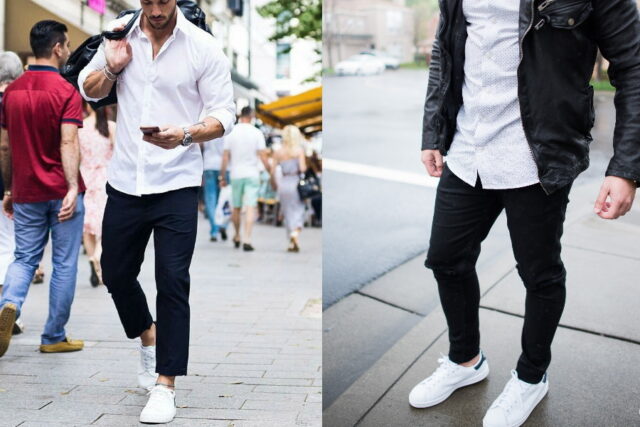 2. Oxford Shirt with White Sneakers and Black Jeans
For a more polished look, opt for a button-down oxford shirt with slim leg black jeans and low-rise white leather sneakers.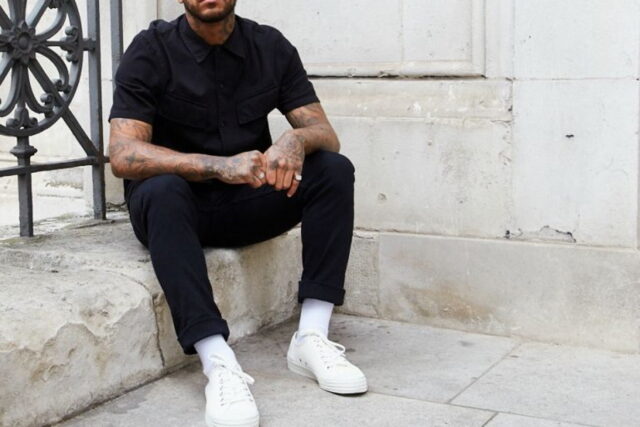 3. Black Shirt with White Sneakers and Black Jeans
Go somewhat monochrome by pairing a black button-down shirt with black jeans and white shoes. A plain black shirt worn with slim black jeans and low-top white leather sneakers makes for a clean and refined aesthetic. Alternatively, add some edge to your look by opting for a printed black shirt, distressed denim, or hi-top suede or mesh sneakers.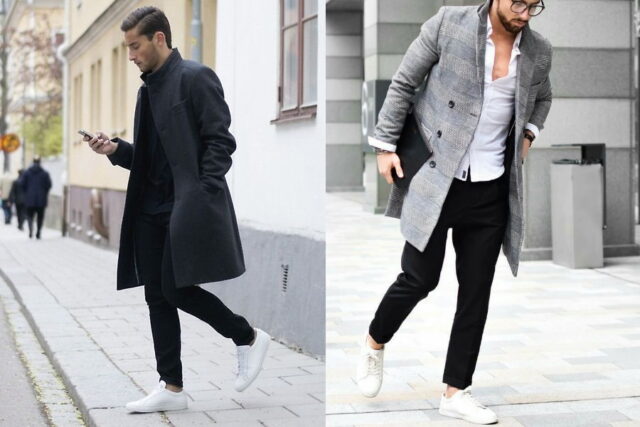 4. Tailored Jacket and Roll Neck with White Sneakers and Black Jeans
Opt for a refined, yet modern look by pairing your black jeans and white sneakers with a tailored jacket and a thin black or colored – rust orange, olive green, or baby blue work well – roll-neck sweater.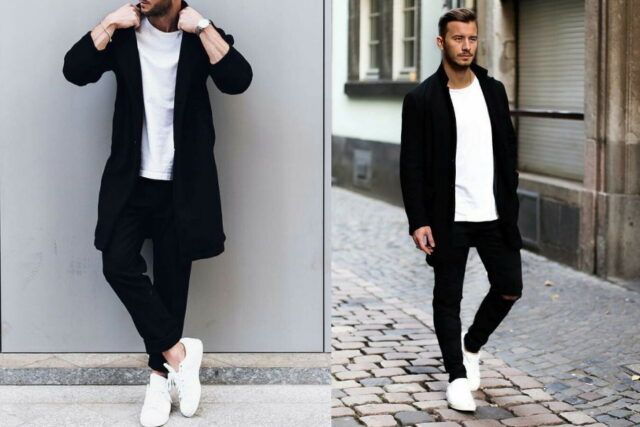 5. Black Linen Blazer and White T-shirt with White Sneakers and Black Jeans
Ditch your chinos and don a pair of slim-fitting black jeans instead. Team with a black linen blazer, a white t-shirt, and white hi-top sneakers for a low-key transitional weather look.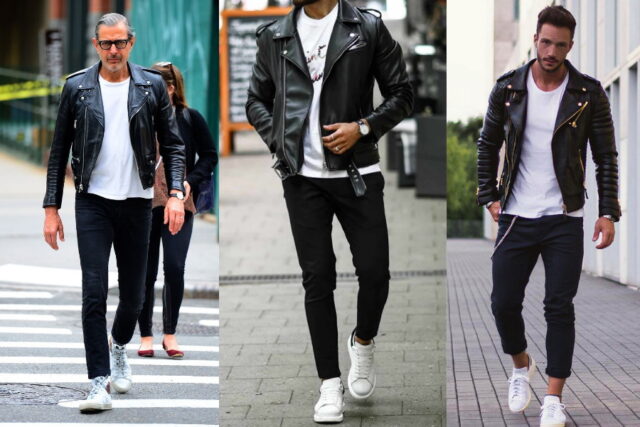 6. Leather Jacket with White Sneakers and Black Jeans
A leather jacket never goes out of style; swap out your chinos for black jeans and throw a leather motorcycle jacket over a plain white t-shirt for a timeless casual look.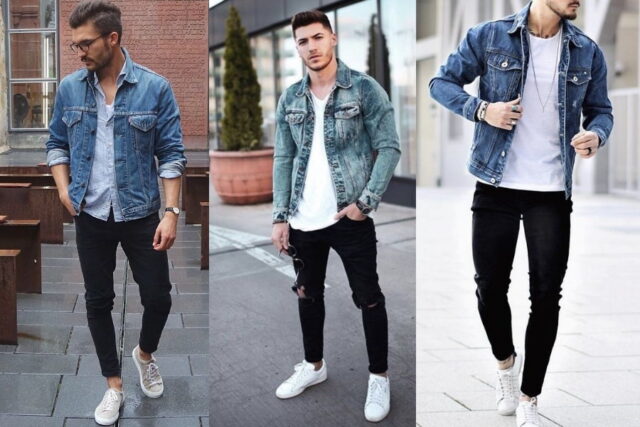 7. Denim Jacket with White Sneakers and Black Jeans
A slim-fit blue wash denim jacket is a quintessential piece in any man's wardrobe. Pair with a white shirt, black jeans, and white sneakers for a classic casual outfit, or try experimenting by wearing it over a hoodie, button-down shirt, or Breton striped t-shirt.
8. Grey Shirt with White Sneakers and Black Jeans
Grey shirts work well with the complementary tones of black and white; improve your weekend edit by trying a grey t-shirt or button-down chambray shirt with pin rolled black jeans and low-top suede or leather sneakers. 
General FAQ
Still, have questions? We've got your back.
What shoes go well with black jeans?
White sneakers make for a fresh, minimalist look when paired with black jeans. Black or dark brown Chelsea boots also work well, as do darker brown or tan double monk strap shoes.
What color goes with black jeans?
Black jeans can be worn with white sneakers, but shoes in dark brown, tan, or oxblood also work well.
What color shoes go best with jeans?
Chelsea and chukka boots, sneakers, and double monk strap shoes work well with jeans for casual looks. For a more refined look, try loafers, derby shoes, oxford shoes, or brogues.