Fine pearls are one of the least understood niche gemstones in the kid's jewelry world. Many parents are interested in gifting their kids a beautiful necklace that they can use to expand their collections and look adorable at the same time—a beautiful gift for a child who enjoys collecting jewelry and ornaments.
Knowing the kind to buy for your kids is difficult. So it is not surprising that many questions must be answered before purchasing.
There is a wide range of options that may seem a bit daunting at first, but once you learn about different types, their sizes, colors, and length, you could start to put together what kind of pearl necklace would be the best suited for your kid. Here is a guide to help you decide:
What Things To Consider While Buying A Pearl Necklace For Your Kids?
Buying it can be very confusing and challenging if you do not know what you are looking for. With some knowledge, you will choose the best types of pearl-based necklaces that are high in style, quality, and colors. The following points would help you pick out the best chain in the market in no time.
Cultured Pearl Necklaces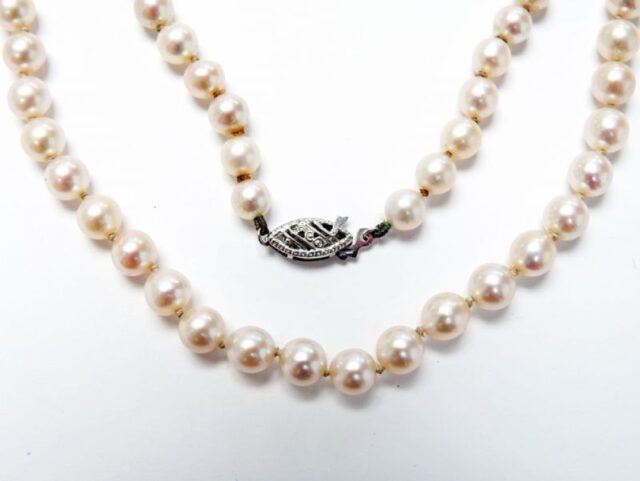 All pearl necklaces sold on a retail market are called cultured unless otherwise labeled as natural. Many jewelers and consumers mistakenly label freshwater pearls as cultured.
But it is misleading as Akoya, Freshwater, Tahitian, and South Sea are all labeled cultured. To avoid confusion, some knowledgeable dealers and consumers refer to pearl necklaces by the correct name.
That means when you shop for them, always ask about the real origin and type. That way, you can prevent spending money on the wrong piece. Another thing to remember is to buy from a well-known seller; you do not want to take chances with these purchases.
Know The Types That Are Within Your Budget
Before you set foot outside to buy a necklace for your kid, decide what suits your child within your budget. A standard one can range from hundreds to thousands, so do not take this decision lightly.
Therefore, understanding the different types of pearls and their prices will help you narrow down your choices from the market. Here is the list of different types and their specifications.
Akoya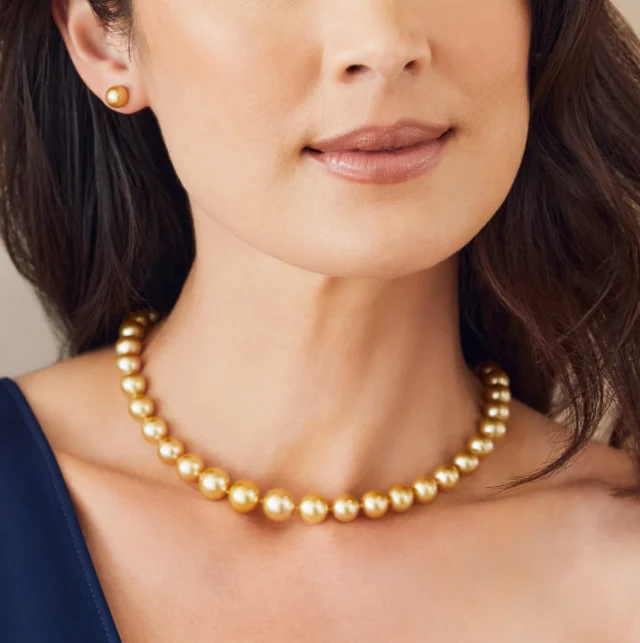 It has a classic white color with an overtone of rose, silver, and cream here and there. The Akoya ones may also get treated to achieve a black body color. Its size could range from 5 mm to 11 mm and are perfectly round in shape. They have a price range from $61 to $3000 per piece.
South Sea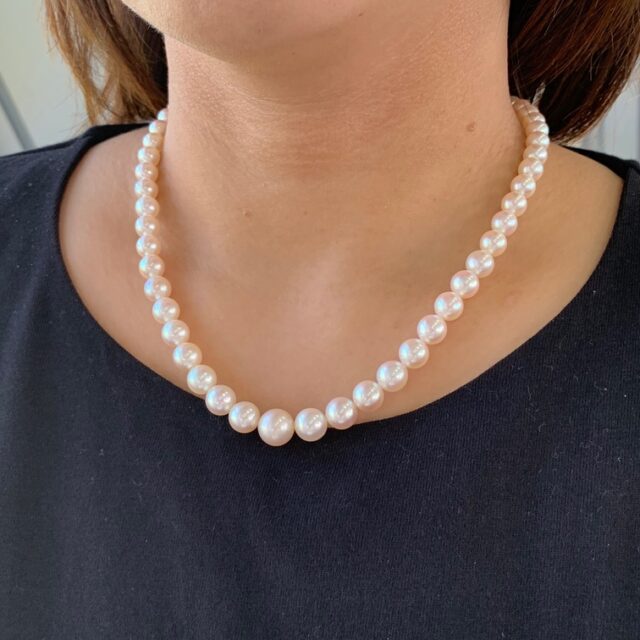 Sea pearls are considered the most valuable and rare type among all types. This type of pearl varies from silky silver to deep golden and comes in different shapes, like round or elaborate forms. Their price is also the highest; they vary from $399 to $30000.
Freshwater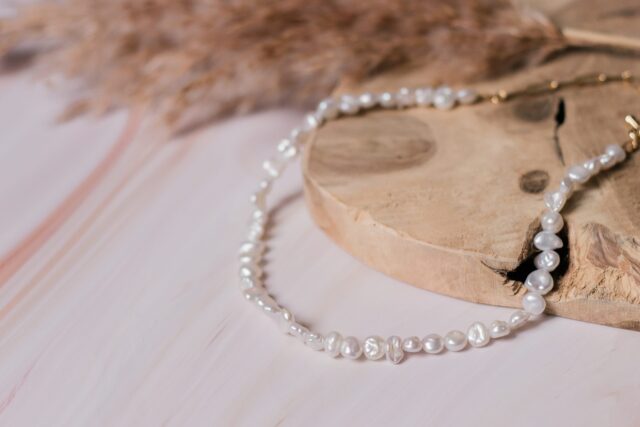 Freshwater pearls have the broadest range of natural colors; they range from white to pink to lavender and can even have many dye options. They come in sizes between 2 mm to 18 mm and are of three different shapes; round, button, and baroque. Their value is the lowest amongst them, all in the range of $69 to $1500.
Tahitian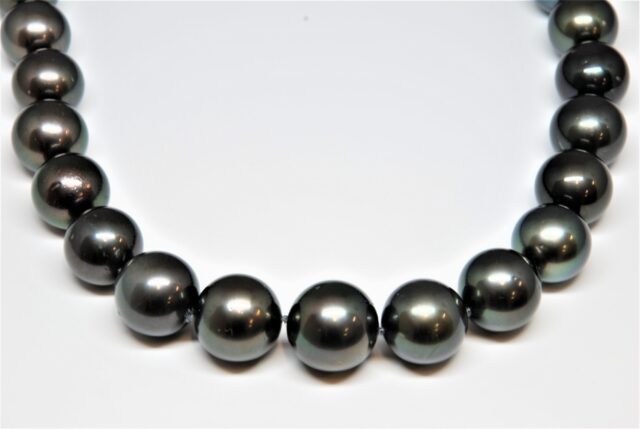 It is the last type of pearl on the list and the only type to achieve a natural black color. But they can range from a dark green to light silver color too. You can find this type in different sizes, varying from 9 mm to 16 mm. They also come in two shapes, one round and another baroque.
Keep the above information in mind when you shop for pearl necklaces for your kids.
Choose The Right Color
There are many ranges of colors that are available for you. The white color is the classic option, and many believe that a kid's first pearl necklace should always be a white strand. Black pearls are not black but just dark shades of grey, green, and blues, which gives them an exotic look that works perfectly with different types of darker skin tones. Yet the pink, peach, and lavender shades are fun and attractive for spring and summer seasons. Get the little girl pearl necklace of your choice right here at littlegirlspearls.com.
Choose The Right Length Of Your Necklace
The length is a personal preference, meaning you have to decide on the length before you walk into a store. If your kid wears their jewelry more casually, you would probably want to go with a shorter necklace as long strands are considered more formal, although it strictly depends on what your kids wear them with and how they carry it around.
The most popular lengths are 16 and 18 inches; strands that are 35 inches and even 50 inches are to be worn long or doubled up.
Tiny Pearls For The Younger
Pearls make a great coming-of-age gift for young girls between the ages of 16 to 21. A younger girl will appreciate a more petite and delicate pearl necklace or pair of pearl stud earrings ranging from around 3 mm to dainty rice pearl necklaces. These kinds also make great gifts for your goddaughter, bridesmaids, or any younger girl in your family, which she can cherish for the rest of her life.
Larger pearls work better as we age and are set in more ornate designs combined with other precious stones, which can be effectively used to accent your outfit as a necklace, bracelet, pair of dangling earrings, or even as a multi-layered pearl bracelet.
Conclusion
Only purchase from a company that gives you a solid return policy. Pearl necklaces always look great in a photograph or a showroom. They may appear different under the natural light, so it is vital to exchange or return your necklace if you have to or are not satisfied with its quality.
Also, keep in mind to buy from a retailer known for pearls as a wide variety of jewelers are misinformed when it comes to cultured pearls. Many often do not even understand the product that they are selling. Therefore, always buy from a well-known store.