5+ Tips On How To Wear Men's Derby Shoes For A Dapper Look In 2020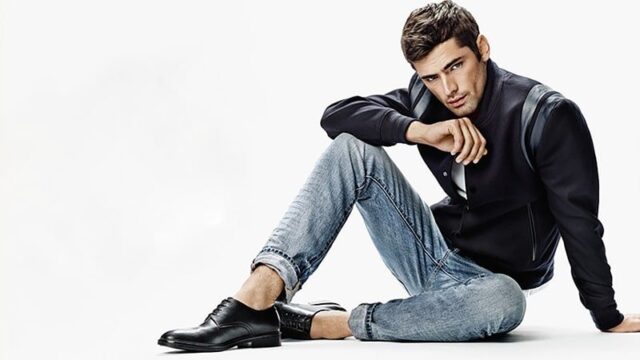 Your shoes can make or break your outfit, so it's essential to pick the right pair. Thankfully though, selecting the perfect footwear is easy when you have derbies in your wardrobe. These sleek and timeless shoes can suit practically any occasion and outfit. As such, they're a style every gent should own. Ideal for work, the weekend, and nearly every event in between, derby shoes have you covered in both style and practicality. In this guide, we take a closer look at the fantastic footwear option, its many variations, and the ways they can be worn. Here's how to wear derby shoes for a dapper look.
What are Derby Shoes?
Derby shoes are a classic and comfortable style of men's footwear. Like oxfords, they are a standard type of dress shoe. They are suitable for formal occasions and can be partnered with a suit. However, their sleek yet simplistic appearance also lends itself well to casual and smart casual outfits. As such, derby shoes can work just as well with a pair of jeans as they can with wool trousers. All you need to do is select the right pair for your needs. While black and brown leather varieties appear traditional and sophisticated, suede designs, brogue styles, and derby boots often seem more relaxed.
Oxford vs Derby Shoes
Many men find telling the difference between Oxfords and derbies challenging as they're unsure what to look for. When trying to discern whether a pair of shoes is an Oxford design or a derby style, look at the laces. Men's derby shoes feature an open lacing system while Oxfords have a closed lacing system that is stitched shut across the bottom. Therefore, the eyelet tabs, where the laces weave through, are sewn down on Oxford shoes and left loose on derbies. So, Oxfords are more rigid and formal while derby shoes are slightly more relaxed and comfortable.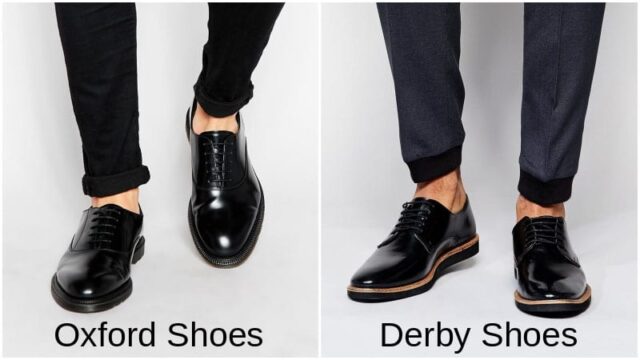 When to Wear Derby Shoes
Derby Dress Shoes
If you're after a pair of derby shoes you can wear to formal occasions, you should select derby dress shoes. To do so, look for a sleek design that will partner perfectly with a suit. In particular, smooth leather styles in black work best. However, dark brown tones can also look good. Also, be sure to choose a slim shape with a single leather sole to ensure a smart and polished appearance. If you are looking for a safe option, black dress shoes for suit is your choice. Black dress shoes for suit is classic and you can have black derby dress shoes to complete the work look. Keep scrolling to see more pictures of brown and black dress shoes for suit!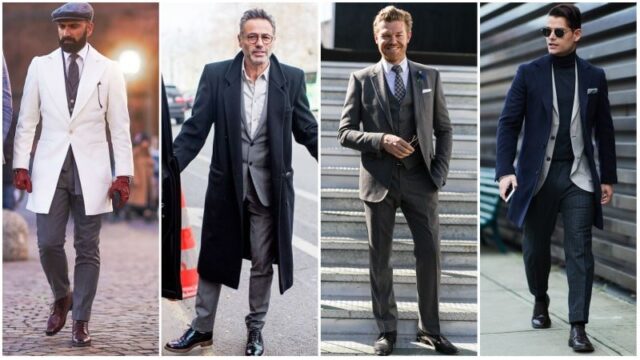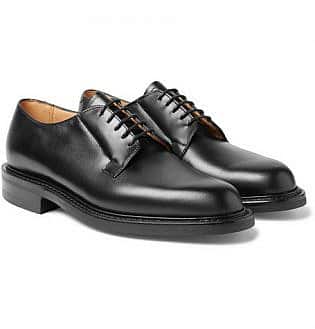 Casual Derby Shoes
How to wear derby shoes casually? While you can easily dress up men's derby shoes, you can also quickly dress them down. To do so, start by selecting a pair of casual derby shoes that appear relaxed, such as chunky derby shoes with thick soles. Chunky derby shoes such as classic Dr. Martens are a good option. You can also wear a light-colored design or even a suede option. Then, partner your men's derby shoes with jeans or chinos and something comfortable on top. Although the overall look will appear casual, your footwear of casual derby shoes will add a stylish and slightly polished touch. If you are wondering how to wear derby shoes casually or how to wear derby shoes with jeans, start by pairing derby shoes with jeans!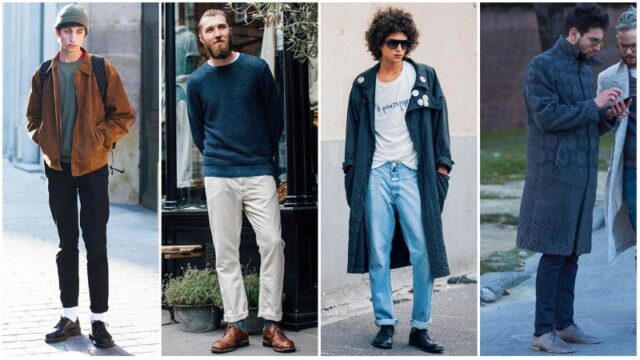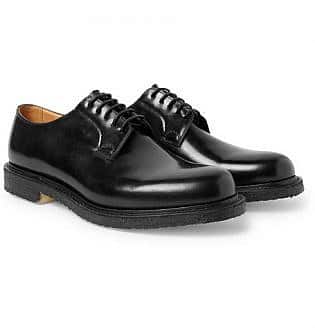 Derby Shoes
Black Derby Shoes
Black derbies are a versatile pair of shoes that can take you from the office to the restaurant and even the bar with ease. The classic and sleek footwear option can suit a variety of occasions. But, be mindful of the different designs available when trying to choose the right pair (or pairs) for you. Thankfully, whether a sophisticated patent leather design, simple matte leather style, or even a suede version, you'll be sure to get plenty of wear out of your black derbies.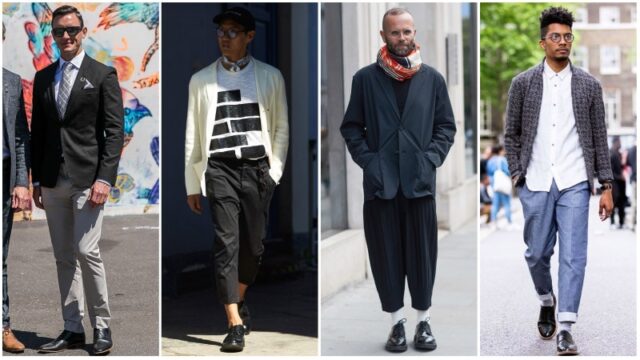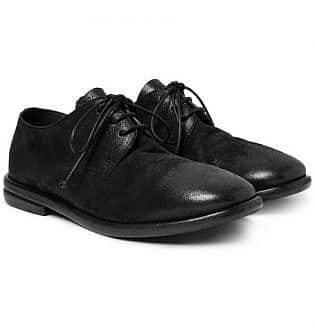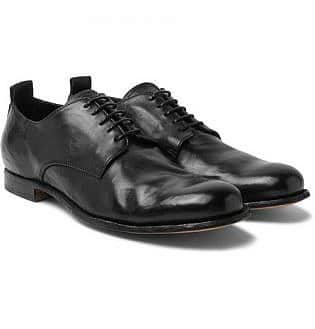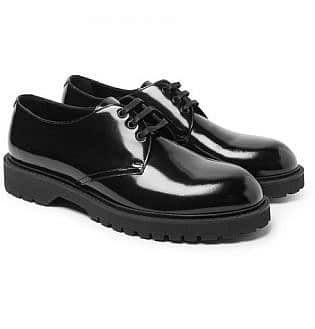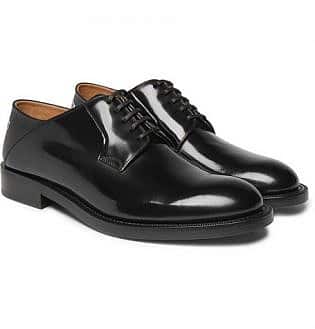 Brown Derby Shoes
How to wear brown derby shoes? When it comes to choosing a pair of brown derby shoes, you'll need to consider when and where you plan to wear them. For work and formal events, dark brown leather derbies are ideal. However, if you're more likely to wear your shoes casually, you may want to opt for a more laidback light brown leather or suede style. Also, don't forget to factor the sole and any decorative stitching into your decision. If you are wondering how to wear brown derby shoes, here we have selected some charming looks with derby shoes for you!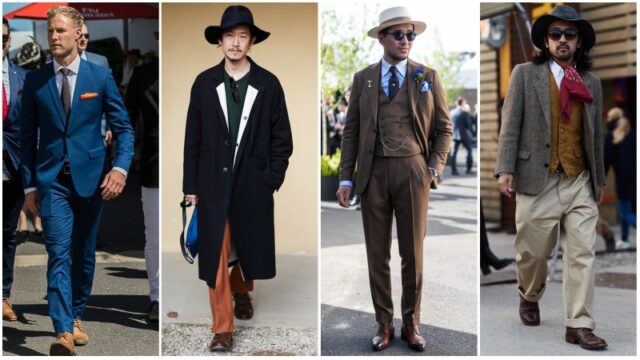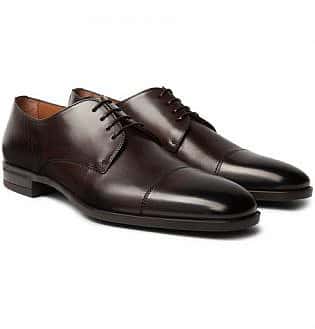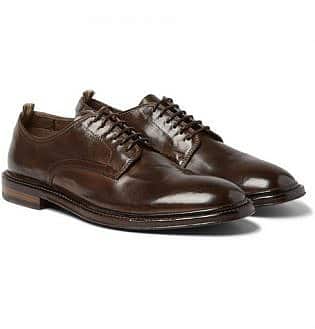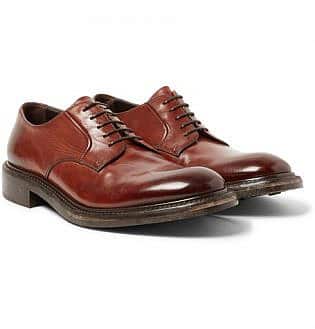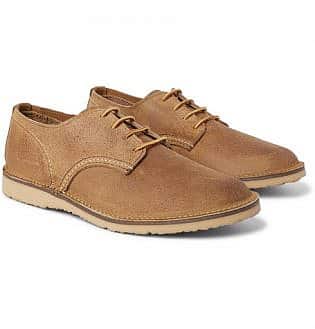 Leather Derby Shoes
Leather derby shoes have long been a favorite footwear style for men, and with good reason. These shoes appear traditional and polished and are ideal for a range of occasions and outfits. So, whether you're heading to lunch, dinner, the office, or even the races, these leather derby shoes can work for you. Just select a classic black or brown pair to keep the emphasis on your outfit or opt for a bolder design, such as a brogue or two-tone style, to draw eyes down to your feet.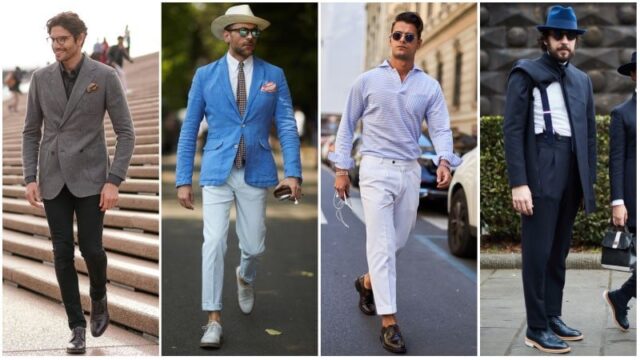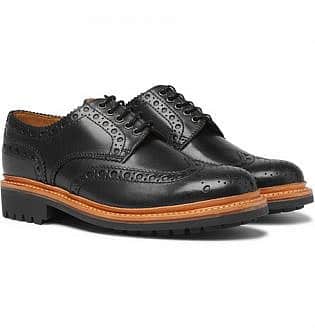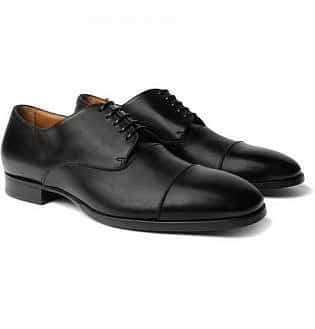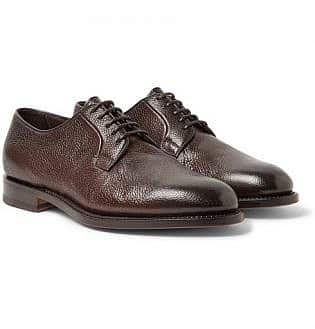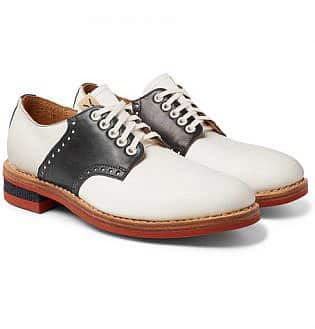 Suede Derby Shoes
How to wear suede derby shoes? While leather derbies are classic and timeless, suede derby shoes offer a more contemporary and relaxed feel. As such, they make an excellent option for casual and semi-formal outfits. Additionally, suede derby shoes come in a variety of colors, including black, brown, navy, and even white. So, there's an option for every gent and every event. If you are wondering how to wear suede derby shoes, here we have selected some charming looks with suede derby shoes for you!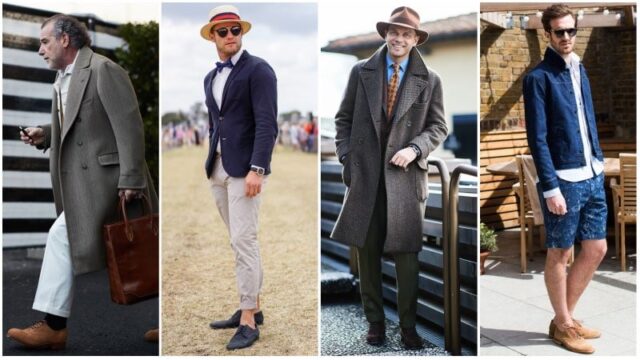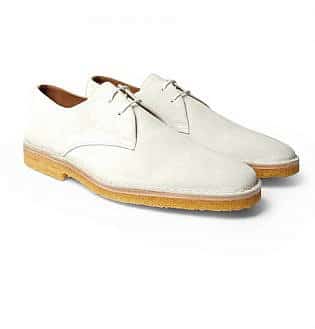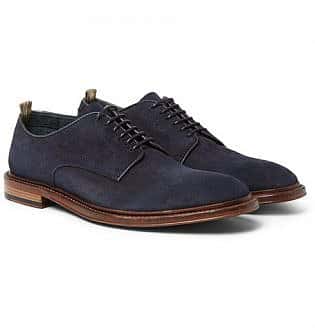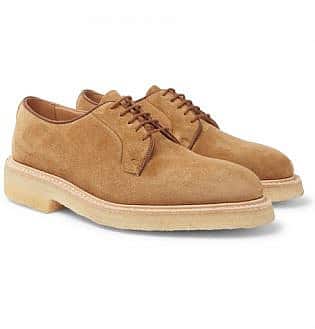 Derby Brogues
Brogues are shoes that feature decorative perforations. As such, they are available in different footwear styles, including derby shoes. Due to their open lacing systems and perforations, derby brogues have a bold appearance. Therefore, they are ideal for fashionable gents looking to create a footwear statement for a casual or smart-casual outfit.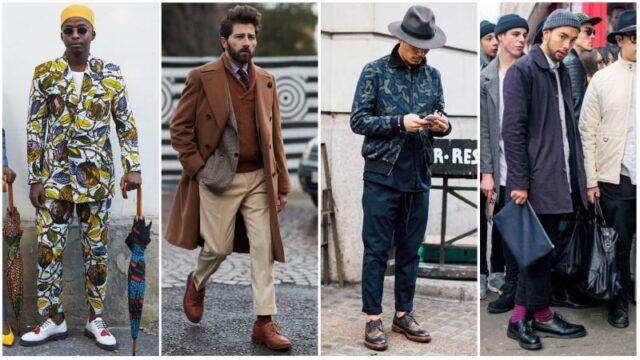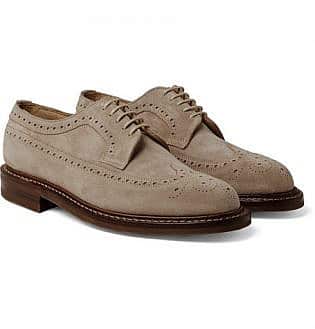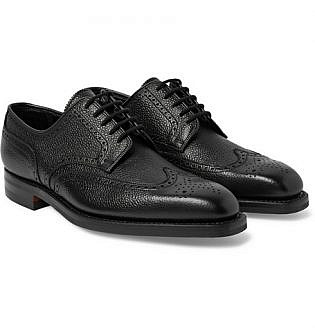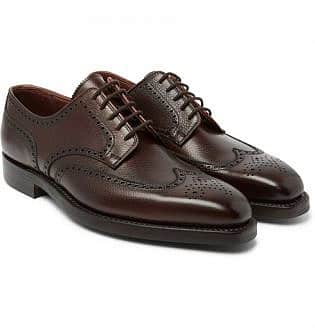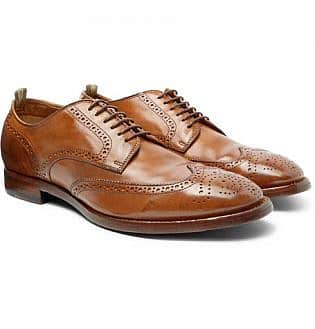 Derby Boots
Derbies are also available in the form of boots. So, if you're after footwear that's practical and stylish, you can't pass this extended version. Appearing just like standard derbies but a little longer, derby boots feature an open lacing system and finish at or above the ankle. They are a common boot style and are perfect for instilling a sleek military touch into any outfit.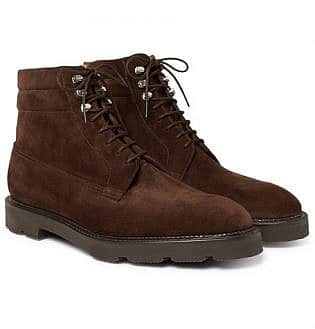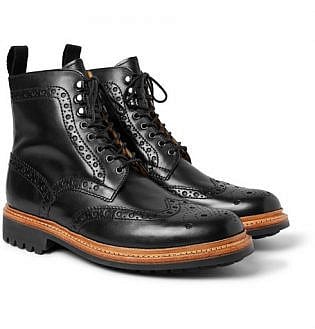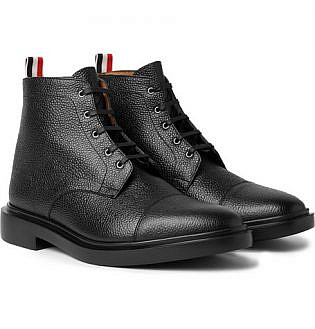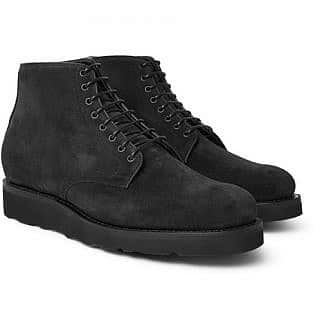 How to Wear Derby Shoes
Choose a slim pair of black or dark brown leather derbies for formal occasions.
Wear dress derbies with a suit, shirt, and tie.
To wear derbies casually, choose a relaxed style, such as chunky derby shoes or suede derby shoes.
Try casual derby shoes with jeans for a laidback look with a little polish.
Partner brogue derbies with chinos for a fashionable, smart casual style.
Opt for derby boots to give outfits a military touch
Refer to previous sessions of how to wear derby shoes with jeans for more inspirations!
If you find the post useful, do not forget to check out other blogs on lastminutestylist.com! We share the latest trends that you must know!