We would all remember seeing Meghan Markle, The Duchess of Sussex, wearing a lovely blue ring while leaving for her reception with Prince Harry. It was an aquamarine ring given to Prince Harry by her mom Princess Diana. The mesmerizing blue-colored gemstone is an alternative to a diamond for weddings and even regular wear rings.
If you, too, are a fan of royal jewelry, you will likely want to have an aquamarine ring just like the Duchess of Sussex for yourself. The good thing is that several jewelry retailers can help you get a royal-like aquamarine ring for yourself.
You can take a look at the range of aquamarine rings or other colored gemstone rings on a website like Leibish. These rings are hand-crafted and perfectly shaped for an elegant look. These gemstone rings can give you a royal feel when combined with diamonds.
To get an identical ring like Meghan Markle, you first need to know about it. Here's all the information that you might need.
Princess Diana's Aquamarine Ring
Princess Diana is well-known for her jewelry collection. One of the most beautiful pieces from this collection is her Asprey aquamarine ring. Sadly, Diana was only able to wear this rear piece twice before her death on August 31, 1997.
The first time Princess Diana was seen wearing this beautiful gemstone ring in her hand was during a research institute's fundraising dinner in Sydney back in 1996. She complimented the ring with a pearl bracelet with a large aquamarine clasp. She was wearing a matching aquamarine-colored dress and shoes during the event.
The next time she wore the ring was in June 1997 while attending the launch party of the auction of her dresses at Christie's London. This time, she matched it with a gray-blue dress with silver embroidery. The event was just a few weeks before the Princess's tragic death.
Events When Meghan Markle Was Wearing the Ring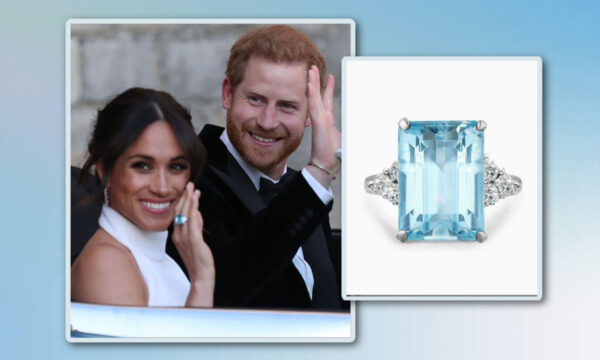 Meghan Markle got Princess Diana's aquamarine ring from her husband. After Diana's death, her jewelry collection was given to her sons Prince William and Prince Harry. While proposing to Kate Middleton, Duchess of Cambridge, Prince William took his mother's sapphire ring. Hence, the aquamarine ring was given to Prince Harry, who gave it to Meghan Markle.
Meghan first wore the ring while leaving for their evening reception. She matched it with a high-neck white dress. She then wore the ring at a Royal Tour to Tonga. Meghan and Harry visited to meet King Tupou VI and the Queen of Tonga. After their first meet with the King and Queen at the airport, they dressed for a dinner organized by them. During this time, Meghan Markle was seen wearing the aquamarine ring with a beautiful white dress.
Besides the aquamarine ring, Meghan Markle is also spotted wearing other jewelry from her mother-in-law Diana's collection. She wore Diana's golden bracelet and butterfly earrings during the first day of the Royal Tour. Moreover, Meghan's engagement ring also features jewelry from Diana's collection.
The engagement ring features three diamonds. While the larger stone at the center is from Botswana, the two smaller ones at the side are from Diana's jewelry. The prince told this himself during an interview with BBC. He said that the small diamonds were introduced in the ring to feel that she is always with them.
What Does the Aquamarine Ring Feature?
The Asprey aquamarine ring is guessed to be around 30-carat. It is underlined by small diamonds and held with gold. The combination might seem unusual as most people prefer using silver metal to mount the gemstone. It helps to enhance the natural colors of aquamarine. Although an odd combination, that's what Princess Diana chose. Many believe that this decision aligned the ring with Diana's pearl bracelet, which had aquamarine in gold.
The ring costs thousands, and you won't expect anything less from a Princess. The ring is said to have been commissioned by Diana to replace her sapphire and diamond engagement ring after her divorce from Prince Charles. This is when she lost access to all her favorite royal jewelry and wanted something of her own. Since she was fond of blue gemstones as they matched her eye color, she ordered the aquamarine ring.
What to Consider When Buying a Royal-Looking Aquamarine Ring?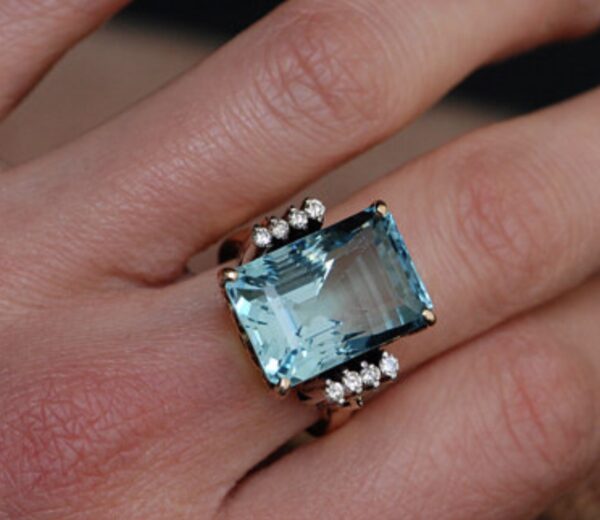 You can easily find several jewelers offering aquamarine rings inspired by the late Princess Diana's ring. You just need to search the internet, and you will be overwhelmed by the results. But not all of them might be genuine.
The internet is full of fraudsters. A small mistake, and you will be scammed. Hence, it is vital to learn to differentiate between real and fake rings and service providers.
One of the best ways to buy only from legit online jewelry stores is to go through the website and look for a certificate. All legit jewelers are certified and will showcase it on their website to gain the trust of their customers. The Leibish website, for example, has uploaded their certification and license for the customers. Moreover, they also have a learning center where you can read about differentiating between a real and fake certificate.
You can also research the company to go through reviews of other customers. Similarly, you might also find any complaints filed against the website or the company. Doing this basic research will help you prevent any scams. Additionally, avoiding too good to be true schemes will also help.
Once you are sure that the company is legit, you can go ahead with buying aquamarine rings to enhance your fashion.
Conclusion
The members of the Royal Family have always shown love for precious gemstones and jewelry, and why not? After all, they can add elegance to your style and look. You, too, can enjoy that glamorous and royal feel by having a gemstone of your own. Head to any local or online store like The Leibish to order your aquamarine ring or any other jewelry mounted with a gem of your choice.