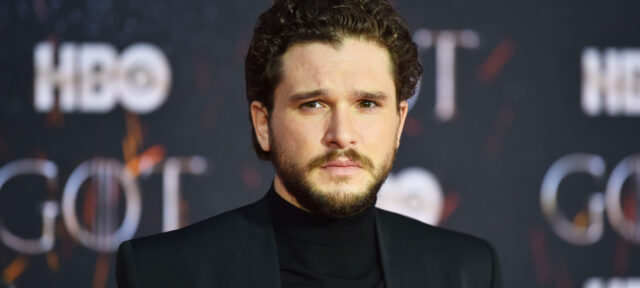 Has there been a character in TV history that has ignited more hair envy and lust than the luscious locks of Game Of Throne's Jon Snow, aka Brit actor Kit Harrington? There's Joe Keery's big hair in Stranger Things or that Peaky Blinders haircut. But did either of those styles have their own contract prohibiting the wearer from letting a hair out of place?
Harrington's did, and while the A-lister has sneakily made slight variations on the cut for other roles he's always had to return to that bouncy, curly Jon Snow haircut when returning to Game Of Thrones. Now, his watch is ending and with talk of the actor eagerly awaiting a contract-ending shear, that leaves a space in the universe for someone to take the curly hair mantle.
Could it be you? If you're up to the challenge we've asked top barber Dan Smith from Ruffians in Edinburgh on how you can get Kit Harrington's best haircuts. If you know nothing, this is a good place to start.
?  Shortcut to all the great hair products mentioned in this guide.
Manly scent, but not over bearing. Solid beard oil – 'I've been applying this oil twice daily, massaging it into my face for about 30 seconds or so. Although it's going to take a little while for my facial hair to fully grow in and fill in the patches (this isn't wizardry, or arcane magic. It takes time) I have noticed the hair that is on my face has much more color and is much more defined. Before when I would brush or push my facial hair forward/against the grain it would look very thin and I would easily notice my skin underneath. Now it's much more filled in. I heavily recommend this product. It's not scented in the sense that other people will smell it, but there is a small pleasant aroma that dissipates after a few minutes that you personally may smell. But it smells good so there's no issue there! Again, I can't stress enough, this isn't a magical potion that will grow face pubes over night! Give it time! It's definitely no snake oil BS either. It's quality.'
I like it…good control for most of the day – 'Finally, some hair cream I can tolerate. I can't tell you how many various different creams, gels, pastes, and pomades I've went through to find a hair product that doesn't make me look like either I just got out of a pool or Donald Trump on a windy day. Essentially, it's been either a choice between firm yet wet-looking gels or natural-looking pastes that have no hold. Fortunately, this cream does both incredibly well. Not only is it rather matte looking, but it holds my hair so unyieldingly that Thor would have a hard time messing it up. Needless to say, this may be the first hair product I may actually keep using..'
Miracle Product – 'I was a little skeptical that one hair dryer could make a big difference over any other, but this product has proved me wrong. I was using a Babyliss when I got this, and I am (no pun intended) blown away. It takes a little getting used to because it does NOT get as hot as the other dryers. It has sensors that change the heat to optimize it for your level of wetness and it turns out that Dyson doesn't think we need all the heat that we think we need – and they're right! When I use this dryer with NO attachments, it takes the same dry time (maybe a little less) as other dryers but with less heat, and either the less heat or something about how it blows makes me look like I got a professional blowout after a cut. My hair lays much more smoothy and has so much more movement and less weight. I'll put a pic to to show what I mean. Is it worth $400? Maybe. I do think it will last forever and that it makes a daily difference for me, since I use it daily. If you you have a different hair type or you don't often dry, it might not be worth the investment for you. THAT said, it is nice not to be all sweaty after I dry my hair!.'
SUPER CLOSE SHAVE, No knicks – ' Love this. My barber uses this baby and it is worth every penny. Sure does it get hot in the hand, of course but nothing crazy. Keep it oiled and you get a really close shave without the need for a blade which irritates the crap out of my head. This thing is great. Worth it 100% versus paying every week. Also great for your beard shaping and neck hair.'
Completely worth it for giving body to my thin straight hair – 'This is the only product that will make my stick-straight fine/thin hair have any kind of volume, and I know all the tricks. Couple sprays of this on my roots on damp hair, massage in with fingertips and pull lightly through about half the hair, then blowdry the opposite direction of how your hair falls.
I'm as low-maintenance when getting ready in the morning as they get and this is a life-saver. Totally worth the price in my opinion.'
Kill The Boy
With his facial hair a little bit shorter than it became in his later seasons as Jon Snow, Harrington lets the hair do all the talking here, the stubble easier to pair with his messy mane.
"His hair has a lot of weight to it that frames his softer features and highlights his dark eyes," says Smith. "It's a classic blunt cut mid length, which basically means there are no hard corners and it's the same length all over. A blunt cut will seal the ends preventing split ends.
"To style, towel dry your hair to get that beachy, effortless look. Then apply a sea salt spray or a styling paste. For this look, it's better to use water-based products into damp hair and let the product dry in naturally to achieve texture."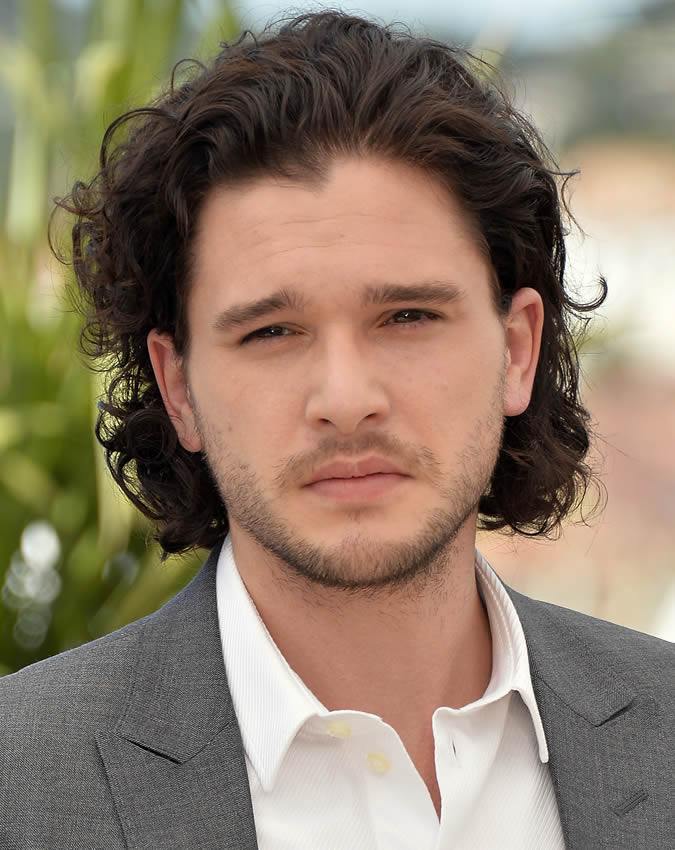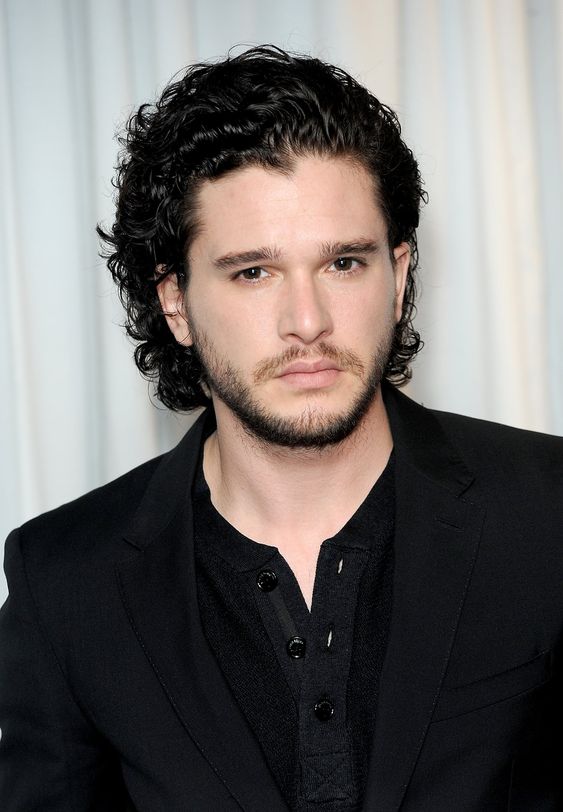 Slick It Back
And from a more boyish hairstyle by Kit Harrington, we go into a slicked back hairstyle best described as super-suave Italianate pondering the best place to grab an espresso while he waits for the next Pitti fashion show.
Smith agrees, somewhat: "By pushing long hair back behind the ears you can create more of a sleek look. Kit's beard has also been brought in tighter, making him look more refined. Get your barber to keep most of the length and just trim the ends so that the hair sits perfectly behind the ear.
"Trim the beard all over with clippers to create a short but dense look. Leave the hair a little damp before styling and pull the top half back with a clay or styling paste. Focus on applying the product on top or at the front and around the sides so your hair remains controlled and intact throughout the day."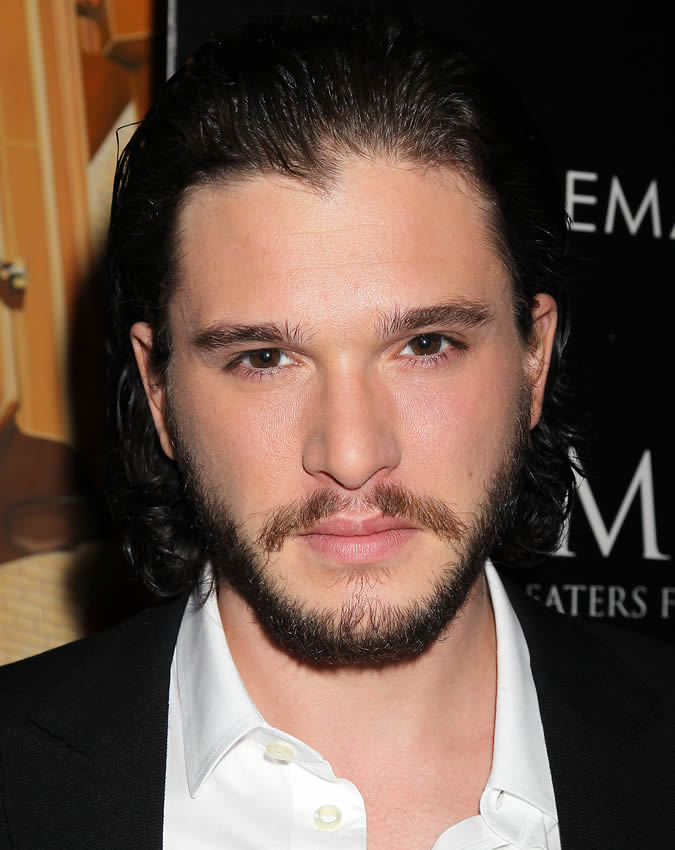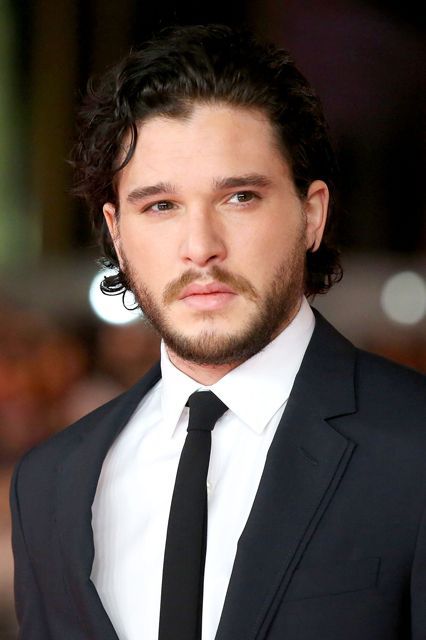 The Primp That Was Promised
With just a smidge is taken from the length of his usual Jon Snow haircut, and Kit Harrington's lighter natural hair color coming through, this style is less "winter is coming" and more "summer is here".
"His hair looks healthier and his skin tone more radiant," notes Smith. "To get it to ask for a pointcut with uniform layers to remove some weight so the hair is not too weighty on the sides and back. This will also create a nice flowing movement so it's easier to maintain for longer and the wait between haircuts can be longer.
"Use some sea salt spray and a hairdryer with a diffuser to encourage the curl and give it more volume. Never go higher than mid-heat and dry on low speed. Only dry around 80 percent as the last little bit should be air-dried so it doesn't get too big."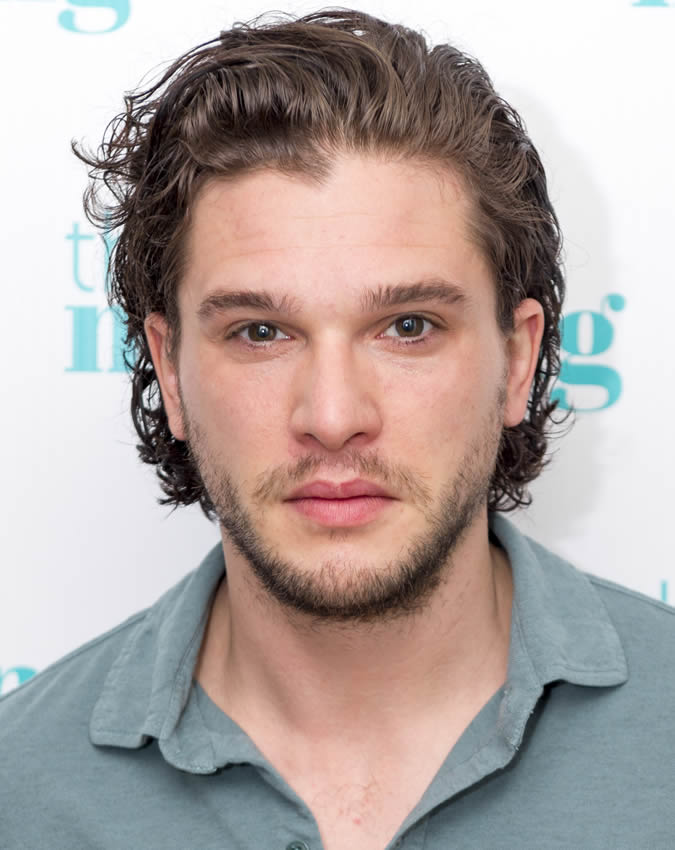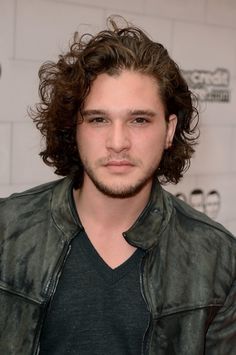 Top And Tails
Kit Harrington's short hair doesn't just grow back after chopping. It would take a year to a year and a half to get from short to the length he has it as Jon Snow. So if you have an interview or big red carpet event and want to look more clean-cut for it you're going to have to get creative as Harrington has done here. It's not quite a top knot like he had on the show, but it's not far off.
"Firstly, you need to make sure the hair is long enough to be able to tie up," says Smith. "Then ask for only a centimeter or two off the ends to keep your locks healthy and happy, whilst also making sure that there's still enough hair.
"If styling wet, then apply a styling cream before gathering it up so that when it naturally dries it won't go frizzy. If styling dry, after tying it back, spray some hairspray over the whole head and smooth down to make sure you stop the wispy hairs from flying about."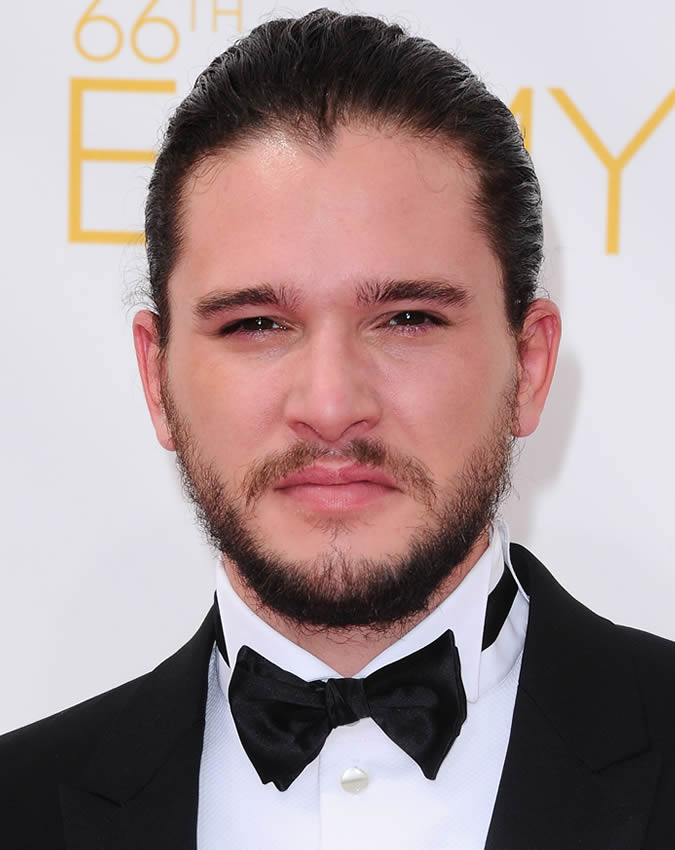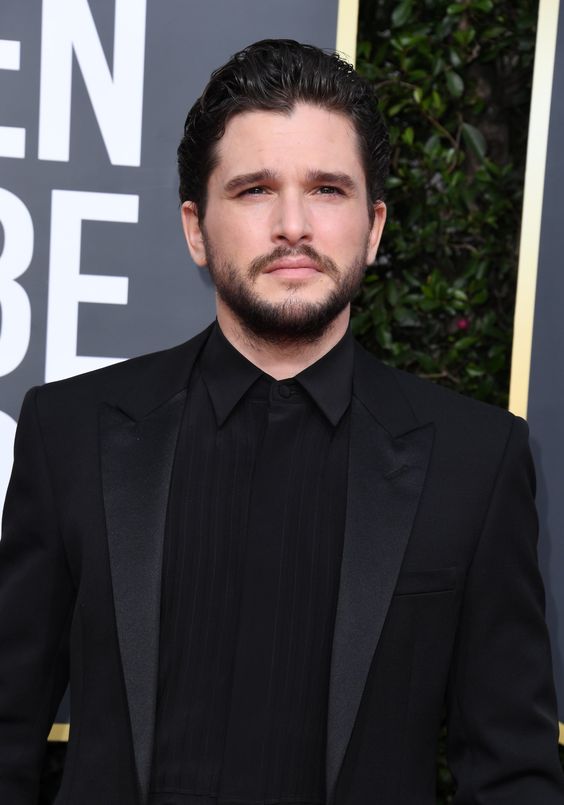 Hair To The Iron Throne
This look is peak Jon Snow. Long hair usually works best when the wearer is clean-shaven, or else there is just too much hair. Harrington gets away with it by sweeping his up and out of his face which also serves to add height and elongate his rounder features.
Smith says to get Snow's cut you need to be asking your barber for a razor cut to create movement while taking weight out of the heavy curly hair.
"Also have your beard tidied under the neck and on the cheeks, leave a little length under the chin to allow for a denser look. Towel dry to 80 percent and apply a sea salt spray. Use your hands to scrunch the product in accentuating the curls and creating a nice textured effect.
"For the beard, use a pea-sized drop of beard oil to smooth any wiry hairs down and to keep the beard hydrated and tidy."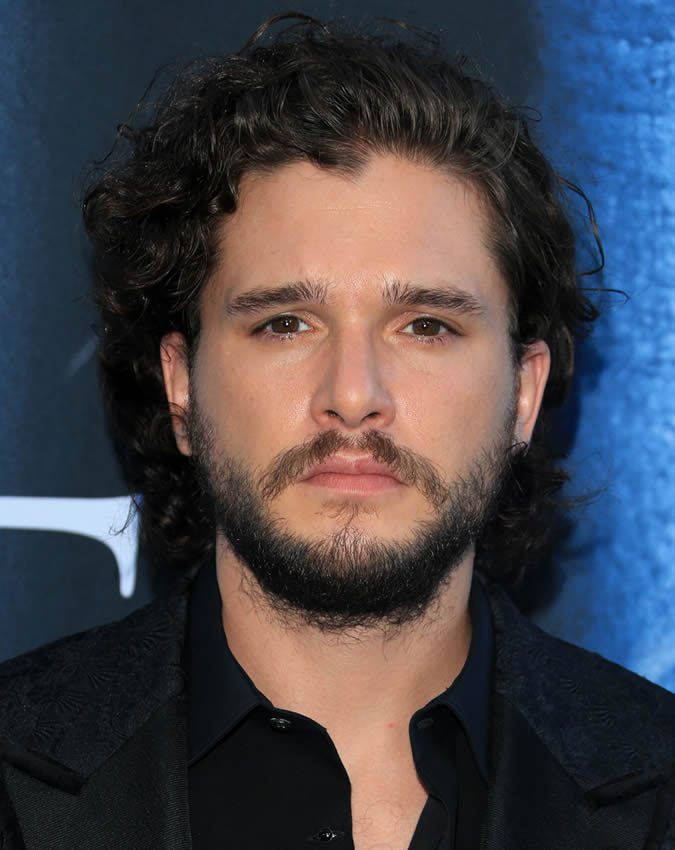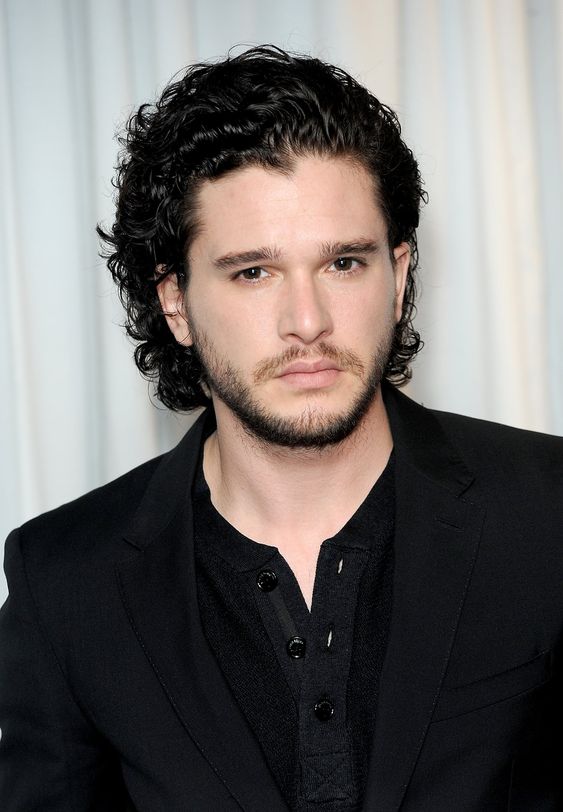 Face Furniture
For his role on the West End as up-tight screenwriter Austin in True West, Harrington needed a look that replaced the debonair warrior for something more particular. "Having a pushed back, medium-length style helps to create a more refined, polished look whilst still embracing Kit's curls," says Smith. "Make sure to ask your barber to keep the length a little longer on top so that it's easy to push back.
"Apply a small amount of styling paste into wet hair, use a hairdryer and a vent brush to push the hair back and when your hair is around 80 percent dry, use a touch more of the styling paste to give it a nice finish."
Elsewhere, the 'tache has made a comeback of sorts, with Hollywood stars Henry Cavill and Zac Efron showing how to update the 70s heirloom. This look was meant to be going after that retro vibe for his play but we'd recommend taking after Cavill and Efron and growing some stubble on the sides to balance out the look and make the facial fuzz look less drawn on.