[2020 Hairstyling Tips] 3+ Most Flattering And Best Haircut For All Face Shapes
Face shape: Oval
Most flattering cut: Anything goes! Be as daring or as classic as you'd like. Try a high-fashion style, like a blunt fringe, sharp bob or super-short crop. Oval-faced celebrities who go flawlessly from long to short styles include Halle Berry, Charlize Theron, Emma Watson and Rihanna. (Looking for a hairstyle that makes you look younger? Here's what you should avoid.)
What to consider: A longer hairstyle can make your face look more narrow—whether that's something you're looking for or not.
Styling tips: Consider your overall height and posture as well—a short cut can make you look taller.
Face shape: Square
Most flattering cut: Go long. Try a long bob or hair past the shoulders, like Gwyneth Paltrow, or side-swept fringe, like Olivia Wilde. Looking to grow your mane? Read up on the supplements that can encourage hair growth.
What to consider: Short hair can be more challenging to pull off (but when in doubt, consult photos of GP circa 1998).
Styling tips: Ty a sleek straight look (and taming frizz) for a flattering effect.
Face shape: Heart
Most flattering cut: Ask for face-framing layers, like Reese Witherspoon. They should start no higher than the cheekbones so they add movement and body to the hair from the mid-lengths to ends. Or, try a textured fringe, Tyra Banks.
What to consider: Shoulder length will frame your face nicely.
Styling tips: A centre part is a fun, retro-inspired way to pull off this look.
" alt="" width="600″ height="" />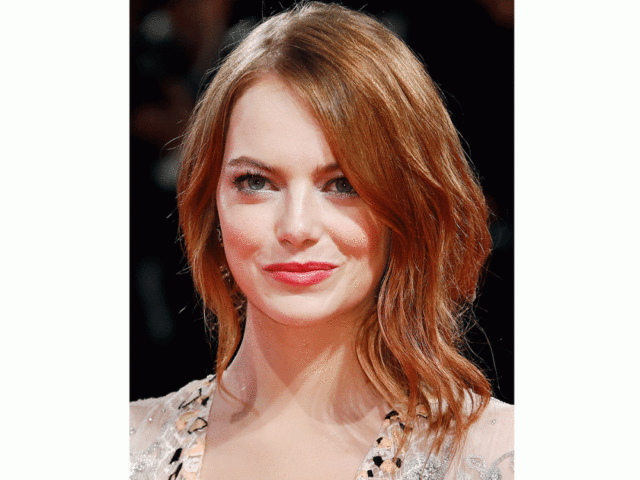 Face shape: Round
Most flattering cut: Embrace side swept fringe—Emma Stone's wavy, shoulder-length do is total goals. Or, try Penelope Cruz's style—long hair with layers that graze the cheekbones. For short hair, keep it tight through the sides and back but slightly longer on the top—think Michelle Williams or Ginnifer Goodwin's pixie cuts.
What to consider: Straight-across fringe may be risky—try it longer and with some texture instead. (Then again, Christina Ricci rocked straight bangs and a glossy cropped style well.)
Styling tips: Go for a choppy, textured style or a shiny, blunt cut for a high-fashion statement.
Next, check out what Victoria Beckham's hairstylist says is the one mistake women over 40 always make.