Just For Redheads: 5 Necessary Beauty Tips & Hair Products For Redheads In 2020!
Throughout these years, we have tested and tried thousands of beauty products to deem them 'redhead friendly'. And, over these years, we have noticed more and more companies come out with products specifically made for redheads –- which is amazing!
Here are some new and exciting redhead hair products and beauty products on the market:
We're huge fans of Tarte. Their founder is a redhead (fun fact!), so it's no wonder they create such wonderful 'redhead friendly' products –– everything from face tape foundation to face tape contour concealer. Their new sketch & set brow pencil & tinted gel in taupe and frameworker brow pomade in taupe are two new brow products we've recently tested and love.
The sketch & set your brows is a 2-in-1 vegan brow pencil & tinted gel. The full-size, ultra-slim pencil with micro-tip precisely fills in eyebrows with hair-like strokes while the tinted gel nails down brows, keeping them in place all day long. The frameworker brow pomade works like any normal pomade but the shade is what makes this product stand out. You would surely need it if you want to have natural makeup looks for your redhead. This is also suitable for some not-too-over prom makeup for redheads.

Are you experiencing fading red hair? Want to 'up' your red locks without turning to dye or having to go to the hair salon? Try an at-home hair mask! This Aloxxi mask is a great redhead hair product for those redheads out there with some copper in their hues. Lasts up to 10-15 washes.

*Always do a stirp test on your hair before applying throughout to ensure the shade is right for you!
3. oVertone Haircare Ginger Coloring Conditioner ($29)
Another perfect redhead hair product! A vegan and cruelty-free ginger conditioner! What could be more perfect? Using gloves, apply evenly to dry hair. Wait 10-15 minutes and rinse with warm water.
*Always do a stirp test on your hair before applying throughout to ensure the shade is right for you!
A double-ended ink stain and waterproof pencil that gives you microblade definition and precision. Simply create the shape of your eyebrow with the pencil, then make soft, hair-like strokes with the pen. Isn't the name of the shade perfect, too?! This is a must-have for prom makeup for redheads.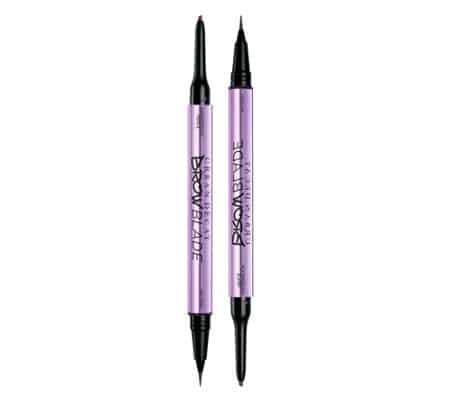 Similar to a color depositing shampoo, a color depositing conditioner deposits color onto your hair. Its easy-to-use and you see the results in minutes. We LOVE Celeb Luxury's Gem Lites Colorwash and it acts as a conditioner rather than a shampoo. Use both products together or apart for added vibrancy.

Rock it like a Redhead!